Holy moly, people. It's a good thing these giveaways are virtual because we might've had a stampede on our hands for this one. Not to mention that we were very impressed by all the intricate things you guys have managed to craft with your own two hands (and some yarn, flour, wire, neutrons, etc). I thought we were throwing out kind of a toughie this time but you all delivered once again. Some of you even delivered literally, claiming your children were the most complex things you had ever made. Very clever indeed…
But enough about that, let's talk about these babies from Ballard Designs: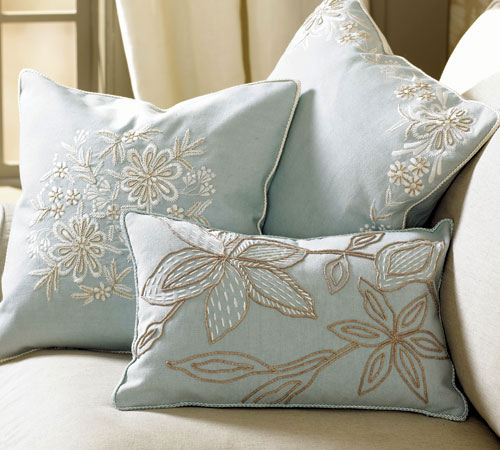 One of these hand cut and hand embroidered Ankasa pillows priced at $99 (a total steal for the craftsmanship and detail, btw) is about to be gifted to one lucky winner as picked by the trusty random.org sequence generator. And I know our winner will totally appreciate the intricate hand-stitched charm of these pillows, since apparently she has experienced the process of turning stinky lambs wool into something beautiful firsthand (well, or at least into something bizarre). Sound familiar? Well, if you're Katie D. it should. Yep, Katie, you're our lucky Ballard Designs pillow winner!
Congrats on your new Ankasa pillow. We can't wait to hear which of the three you'll pick: the bordered square, the center square or the floral rectangle. Do tell! And if you didn't score this week's prize, keep your chin up. There's another freebie headed your way on Monday (here's a hint: the prize rhymes with schmift schmard).
Looking for even more details on our giveaways? Check out the Giveaway FAQs. Images courtesy of Ballard Designs.