I hope you guys had fun reading all the funny comments about each pet's strange habit. We certainly were entertained. In fact, I'm glad we weren't awarding the prize based on the weirdest anecdote because that would've been an impossible choice. Instead, we used trusty random.org to tell us that the winner of the Pet First Aid Kit courtesy of FirstAidLive.com is… Ljcadv!
Hopefully Ljcadv won't have to use the kit for her brindle boxer, Riley, anytime soon. But considering Riley's "drinking problem" it's probably best that she has some sort of first aid nearby. Congrats Ljcadv!
Thanks again to Danielle at FirstAidLive.com for the friendly reminder to be prepared.  Oh, and apparently her dog Bubba saw the picture of Burger playing Vanna with the kit in our last post and wanted to get in on the action.  Modeling's tiring work, eh Bubba?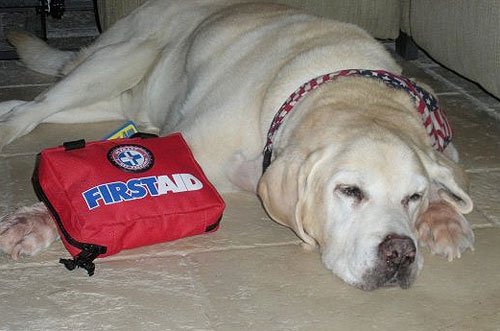 If your number didn't come up this time, you can always snag a Pet First Aid Kit of your own here. Plus, our first International freebie is right around the corner so stay tuned and keep your fingers crossed.