When we got Keatra and her hubby Levi's plea for help with their living room we couldn't wait to spring into action. Here's their letter:
I'd been debating taking the plunge and asking for help until I saw CJ and Amy's Design Dilemma and House Crashing: A Brilliant Bungalow. They pushed us over the edge and here we are! As far as our style goes we are not fond of anything too "matchy" and thus I immediately fell in love with the variety of design elements that filled Matt and Kristin's house. I would say that our preferred style is somewhere in between modern and funky flea market. We find ourselves shopping at places like Ikea, Cost Plus World Market, and Urban Outfitters. We like the current green wall color (Behr's Grass Cloth), red book case (Ikea), and dining room table (although we are up for new chair suggestions if the current ones don't work).  A new front door is on its way, it has 6 small windows at the top that we'll want to add a curtain to for privacy.  The TV stand can go, but if we can paint it, it might save our budget a bit. I am sad to say that the couch should probably stay for now as we have a new four-legged addition that is still learning his manners, but a suggestion would be great for when the time comes to make the purchase, we'd prefer leather as we have two cats and two dogs! Thank You!  -Keatra and Levi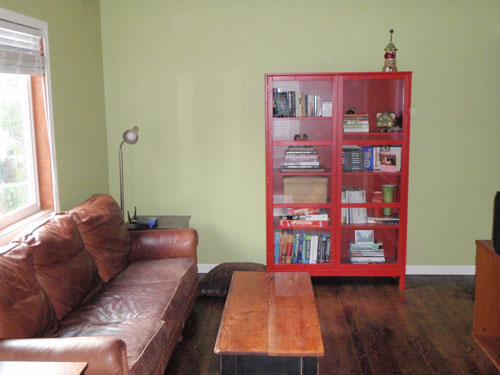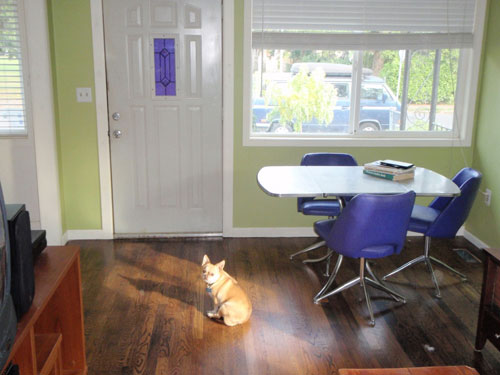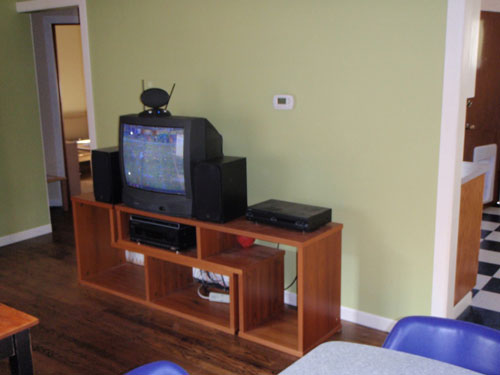 We love Keatra and Levi's wall color, and that red piece from Ikea is amazing! We can definitely work in a lot of their existing pieces to create something modern, mix & matched, and anything but expected. So without further ado, our handy dandy mood board:
And now for the mood board breakdown.
1. Our color palette is cheerful and unexpected… just like a chic-flea-market-mix-&-match room would demand. Some rich eggplant tones (introduced sparingly in the accessories and in a pretty fun TV stand makeover) will work together with the fresh warm green walls and some punchy red accent colors (tied in from that fabulous Ikea cabinet) to create something current and creative. And we'll be sure to bring in some neutral wood tones like chocolate and taupe to keep things from looking too busy in the small multi-functioning space.
2. We couldn't love that red Ikea cabinet more (in fact, we've even lusted after it for our own home). And because the devil's in the details, we think adding a few storage baskets (for just $5.99 a pop) to break up all the books & DVDs will conceal some of the less attractive items while breaking up all the busyness behind the clear glass doors. We love all the colored spines going on in there, so by cutting down on some of the clutter with the neutral baskets, there might even be room to add some cute decorative accessories too, like a big wooden letter (the first initial of K&L's last name?) or a few vintage vases snagged at the thrift store or flea market.
3. Keatra and Levi mentioned that they had a new door on order with six small windows at the top which they'd like to cover with a curtain of some sort. Well we searched high and low for a playful pattern to work with our color scheme and dug up this one at none other than Urban Outfitters. Since it's definitely too long for the window, we thought they could hem it (or use iron-on hem tape) to create a custom curtain that's the perfect size for the door. And the extra fabric could be used to create a simple little table runner to add some interest to the nearby dining area as well.
4. We also dug up this great little modern bentwood chair with metal legs which will tie in perfectly with the retro table while adding a bit of crisp and sleek style (for a mere $49 a pop). Since these have a much smaller footprint than the previous dining room chairs, we think Keatra and Levi could fit four at their dining room table, but we actually only think they should snag three because we have another idea for seating under the window, just to keep things interesting. Stay tuned…
5. Since Keatra and Levi were so inspired by Matt and Kristin's home, we couldn't resist the urge to add some colorful art to their mood board, for that punch of color and that special "I'm a collector" feel. This great canvas watercolor-esque piece is ready to hang (and only $50). It definitely feels special enough for their space, and it even seems to subtly complement the color and the pattern of our door curtain and runner fabric- not in a matchy matchy way, but in a I-just-collect-things-over-time-and-they-work-perfectly way. And we thought it would look great hanging on the wall to the right of the dining table when you're facing the front door.
6. One thing we thought would definitely add to the sophisticated, layered style of Keatra and Levi's space would be a cozy rug by the seating area. It doesn't get much more affordable than this 5×7 chenille rug from Urban, and we think it'll really make the existing wood coffee table pop and add a fresh and inviting feeling to the entire room. By breaking up the wood tones of the coffee table and the floor along with the similarly toned leather sofa, Keatra and Levi will be surprised by how much punch and dimension a neutral toned item can add to a seating area.
7. Now this is just an added option, but we noticed that Keatra and Levi appear to have a pretty chunky old TV (which might not even work after February of next year when cable goes completely digital) so we thought we'd suggest a great looking 26″ flat screen that could completely make over their TV viewing area while adding some updated and modern style for a less top-heavy look. And speaking of the TV area, we love Keatra's idea to remix her existing TV stand into something more current and crisp on the cheap, so we think that she and the hubs should use a custom cut piece of plywood to create a "back" to  block the messy view of all the wires and create a super streamlined appearance. They could just nail/glue the wood in place from behind and then paint the newly attached plywood back a rich eggplant color (which will really work with the existing wood tone on the side, front and top of the piece). For the perfect deep eggplant color, try RSVP by Glidden. Oh and if pattern is more their style, Keatra and Levi can add the remnant of fabric from the Urban Outfitters curtain above to the back of the TV stand instead of using it to create a runner. Gotta love a little pop of pattern in unexpected places.
8. Here's the piece that we teased you about earlier when we mentioned the new chairs. Instead of having four predictable dining chairs, we thought adding a clean-lined bench seat below the window while bringing in three of those great wood & metal chairs around the rest of the table would add tons of mix & match style and added function to boot (now they can seat 5 people in a pinch). Oh and have we mentioned these benches get rave reviews on target.com and they sell for only 79 clams? Amazing!
9. To balance all the color and pattern that we'll be mixing and matching in the space, we'll also have to pepper in some warm, textural neutrals (like the chairs, the bench, the new sofa, etc) to keep things balanced and cohesive (as opposed to crazy overwhelming). Even a few of the accessories, like the rug and this great fur pillow were intentionally selected for their soft cozy textures and warm and subtle coloring to keep things clean and cohesive in the space.
10. Now Keatra and Levi said that unfortunately their couch had to stay for now. But we for one don't think it's very unfortunate! At least from the pictures it appears to have that great beaten-up lived-in feeling… which is exactly how we like our leather couches. It's so European and cozy to have a big broken in leather sofa to sink into (not to mention very vintage & flea-market-esque. But we do understand if up close it's not as wonderful (or doesn't smell as wonderful) as it appears in the pictures, so we dug up this great new leather sofa for an almost unbeatable price in case Keatra and Levi need a replacement sometime down the line.
11. And last but not least, we adore these rich eggplant vases and think they'd look just fab placed on top of the red Ikea cabinet. We love the unexpected eggplant pop that we suggested for the back of the new TV stand, and by bringing the tone into another area of the room in an oh-so-subtle way, it'll add interest and draw the eye up for some added height in the space as well.
So there it is. Keatra and Levi's modern flea market chic mood board makeover. We can't wait to hear what you guys think!
Update: We sadly can no longer find the time to take on client commissioned mood boards (we now whip up general inspiration boards instead) but if we ever reinstate them we'll make a big announcement!