We're one measely week into our fun little guess-who's-going-win-Top-Design contest and one of my top picks has already been booted. Just my luck.
Wednesday's episode paired the designers and challenged them to turn cold, concrete bomb shelters into places you'd actually want to spend the rest of your life in. Both my #2 pick Robert and nobody's pick Jennifer got the axe for their disjointed room, while – in better news – my #1 choice Andrea (Ricky Shroeder's wife, in case you haven't heard her mention it 40 times already) and her teammate Eddie earned this week's top design with their nature-infused space.
Andrea and Eddie were popular choices amongst this crowd so let's hope they keep up the good work. Although, was anyone else not crazy about that tree mural?  I'm not so sure I could spend the rest of my days looking at that thing.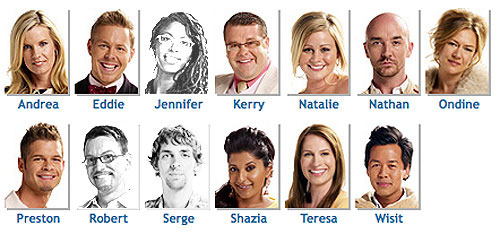 Still want to play along?  You won't be eligible for the prize, but feel free to join the fun and make your guess as to who this season's final three contestants will be (by commenting right here on this post).
HINT:  Don't guess Robert, Jennifer or Serge.