The second season of Bravo's Top Design premiered last night and we were glued to our tube the whole time.  We dug the introduction of new host India Hicks (and her accent) along with the spontaneous "Pop Design" challenges. We were weirded out by Wisit's crazy opera (?) singing. And were relieved that they ditched Jonathan Adler's corny "see you later, decorator" catchphrase (it was not "j'adorable").  But we were most excited at the chance to revive our favorite reality-television-watching tradition: a spirited guess-the-winner contest among friends (and this time, among strangers).
Whether it's Design Star, Project Runway or- I'll admit it- America's Next Top Model, Sherry and I have a long tradition of taking bets on the order in which contestants will get voted off. But this time we want you in on the fun, so we're gonna open the doors to our friendly little competition and invite you all to join our Titillating Top Design Contest.  The rules are simple:
Figure out your favorite designers.  Need to research?  Check here for a re-run schedule or visit the Bravo website for a recap and contestant bios.
Submit your guesses for first, second and third place by commenting on this post (i.e.  #1 – Jonathan, #2 – Kelly, #3 – Todd).  Feel free to share your rationale, but we'll understand if you want to keep it on the down low.
Comments must be made by 8pm EST on Tues, Sept 9 to count.  And your first answer is your final answer.
At the end of the season, we'll tally your points (5 points for guessing first place right, 3 points for second and 1 point for third)
The winner will win their choice of a Magazine Monogram or a set of Mix & Match Monograms from our shop.
In the event of a tie, we'll let Kelly Wearstler's hairstyle pick the winner. Just kidding, we'll select the winner at random from a blind drawing.
And if you're wondering what we think, we'll tell you our picks once all other guesses are submitted (but before the second show airs, we're all about an even playing field). Then throughout the season we'll check in whenever there's a great design or some insane drama worth gossiping about.  Here's a snapshot of the 12 remaining contestants (spoiler alert!) to help everyone make their picks.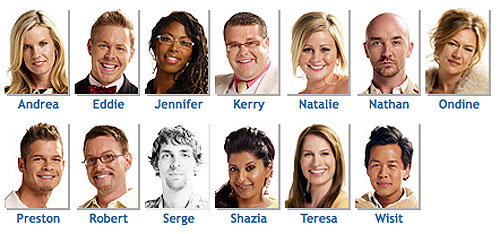 Later Serge and your unexplained need to always hang things askew…