When we received Azure's plea to swankify her lofty living and dining area, we couldn't wait to get our mitts on her space. Here's her letter:
I'm in need of help so here it goes… lets see what you can do sista! I'm looking for a Restoration Hardware style in my house with a few funky pieces & colors mixed in. Most of my pieces are from Pottery Barn and I would like to keep them. The carpet will become oak wood flooring at some point (hopefully in the near future!) and I feel like the windows are too small for vaulted ceilings so I need to figure out how to fix that. I am open to removing curtains, pillows, rug, wovens, etc and I would love to repaint! Brown is so not me, I like happier colors like blue or green. I love the colors you used in your house :) I obviously need some artwork too but it is difficult because of wall space. Can't wait to see what you come up with….then I'll be back for the next room!- Azure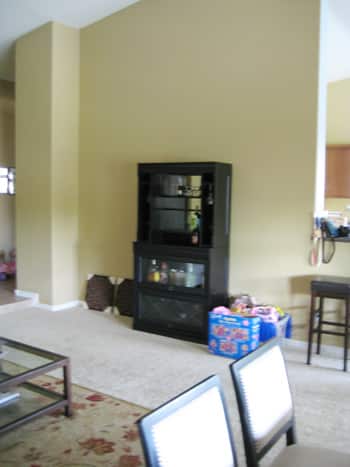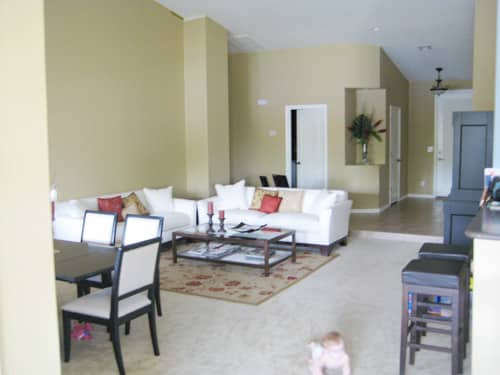 So without further ado, our handy dandy mood board chock full of the refined yet cheerful style that Azure so desires. We call it traditional with a twist:
Here's the mood board breakdown.
1. We'd love to lighten and brighten the space with a sophisticated yet cheerful palette. A few punchy yellow and green accessories paired with a subtle greeny-gold wall color (like Glidden's Chardonnay White) will really set off the rich oak floors that will be installed, along with the existing Pottery Barn pieces.
2. With so much wall space, we understand Azure's desire to showcase something really cool, and we loved this stretched canvas with a crisp cool grass pattern. We think a giant 60×34 inch version of this would look amazing over the couch that's against the wall. Azure also offered up the two wooden wall medallions (on the floor of her second picture) and we think they'd look great painted a crisp white and hung on top of each other on that cool column behind the couch in the third picture.
3. We loved this cute and cheerful pillow that would look right at home in the middle of each of Azure's gorgeous couches.
4. Azure could also add a splash of sleek nickel hardware over the couch against the wall, in the form of two wall sconces that she could mount on either side of her new artwork for some reading light and some added dimension. And since they're plug-ins, they don't call for any major construction.
5. One of Azure's main goals is to make her small-ish windows appear bigger and more in proportion to her vaulted ceilings. She can accomplish this with ease by hanging one of these white roman shades much higher than the top of each window (around 98 inches from the ground) which will cheat the windows up and make them appear much taller and more substantial. Then four of these gorgeous 98 inch Ikea curtains on one long rod (mounted at the same height as the elevated blinds) will skim the floor, finish everything off and make the entire thing look like one giant picture window (one panel will remain on each end of the rod, and the other two will cover the two strips of wall between the windows). To learn more about cheating a window taller and wider, click here.
6. We also thought more of that sleek nickel hardware (that's oh so reminiscent of Restoration Hardware) could be added by hanging two of these brilliant mirrored candle sconces on either side of the existing lawyer's bar, which will add more height (they're nicely oversized) and fill out that wall nicely. And think about how gorgeous they'll look when she actually gets around to lighting 'em!
7. Here's some rich oak hardwood flooring that we dug up for a jaw-droppingly good price of $2.67 per square foot. We think it'll set off the soft yellow and green tones in the room while adding to the traditional and elegant feeling that Azure's going for.
8. This über cozy throw would look great draped over one of the couches to create an inviting feel while adding more of our accent color to the room.
9. We think the seating are would look more balanced and comfy with one of these sheepskin floor pillows tossed on the corner of the rug in the third picture. Adding a big piece of furniture there would be too crowded and bulky, but a subtly toned floor pillow (or two) would look casual and cool filling our that seating area and inviting extra guests to plop down on the floor.
10. And speaking of plopping down on the floor, we think rolling out this amazing green patterned rug would lighten and brighten the soon-to-be wood flooring, while adding a splash of almost preppy sophistication in the kelly green shade. It's a little hip (thanks to the lush color) a little traditional (it's a bit like a formal lattice pattern) and super practical to boot.
11. And last but not least, sleek and crisp white accessories would finish things off on the coffee table and the dining table alike. We'd love to see two of these white pineapple candlesticks on the center of the dining table for another splash of fun meets traditional (aka: Restoration Hardware with a twist).
So there it is. Azure's sweet and swankified living and dining room makeover. So what do you guys think? Do tell.
Update: We sadly can no longer find the time to take on client commissioned mood boards (we now whip up general inspiration boards instead) but if we ever reinstate them we'll make a big announcement!