***This giveaway is no longer accepting entries***
In honor of our new nephew's arrival this week (he's scheduled to come via C-section on Wednesday!) we've got the mother of all baby-themed giveaways courtesy of LaJobi Industries. They're the makers of stylish baby and youth furniture and this week they're giving away an eco-friendly crib and crib mattress to one lucky parent (or parent-to-be).
The Dakota crib by Graco is their first environmentally friendly crib – it's made from sustainable woods, the dark walnut finish is water based and all the packaging comes from recycled materials. Plus, it looks pretty darn good. You can read all the nitty-gritty details about it on Walmart.com, since they're the exclusive retailer of the Dakota line (which also includes a changing table).
But an eco-friendly crib wouldn't be complete without an eco-friendly mattress to pair it with. So LaJobi is throwing in a Serta Nightstar Eco Firm mattress, which is made from organic cotton layers. Together that's a $330 package that should help both you and your baby sleep better!
PRIZE: LaJobi's Eco-Friendly Dakota Classic Crib by Graco and Serta Nighstar Eco Firm Crib & Toddler Mattress
TO ENTER: Comment on this post with the words "CRIB ME" and…
BONUS QUESTION: …tell us what your favorite bedtime story is. Is it a classic like "Goodnight Moon"- or something more progressive like "Captain Underpants?"
GIVEAWAY CLOSES: Wednesday, October 21st at 8pm EST
NUMBER OF WINNERS: One
PRIZE SHIPS: USA only
USUAL STUFF: One entry per e-mail address is permitted. The winner will be selected using random.org and announced on Thursday. Good luck!
Get more info on our freebies at our Giveaway FAQs page. Images courtesy of LaJobi Industries.
&nbsp
Q: I am wondering how you keep all your decorating ideas and images organized. Do you keep all the magazines and catalogs with good design ideas (if so how do you organize them?). Do you cut out images? Do you keep everything electronic or scan in images? Just wondering because I always want to keep lots of inspiring decorating ideas but then never know how to organize them or find them again without allowing the clutter to get overwhelming. Love the blog! -Lindsay
A: Good question! Of course I used to have piles and piles of torn out pages from glossy shelter magazines sitting around waiting to be filed or flipped through. But a few years ago I grabbed a 3-inch binder and some clear sleeves and literally created "the ultimate magazine" by adding all of my favorite inspiration pictures. It's super easy to flip through (a lot less cumbersome than a folder of loose tear-sheets), and I even organized it by category (interior inspiration, curb appeal ideas, holiday stuff, art I love, etc). Life changing, I tell ya.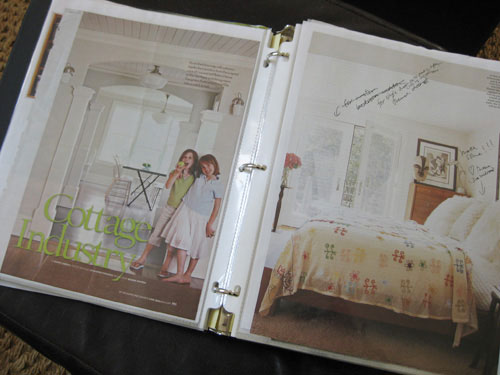 We also keep an inspiration folder on our computer desktop (with many of the same categories as the binder) for all of the virtual rooms and projects we love (blogger tip: we rename them with the source so if we ever want to use them on the blog we can properly credit them). And we also keep full issues of the glossies that we just can't bear to part with (we're the proud owners of every single Domino issue, seen here stacked proudly out in the open on the fireplace hearth in the den)…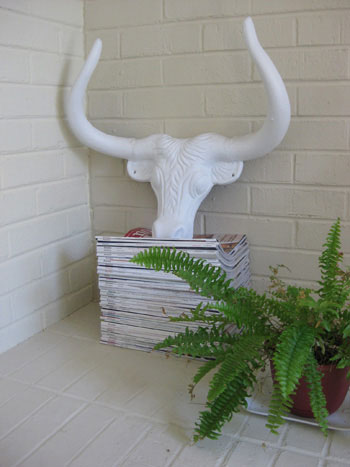 … and we keep all of our favorite House Beautiful issues stacked on the pedestal table in the den…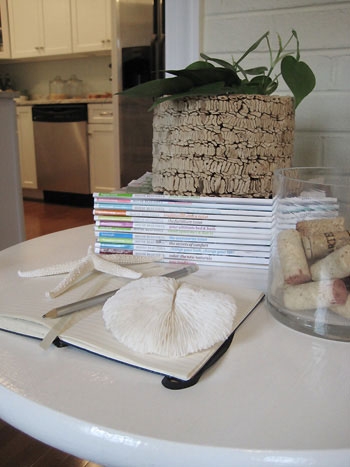 …and we stash a bunch of Cottage Living mags that we covet in various leather and woven baskets near little reading zones in the sunroom and the den (see the little basket next to the white armchair?).
So that's how we keep the stream of never ending inspiration in check around these parts. We can't fully claim that our binder is always perfectly sorted (sometimes we shove pages in with the promise of organizing them later) but it's a pretty simple system to keep up with for the most part. How do you guys organize your ideas from magazines and the interweb? We'd love to know what methods you have in place to keep things, well, in their place.
Wondering which magazines we list as our favorites? Check them out right here. And speaking of mags, check out the hysterical vintage glossies that John and I discovered at a garage sale. Too entertaining for words. And speaking of entertaining, don't forget to drop in on Burger's blog to see what he's chatting about today. That's a whole lotta links for you on this Monday morning. Enjoy!

&nbsp