*** This giveaway is no longer accepting entries.***
Ok, so maybe you didn't get that bit of bling you wanted for Valentine's Day earlier this month. Here's your chance to rectify the situation with some personalized jewelry from Lisa Leonard Designs. She even sells home decor-related pieces like necklaces with a chandelier, paper lanterns, frames and a house key on them. If those aren't designs after our own home-loving hearts than we don't know what is.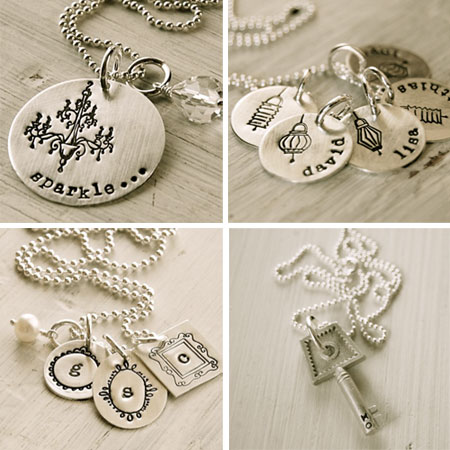 I'm not so good with the jewelry lingo, but word on the street (or at least from the pregnant lady standing behind me right now) is that Lisa's hand-cut and hand-hammered sterling silver necklaces, bracelets and earrings are well-worth shouting "oooh, I love that one… and that one… and that one" in your husband's ear. In fact, Sherry loved the earrings that Lisa sent her way so much that we recently bought a set for my little sister's birthday. And they barely take them off (so yes, my sister and my wife are often at family events sporting matching earrings).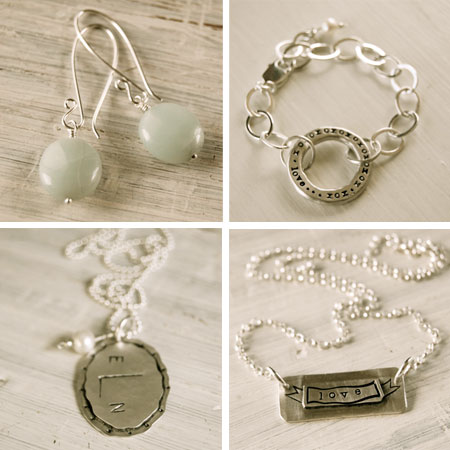 And if you're having trouble picking a favorite, perhaps this will make life a bit easier: Lisa Leonard Designs is giving away TWO $100 gift certificates towards anything in her store, so our winners can snag more than one thing if they just can't decide. Plus if you don't win, they're generously dishing out a discount to everyone else, so stay tuned for that along with our winner announcement on Thursday. In the meantime, here's how to enter:
PRIZE: A $100 credit towards anything in Lisa Leonard Design's entire collection
TO ENTER: Comment on this post with the words "WEAR ME" and…
BONUS QUESTION: …tell us about something in your closet that doubles (or that you wish could double) as home decor. Do you display your purse collection for all to see? Do you swag a scarf over a hook by the door for some color? Or do you have a favorite dress whose fabric would look awesome as curtains or an accent pillow?
GIVEAWAY CLOSES: Wednesday, February 24th at 8pm EST
NUMBER OF WINNERS: Two
PRIZE SHIPS: All over the globe!
USUAL STUFF: One entry per e-mail address is permitted. The winners will be selected using random.org and announced on Thursday. Good luck!
Find more freebie info on our Giveaway FAQs page. Pics courtesy of Lisa Leonard Designs.

&nbsp
We already talked about how much we love the Kurv (we're not paid by them or otherwise perk'd in any way, we just truly love it) and now we're even more excited because the day has finally come that we've discovered a full sized vacuum cleaner that we love just as much! Really, it sucks like a champ. And when we pair the carpet-friendly nature and the sheer power of our new addition with the super portable and wood-floor-friendly Kurv, the dust bunnies and tiny puppy hairs on our floors don't stand a chance. Seriously, our house has never looked (or felt, because that's important too) so clean.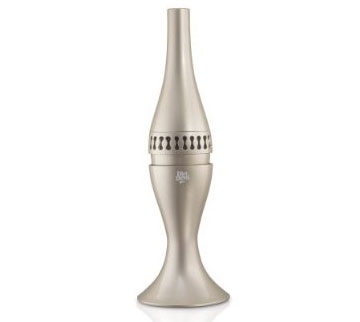 We realized we needed to replace our sad excuse for a full sized vacuum known as the Dirt Devil Vibe Quick Vac (more like a leaf-blower as it actually blew out more dust than it sucked in) before the baby came, especially because it tried to kill me whenever I cleaned up during allergy season (seriously, I'm not kidding when I say that it blew things up and out into the air). It was really our fault when we decided it was a good idea to invest all of forty dollars on a vacuum cleaner. I mean what did we expect? So this time around we did some research and actually went into vacuuming shopping with a list of things we wanted:
A HEPA filter (which helps keep allergies and other airborne pollutants at bay)
A bagless variety (also great for allergies and simpler to operate for un-bag-coordinated people like me)
A reasonably light-weight model (anything over 20 lbs, no matter how much power it has, is a bit much for a 5'2″ gal)
Significantly more power than our previous model (which only boasted 8 amps)
More settings for different jobs so it can effectively clean multiple surfaces (some area rugs in the house need extra suction while the hardwood floors need something geared for that purpose).
Your list might not be the same as ours at all (different strokes for different folks) but we highly recommend the idea of walking into any big household purchased like this with an idea of what you want from the get-go. It really helps to keep things from getting overwhelming since you can immediately whittle down all the options since they can't all possibly meet your previously established criteria. It's a nice little filtering method that allows you to hone in on a few models that seem to fit the bill and then you can do additional research or ask any questions about those few contenders to make the final decision.
Ladies and gentlemen, here's what we ended up whittling down as our winner, the Bissell 82H1 Cleanview Helix Bagless Upright Vacuum Cleaner: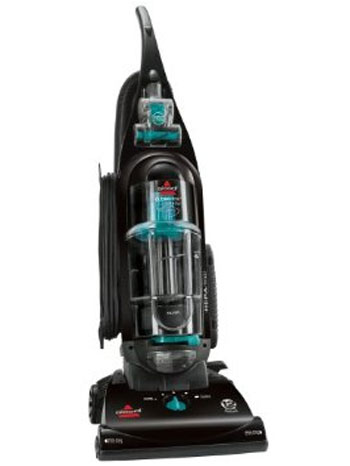 And since that name is such a mouthful, let's just call him the newest member of our family. This guy has 12 amps of power and multiple settings (five to be exact, so you can add extra carpet suction or turn it to a more hardwood floor friendly setting). He also comes equipped with something called a Helix Dirt Separation System for deeper and more powerful cleaning. Of course he's bagless (and has an easy-empty dirt cup) and has a HEPA filter as well. Plus he even has extra perks (like adjustable height settings and also comes with a slew of extra fittings like a TurboBrush, crevice tool, extension wand, and upholstery/dusting brush). Plus he's just 15 lbs so he falls under my 20-or-less rule. And after reading many many customer reviews on a number of sites (thanks to our iPhone we could do that right in the store on the spot) we were confident that it was a great choice (it had over 40 five-star ratings on Amazon).
Perhaps the best news of all was the price. Our new friend happened to be on sale at Target (down from $80 to $69 just for the weekend) so although we walked into the store intending to spend around $200 for something that would last, all the high-ratings and the fact that it met and exceeded all of our previously set requirements had us feeling like we'd struck gold. 
But back to my story. When I got home I broke it out on our grubbiest carpet (the yellow one in the living room was full of grime from lots of indoor-outdoor snowy-and leafy-foot traffic traffic as of late) and it seriously lifted every last bit of dust and dirt (John watched as the carpet literally got yellower and less brown before our very eyes). It looked brandy new again. Oh happy day. And it worked just as well on the hardwood floors (I got giddy when I got to change the setting from carpeting to hardwood- it felt so custom and fancy). I even took the upholstery brush for a spin on our sofa (it picked up every last hair, fleck of dust, etc).
Who knew cleaning could be fun? I was perma-smiling like a stepford wife with my new vacuum cleaner by my side. So that's the story of our latest housecleaning weapon that I'm relieved downright psyched to have on hand before the bean arrives in May. After all, one of my resolutions this year is to simplify things and keep our house running more efficiently and easily. And this guy will definitely make cleaning stuff up much simpler than our former leaf-blower ever did. And I bet I won't go to sleep with a runny nose every time I vacuum during allergy season anymore. Somebody stop me before I lift this machine up in the air and start singing "for he's a jolly good fellow."
Oh and just to be totally clear, Bissell didn't pay us or otherwise perk us (nor did Target, Amazon or anyone else) to mention this vacuum. It's actually the one that we researched and paid for ourselves because we thought it was the best thing since sliced bread and we wanted to share our find. So this post isn't one big ad as much as one big weird love-fest for a new vacuum from an extremely appreciative homeowner. But let's talk about your lean mean cleaning machines. Any other Bissell lovers out there? Any fancy Dyson peeps (I ogled the white pet-hair model for what felt like hours)? Anyone who doesn't believe in vacuum cleaners and peacefully coexists with dustbunnies? Let's talk about what sucks at your house.
Psst- Wanna know more about how we clean our entire house? Click here. And for the original suckie vacuum post about our beloved Kurv, click here.
&nbsp