So we're back with our second faux sheepskin DIY undertaking (after sharing the first one this morning). For this project we actually visited the biggest most insane fabric store that we'd ever seen while on a recent trip to Charlotte to visit some friends. It's called Mary Jo's Cloth Store and it's basically a gigantic 32,000 square foot warehouse full of about a million bolts of fabric (we're talking about a football-stadium-sized holy grail of textiles). And it's located right outside of Charlotte (just off of 1-85 at exit 21).
All I can say is that if they don't have it there, nobody does. Plus their prices are fantastic. We saw designer prints marked down to $10 a yard that go for $19 a yard here at fabric stores in Richmond. Yes please. Here I am among the rows and rows (and rows) of stacked fabric bolts with my cute friend Kristin who showed us around the town (remember we crashed her house for you a while back?).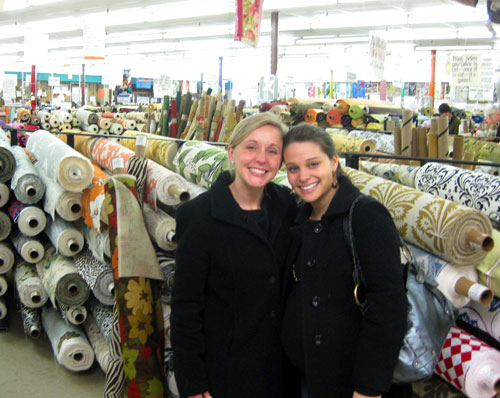 And here's John doing what he does best. Finding the weirdest thing he can and taking an ironic picture with it (yes that's dental themed fabric with teeth, floss, toothbrushes, and sayings like "smile!" on it). Like I said, if you're looking for something specific they have it at Mary Jo's.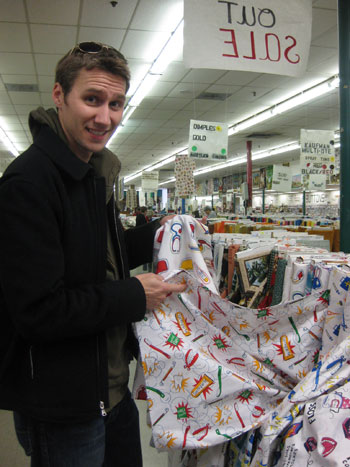 Anyway, we ended up bypassing all the quirky patterns (cats with yarn? check. dogs in baskets? check) and picked up a yard and a half of gorgeous nursery fabric to make a modified crib skirt (to obscure the space between our crib mattress and the top of our slide out drawer- stay tuned for those details) along with one yard of fluffy ivory faux fur. We looked through dozens of faux fur options to find the densest, most creamy colored version that looked and felt the most like sheepskin. And the cost? $14.99 for the yard that we grabbed.
The best thing is that it was on one of those super long bolts so even though it was only 3 feet wide, our big rectangle of fluffiness was nearly six feet long which meant we could get three faux sheepskin throws out of it, making them just $5 a pop (which is a heckova deal when you consider that Ikea's cheap-o real ones are around $25 each). Of course we just whipped out our homemade paper sheepskin template (see how we made that in this morning's post) and used a thin sharpie to trace the pattern from our template onto the back of our fabric three times.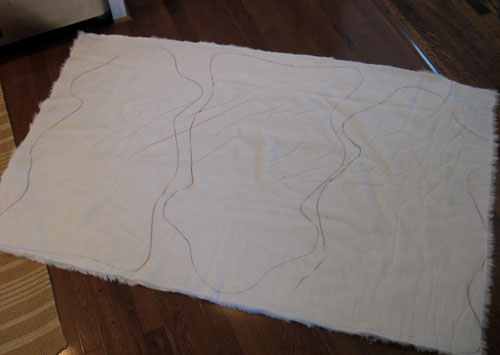 Then I did a test cut on the edge of the fabric to be sure fluff wouldn't fly everywhere and the faux fur wouldn't completely unwind or come loose when it was trimmed down to size. Happily just a few fluffs were freed with each snip (it was sort of like giving the large shaggy fabric a haircut) but nothing too major was released, and even when I tugged on the fur around the edge of my test cut it held steady and didn't unravel. Whew. This meant that I could then go ahead and cut along me three sharpie outlines to create three fast and easy faux sheepskin throws in a matter of minutes without worrying about binding the edges. Easy.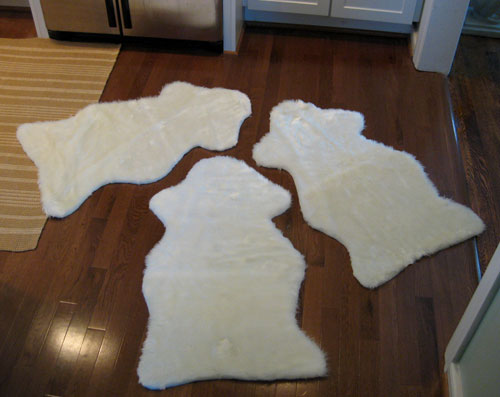 Things were a bit floofy when I was done (picture my black shirt covered in matted sheepdog-like hair) so I tossed all three of our new throws into the dryer on "extra low heat" and let them spin a bit to shake out any and all remaining fuzz. It worked like a charm and when I pulled out our three surprisingly realistic looking $5 faux sheepskins they looked pretty darn good. Definitely good enough to be used around the base of my Christmas tree, draped over chairs and the back of my couch, tossed over an ottoman or two, etc. And this dryer de-floofing process seemed to really be effective since I was no longer covered with white hair every time I brushed up against them. Which is nice because that would seriously get annoying.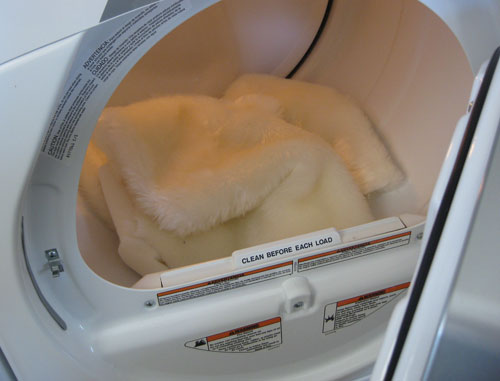 Now just as we mentioned that this morning's DIY sheepskin project yielded more structured "rug-like" versions, this approach makes for much floppier and flexible "throw-like" accents. So they're great for tossing over pieces of furniture to add some nice lightness and softness but probably couldn't hold up on the floor (without creating death-trap slipping scenarios) like our rug counterparts could from this morning. So here's one of our three new furry guys living it up on the storage bench in our dining area (pardon the bluish-white cast, the sky was reflecting through the window- for a more true indication of the real color check out the picture of them in the dryer above).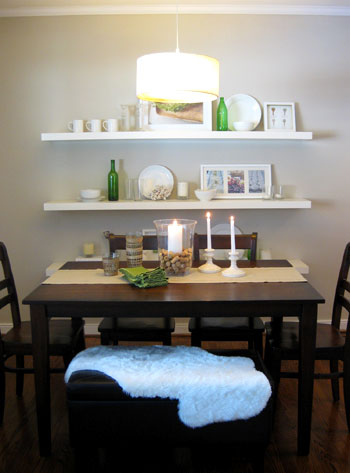 Here's a close up so you can see how the edges look nice and fluffy just like the real deal. We honestly don't know if anyone would be able to tell that we switched out our real sheepskin for this faux one since they look so eerily similar. Which was totally the goal. Score.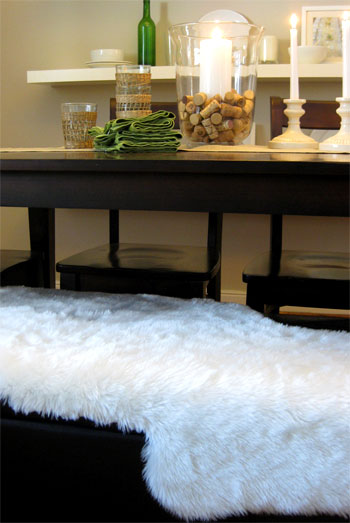 We tossed the second one over the back of a nearby living room chair (we love the layered tone on tone texture that it adds).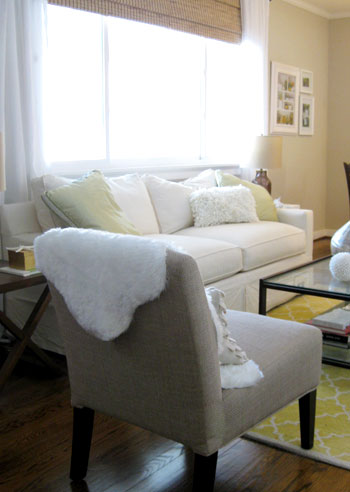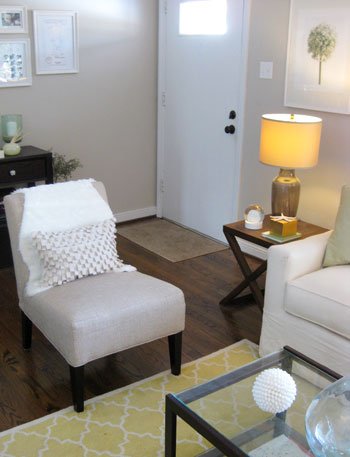 And draped the third one over the back of another slipper chair in our den. Doesn't it look soft and inviting? Who knew three $5 upgrades could add so much to three different seating areas in our house?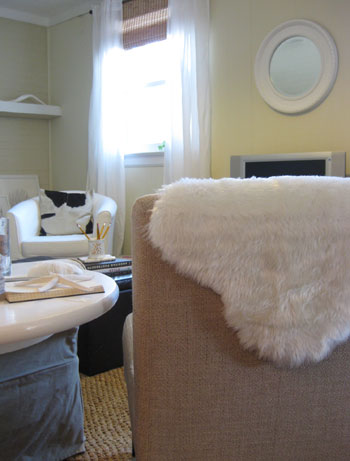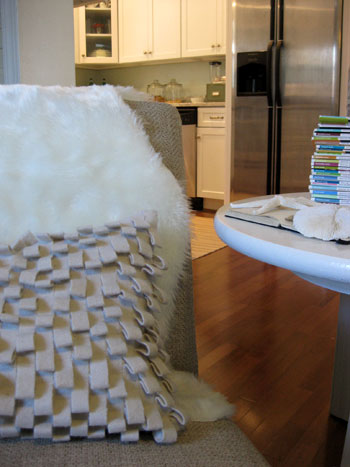 So that's our second faux sheepskin DIY tutorial for ya. It really was as simple as hunting down some wooly white fabric (or even a white furry blanket if you see one of those at TJ Maxx, Home Goods or Target), whipping up a free homemade paper sheepskin template, tracing it onto the back of the fabric (or blanket if you go that route) and cutting it out. And don't forget that a quick low-heat spin through the dryer should de-lint it for you. Easy peasy.
Or should we say easy fleecey? Sorry that was terrible. I'm cringing over here. Maybe we're just a little too excited about our cheap-o $5 furry friends (I can't wait to move them around our house like I used to do with our Ikea ones- they're so flexible and fun). Plus these are WASHABLE (our Ikea versions never were) since they're made of fabric, so that's the icing on the cake. But now it's time to ask you guys what you've been making lately. Have you picked up any discount fabric and used it to recover a chair or whip up a quick pillow? Have you made your own faux-fur throws, pillows, or blankets? Do tell.
Psst- Wanna check out our first DIY sheepskin tutorial from this morning? Here's a shortcut.
&nbsp
Ok, so you might think we're crazy, but we always thought the sheepskin rugs that Ikea sold (especially the super cheap small sized ones that we always grab) were faux. Well, we recently had one of those duh moments when we noticed that the materials weren't listed as acrylic or some other fabric and instead read: 100% sheepskin. Oops. We should have known- after all, they're a Swedish company- but for some reason we always saw $99 sheepskin rugs and assumed those were the real ones and that the cheap $25 Ikea ones just had to be man made.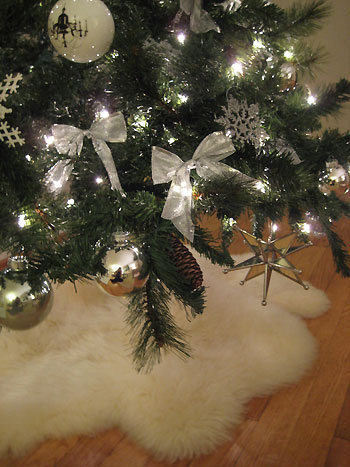 Now we know the faux or real sheepskin decision is an extremely personal choice (just like wearing fur, eating meat, wearing leather, etc) so this post isn't about judging or debating that issue (to each his own!) it's just about a faux sheepskin DIY project that we took on so we could happily pass our Ikea sheepskins on to a relative who promised to give them a happy home. It suddenly just felt weird to see Burger laying on the one that we had draped over the sofa but we didn't want them to end up in a landfill (so handing them off to someone who would appreciate them seemed like the best thing to do). We actually took on two different faux sheepskin projects, so this post will detail one of them while the one this afternoon will detail our second adventure in faux sheepskin making (hence the "part 1″ mention in this post's title). Let the fun begin…
First, we hit up a few stores in search of a super wooly shag rug on the cheap. We hit the jackpot at Marshall's where we found a large 4 x 6-ish version for $39. We knew we could get at least two faux sheepskins out of it (which made them under $20 each- which was actually cheaper than the affordable Ikea ones) so we snatched it right up. The tawny eggshell color was perfect and the fact that it was convincingly textured and wooly looking made it more of a "perfect fit" along with the fact that the backing wasn't that baby-doll-head-smelling grippy rubber, it was one of those woven fabric-backed rugs that we prefer.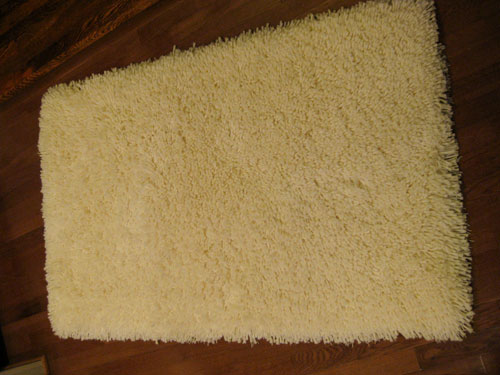 Then we got to work making a life-sized template to dictate our new sheepskin's shape, so we taped a bunch of pieces of paper together to get a nicely sized "background" and pulled up the link to the real Ikea ones which we used as a guide. It was as simple as sketching out a sheepskin-ish blob on our taped-together printer paper and cutting it out with a scissors.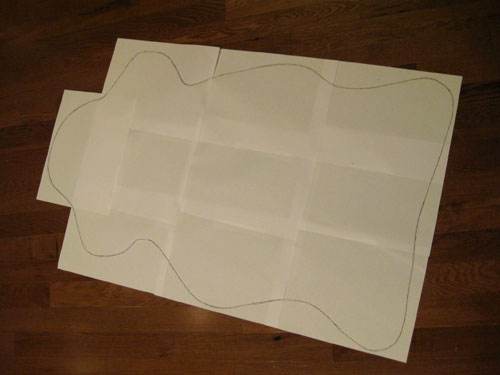 Oh and here's a tip: you can fold the paper in half vertically before cutting it out and just follow the pencil line on the exposed half of your sketch while it's folded for a perfectly symmetrical result if perfection is you middle name. I actually didn't go that route because I figured a little asymmetry never hurt and most sheepskins aren't perfectly even on all sides anyway.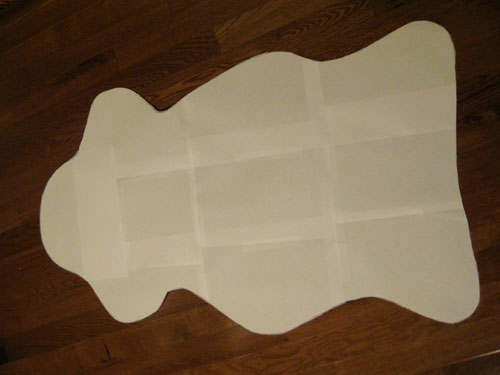 Next we just placed our new "sheepskin" template on the back of the rug and used a thin sharpie to trace around the paper cutout which left two sheepskin sized outlines on the back of the rug: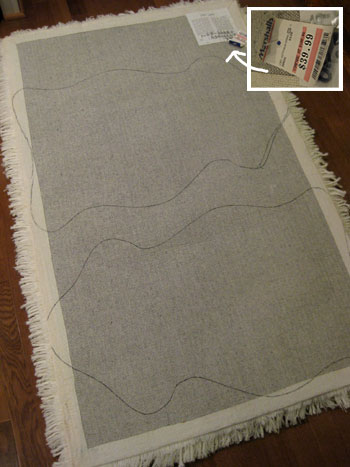 Then we did a test cut to see what would happen to the rug when we sliced through it. Our big fear was that everything would come loose and fall out (which we thought we might be able to remedy by using white duct tape to tape around the cut-out lines on the back of the rug before snipping to hold things together at the edges). But we were pleasantly surprised that no tape or other precautions were necessary and every slice was clean and no threads came loose even when you tugged on them after cutting. So then it was as simple as cutting out both of our sheepskin outlines…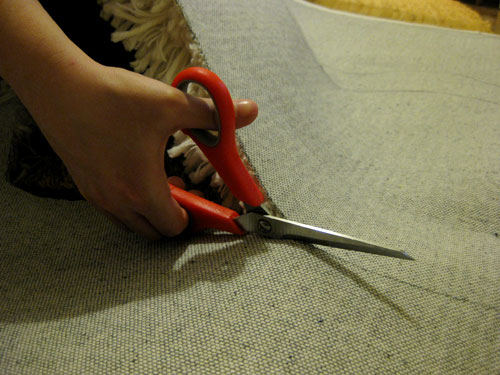 … which left us with two pretty darn amazing little faux sheepskin rugs. We love all the soft creamy texture that the shag pattern adds, and of course we love that we made them ourselves. There's always a bit of pride when you get to mention that you DIYed something, right?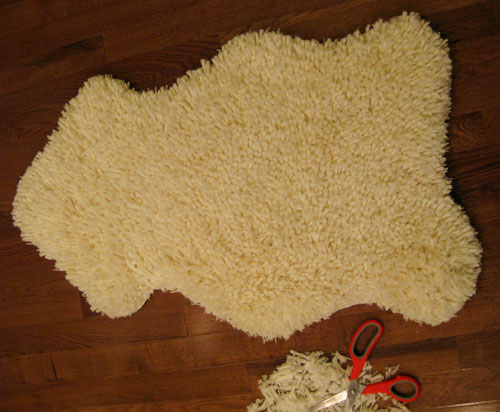 Oh and do you see that little pile of fluff under the scissors? We gave the outline of each rug a little haircut to refine the shape and make them look more polished and clean (initially the shag had flopped a few directions while we were cutting so the outline wasn't very crisp- but a few snips around the perimeter of each of our new wooly additions really cleaned things up and emphasized our intended shape.
Now this version of our DIY sheepskin is thicker and less flimsy than our second one (which we'll be sharing this afternoon). So it's not as easy to "drape" over the back of a chair for example (it's a bit more structured, like a rug would be). In short: it's much better served as an actual sheepskin rug (ie: use it on the floor as opposed to tossing it over the back of your sofa). Oh and you can make a much larger one for a bigger area with a larger rug (or just by not making two of them from one rug) so that's another idea. When it came to our two little ones, we did notice that one of them looked great on our square ottoman in the nursery (which required it to be a lot less flexible than thinner surfaces like the top of a soft upholstered chair or sofa) so that's where we decided it should live: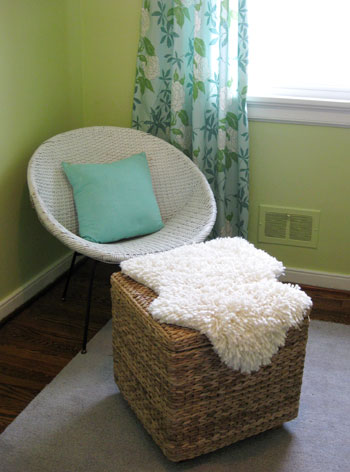 Isn't the shaggy texture charming? We just love how chunky and tactile it is- you really can't walk into the room without petting it.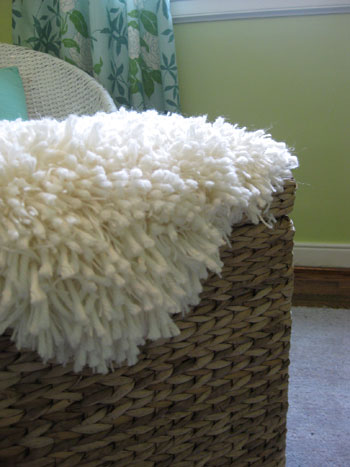 And Burger LOVES IT! In fact sometimes we can't find him and he's in there sleeping on it in the sun. Maybe he can sense that no animals were harmed in the making of it? Either way, so cute.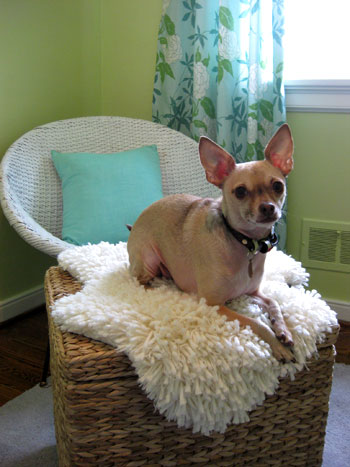 Our second wooly rug will probably also live in the nursery (on the ground as an actual rug) so stay tuned for those details as we continue to cobble things together in there. Oh and remember how there was an extra strip of leftover rug on one end after we cut out both of our sheepskin templates? Well it was perfect for creating a bonus little textured lumbar pillow. So not only did we get two faux sheepskins for $20 a pop, we actually got two sheepskins plus an accent pillow for $39 total. Not bad right?
All we did was take that long piece of leftover shag and trim the interior edge so it was one long rectangle. Then we "folded" it in half to create a nice loop of shaggy texture. When it came to filling our fluffy DIY pillow, we actually looked no further than a few other rug scraps- so it really is made completely from leftover rug snippings. We love that we didn't have to buy any batting or anything- and there was practically zero waste created by our entire project since we used it all.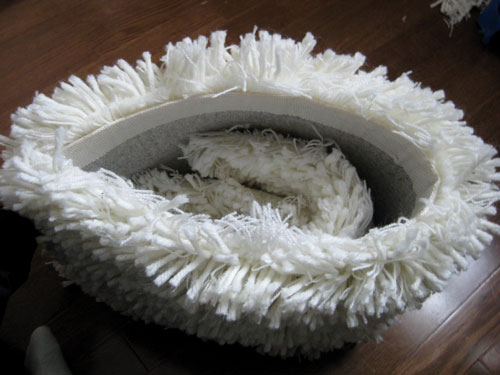 Now we're sure this next step will leave a few of you shaking your heads, but we're work-with-what-you-have people, so we actually reached for safety pins to secure the left side of our makeshift pillow (which you see me holding together in the photo above). The great thing about the rug's incredibly dense shaggy texture is that every single pin was completely obscured but it held things nice and securely- plus it's super poke-free and safe since they're buried so deeply in the shaggy texture that you'd literally have to go hunting around for them to find one and then would have to apply a ton of pressure to pop one open (which can't be done by leaning on the pillow or even whapping someone in the face with it during a pillow fight). Anyway, so we used a few safety pins to connect our loop of fabric on the side and a few more along the top and bottom seams.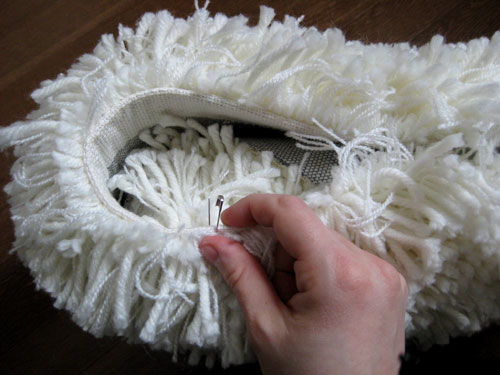 As you can see from this close up, they're placed extremely close to the base of the rug so they don't stick up and can't be seen, felt or accidentally opened (they're literally buried two or three inches "beneath" the dense shaggy fabric).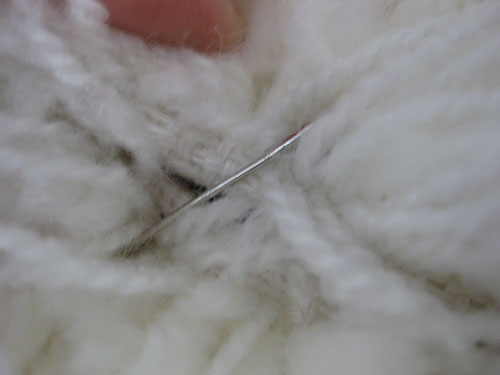 So unless you're digging through the long fibers of the rug in search of one they're completely undetectable. Gotta love a cheap on-hand solution like that.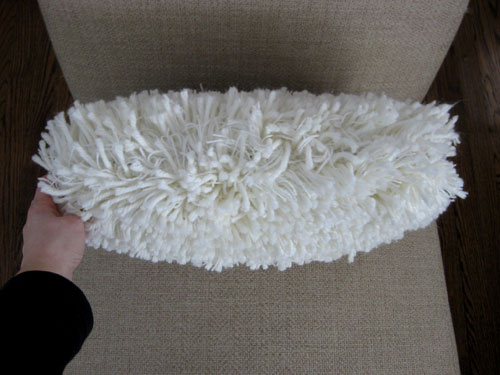 We've been using the pillow for about two weeks now in our living room and we have yet to feel any "small metal nubs" when we lean back on it. And we especially love that it was a free little bonus so if at any point we want to revise how we connected it (and remove the pins) we can- but seriously, so far so good. And we love that we used every last scrap of our rug and got a little bonus decor item out of the deal.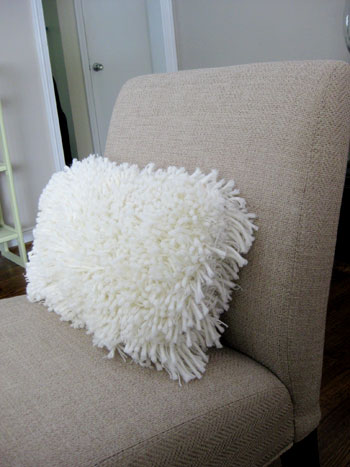 So that's one take on our faux sheepskin solution. Stay tuned for this afternoon's post where we actually hunted down fabric and made a more flexible and drapey "throw-like" version. And those were even cheaper and easier so they're definitely an anyone-can-do-it DIY project. Well maybe not anyone; Burger refuses to help but ironically can always be found enjoying all the fruits of our labor…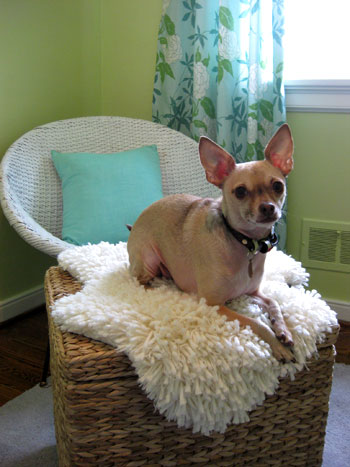 Sidenote: Is it wrong that we think he's the best looking dog in the world? Seriously, he's a knockout isn't he? But enough about our heartstoppingly handsome chihuahua. Have you guys ever DIYed anything from a rug or altered one in some fun hands-on way (dyed it? spray painted it? used it to "upholster" something like a cube ottoman?). We'd love to hear all about your thrilling adventures in rug-customization.
&nbsp