So it's been ages since we first introduced (and then seemingly forgot) a two-post feature where we invite you to tackle a house project right along with us. Last July it was cleaning out our garages, and this time we're turning our attention to our closets.
Call it nesting. Call it the spring cleaning bug arriving a bit early. Call it whatever you want, but Sherry and I recently got the urge to purge. With the bean arriving in T-minus 10-ish weeks (and loot from baby showers headed our way even sooner) now's the perfect time for us to donate/toss long forgotten items of clothing and unnecessary doodads that are taking up precious real estate in our closets- and better organize everything else that makes the cut. Plus, my closet has become quite a half-folded mess lately (we men only fold so much…):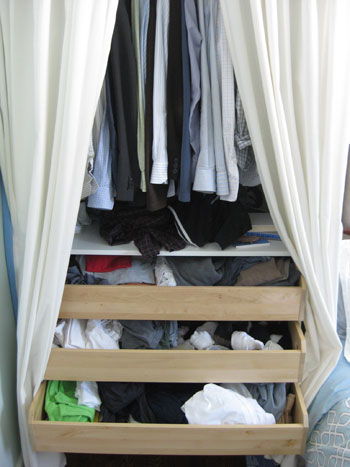 So we're giving in to that urge this weekend, and inviting you to join us. Well, not literally at our house, but to do the same thing in your own home. You get the idea.
And in case you think you're off the hook because your clothes are perfectly pressed and sorted by color, we'd gonna tackle some other closets this weekend too. Like our hall closet that stores all sorts of memories along with a growing collection of "emergency" gift bags and boxes (nobody needs that many).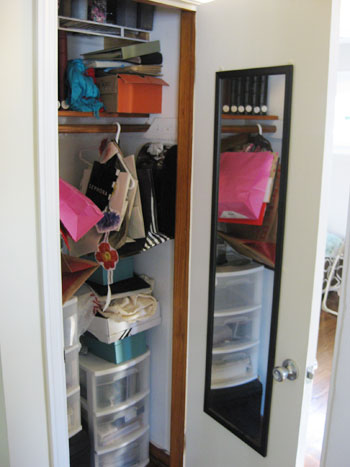 Plus, those bamboo blinds that conveniently cover the shelves over our laundry nook?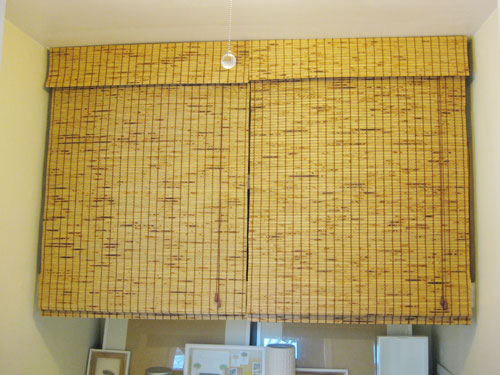 Um yeah… there's a reason we conceal this mish-mash of tools, luggage, wrapping paper and what I can only imagine is a lot of dust too…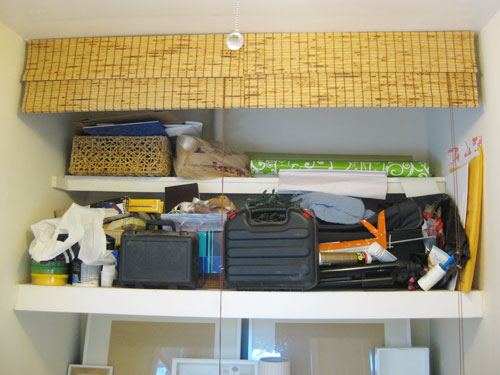 So now that our less organized nooks and crannies are out there for all to see, we've given ourselves a kick in the pants to make it better by Monday. (Do I get 500 bonus points for using nooks, crannies, and pants all in one sentence?). So who's with us? What could use some purging / re-organizing at your house this weekend? Whether it's a junk drawer or an entire floor, we're here to virtually rally your troops and encourage you to take it on. Not only will you gain the satisfaction of a cleaner and more organized place to live, but you'll actually earn extra square footage (for future storage, or just to allow your house to breathe again). And the self satisfaction of a job well done is pretty nice too (we're fans of rewarding ourselves with ice cream). We promise to post our "results" next week along with the process that we used to clean house- and we can't wait to hear how it goes for all of you too. Good luck! And good riddance to all that closet clutter.
&nbsp
On Tuesday we shared how we refinished a Craigslist dresser for the nursery, taking it from this…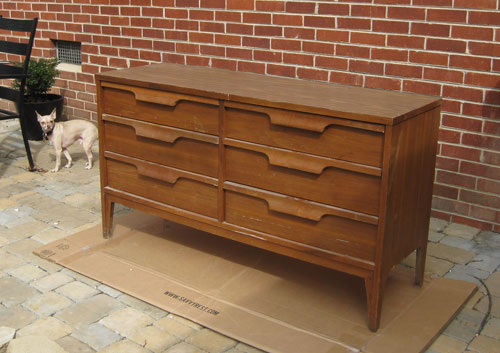 … to this: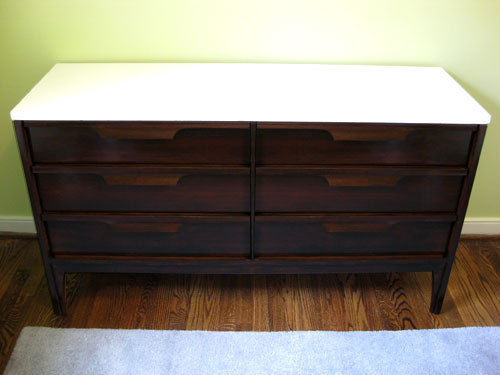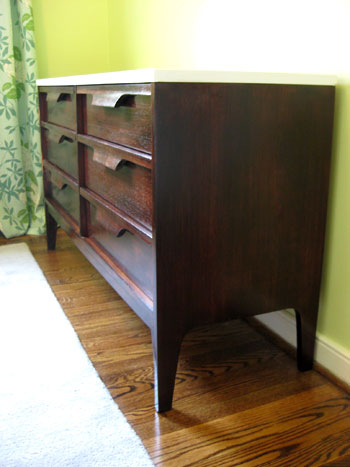 So now we're back with all the dirty drawer lining details as promised. This project actually only set us back around $1.30 because we already had everything on hand that we needed except for two foam craft brushes which we picked up at Michael's for around sixty-five cents a pop. Our other already-owned project materials were Mod Podge and six sheets of wrapping paper (given to us by friends who founded this awesome local paper shop called Ink + Paper). And just for fun we selected three different patterns to use inside of our six 50+ year old drawers to give them a totally fresh look and a nice clean texture (as opposed to the raw wood that they came with).
We were lucky that the drawers were pretty clean (nothing a wipe down with a moist rag couldn't remedy) and there wasn't any musty smell or sticky stain to be found. But if you're dealing with a slightly grosser old drawer scenario (like mustiness and odor that slaps you in the face every time you open a drawer) we've heard that wiping them down with mineral spirits and letting them sit out in the sun or air out in the garage for a bit might do the trick. Murphy's Oil Soap is also said to be one of the best ways to thoroughly clean wood drawers that are past their prime to rid them of any stains or smells. And as extra credit you can place bowl of fresh ground coffee inside of each drawer to absorb any lingering odor afterwards (we've also heard that bowls of untreated charcoal briquettes work the same way). Gotta love a cheap and natural solution like that.
Anyway, here are four of our potential patterns that we laid out over the lip of our crib to evaluate as a group. We actually opted to use the three boldest ones twice (since we had six drawers to line) so each drawer would have a punchy little surprise inside. This meant that we had to eliminate one pattern so after a bit of deliberation we settled on two drawers with the orange bubble pattern, two with the green birdie design and two with the bright blue flowered paper. We figure that they'll never all be open at the same time so it'll hardly be overwhelming and we liked the idea of Baby P pulling open each drawer when she's older to see something fun and graphic while she's grabbing a pair of socks or putting away her crayons.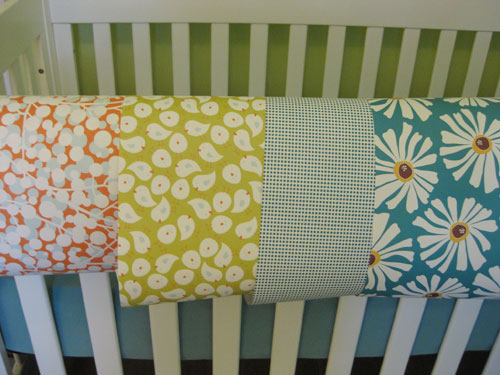 So after selecting our six sheets of wrapping paper (in three different patterns) it was time to cut each of our six sheets down to the size of the drawers (luckily they were all the same size so we cut one out and just used it as a template to quickly snip out the other five. Then we just had to decide how to adhere our "drawer liners." Initially we debated using some simple double stick tape to hold the paper down around the edges, which probably would have worked just fine. But after a bit of thought we realized that we wanted something a little more heavy duty (that could take a bit of a beating for the next 15+ years and still look pretty good).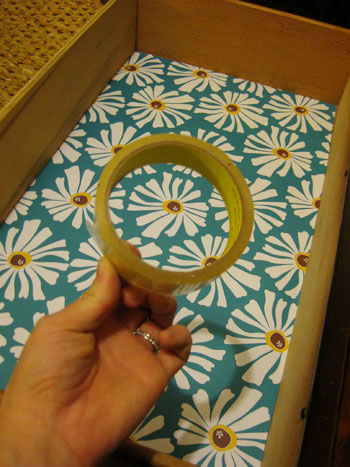 So that's when we settled on Mod Podge. We recently used it to create "vintage" sign art for our bathroom, so we know how well it holds up to moisture and general wear & tear (thanks to the protective coating that you can apply right on top of any sort of paper to make it a lot more durable than it was before). The first step was not to Mod Podge over the paper though, it was to apply a thin and even coat of the stuff to the bottom of the drawer so that our pre-sized pieces of gift wrap could be securely adhered.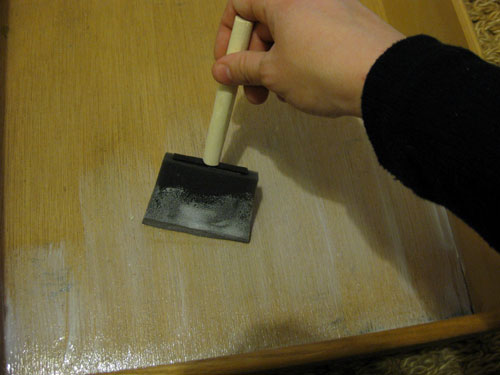 We always go for the "matte" kind of Mod Podge because we've found that it cures up more solidly and never feels tacky or sticky after it fully dries (usually within a few hours) so that should help keep the drawers from feeling grippy and tacky even in the warmer months. So after we slicked that onto the bottom of the dresser it was as easy as sticking down our already-cut-to-size gift wrap rectangle and pressing it along the center and out towards all of the corners to eliminate any bubbles or wrinkling. Note: we did not apply Mod Podge to the back of the paper, only to the bottom of the drawer.
I then worked my way around each of the other drawers, applying the Mod Podge to the base of the drawer and sticking down each pre-cut rectangle of gift wrap. Oh and the reason I didn't go right to applying a layer of Mod Podge over the first wrapping paper swatch after it was stuck down was because I wanted to give it ample drying time before moistening the front of the paper and possibly causing bubbles or wrinkles. In fact, I gave all of the drawers about four hours to fully dry before applying that top coat of Mod Podge over the paper for added protection.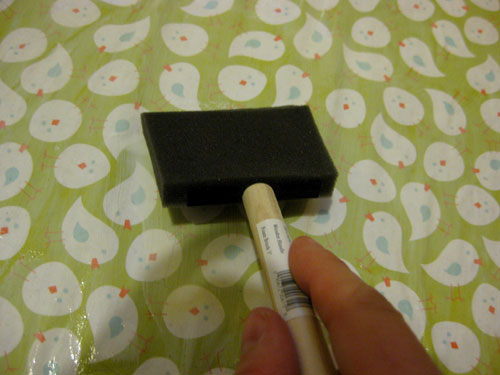 I was sure to apply the top coat evenly and thinly (not too gloppily so as to avoid wrinkles and bubbles). And after letting them dry overnight, we were left with durable and cheerful lined drawers that should last for the long haul (while providing a little dose of happy every time they're opened). Oh and we love that Mod Podge is 100% water based and non-toxic so it's not going to stink up our baby clothes or pollute the nursery like some other more chemical-ish sealers might. Good times.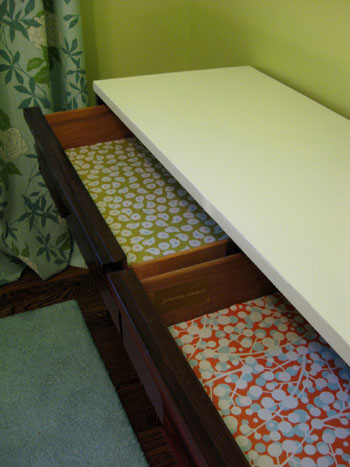 So there you have our under-two-dollar drawer lining adventure. We'd definitely suggest looking around your house for anything from decorative scrapbooking paper and gift wrap (even tissue paper) to swatches of wallpaper or even flash cards or playing cards to create your very own custom drawer liners on the cheap. Mod Podge + pretty much anything that's flat = interesting drawers that make you smile every time you slip them open. And you could even line drawers with old swatches of fabric, we would just use dots of fabric glue or even glue gun dabs on the back of each piece to hold them down as opposed to Mod Podge.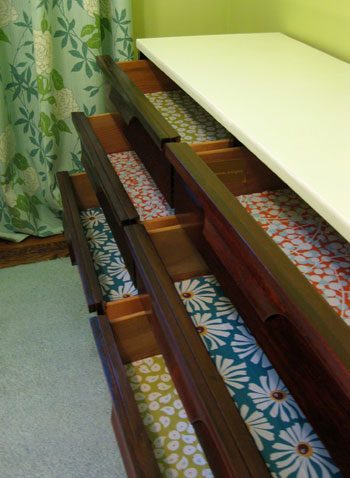 What about you guys? Have you lined any drawers with something that you already had around the house? Or even hit up Target or the dollar store for festive paper with just that purpose in mind? We'd love to know if you've added some unexpected personality to the inside of a dresser or cabinet so spill the drawer lining beans.
Psst- Wanna see our nursery progress from the very beginning? Here's our painting post, our big shopping spree, our crib hunting rundown, our curtain-making tutorial, our fun little chair search, our mirror-painting extravaganza, this DIY faux sheepskin project, and our big dresser makeover. Fun, fun, fun.

&nbsp