Ok, so that's a terrible "Ides of March" pun, but it doesn't make this thank you any less important. We're back for our usual monthly sponsor shout out- and it's these generous folks who keep our site running, our lights on, and our bellies full- so indulge us as we take a moment to remind you what makes them so great.
Let's kick it off with a trip to Viewville. Population: loads of fine art photo prints. I find myself drawn to "Urban" and "Nature" categories, whereas Sherry's discovering all sorts of new cravings under "Food" (and it goes without saying that Burger's a fan of the "Animals" page). Oh and don't forget that you get 20% off with the code YHL.

Design for Less always makes us wish we owned a big penthouse in the city with about ten bathrooms and kitchens that we could deck out in gorgeous glass and metallic tiles. Just browse their galleries, we bet you'll be dreaming of the same thing in no time.

Z Gallerie's latest collection for spring has us excited to celebrate our third wedding anniversary (even though it's still a few months away). Bright yellows, plus their lemon and lime theme already have us reminiscing about our backyard soiree. Plus I can guess what might show up on Sherry's upcoming birthday wish list…

The Tile Shop comes to mind every time we step into our now two-month-old bathroom, whether its admiring the grout that they helped us pick out or reminiscing about their wet saw that stole my heart in the process. And don't forget that you'll get 10% off when you use the code YHL10.

Shades of Light has a big ol' store right here in Richmond, but the rest of you can still browse their diverse collection of not-only-lighting, but also furniture, mirrors and rugs online or by requesting their catalog by mail.

Vol. 25 is full of sweet and stylized prints that celebrate life's simple pleasures. You know, like robots falling in love. Amazing. Plus her designs also come on fun stuff like t-shirts and photoshop overlays (just head over there to learn more).

A Beach Cottage chronicles the life of a fixer-upper cottage on Australia's coast. Sarah has all sorts of vintage, whitewashed and shabby chic inspiration for you to ogle over (plus she's coincidentally hosting a giveaway with sponsor Lisa Leondard's jewelry).

The Natural Sleep Store is a great resource for all things to make your night's sleep nice and natural. We purchased our Savvy Rest mattress there last year and still quietly sing their praises every night. So of course we were thrilled when they later came to us as a sponsor.

Frame The Date may be all about commemorating those special dates in your life, but let's not forget about the awesome custom frames that they also have available (whether there's a date in 'em or not). From exotic to painted woods, we also dig that it's all harvested using eco-friendly practices.


Lisa Leonard Designs definitely seemed to win you guys over with last month's generous giveaway, so take a moment to rekindle that spark with a trip over to browse her hand-cut and hammered sterling silver jewelry (and feel free to enter her giveaway over at A Beach Cottage too).


WallQuotes.com, part of Belvedere Designs, sure has you covered in the inspirational (or custom) quote department when it comes to vinyl wall decals. But don't let their name fool you – they've got other graphics and designs to bring your walls to life. We're digging some of these cityscapes, for instance. Plus, get 15% off with the code YHL15.

Etsy Kids is now featuring their Spring Shopping Guide, so you can browse playful items for the kiddos to wear, play with, or otherwise enjoy this season. Plus it's just good old fashioned fun to use their handy-dandy A to Z guide.

Blend Creations whips up jewelry with a blend of modern (sleek stainless steel) and warmth (nature inspired centerpieces) with a smidge of whimsy here and there for good measure. Plus these creations are the blended vision of a husband and wife design team (something we have a particular appreciation for).

Quirk delivers one of the most fun shopping experiences possible, both online and at their gallery here in Richmond. From tchotckes to tableware, we're endlessly entertained and inspired by their unique eye for design.

So thanks again to our sponsors for their show of support, and another huge THANK YOU goes out to all of our amazing readers. We truly couldn't do it without you guys and we're oh-so-grateful that you care enough to stop in and see what we're up to. Here's hoping some of the fun decor, accessories, jewelery, bedding, art, lighting and tile above have you excited to spruce up your space for spring. Is it just us or does it finally feel like it's really in the air?
&nbsp
You may remember when we took you on a virtual tour of one of our favorite homes ever- this charming bungalow in Charlotte.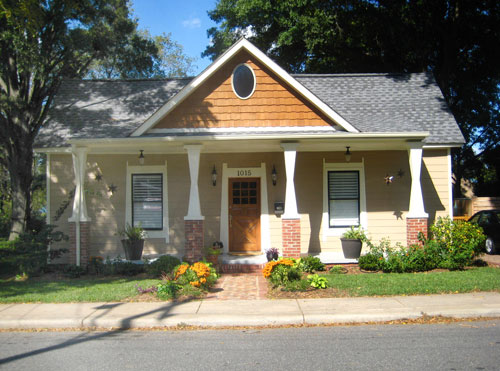 It belongs to our friends Matt & Kristin (and their adorable pooches Simon & Sage):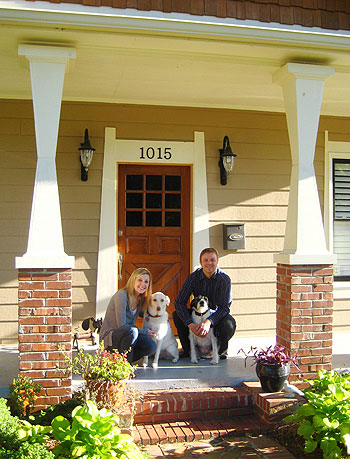 And we just can't get enough of it. Hence the second post. You might remember some of the gorgeous spaces like this…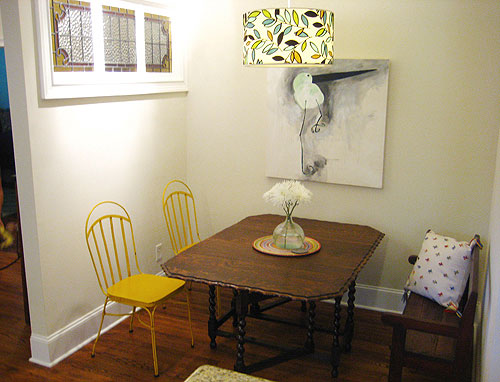 And this: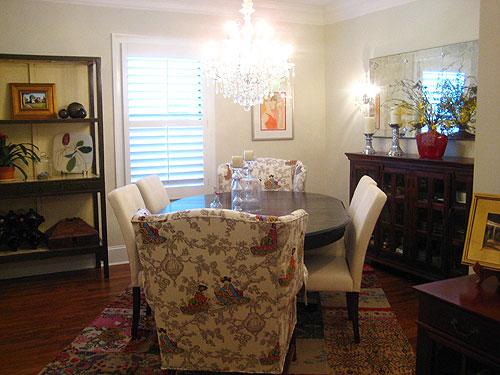 And this (see the whole original House Crashing tour right here):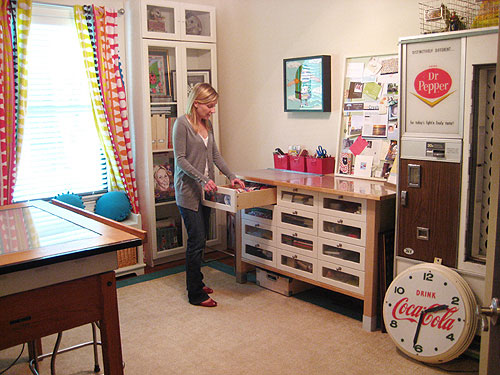 It's a seriously unforgettable home, right? Which must be why when we found ourselves back at their casa for another visit about a year later we re-saw so many things and kept thinking "that's such a genius idea." So much so that we actually decided it was worth pointing out five genius decorating ideas a la Matt & Kristin that you can easily implement in your own home. It's sort of a part two of the tour mixed with some tips about what Matt & Kristin do to really make their house stand out- so you can shamelessly steal their crafty tricks for your very own abode. So without further idea we bring you five genius why-didn't-I-think-of-that-ways-to-pimp-your-place:
Idea #1: Group bold art for a cheerful and graphic gallery effect. Every time we visit Matt & Kristin we're inspired to save up for some real art. They don't break the bank on the original pieces that they collect, but they aren't afraid to spend a little money for one of a kind canvases (in fact they love gifting each other great art for birthdays and anniversaries). And they really know how to make it even more impactful and eye pleasing- by hanging similarly strong and colorful pieces together in a semi-balanced-but-still-unusual arrangement (the two smaller frames under the bigger one in the middle is just "off" enough to look oh so right). The best part about this idea is that if you don't have any cashola saved up for other people's original art you can always make your own by purchasing a few different sized canvases and using bold hues to color block simple shapes and designs for a similar effect.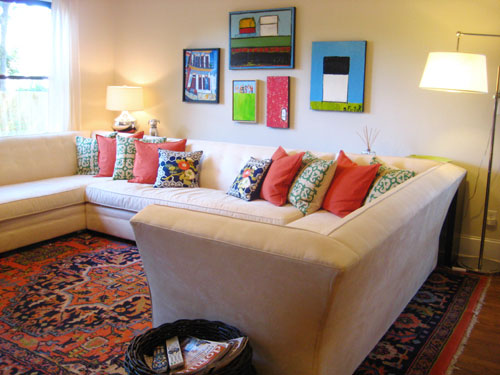 Idea #2: Who says interior doors have to be white? Not Matt & Kristin. In fact every single interior door in their house is stained a gorgeous ebony color- and it totally makes every space in their modestly sized bungalow pop with drama and definition. It doesn't hurt that they have lovely interior french doors that lead to their office…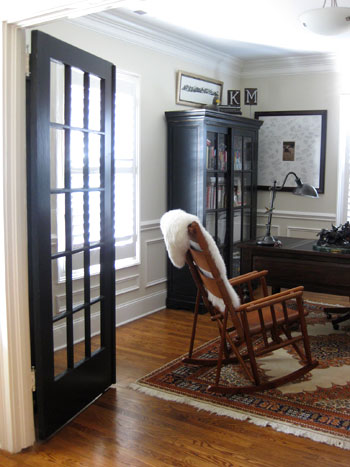 … but even bifold closet doors look extra elegant with that moody black tone- and basic bedroom and bathroom doors look special as well…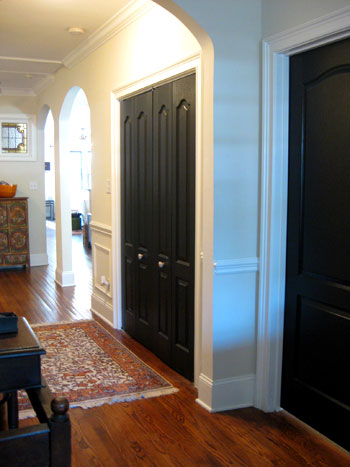 So go ahead and stain your natural wood doors the same ebony hue (or paint your white ones a rich dramatic black tone- like Benjamin Moore's Black Satin or Deep Caviar). It might be just the splash of sophistication that your home is begging for.
Idea #3: Window sashes can be black too. You may have even noticed Matt & Kristin's awesome black window sashes from the exterior picture of their bungalow that we shared above. But even if your house doesn't have true black sashed windows, there's nothing that says you can't paint yours – especially the interior frames (assuming they're metal or wood, which will both take a few coats of latex paint beautifully). So go ahead and slap on some rich black paint (and scrape off any drips that get on the window panes with a straight razor). It's kind of like eyeliner for the windows- so stunning and crisp. It's definitely an amazing way to add definition to your space. And if you have vinyl window frames you can still add a dose of deep sophistication with white curtains or roman shades that are lined with crisp black ribbon (we love when the ribbon runs around the perimeter of either one- and you can even DIY that detail with iron-on hem tape and a thick roll of ribbon from the craft store). Or you can even opt for black curtain rods to bring that elegant linear effect to your home in a snap.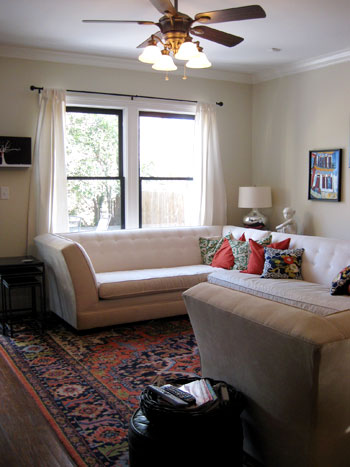 Idea #4: Personalize your pendant. Kristin picked up this pendant at a local shop in Charlotte that actually offers a ton of different fabric options when it comes to their drum shades. And we love that she went with something a bit more daring than the average white or cream shade. So go ahead and spring for a special patterned pendant for the room that you're looking to amp up (we love Stacy Garcia's stunning designs) or even recover a pendant light that you already have (or pick up a cheap drum shade and give it some serious style with less than a yard of fabric). Here's an old post all about recovering a lamp shade – see, it really is something you can do yourself. Bam, you're one step closer to having this amazing breakfast nook…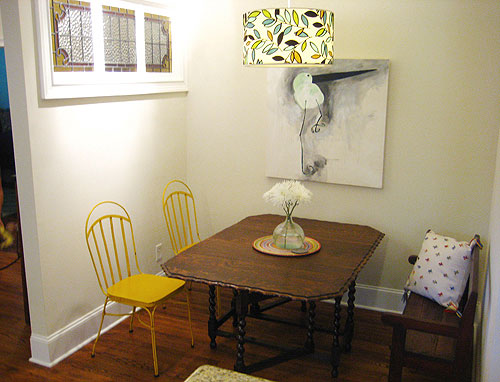 Idea #5: Create A Gorgeous And Functional Drop Zone For Cards & Letters. Kristin adored this deep wooden bowl (the orange tone was what really won her over) so she snatched it up without really knowing what she'd use it for. Then she noticed a pile of cards and letters from friends & family and tossed them into the bowl (and placed it in a nice convenient location in her front hall). The result was a sweet collection of correspondence from loved ones that Kristin just didn't have the heart to toss right away ("it feels so mean to open a card, read it and then just throw it away").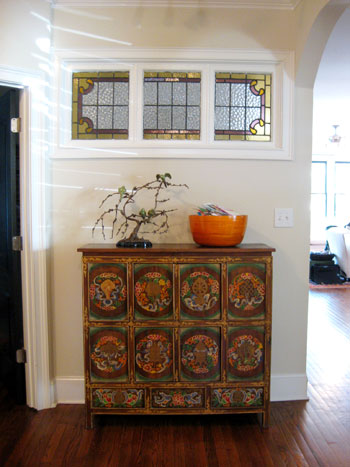 Now she has a bona fide landing spot for all those cards and about once a year she goes through them and keeps only the few that really should be saved for good (and tosses the rest without feeling nearly as bad since they were enjoyed in the bowl for a while instead of being promptly discarded as soon as she opened them). Plus it's really fun for her to go back through all those letters and cards at the end of the year one more time. Isn't that a smart (and sweet) idea? It's one part organization, one part sentimental and one part easy on the eyes.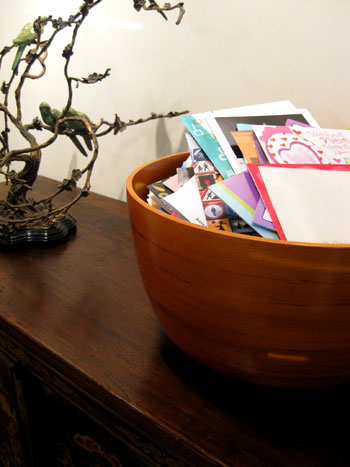 So there you have it. Five very doable ideas that you can pick and choose from to supe up your house Matt & Kristin style. What do you guys think? Do you have any favorites that you're itching to implement? Are you shamelessly dreaming of moving in (don't worry, we threaten to do that every time we visit). Or have you spotted any other easy ideas in their home that anyone can do (or come up with alternate ideas that you'd love to toss into the mix)? Spill it.
Psst- Can't get enough of virtually making your way through other people's homes? We can't either. Which is why we compiled an entire page full of every House Crashing adventure that we've taken on to date. Happy house snooping…
&nbsp