You probably don't need us to point out how much we enjoy natural elements in our home, so we'll cut to the important stuff in this week's giveaway from Amenity Home. First, since so many of you seem to covet the organic duvet prize (but we can only give it to one of you), Amenity Home is gonna hook you up with a 20% discount on their site. To get the code, register for Amenity Home's newsletter (bottom left of their homepage) and you'll get the deets via email.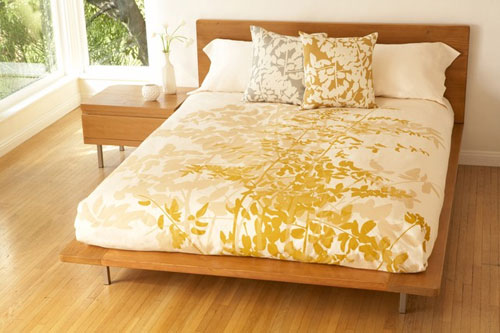 But as for the one winner, we took random.org outside for a "chat" and it provided our random winner's name: Kristy (who displays rocks and shells her kids find on vacations). Congrats! You'll have to tell us which color duvet you're picking: amber, peacock or celery.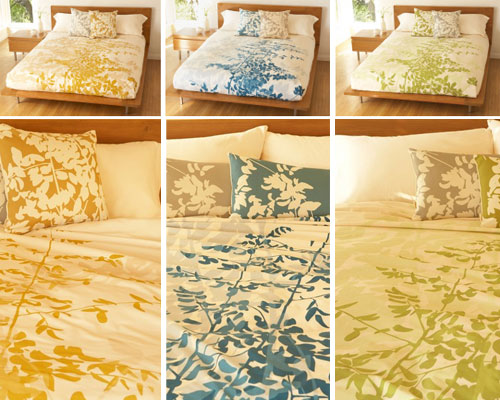 And fret not if your name didn't rise to the top this time, next week's prize is a trio of treats so stay tuned for that…

Find more freebie info on our Giveaway FAQs page. Pics courtesy of Amenity Home.
&nbsp
Bonnie's ready to give her living room a light and beachy look with a dose of glam worked in. Here's her letter:
I can't even tell you how excited I am to have your help. We're looking for a beach inspired space with touches of glam. I love crystal, mirror and silver. The only pieces I really want to stay are the two Pier 1 side chairs. The cream leather sofa can stay or go, as I believe I am drawn to slip-covered white sofas more (but if you can work in the sofa, that's fine). We need a new rug, and I like sisal and jute. We are open to anything really! We are having our wood floors sanded and varnished (not stained) so in a couple of months they'll be a much lighter color. We love blues and greens, and color combos like turquoise and teal. I would like a new neutral wall color that I can carry throughout the whole first floor. I am at a loss when it comes to curtains because we need privacy and I don't know what to do with those tiny windows by the fireplace. I like the mix of curtains & woven blinds like you have in your own living room. We will need a stand for a new flatscreen TV along with new lighting, end tables, and a coffee table. Maybe something with a little storage? We also like white furniture, and I'm open to mixing white with wood. All of the current art can be relocated, and I desperately need something pretty for over the fireplace. Thank you so much for your help! -Bonnie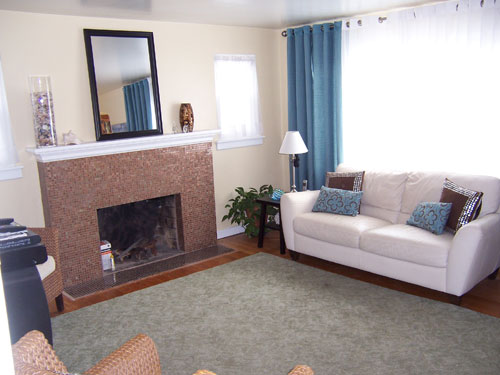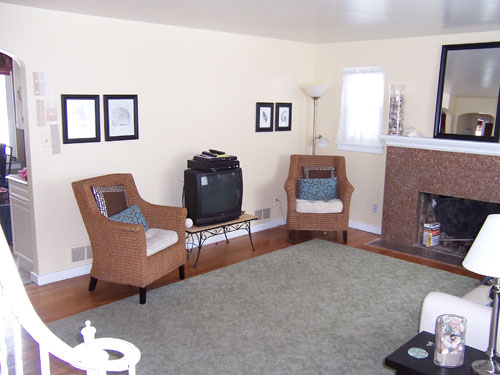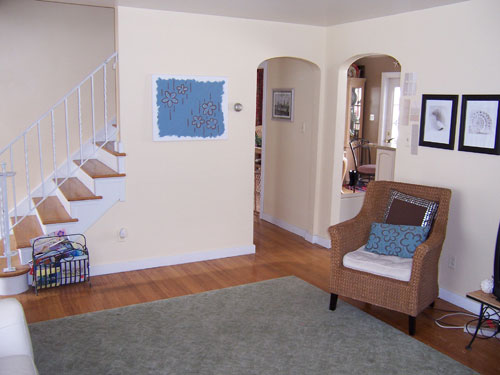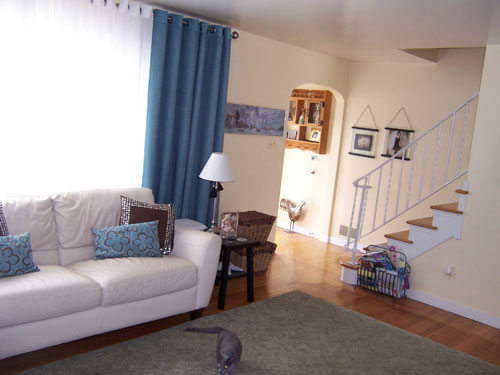 Here's the plan:
And here's the new layout suggestion: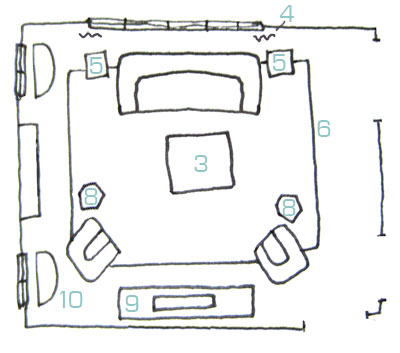 Now for the mood board breakdown.
Read the rest of this entry »
&nbsp