***This giveaway is no longer accepting entries***
While we still have about eight weeks left 'til our little beanette arrives, we've assembled a different kind of "bundle of joy" for this week's prize. With so many emails coming our way full of cool art suggestions for a baby or kid's room, we've been busy putting together a "Nursery Art Bundle" prize that's finally getting welcomed into the world today.
This week's winner will get to choose customized pieces from three different designers to use in their nursery, to dole out as gifts or even to add a bit of whimsy to their own adult rooms. Here's a rundown of what's the stork is bringing one lucky lad or lady this week:
1. A framed Simply Baby Poster from Hoot Design Co. This 18″ x 26″ alphabet print comes in your choice of three colors and arrives custom framed under archival glass. This intricate graphic poster – much like the custom version that Hoot Design creates with personalized words (think "A is for Aunt Sherry") – is bound to entertain parents just as much as their kiddos.
2. A Custom 13″ x 19″ Print from Penny People. No matter which design our winner chooses from Penny People, they'll be getting a punchy and colorful dose of their ABCs or 123s in a size that's conveniently made to fit right into an Ikea frame. Plus, he or she can choose from seven different colors with which to emblazon their wee one's name across the top if they so desire.
3. A Custom Little Ape from Phil Barbato. Since touch is such an important sense to bambinos, we just had to include one of these charming and tactile offerings. Plus, these lil monkies are just so darn awesome – especially since you can customize the color of everything from the fur down to details like the ever-important belly button.
So here's how to enter for a shot at all three highly customizable prizes:
PRIZE: The customizable "Nursery Art Bundle" described above (consisting of one piece from each vendor mentioned).
TO ENTER: Comment on this post with the words "BUNDLE ME" and…
BONUS QUESTION: … tell us your favorite part about a nursery/kids room. Is it the bright color scheme that adults just can't get away with sometimes? Is it the fun and personalized art? Or, be honest, do you just like all of the toys they get?
GIVEAWAY CLOSES: Wednesday, March 24th at 8pm EST
NUMBER OF WINNERS: One
PRIZE SHIPS: Delivers only in the USA this time
USUAL STUFF: One entry per e-mail address is permitted. The winner will be selected using random.org and announced on Thursday. Good luck!
Find more freebie info on our Giveaway FAQs page. Pics courtesy of Hoot Design Co, Penny People Designs and Phil Barbato.
&nbsp
I hope you all got that Will Smith reference in the title. Or maybe I should hope that you missed it. Anyway, here's Jennifer's question:
Q: Hey guys. I'm so not in the mood to work this morning so I thought I'd ask you a question. With the seasons changing, what are some of your must haves for spring? Like, are there certain décor switches you make to get things feeling a little sunnier and fresher? Are there any tips you have or things people can do regardless of their color scheme or current décor that would instantly transform a room from winter to spring? Do you keep specific décor items on hand specifically for spring? Thanks! -Jennifer
There's nothing better than when spring is finally in the air after a long cold winter. Heck, even when the weather is still on the chilly side and the grass hasn't really greened up yet, it's amazing what just a taste of almost-spring can do for the psyche. And when it comes to our decor, there's nothing I like more than breathing a little fresh spring-like life into Casa Petersik. And there are tons of cheap and simple ways to do that- like a few vases of fresh flowers peppered around your home (you can even bringing in leafy or flowering branches from outside for a free spring pick-me-up).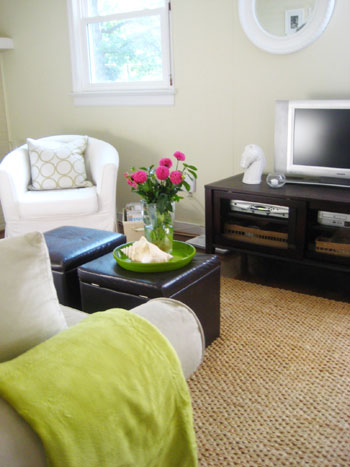 Another easy spring switch is to introduce a few bright & happy pillows, throws, and even some lighter bedding (a cheerful spring-like duvet from Ikea can only set you back 12 or 14 bucks). And of course just putting away those heavy wool blankets and throwing open the windows to catch a warm breeze can really make your house feel fresher and lighter in a snap.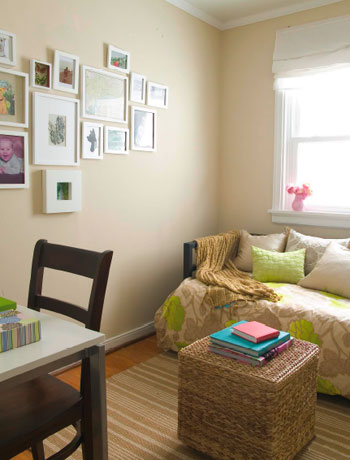 We don't do anything that's specifically Easter themed with bunnies or baskets full of that fake grass stuff, but we love the idea of introducing just two new punchy green, yellow or blue pillows (or any other happy spring color) in the place of more subtle or subdued pillows on your sofa or bed (and you can spend less than $14 for two of them at places like TJ Maxx and Home Goods). We also love the idea of a super cheap cake stand from Marshall's or Target with a bunch of colorful lemons and limes (or oranges and bananas) on it in the kitchen to make your whole house feel like spring.
And beyond bringing in accessories in brighter and happier colors (like orange, yellow, lime, turquoise, fuschia, etc), crisp white accessories really feel springy – especially in the place of anything in the mocha, maroon, red, evergreen or burnt orange color family. So if you look around and see tabletop accessories in those tones, try switching them out for white lacquered boxes, clean white vases or even a green potted plant in a sleek white Ikea planter (they're just $1!) for an instantly fresher display.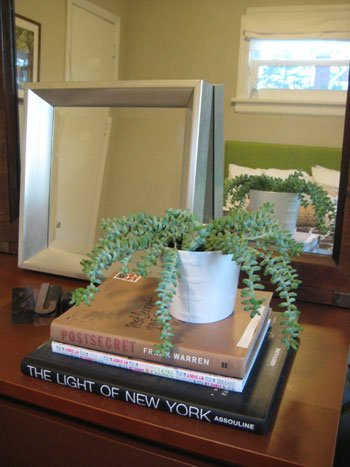 At the same token, any throws, pillows, bedding or even curtains in those deeper more wintery tones can be swapped out for something lighter and airier (and it doesn't have to break the bank thanks to two-for-$9.99 white Ikea curtains and clearance duvets & shams from places like Marshall's, Bed Bath & Beyond, Target, and of course Ikea).
And there are so many more small spring-y things you can do to add some simple freshness and style to your casa in honor of the impending warmer weather, so here are a few more ideas:
1.  Bring home a ceramic bowl or two in a sunny springy color like lime, yellow, turquoise, orange, or fuschia and use 'em to corral your keys on the kitchen counter or pop a candle inside of them to create instant spring votives.
2. Toss a colorful scarf over the back of your home office chair or hang it on a hook in your mudroom: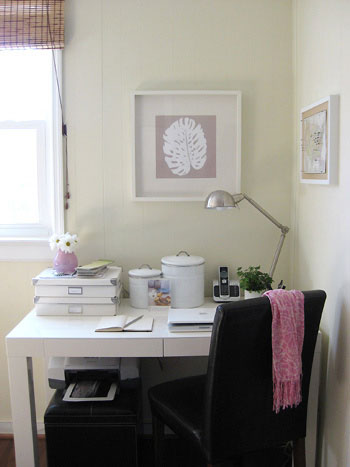 3. Switch out a black and white portrait for something colorful and fun (Etsy has tons of lovely handmade art for cheap- like this deliciously spring-like print that we snagged for $12.50 for the nursery).
4.  Fill a glass hurricanes or a clear cylinder vase with oranges & lemons or lemons & limes for an easy and festive springtime centerpiece:
5. Pick up three pretty white scalloped bowls (or loot your cabinets for something festive) and fill them with jelly beans. Set them out in a line down the center of your dining or coffee table for a sweet springy "runner" that look as good as it tastes.
6. Grab punchy patterned, floral or striped wrapping paper and use it to cover those ugly manilla folders on your home office desk. Heck you can even frame it as art or cover some cardboard shoe boxes for pretty storage bins that add to the spring ambiance.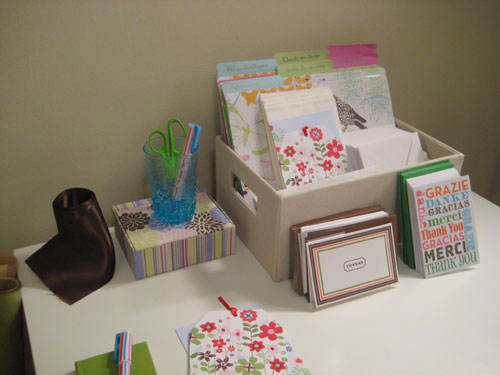 7.  Paint an old lamp base in a bright glossy hue and top it with a crisp white shade (if you don't have one on hand you can pick one up at a yard sale or thrift store and use high-gloss spray paint for the makeover).
8. A bold table runner (or two) can add so much color to your entire kitchen or dining area. Top them with simple white vases or bowls to keep things from feeling too crazy: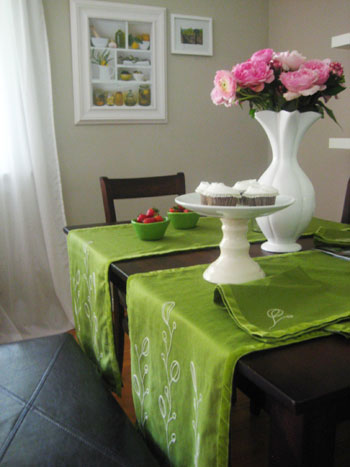 9. Find some inexpensive botanical prints (like this) and frame them in any space for an effortless dose of nature (bonus: you don't even have to water them).
10. Little ceramic birds like these would add freshness to any console or side table:
11. Grab a canvas from an art store and some 99 cent paint to create a showstopping abstract art piece (like this) for above your sofa or bed.
12. Whip up an upholstered headboard in a fun punchy hue (lime green? coral? sky blue?). Here's a step by step tutorial for you.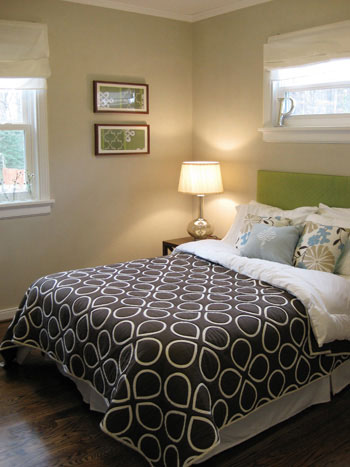 13. Paint the inside of any lamp shade a spring-like color so it subtly shines through when it's on (soft pink always makes for a flattering glow).
14. Line your drawers for a fun dose of pattern and hue whenever you open them (here's how).
15. Hit up the fabric store for a yard or two of fabric to make your own cheap and simple table runner.
16. Save old wine bottles, remove their labels (here's how), grab a few vases in a second color and display them all en masse on a tray: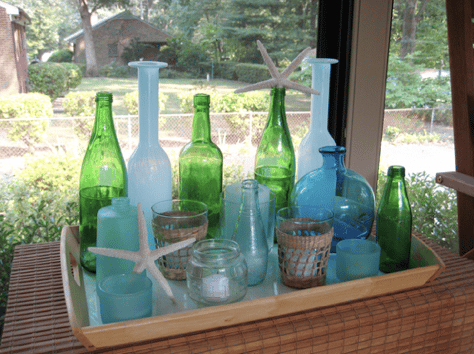 17. Keep all of your bedding the same but swap out your pillow cases for something bright (teal? lime? daffodil yellow? rose?) so you wake up happy and energized.
18. Grab some bright outdoor pillows and planters to punch up your porch or patio (we got all these from Home Depot on the cheap):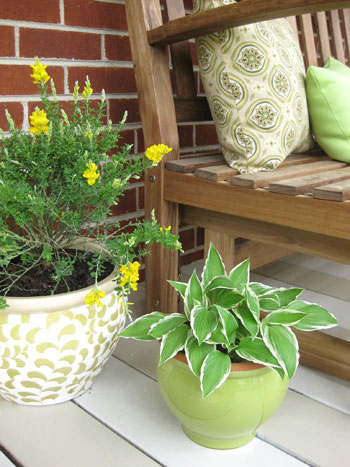 19. Toss a brightly colored tray on your coffee table or ottoman (filled with anything from hardcover books to glossy magazines) for a nice dose of cheerful saturation.
20. Soft colored blooms grouped in a similarly toned vase always looks chic without much arrangement effort at all:
21. Hang breezy white sheers or soft fluttery curtains on any window (again, they're super cheap at Ikea or you could make your own)  for an instantly softer and lighter effect.
22. Take the paper covers off your hardcover books to reveal their colorful spines (we found that some of ours were coral, turquoise, lime green, and even pink paisley) and display them in a stack on an ottoman, side table, coffee table, or console table.
23. Cloth napkins in a bold hue look casual and fun on a dining table with some hand snipped leafy branches from outside (read: free) in a clear vase: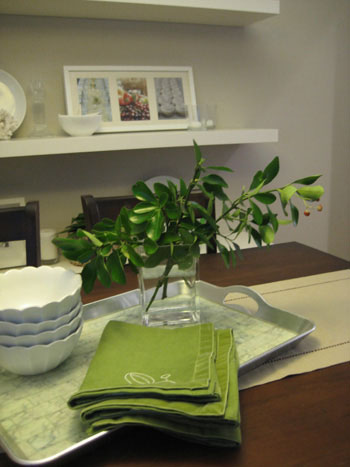 So those are just a few ideas to add a little spring sparkle just in time for warmer weather. From spray paint to wrapping paper and beyond, there's no limit to the cheap-o changes that you can introduce for some festive flowers-are-blooming-and-birds-are-chirping ambiance. And we'd love to hear what you guys do to usher in the season of buds and bumble bees. Any spring decorating traditions or projects that you're itching to take on? Do tell.
&nbsp