We thought we'd follow the April shower downpour that we got last night (thank you for washing away the pollen!) by sending out some big wet kisses to our sponsors. By now you guys know that we like to devote one post per month to thanking the kind folks who grace our sidebar. They really do help put food on the table and keep YHL going – along with doling out the occasional discount to you guys as well. So let's start the slow clap in their honor. Clap… clap… clap…
Smock Paper isn't your ordinary beautiful letterpress shop (though all of that is true, minus the ordinary part). They're sustainably printed on bamboo paper, they're powered by wind energy, and they donate a portion of their profits back to eco-friendly causes. There's more, but they tell it better than we do so check 'em out!

Dolan Geiman is another sponsor with an eco-friendly spin. With its namesake at the helm, this sustainable art company creates rich and layered mixed-media pieces (like reclaimed wood and found objects) and crafts items with a Southern twist (after all, Dolan hails from Virginia's Shenandoah Valley and the business was born on the Chesapeake Bay). Check 'em out on their site (or in their Etsy shop).

You've Got Supper dished out a giveaway last fall and they're still dishing out delicious weekly recipes (and coordinating shopping lists!) for free by email. And don't forget to look up their free iPhone app that lets you shuffle recipes by ingredient, perfect for that moment in the store when you're craving something but don't know how to make it a meal.

The Tile Shop is still offering that special 10% off when you use the code YHL10, so if you're contemplating a bathroom redo (like we did with The Tile Shop's help a few months ago) we say go for it. Whether you need tile, grout, tools or all of the above, they've got you covered.

Shades of Light sometimes sounds like it could be a daytime soap opera ("…and these are the Shades of our Light.") but in reality, what they lack in dramatic plot lines they make up for in beautiful lighting, furniture and rugs. Browse online, order their catalog or even check 'em out in person right here in Richmond.

Design for Less (aka: The Glass Mosaic Outlet) is an amazing resource for not-your-mother's tile. Brilliant glass mosaics, sleek metal accents and even warm natural stone fill their inventory and their image gallery (which we highly recommend for inspiration).

Z Gallerie is proclaiming that gray is the new neutral, which might just make all of our cream furniture shake in its boots – especially after browsing through the always sophisticated furniture and accessories highlighted on the Z's site this month. Love it.

WallQuotes.com (also known as Belvedere Designs) is knocking 15% off of any order with the code YHL15, so head on over if you've got a blank wall that could use some graphic pop or an energizing quote. Heck, we're still fascinated by this decal version of the New York City skyline.

Quirk is always a place that we rave about for their unique and fun finds for your bookshelves, jewelry case, blank walls or stationery drawer. But they've also got a great rotating gallery of fresh artwork, including pieces from Dolan Geiman this month. It really is a small world, isn't it?

Frame The Date is my favorite kind of art: meaningful and grounded in type and numbers (yes, I'm sentimental and geeky). So tell 'em an important date in your life, provide an accompanying photo if you'd like, and pick a stylish custom frame for a personalized piece of priceless art.


Etsy Kids is in full bloom with their Spring Shopping Guide. They're also proof to me that I'm quickly growing a soft spot for little girl clothes, accessories and toys. That must be the whole paternal instinct kicking in.

Blend Creations comes from a husband and wife team that blends together jewelry that's one part modern, one part natural, and one part whimsy. Head over for a wide selection of stainless steel necklaces, earrings and rings. Plus you get 10% off purchases of $50 or more by using the code YHL10.

Vol. 25 has already won you guys over with their sweet and layered designs, but did you know they give you the chance to turn your own photos into a something Vol.25-ish? Just check out their photoshop overlays to learn more.

Lisa Leonard Designs has just delivered our official reminder that Mother's Day is less than a month away. She's added a new piece to her collection of hand-hammered sterling silver jewelry that celebrates all of the mamas out there (and mama's to be, if you happen to know any).


The Natural Sleep Store is just that: a store with all that you need to sleep naturally, like the SavvyRest mattress that we bought last year- which we happily lay our heads on every night. Well, technically our heads go on the organic pillows that came from there too, but you get the gist.

Viewville is worth, well, a view. Here you'll find fine art prints that add a touch of luxury to any wall, without sucking a luxurious amount of cashola from your wallet. And don't forget that you can get 20% off by using the code YHL at checkout.

And so ends our downpour of gratitude for our mucho-supportive sponsors. As usual, thanks to them for letting us do what we love and thanks to you for giving us a reason to love it!
&nbsp
Q: Since I'm an avid reader/adorer of all things YHL, I've seen pretty much all the pictures of your home that you've managed to cram into the blog. And every time I see these pics, I swoon over how organized and neat your house is- so very unlike my own. One thing in particular annoys me: office clutter! Cords, cables & wires. Lettin' it all hang out is NOT my idea of organization or attractiveness. How do you guys make your cords/wires/cables more organized and neat? Must I resort to actually having to tie each wire and cord individually? There must be another way! Right? Please? – Erin

A: I'm crazy. I'll just get that out there before I get to answering your question. But here it goes…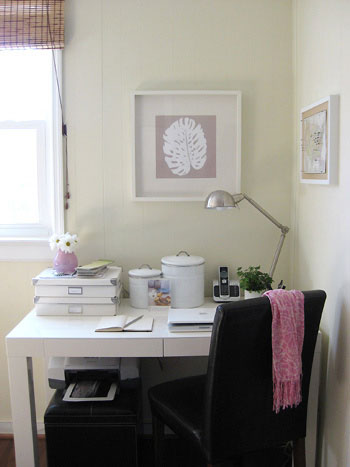 I also HATE cord clutter. In fact, I'm such a freak about keeping cords in check that the two white cardboard Ikea boxes that you see stacked to the left of our computer on our desk actually contain our cable modem and our external hard drive. We punched a bunch of holes around the top, back and sides of the boxes for ventilation (safety first! you don't want anything to overheat!) and cut out notches in the back of each box for the cords to escape so we could easily plug things in under the desk (so no one's the wiser that our "storage boxes" actually store a lot more than paper and files). In over three years of using this method with our cable modem (and about a year with our external hard drive) we've never had an issue with overheating or malfunctioning (although we do occasionally lift off the tops to check on them and air things out). We know it sounds crazy, but it works for us!
Oh and another thing we do (this one's less crazy) is that we have a leather ottoman that we slid right under the left side of our desk with the printer on it (which gloriously hides all the cords that run from the backs of those Ikea boxes and plug into the wall behind it). Sometimes the best cord hiding strategy is just to snatch up something to put in front of those babies- and cheap Target ottomans work just as well as the next thing (all while offering up some great concealed storage for extra office supplies).
Yet another method would be to hit up places like The Container Store, Room & Board and even Target since they all sell "cord wrangling kits" that can help you snake cords down the legs of desks or velcro them all together so you don't even need to use an ottoman to hide anything (this definitely comes in handy if your desk is too compact to accommodate an ottoman underneath it). And a few other office aids that work hard to keep our desk looking orderly are those two white tins on the desktop next to our modem-hiding-boxes, which are also from Ikea. They store all of Burger's food and treats so they're always at arm's reach.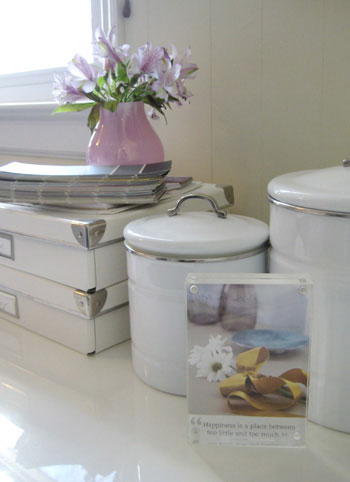 And of course a potted plant, some free DIY art and a cup full of pens rounds out our desktop for a functional and pleasant place to put in some serious blogging time. Plus I can't forget those two shallow drawers in our beloved West Elm parsons desk (which was one of our favorite wedding gifts ever) that help hide clutter like bills to be paid or notes that I scribble down at the end of the day. It really is true that a clean and organized desk makes for a clean and organized mind. I actually feel like I work more efficiently (and feel better) when my desk is nice and organized. So that's our combination of insanely weird (hiding your modem in a box???) and semi-practical solutions (using a storage ottoman to block cords) that keep our compact corner office working hard for us. And it literally is a corner office. See, it's in a corner of our den: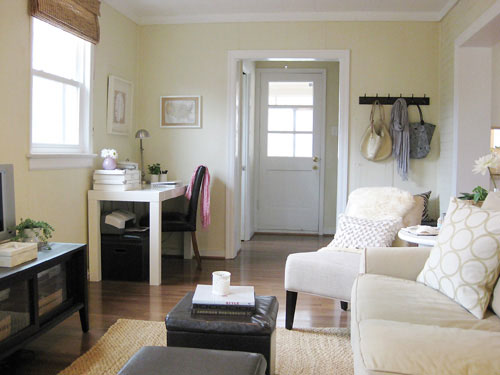 But now we want to hear what you guys do to hide cords and keep your desk in check. Any tips and tricks to share? Do tell.

Psst- Want another cord management idea? Check out Nicole's awesome solution over at Making It Lovely. And to see how we organize and store nearly everything else in our house, check out this exhaustive post of yore.
Update: We're so glad you're loving the Ikea box idea! And while it works seamlessly for us, we can't guarantee that it won't cause your components to overheat or even catch fire so it's important to take adequate precautions when implementing this method. Remember to punch lots of holes in the top, bottom, and sides of the box (as well as to cut a wide square in the back for the cords to exit). Regularly opening the boxes to ensure that's nothing's getting too hot is always a good idea- especially in the beginning to check if your ventilation is adequate. The last thing you want in your lovely home is a fire hazard!
&nbsp