So now that we know all of your obsessive cleaning quirks via this week's giveaway from Murchison-Hume, we should probably spill some of ours (beyond the given general tidiness that we try to maintain around the house since we photograph it all the time). Sherry's a diligent flosser, with floss hidden both near the couch and the bed, so she's always able to get to work (both boxes sit next to spare tubes of lip gloss, which is another Sherry must-have-at-all-times). I, on the other hand, get hyper-organized when it comes to my computer desktop. I don't like lots on there, but if I have anything, it must be neatly sorted in folders that line the edges of the screen. Sherry's probably sad that she didn't marry someone obsessed with vacuuming, but she does seem to like my on-screen organization efforts.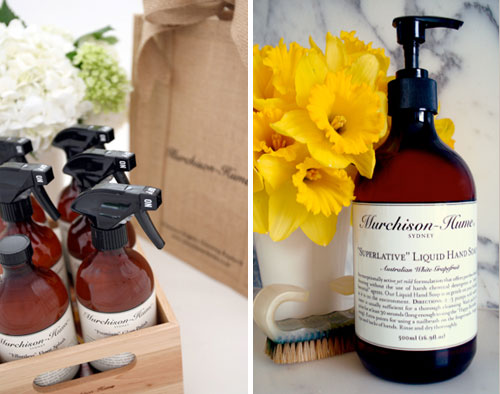 With that off our chests, let's turn our attention to this week's winner. One of you is gonna get over $250 worth of luxurious, all natural cleaning products from Murchison-Hume, including a "Classic Six" boxed set, full refill set, Luxury Laundry Soak, Original Garment Groom, Hand Soap and their brand new hand cream. And that lucky cleaner is… KimB. Congrats!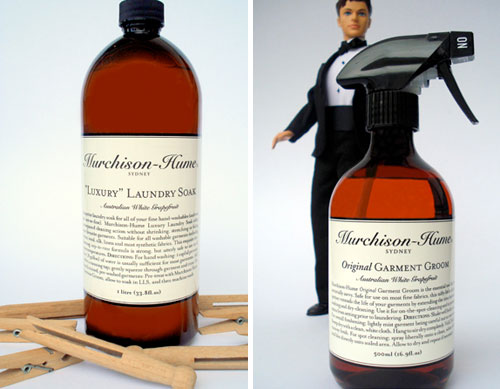 And fret not if you didn't win this time. Monday will bring yet another giveaway, and this time we're cranking up the volume- in fact, we'll crank it all the way to 25 (yes, that's a clue). Stay tuned…
Find more freebie info on our Giveaway FAQs page. Pics courtesy of Murchison-Hume.
&nbsp
Andy and Courtney are ready to transform their bedroom while adding some serene color and a splash of personality (along with a cozy and casual vibe). Here's their letter:
We would describe our style as casual. We'd like this room to mirror the rest of our home, which has a cottage feel (sorta beach cottage, definitely NOT country cottage). When it comes to the furniture stores that appeal to us, we like Pottery Barn but we're also attracted to the home goods that are sold at Urban Outfitters and Anthropologie (but we like to stick to an Ikea and Target budget). We're not married to anything in the room with the exception of the TV. It would be great if we could keep it in the same location since that wall is wired for cable. Also, we like our existing Pottery Barn lamps. However, if they can't be incorporated easily, it's no big deal (we can always use them elsewhere). In terms of the furniture, we're so over the bed. We would really like a recommendation for a new queen sized option. The only other must have recommendation is a rug of some sort. The floors are sorely missing one! And we're definitely ready to paint! We've included a pic of our recently remodeled bath (that actually sits right outside this room). We'd love to see the colors there reflected in our bedroom, particularly the cool blues. When it comes to colors in general, we like colors that can be found in nature. We'd also like to see some fun patterns incorporated to give the room some personality. Thanks! – Andy & Courtney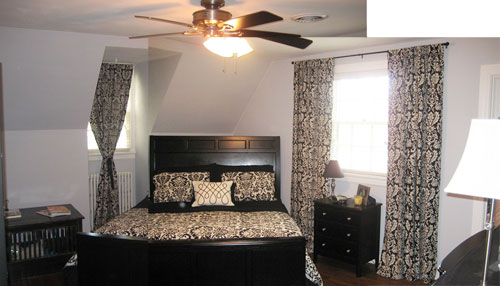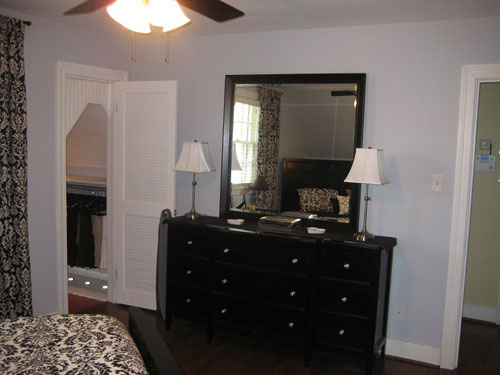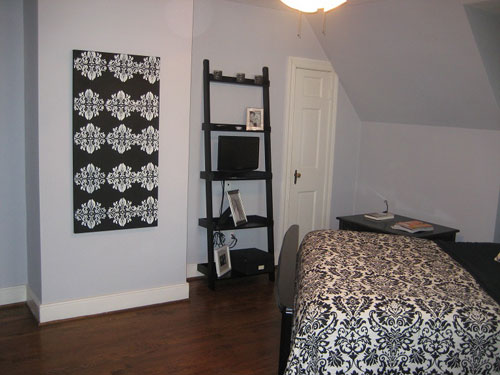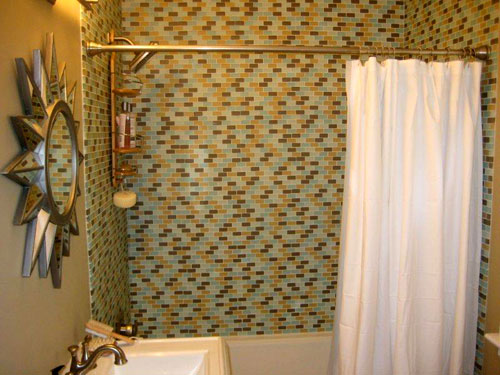 Here's the plan (full of inspiration thanks to their newly renovated bathroom, pictured above):
And here's the new layout suggestion: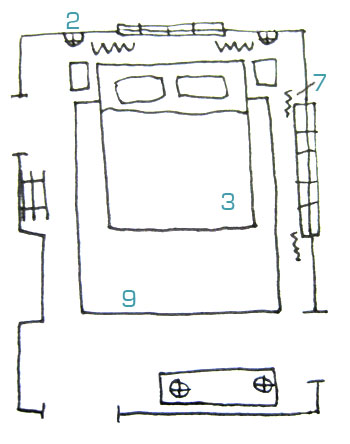 Now for the mood board breakdown.

Read the rest of this entry »
&nbsp