We recently saw a write up about designer-lookalike sofas by Custom Sofa Design on Little Green Notebook and were pretty astonished by the offerings and the prices.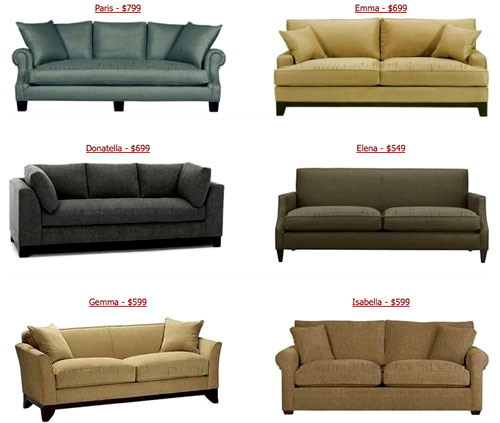 We're talking about sofas that are dead ringers for spendy Crate & Barrel, Pottery Barn, Room & Board and Anthropologie versions with prices that start around $599 (with many many options under $799).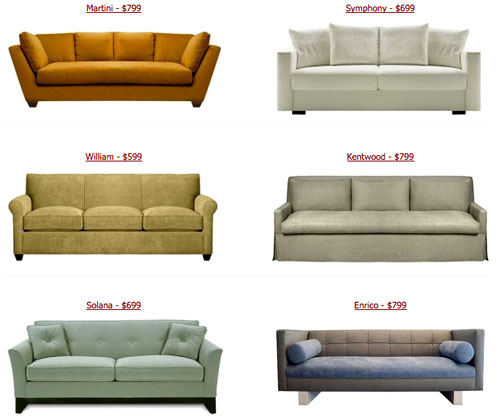 They even offer up chic designer-based upholstered beds at a serious markdown from the original versions. Apparently if you read the comments over on that post, lots of people have had a great experience with the company and rave about Don, the owner. And we were further surprised to learn that everything is manufactured right here in the US, that his company has been around for years, and that he's based right out of Los Angeles. How on earth does he have such low prices? It's mind boggling, isn't it?
Apartment Therapy was also chatting about this very company back in February and the reviews generally seemed agreeable (there were more raves about Don mixed in with a few negative comments, but even things that have five stars on amazon.com still have a few super negative reviews in the mix).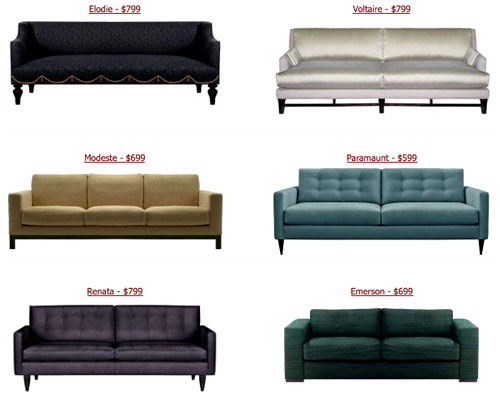 So it got us wondering if any of you have ordered something from Custom Sofa Design? If you have, we'd love to know what your experience was like. We're just trying to figure out if they're a reliable source for discount furnishings, because if they are they could really make those higher priced retailers sweat a little (while saving you hundreds if not thousands of dollars). And even if you haven't ordered from them, we're always up for a chat about stunning sofas, so feel free to chime in with your favorite models. We're currently drooling over The Elena (starting at $549), The Kentwood (starting at $799), The Paramaunt (starting at $599) and The Harward (starting at $599). Which ones tickle your sofa fancy?
Psst- On the subject of sofas, here's what we learned (the hard way) about Pottery Barn sofas. Oh well, now we know!
&nbsp
So now that we know all of your obsessive cleaning quirks via this week's giveaway from Murchison-Hume, we should probably spill some of ours (beyond the given general tidiness that we try to maintain around the house since we photograph it all the time). Sherry's a diligent flosser, with floss hidden both near the couch and the bed, so she's always able to get to work (both boxes sit next to spare tubes of lip gloss, which is another Sherry must-have-at-all-times). I, on the other hand, get hyper-organized when it comes to my computer desktop. I don't like lots on there, but if I have anything, it must be neatly sorted in folders that line the edges of the screen. Sherry's probably sad that she didn't marry someone obsessed with vacuuming, but she does seem to like my on-screen organization efforts.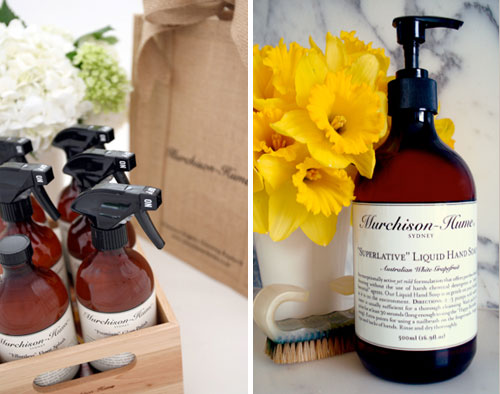 With that off our chests, let's turn our attention to this week's winner. One of you is gonna get over $250 worth of luxurious, all natural cleaning products from Murchison-Hume, including a "Classic Six" boxed set, full refill set, Luxury Laundry Soak, Original Garment Groom, Hand Soap and their brand new hand cream. And that lucky cleaner is… KimB. Congrats!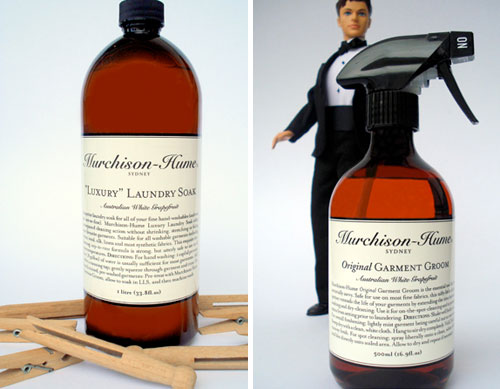 And fret not if you didn't win this time. Monday will bring yet another giveaway, and this time we're cranking up the volume- in fact, we'll crank it all the way to 25 (yes, that's a clue). Stay tuned…
Find more freebie info on our Giveaway FAQs page. Pics courtesy of Murchison-Hume.
&nbsp