As most of you know, every month we like to enjoy one inexpensive- and sometimes free- bouquet to keep things feeling fresh around here (the idea actually stemmed from a super sweet Christmas present from the hubs a while back). But this month I just had to deviate from the plan when I saw this adorable leafy little guy complete with his own shiny turquoise ceramic pot for- get this- $2.50 from Walmart. Ringing in just as cheap (if not cheaper) than most of our monthly grocery store bouquets, I love that this splash of foliage livens up my desk and even comes with its own vase of sorts (well, planter) that I can use over and over again… even if my leafy friend ends up kicking the figurative bucket.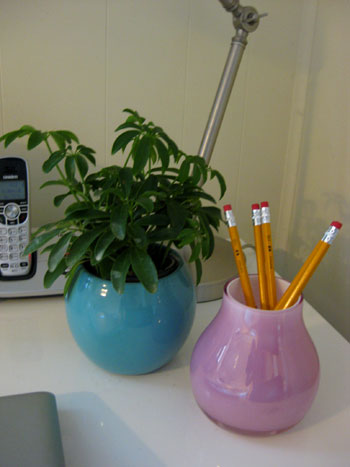 So far so good though. He's a low light house plant (which is nice for the right side of my desk that gets only partial sunlight) and I especially love how he looks next to my shiny pink Crate & Barrel vase (who is no stranger to our monthly bouquets so you guys may even recognize her). And yes I did get a bit sexist there by calling the blue potted plant "him" and the pink vase "her"- sorry for that. We of all people know that blue can totally work for the ladies (since it's one of the main colors in our daughter-to-be's room) and John has even been known to sport something pink from time to time.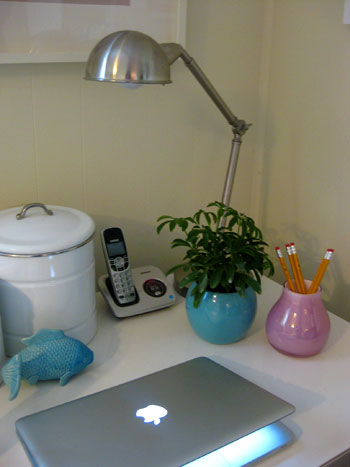 Anyway, that's our monthly dose of greenery. We definitely recommend keeping an eye out for cheap potted plants these days, especially those that come in charming little ceramic pots as opposed to those cheap-o plastic ones. Heck, even those aren't too bad if you grab a crisp white $1 ceramic planter from Ikea. So there's more than one way to get your fill of lovely leafy goodness.
What are you guys gravitating towards in the floral arrangement or potted plant department these days? Any deals out there to be found? Anyone snipping things from their own backyard? We had some lovely cherry blossoms on a tree out front but decided to leave them outside just in case they tried to kill me once they were invited indoors (silly allergies, although this year they're much much better than usual). Anyone toting home those super affordable daffodil bouquets from Trader Joe's? Let's talk about the flowers and plants that you've been inviting inside.
&nbsp

This week's big q is all about personal preference. What kind of coffee table does it for you? Are you all about a wood table for the richness that it adds? Would you rather have a plush storage ottoman for the hidden stash space and the put-your-feet-up effect? Do you prefer glass to keep things open and airy?
We're itching to hear what kind of coffee table floats your boat. And what are your thoughts when it comes to shape: round vs. rectangular… or even square?
&nbsp