***This giveaway is no longer accepting entries***
Yes, I know it looks like I have a misplaced apostrophe up there, but trust me on this one. This week's prize will have one of you sending handwritten greetings across all seasons of the year (see, I'm looking less punctuationally deviant already).
As you may recall from Friday's thank-you-to-our-sponsors post, Emmy Lu Design Studio is an awesome source for beautiful custom stationery with a DIY twist. Once you pick the style and fill in the custom details (whether it be a holiday card, personal stationery, an invitation or even a baby announcement) Emmy Lu hooks you up with a ready-to-print PDF. That means you can print as many as you want (whether you need five or five million), on any paper you want (bargain or mega-fancy-pants), for as long as you want (the file's yours for eternity). Kinda genius, no?
And since it's nearly impossible to pick your favorite design, this week's winner is getting a year's worth of them! That means a new card/invite/announcement of the winner's choosing for every month of the year (which loosely translates to 12 excuses to throw a party, pen a thank you note or even write your mom a letter for crying out loud).
So here's how you can get your hands on these greetings by the dozen:
PRIZE: One custom Emmy Lu design per month (of $50 or less) for an entire year (that's up to a $600 value!)
TO ENTER: Comment on this post with the words "EMMY ME" and…
BONUS QUESTION: …tell us what you do to send seasonal greetings. Do you pose for a traditional family Christmas card? Or something quirkier (like photoshopping your chihuahua)? Maybe you abstain from the madness completely?
GIVEAWAY CLOSES: Wednesday, December 9th at 8pm EST
NUMBER OF WINNERS: One
PRIZE SHIPS: Anywhere in the world!
USUAL STUFF: One entry per e-mail address is permitted. The winner will be selected using random.org and announced on Thursday. Good luck!
Get more info about our freebies on our Giveaway FAQs page. Images courtesy of Emmy Lu Design Studio.
&nbsp
We know there are lots of you out there who are eagerly waiting for our nursery makeover project to begin. And it will. Just not quite yet. After all, the third bedroom (aka: soon-to-be-nursery) which normally looks like this…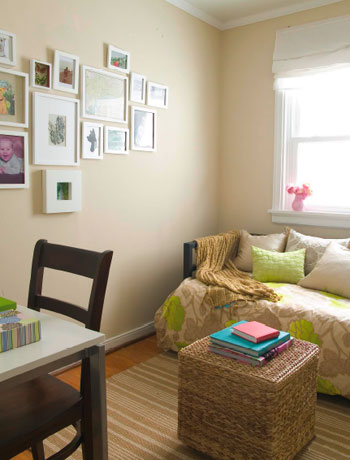 … currently looks like this:
We know, it's embarrassingly messy (you'd be surprised how many readers take comfort in the fact that we actually live in chaos from time to time). The reason? It's ground zero for our last big, pre-nursery project: a total bathroom remodel! We're talking about a gut job down to the studs- which even involves the rental of a mini jackhammer. Yeah, we're pretty excited about it.
And for any of you who have been following along with our weekend sneak peeks via Twitter and Facebook, you've actually heard how some of that demo has gone. But before we put the cart before the horse, we need to talk about the whys and the hows of our one-and-only full bathroom makeover. We think the classic look of the original black and white tile, the basketweave floor and even the cramped quarters are all quite charming (and befitting of our 1950′s ranch).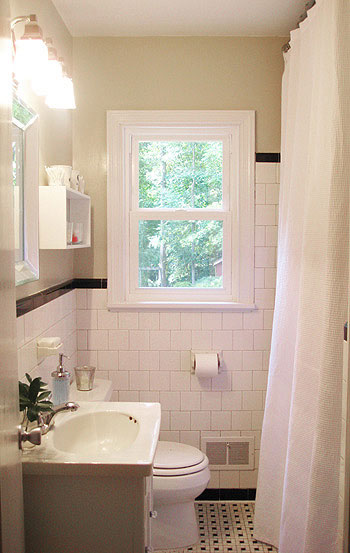 Yeah, it looks pretty darn good from afar, but upon closer inspection is also has its fair share of flaws that we just can't get over – shattered wall tiles (from what we assume was the house settling at some point), uneven and stained flooring, and a chipped sink just to name a few.
Oh well. The original bathroom served our house well for over half a century (what more can you ask for right?) and although we're all about saving what you can and working with whatcha got, in this case we're sorry to say that after a pretty serious cleaning and recaulking effort a few years back- which certainly tided us over for a while- the time has come to bring the bathroom up to speed. And after living vicariously through my parents' two DIY bathroom makeovers (one seen here) – Sherry and I have finally decided to bite the bullet and get 'er done. Like, now. But of course we'll still be bringing in some classic tile and materials that won't look too futuristic and out of place in our 50 year old ranch. Fear not.
The approach: well, we've already begun tearing things down to the studs and plan to build it all back up again with our own four hands (ok, and with my dad's generous assistance as well since Sherry's doing a pretty important job on the side). So there will be new walls, a new tub/shower surround, new flooring, and a new DIY vanity project before we officially turn our attention to the bean's room. Of course we plan to donate as much of our old stuff (vanity, faucet fixtures, etc) to the Habitat For Humanity ReStore to give them a second life. And if all goes as planned, the entire redo should be done before Christmas. Fingers crossed…
Oh and because we know it's coming, to answer the "where will you shower?" question (since it's our only full bathroom in the house), we're nothing if not resourceful: I plan to use the shower at my gym every morning on the way to work and Sherry will swing over to my sister's house (we're super lucky that she lives extra close) and borrow her bathroom in the evenings (she's a night showerer- weird huh?).
And speaking of my lovely/quirky wife, she'll be posting very soon about all the design details including a working mood board of sorts (since I'm sure most of you are now saying "ok, but what will it look like!?!"). And since we know that you like all the pre-planning details (sometimes it's hard to know where to start) we'll be including a ton of those as well so stay tuned for that. We've actually already selected a lot of the new materials (floor tile, wall tile, a chunky nightstand that we'll retrofit with a sink and faucet) as well as borrowed/purchased a bunch of tools that we'll be using… hence the nursery currently looking completely unsafe for a newborn. Fun, fun, fun.
But while we're on the subjects of bathrooms, does anyone else out there have a bathroom that could be termed a "Monet" like ours (also known as: pretty from afar, ugly up close)? Are there any impending bathroom remodels on the agenda? Or recently completed bathroom sprucing projects? Anyone crazy enough to tear their bathroom down to the studs in hopes of having things up and running again before Christmas? Do tell.
&nbsp