It's a crazy-but-we-wouldn't-have-it-any-other-way day here at Casa Petersik. We actually have a photography crew from BHG here (!) to shoot our newly transformed nursery and our recently renovated bathroom for two different publications: Kitchen + Bath Makeovers and Do It Yourself magazine. Fun, right? We're all geeked out about it.
We're super excited to watch the stylists work their propping magic (how do they make bottles of soap look so good?) and we actually know the photographer Erik Johnson since he shot the rest of our house a while back for a three-issue article in Do It Yourself (see them here, here, and here). In fact here we are with Erik and the crew from that shoot of yore. Note to self: so THAT'S what my thighs look like- I haven't seen them in months. Although they might not quite look like that anymore…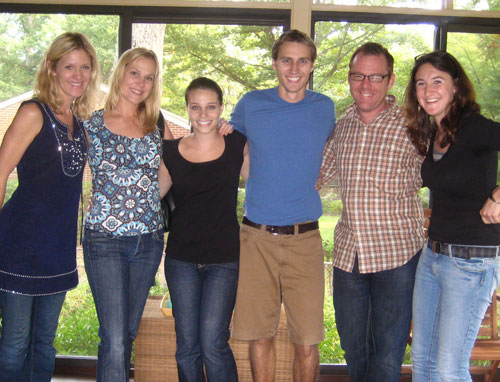 And speaking of the baby bump, my mantra of the day is "don't go into labor yet, don't go into labor yet." Of course with over two weeks til my due date there's no reason that I would (in fact we're betting I'll be late), but you know how you have some deadline in your brain that you just have to get past because of something important that you committed to? Well, this is it.
Plus I don't want to miss a moment of photo shoot magic. Look, in magazine world even dogs need to sign releases:
And fresh flowers are par for the course- even when the rooms to be captured are a bathroom and a nursery:
It's always fun to see how they tweak our rooms to give them a bit of glossy I'm-ready-for-my-close-up attitude. In fact, check out this old post full of behind the scenes tricks from our last Do It Yourself shoot and this writeup full of dirty details from our big photo shoot with The Nest magazine last year. And we promise to share some more backstage secrets about this adventure when we can. Until then the name of the game is keeping my belly out of the shot. And when you have a 43″ circumference that's actually quite a feat…
But enough about the goings on here. What's up in your neck of the woods? Anyone have any fun Friday plans or big weekend projects on the agenda?
&nbsp
Many of you know that I have a giant binder full of clear plastic sleeves where I shove a ton of tear sheets from magazines, catalogs and other places that inspire me (read more about how I organize that magical binder right here).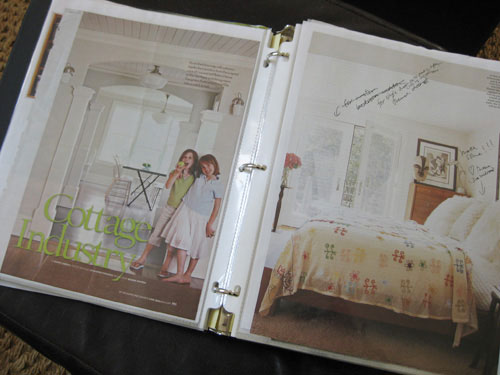 And one ripped corner of a magazine that has been in my binder pretty much since its inception has been an image from Elle Decor with gorgeous vintage looking glasses in green, yellow, blue and pink with recessed designs on them that create a light and almost sea-glass-ish effect. They're credited as being from this super swanky store (which doesn't happen to have a shot of them on their site- boo) and they're listed as being $13 a pop there. Kind of pricey for drinking glasses but they're just so lovely I've kept the torn magazine corner around for years. I guess I have eye candy abandonment issues.
Then something serendipitous happened this weekend.
I found insanely similar looking glasses at World Market. For just… wait for it… $2.99 a pop! They were available in clear, green, blue, and pink- but you know we grabbed the green and blue ones (three of each, six in total) since they feel the most like "us." I can't wait for our next gathering so I can break out these babies and liven up the table. I love that it'll be a subtly mixed and matched tableau thanks to the two layered tones that we went for. Because there's nothing like green and blue glass goblets (with fleur-de-lis on them, no less) to make you feel oh so luxe whenever you sip from them.
And sip from them I must. John actually has a huge rule that I'm not allowed to purchase anything that we won't use regularly (which is great because we don't have cabinets full of "special occasion only" servingware and china). So whenever a craving for lemonade or chocolate milk has hit in the past few days I've just reached for one of these babies. And let me tell you, I feel very posh indeed. Much more so than I used to with my clear Ikea glasses of yore. I've even been thinking of going back for more since they'd also make adorable votive holders or even pencil cups on my desk. Gotta love something that multitasks (and looks so good doing it).
Of course we love that we spent $18 for six (as opposed to nearly that amount for ONE of the designer ones). In fact six of the designer ones would have set us back $78! And I even laughed to myself when we later came across another similar version of them (in green and blue only) at Anthropologie- which incidentally is charging $6 a pop. It's definitely a break from the $13 designer price, but our $2.99 World Market finds are still the lowest that we've seen for anything even remotely similar. So there you have our recent drinking glass victory. Cheers to hunting down deals! And speaking of sleuthing out the look for less, have any of you found dead ringers for something a lot pricier and couldn't believe your luck? Share and share alike.
&nbsp