Have you guys heard of Green Depot? We've been checking out their stuff for a few months and it suddenly dawned on us that we should post about them to spread the word since we're so often directing people their way via comments and email when they're asking where to find low-VOC primer or eco friendly polyurethane. Basically they're the green version of Lowe's or Home Depot and they even have eco friendly home accessories like rugs, table lamps and baby stuff. Plus they have a little key below every item that explains exactly "what makes it green" so you can immediately see if something is free of harsh chemicals, made from renewable resources, or 100% recycled. Good to know, eh?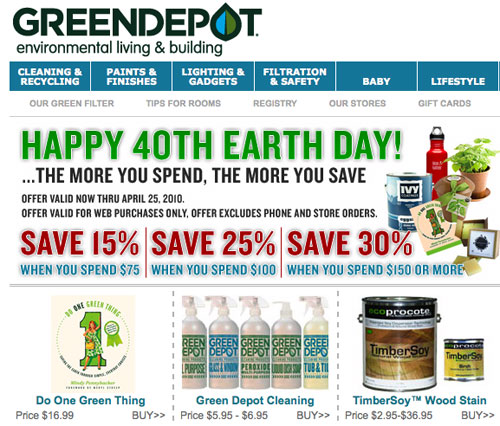 And of course while some of their products are a bit pricier than other big box home improvement stores (which is usually par for the eco/green course) they still have some pretty great sales and definitely have their share of under $7 items, like these charming wood scrubbing brushes for example (many of which have bamboo handles and recycled bristles):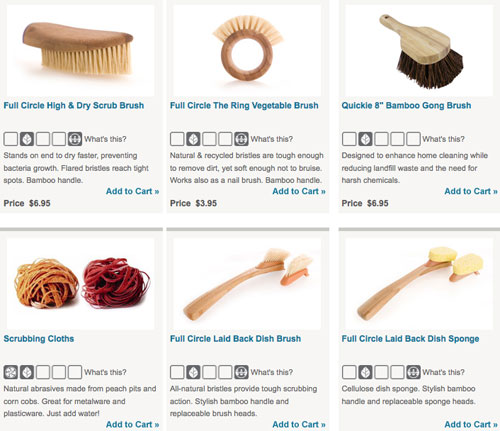 They also carry the Safecoat line of products, which means they have the polyurethane-ish Safecoat Acrylacq (which happens to be low-VOC and 100% non-toxic) that we used to seal our bathroom vanity along with our refinished nursery dresser. We love it because not only is it less fumey, it doesn't cause the yellowing and other annoying discoloration that normal polyurethane topcoats can. Check it out here on the bottom left: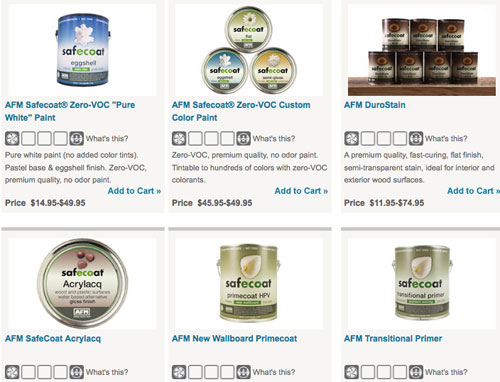 And because we know some people don't get as excited by cans of eco sealant as we do, we whipped up a quick little mood board of sorts full of other Green Depot items that we're loving: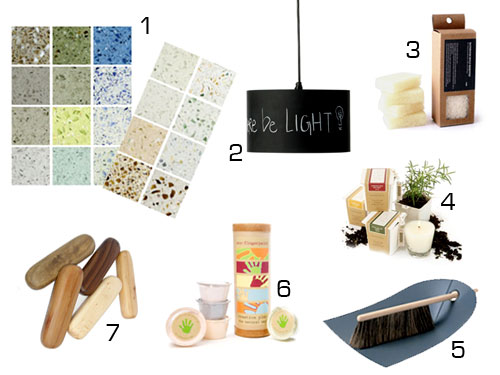 1. For anyone who dreams of a green kitchen renovation, this recycled glass countertop material just might seal the deal. It's extremely durable, VOC free and made right in Brooklyn, NY.
2. This fantastically sleek chalkboard pendant lamp is not only made from 95% recycled steel and manufactured right here in the US, it's an awesome DIY idea for anyone who's feeling inspired to create a message that hangs from the ceiling.
3. Have you ever seen a bathroom mold cleaning kit that looks so posh? The amazing thing is that it's just $5.95 and doesn't require any chemicals or cleaning products at all to get rid of mold. Just rub these textured pads over the green stuff and it's gone. Plus it not only keeps bleach and other harsh stuff out of your house, it keeps it out of the water too (which is always a plus).
4. If you're like us you're probably always on the hunt for a good soy candle, and although the ones from Method at Target are great, we also love the luxe vibe that we get from these guys (which come packaged in chlorine free recycled paper and even have natural hemp wicks).
5. This designer dust pan and broom is beyond chic, and at $24.95 it would make a sweet little housewarming present (or a cute I-deserve-it gift for yourself).
6. Here's where we get into the fun kids stuff. And it can actually be argued that adults could also enjoy this eco finger paint made from all natural ingredients like cornstarch, flour, and fruit & vegetable extracts.
7. These eco-friendly wooden rattles are a safe BPA-free alternative to plastic toys for babies, and they can even double as musical instruments (heck, they'd make for some pretty elegant looking paperweights on a grown up's desk too).
Oh and they even have registries available. Funny right? And possibly convenient if you're getting hitched and moving into a new house that you're thinking of transforming with mother nature in mind. So that's the deal on Green Depot. What do you guys think? Has anyone shopped there already? Do you know of other great online eco-related shops? Share and share alike.
Note: We haven't been paid or perk'd in any way to mention Green Depot- we just like their concept and many of their offerings so we wanted to share the deets.
&nbsp
You guys have to remember Krystol thanks to the amazing porch makeover that she sent our way a while back. Well, she's done it again. And her kitchen is nothing short of fantastic (not to mention budget friendly). Here's her letter:
Thank you so much for posting our porch reno on your blog. I was so amazed at the response and wanted to share our latest project: the kitchen reno. We ripped out everything right down to the studs and started over with new Ikea cabinets, new appliances, a new laminate counter and my favorite: a zinc topped work island which we made by "wrapping" the top half of an MDF sheet with zinc that we ordered from rotometals. I felt kind of bad because the previous owner had just "redone" the kitchen with new tile, countertops, sink, DW and range but we did end up keeping the tile and the dishwasher so all wasn't lost. The kitchen reno cost about $8,000 total, which includes all cabinets ($3000), appliances ($2500), lighting ($400, a splurge), paint, plumbing and electrical work as well as drywall and tile work. We did everything ourselves (with the help of my dad the carpenter) except for a few minor plumbing and electrical items. Oh and we got the tile on "closeout" at Home Depot but ended up having to drive two hours away in order to get more matching tile! Oh the adventures of DIY. Hope you enjoy!- Krystol
Here's her lackluster kitchen before the big makeover: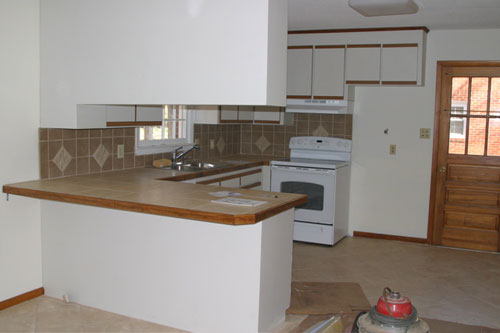 And here's the very same space completely transformed: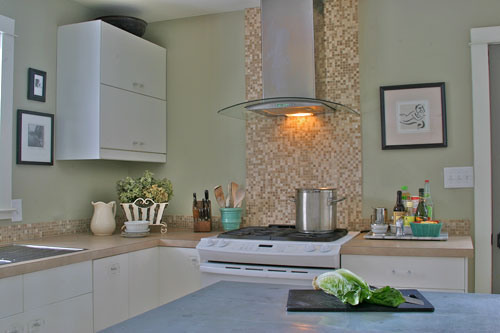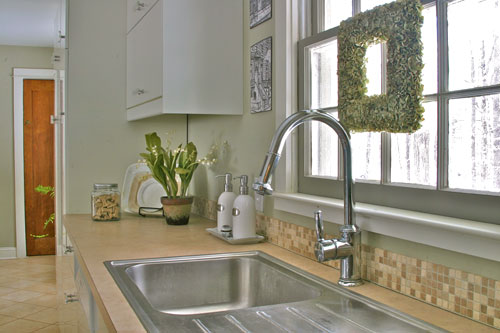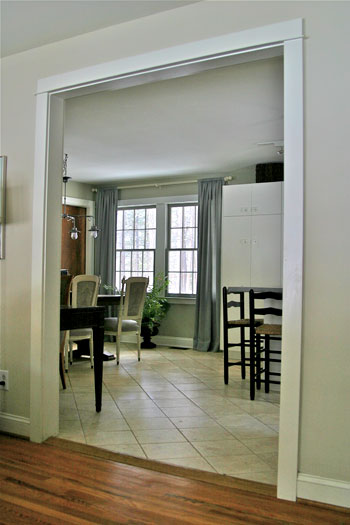 Isn't that amazing? It looks like a super spendy farmhouse remodel to us- right out of House Beautiful or the dearly departed Cottage Living (sniffle). And we love that stunning details like the mosaic backsplash and range hood came from affordable sources like Home Depot. Plus the total cost of this remodel is pretty unbelievable considering that it includes everything from drywall to all appliances and lighting- not to mention a custom made zinc topped island, new countertops and new cabinets. Inspiring! Oh and here's a handy source list from Krystol:
Wall color: Horsetails by Martha Stewart (from Sherwin Williams)
Window sash color: Squirrel by Behr
Cabinets: IKEA
Cabinet hardware: eBay for $1 a knob (they're vintage lucite handles and I love them)
Mini mosaic tile: Home Depot (it was a cinch to install since the area isn't a wet area- we just stuck them to the drywall with mastic and grouted)
Lighting: a splurge from here, but I've since seen similar fixtures at Lowe's/Home Depot

Zinc sheet for island counter: rotometals.com
Curtains: I made them
Didn't Krystol do a fantastic job totally reinventing her kitchen? We love that she and her family DIYed nearly everything themselves (from the drywall to the tiling and even the curtains). And the fact that they relied on places like Home Depot, Ikea and eBay to get 'er done without breaking the bank should give everyone hope that you don't have to drop a million dollars for a high-end effect. Now let's play a little game we like to call what's-your-favorite-part? We're torn between that gorgeous mosaic-backed range hood and the homemade zinc-topped island. And those dramatic blue curtains are pretty sweet too. What do you guys think?
&nbsp