When Isabel and Thomas sent over some photos of their DIY mobile project (which was reminiscent of the one that we featured in this nursery makeover of yore) we had to share the eye candy. Here's their letter:
You've inspired yet another project, and since you've recently completed your nursery I thought this was timely. I learned how to make folded Moravian Stars from a tutorial online (in three different sizes, all in a variety of patterns I printed myself). I used this site and this site for reference, although the former is better. My husband invented the actual "hangers" for the mobile. He's amazing! So with nothing more than paper, scissors, Mod Podge, a sponge brush, needle nose pliers, wire cutters, floral wire, a needle, and fishing wire… we ended up with this mobile! And the grand total was less than $10. Plus my husband and I had a great time making it for our son. Enjoy! -Isabel and Thomas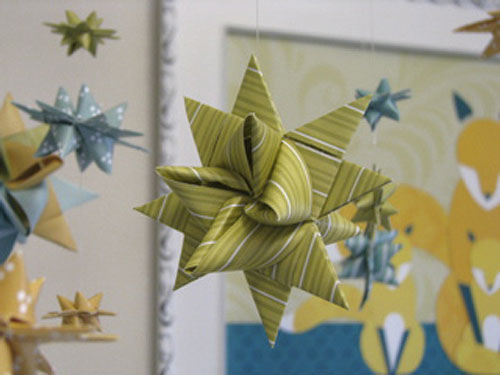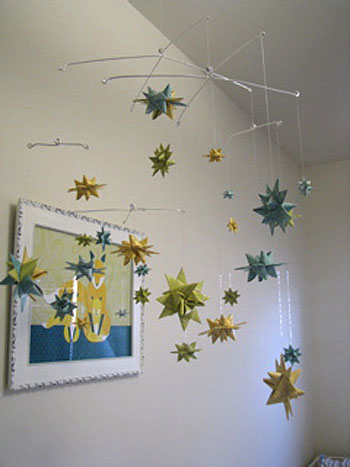 Isn't that a fun way to add some personalized interest to any nursery? We love that by making their own mobile, Isabel and Thomas were able to dictate everything from the color scheme to the size and the shape of their creation- and the fact that it was less than ten dollars to whip up is truly amazing. Thanks so much for the photos guys! And for including the links that you used so others can follow along at home. What do you guys think? Is anyone out there planning to make one of their own? If so, what color scheme will you be going with? Gray and yellow? Navy and turquoise? Orange and eggplant? Pink and lime?
&nbsp

When it comes to shoes in your house, what's the deal? Do you have an always-off-at-the-door policy? Do you wear them inside and out without a second thought? Do you encourage kids to remove their shoes while adults may leave them on if you're hosting a party? Or do you have that pile of adult shoes near the door with guests walking around in their socks or stockings when you have people over for dinner?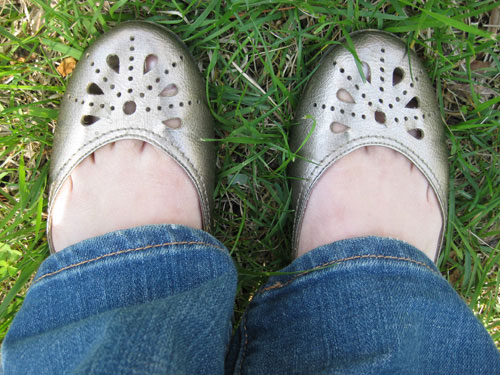 We're itching to hear where you stand on the issue. In fact, we whipped up this handy little poll to keep everything tabulated:
[poll id="10"]
And we'd love to hear more about why you voted the way you did, so feel free to comment away with more details.
Psst- Sherry's cheap-o flats are from Target, just in case you shoe-loving ladies are wondering.
&nbsp