With just seven days until my actual due date (although we're pretty sure Baby P will make us wait even longer), we've officially begun getting ready for her arrival. Of course you've seen us tackling her nursery, but now when we say getting ready, we really mean getting-ready-for-my-water-to-break-and-to-actually-welcome-our-new-daughter-into-the-world. See, pretty much right after we found out I was pregnant we slowly began to wrap our minds around the idea that our family would be growing as my belly continued to expand with every baked potato and chocolate milk craving.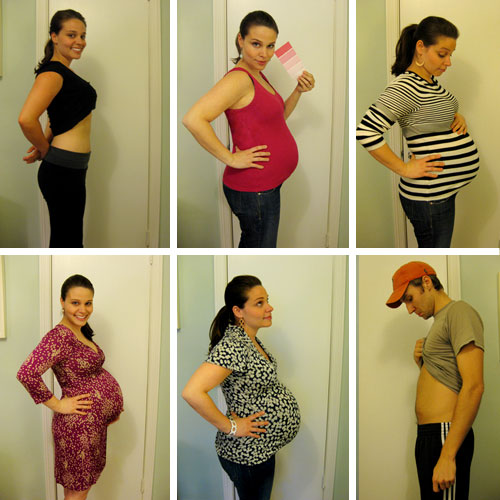 Now you see why I've been humming my tweak on an old Beyoncé classic: "I don't think you're ready for this belly."
And only quite recently did we fully digest the concept that we actually made a person. We made a person! There's a girl in my belly who will walk and talk someday, heck she'll even have a job and probably be desperately embarrassed about her dorky parents who always have paint in their hair. It's just such a giant thought that it literally takes about nine months to sink in- which might just be why it takes so long to cook one of these things. It's probably nature's way of making sure you're really ready for the life changing and momentous birth instead of smacking you in the face with a baby after 30 days of gestation. But anyway, now that we have fully been able to wrap our heads around the notion that we're about to really be parents (!) there are a few things that we've done in anticipation of our little miracle's arrival:
1. Our practical purchase: My obsession with my water breaking in bed or on the couch got the best of me and I convinced John to let me get a waterproof mattress cover to protect our beloved organic mattress and another little waterproof blanket that I can place on the sofa or the seat of the car in these last few days… you know, just in case. And the good news is that they're not nearly as crunchy and diaper-like as I expected (we picked them both up for $23 total at Bed Bath & Beyond thanks to two of those 20% off coupons). Maybe it goes back to how fiercely I love our house, but it just seemed worth the added security to at least attempt to keep the sofa and the bed (along with the passenger seat of our new car) protected from the wrath of holy-cow-it's-really-time. Especially since my mom's water broke in bed with every single kiddo. Sidenote: my absolute dream is for my water to break at Target or Home Depot because I just think that would be hysterical since we practically live there. I know, I'm weird.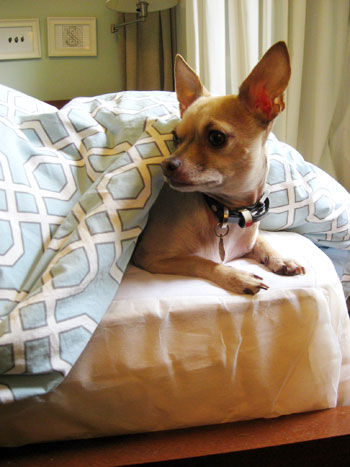 2. Our DIY project: This second idea was John's brain child (I'm telling you, he's the sweet sentimental one and I'm the neurotic fool who worries about my water breaking). He actually brought it up as my birthday gift back in March by suggesting that we get a fabric covered album and create our own little "baby book" with fun patterned paper and printed prompts that you see in typical baby books like "The First Week Was…." and "First Word…" We love the idea of adding in keepsakes like her hospital bracelet and her little going-home hat along with a ton of photos and even things like her inked footprints (we plan to bring a few pieces of cardstock to the hospital since the nurses will gladly make footprints that we can stick into our little memory book of sorts). So we headed over to Michael's (with a 40% off coupon in hand) and snagged a sweet 8.5 x 8.5″ album covered in super fun Amy Butler fabric for just $9 after my handy coupon.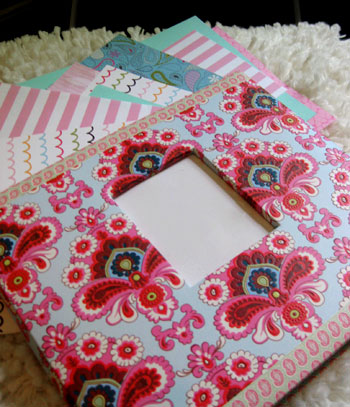 We also picked up a pad full of 8 x 8″ patterned paper to use as a backdrop in our keepsake album (to the tune of $6). So our entire DIY baby book project ran us $15 total. And after adding all the decorative paper and leaving room for notes about momentous occasions (along with photos and other memorabilia) we were left with a pretty sweet way to document many of Baby P's firsts: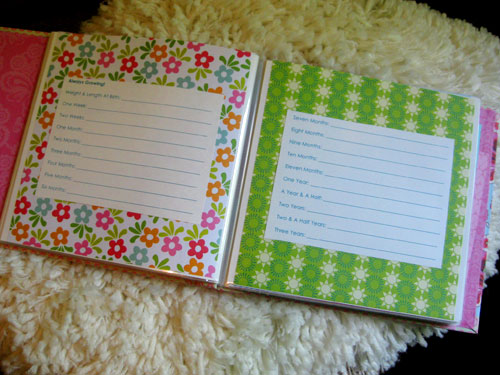 And since we made it ourselves we had fun adding in quirky things, like this page of "future predictions" where John and I guessed everything from her hair and eye color to her first word, her favorite subject in school, and even her future profession. It should be super fun for the beanette to look back at all of our goofy (and most likely completely wrong) guesses someday.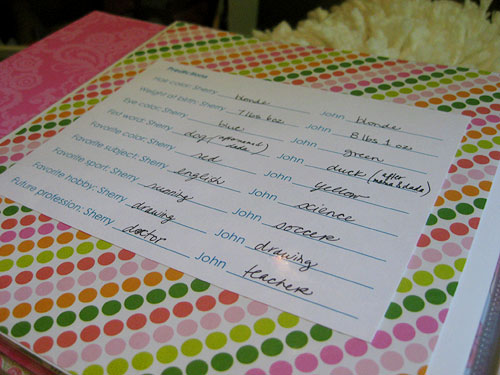 Plus the fact that it looks so cute in the nursery is the icing on the cake…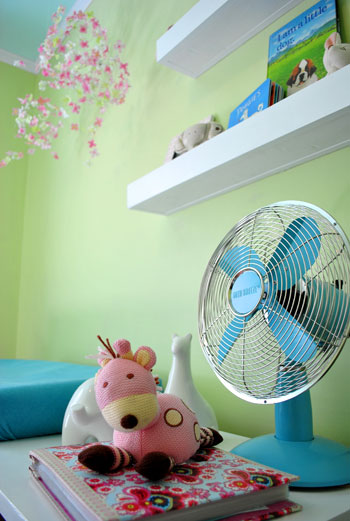 3. Our Burger-meets-baby prep: We've actually read quite a bit about how to ensure that your pooch and your baby get along, because there's nothing we want more than for our first fur baby to happily coexist with our first human baby. And time and time again we've heard that bringing home a gift for the dog along with the baby can help your pup associate the baby with good things and feel appreciated and excited upon her arrival. Of course we'll also be doing the bring-home-a-baby-blanket-for-him-to-sniff-beforehand trick, but ever since John mentioned that his mom got him a He-Man toy when his little sister came home from the hospital I've been convinced that something super fun for Burger (like a pup-cake from Three Dog Bakery along with a new chew toy) will make him giddy about our growing fam. So we recently picked up some goodies for him… and can't wait to see his tail wag when he gets 'em.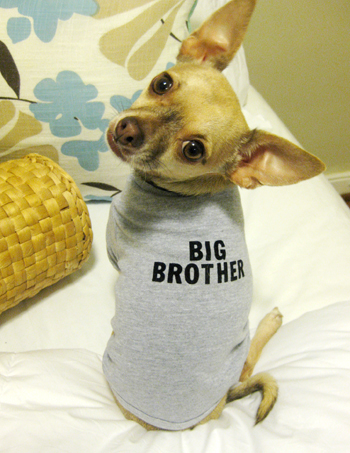 4. Our blog backup: This forth prep step was actually right up there on the practical side with my waterproof mattress cover. We've been working overtime for over a month to amass enough extra blog posts to "tide us over" for the first few hairy weeks after Baby P comes home. That means we took on a few secret projects and wrote up a lot of extra Reader Redesigns, Look & Learns, Email Answers, and Burning Questions along with some fun new tutorials to keep the blog from stagnating while we get our "sea legs" with a newborn, so to speak. Oh and we have a killer House Crashing post to share as well. Basically, you can rest assured that you'll still get the same YHL experience even when our day to day has gone from projects and blog posts to diapers, feedings, and no sleep.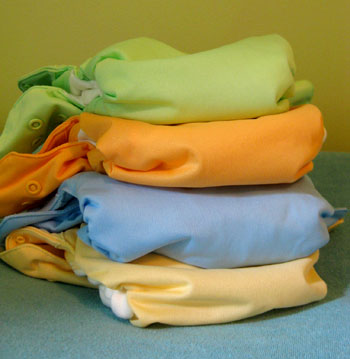 5. And speaking of diapers: We got a bunch of BumGenius One-Size-Fits-All Organic Snap Diapers from a local shop called MonkeyGrass that we love to support (here's a link to their online shop and for any Richmond people you can visit their store inside It's Hip To Be Round in Carytown). These cloth diapers alone (which were actually selected as "more convenient cloth diapers" by Cookie magazine) will save us a substantial amount of money over the course of Baby P's childhood, and we even ordered them in colors that will work for a possible boy down the road, since we definitely want to use the same cloth dipes for multiple kiddos.
Plus our easy to use Energy Star front loading washer and dryer will keep our water and electricity use to a minimum (everyone says you do laundry like crazy with a baby so we figure it won't be much of a difference to add some diapers to the mix). And since the average baby uses 8,000 to 10,000 diapers between two and three years, we'll get to keep that many disposables from landing in a landfill. And all the moolah that we'll save from buying disposable diapers all the time (which is commonly estimated to be between 2-3K per child) means more money that we can put towards future DIY projects (maybe even with the help of our little girl when she gets big enough to hold a paint brush…). Is it weird to be super excited about diapers? Probably.
6. My clothes cleaning ritual: I actually read that washing all new non-organic baby clothing and bedding (as well as the removable covers of car seats and swings) with a cup and a half of vinegar can rid them of most of the chemicals and dyes that aren't present in organic clothes. So I've been busy washing all of our sweet baby socks, onesies, and pretty much everything else I can get my hands on… just so I'm über ready with the purest baby clothes possible. And the funny thing is that they don't smell like vinegar when they come out of the wash (they're completely odorless, it's kind of amazing). Of course I did have one fateful white-blankets-and-onesies-are-now-pink incident (don't ask- I somehow tossed tiny hot pink leggings in with the whites) but the soft pink cast on everything actually charms me to no end. And I guess I should get used to letting things roll off my back, so it was a good lesson in the whole nothing-will-be-perfect-and-that's-ok concept.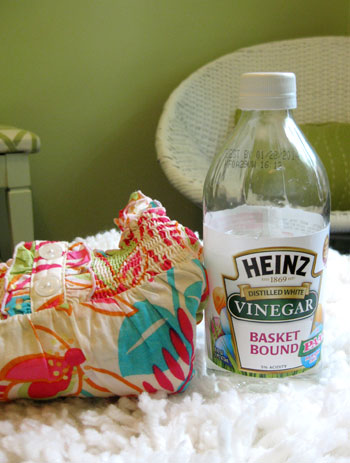 7. My pillowcase purchase: I actually got a quick tip from a reader that I just had to follow since it seemed like such a simple way to add some cheerful color to the pretty-stark-and-sterile hospital birthing experience. Joni wrote to us and said:
"I have a little piece of advice that may seem stupid but you'll thank me later. Make sure you have a pretty pillowcase for the delivery of the baby. It will be in a million photos. Mine was so pretty that when I look at the pictures 13 years later, all I see is my gorgeous baby and that fabulous fabric. It'll distract people from looking at your puffy I-just-gave-birth face"
Well, for those who don't know me, I can puff up like the best of them. Seriously I broke my nose in college and my cheekbones didn't come back for nearly a year. I'm a swelly girl (John even calls me Swell from time to time). So the idea of a pretty pillowcase to take the focus off my giant face sounds like a good one. Plus I just love pillowcase shopping. And the best part is that I hunted down this beauty (on sale of course) and John's family actually got two of them for me as a birthday gift. So springy and sweet right? Just like my May baby on the way. And not only do I plan to use them at the hospital on Baby P's b-day, but they'll make such pretty and fun guest bedroom pillows from then on.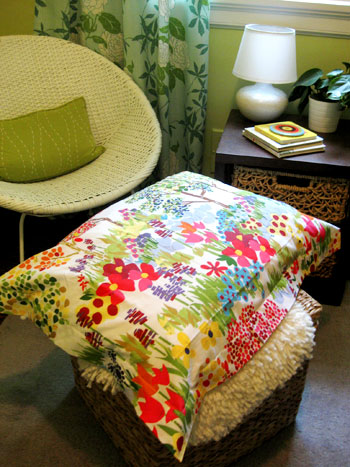 8. Our space saving multipurpose solution: We heard from various friends and family members that a white noise machine and a light machine were two secret weapons to help the beanette drift off to sleep (especially in those first few weeks). And although we believed that they both would really make a difference, with limited outlets and surface area in the nursery, we wondered if we could get some sort of a two-for-one solution that would work double duty. Enter our new iPod I-Home dock stage right (we've seen it on amazon.com for a good price):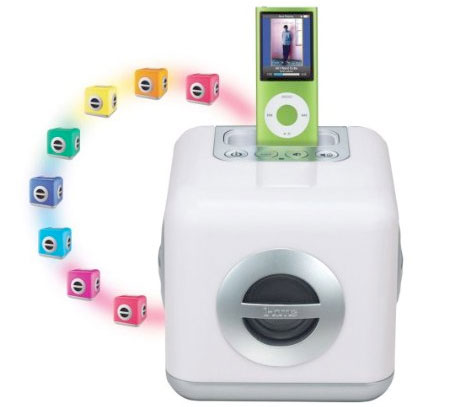 It was another baby item that came highly recommended by friends and fam (since we can upload children's music and learning songs for Baby P as she grows). And John, in a stroke of daddy-to-be genius, realized that we could download a CD of white noise from iTunes – to the tune of $6 no less – and effectively turn our iPod dock into a white noise machine with the press of a button (we can even leave it on "repeat" for lengthier renditions of "crashing waves" or "static"). Gotta love a $6 quick fix that allows us to cut back on an entire nursery gadget while saving money. But wait it gets better, the particular I-Home dock that we selected actually has a color changing feature, so it can cycle through a bunch of room-illuminating hues (quickly, slowly, or not at all if you turn off the ambient light setting). So not only does it serve as a sound machine and a music player, it's a light machine too! Jackpot.
Oh and while we were prepping left and right we came across this quote, which touched both of us so much that we just had to share it:
"A baby will make love stronger, days shorter, nights longer, bankroll smaller, home happier, clothes shabbier, the past forgotten, and the future worth living for." -Anonymous
Pretty sweet, huh? We can't wait to meet our little one. And we'd love to hear what any of you guys have done while prepping for a new arrival (whether it's a baby, a four-legged friend, a roommate, or even a few weekend guests). How did you get your house ready for the new company?
&nbsp
Maybe it's the whole organize-everything-because-it's-spring thing or even a bit of last minute nesting, but lately I've been all about whipping things into submission. As in, finding a place for every last paperclip and utensil… even putting every single one of our photos into coordinated leather albums and chronologically numbering them. Yeah, it's a little crazy but I've always been a nerd for organization. And looking at those nice little hand-numbered tags just makes me smile. It's the little things, right?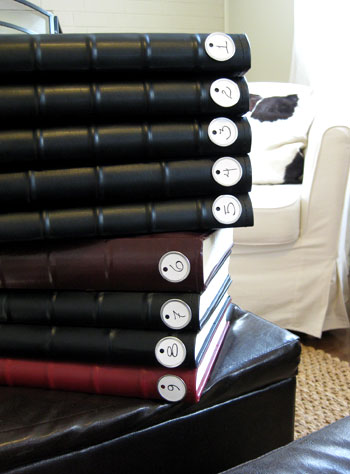 The first stage of the project was to go through all my mismatched old falling-apart albums (and stacks of sad album-less photos) and put them all in chronological order. Then I grabbed some nice-enough-but-not-bank-breaking albums from Target and filled 'em up. I could have stopped there but I wondered if they might be hard to differentiate and sift through since they're all so similar looking (which I like for consistency, but it's not as easy to remember as "the moving photos are in the yellow sunflower album").
And so the idea of numbering the albums was born…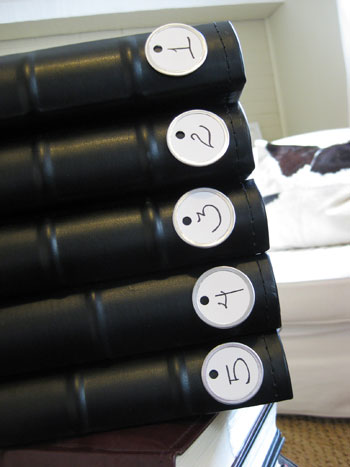 One trip to Office Max and a few dollars later I came home with these metal-rimmed white labels. They actually were meant for labeling valet keys or something (so I removed the little key loops) but the loops would actually be handy for hanging them off of baskets in a linen closet. Gotta love a multitasking accessory like that.
Anyway, I just scribbled a number on each one using a regular old ballpoint pen and relied on a loop of scotch tape to secure them to each album (a dot of Liquid Nails would probably hold them in place even more securely). What do you think? Does it make you want to slap me? Or does it make you want to organize something? I'm one of those people who watches other people clean their house on TV and immediately wants to clean mine. Here's hoping my obsessive organizing rubs off on a few enthusiastic storage freaks like me!
And since many people write to us to ask how we organize and store our photos on the computer along with our hard copies, here's more info in that regard. We keep a folder for each month on the computer (since all of our pics are digital) and we dump them into the right month as we take them. Then every few months we go thought a few months at a time and pick the ones we love and get them printed at CVS on the cheap and stick them (chronologically) in our newly-matched-and-numbered albums. Then we toss the rest into the computer trash and hit "empty." We definitely like editing down our photos (instead of printing every single one that we take). And burning the remaining photos that we thought were good enough to print at the end of the year on a CD labeled as "Photos 2009″ gives us a nice little photo backup system that's easy to maintain (we're left with one small CD of annual pics to store in our fireproof safe, while the identical CVS prints are displayed in our numbered albums).
So that's what works for us. And speaking of organization, what have you guys corralled or chronologically arranged lately? Any junk-drawer-clean-outs going on? What about paring down clothes or donating all those unused cans of food in the backs of your kitchen cabinets? Do tell. You know we live vicariously through you guys, right?
Psst- Wanna see other "Easy Upgrades" we've implemented? Here's one and here's another.
&nbsp