As we embark on our new lives as a full-time blogging family, we are especially excited to toss out a huge "thanks" to our always-supportive sponsors in our monthly shout-out post (after all, they make the other 40+ posts that we write each month possible). So feel free to take a peek at all they've got to offer (along with a few exclusive YHL discounts for you guys to cash in on).
Hoot Design Co. may sound familiar, since back in April they provided their signature Simply Baby poster as part of our Nursery Art Bundle giveaway. But you can also head over there to check out their grown up prints along with some other fresh wedding and party invitations.

Heart & Stone is one of our sponsors with a green twist. Julie's charming silver jewelry line, featuring customized necklaces and rings made by hand, are all crafted from 100% recycled silver. Sure it may come from places like X-rays and film stock, but Julie sure has a knack for making it beautiful. Oh, and snag 10% off with the code YHL10.

Design for Less goes by a few names like The Glass Mosaic Outlet or The Natural Stone Outlet, but we just call them drool-worthy. Browsing their site's photo galleries is an inspiring & idea-infusing treat, especially if you've got a backsplash, bathroom, or other surface in need of some wow.

Z Gallerie is all about embracing the outdoors and bringing it in. They've got a slew of exterior accessories in springy yellows and greens, as well as this sophisticated purple palette (complete with dahlia art) to bring some May flowers inside.

The Tile Shop isn't just a source for a great range of tile options, they'll also help you get the job done. Grab your tools and supplies from them and check out their weekly how-to seminar each Saturday. Oh, and don't forget you'll get 10% off when you use the code YHL10.

Shades of Light is a place that we love to peruse for great lighting and rug options here in Richmond (along with their nearby sister store, The Decorating Outlet), and thanks to a recent stroll on their site we noticed that they have tons of cool, rustic & modern lighting along with the more traditional stuff.

Etsy Kids is still rocking their Spring Shopping Guide, where they've curated the finest (and cutest) in kid, baby, and mom-friendly handmade Etsy items. Enjoy a virtual flip through their their alphabet themed guide and prepare to say "awwww" a lot.

The Natural Sleep Store can whip your bedroom into shape when it comes to reducing chemicals in the spot where you spend a good portion of your day. Grab an organic mattress or snag a few other all-natural bedtime accessories to green up your sleeping space in a snap.

Frame The Date has been on our minds a lot lately, especially since we're about to have another important date to commemorate (annnnny day now). FTD's custom frames and stylish numeric photographs are so easy to love (and so hard to resist). Heck, we might even pair one with our own Baby P photo one of these days.

Vol. 25 makes us wish we had more room for art in our house. Their sweet designs continue to make us smile, and we've got an inkling you guys feel the same way. Head over to browse all the personality-filled prints, photoshop overlays and other designs.

Viewville is another spot that will make you yearn for an empty frame to fill. These reasonably priced luxury photography prints can be simply breathtaking, like this gorgeous panoramic shot of Niagara Falls that we've been loving lately. Plus, there's a 20% off YHL code waiting for ya.

Lisa Leonard Designs certainly has you covered if you forgot Mother's Day last weekend (oops!). She's got tons of personalized options to help mom commemorate her family, and it's all beautifully hand-cut, hammered, antiqued and polished in sterling silver.

WallQuotes.com (aka Belvedere Designs) lets you pick from a bunch of pre-designed wall decals… or even customize your own. Like this "Self Serve Laundry" design (to add a bit of good humored sarcasm to your laundry area). Don't forget to take 15% off of any order with the code YHL15.

Quirk is a must if you're looking for- well- quirky art, beautiful jewelry and other unusual finds. This month we're loving these not-so-plastic vases, the ampersand plate, and the Quirk-created RVA playing cards (which feature 52 reasons to love Richmond as collected via their Twitter followers).

Dolan Geiman is another great spot for one-of-a-kind art. The Virginia-raised artist and his team create stunning mixed media art offerings and prints using a ton of reclaimed items. And you just can't go wrong with stylish and eco-friendy accents like these.

Smock Paper wraps up this month's shout out, reminding us that perhaps we should also be thanking our sponsors with beautiful letterpress notes like these (which are sustainably printed on bamboo paper and created using wind energy). Genius, no?

And our last big THANK YOU has to be directed at you guys. Thanks so much for dropping in to see what we're up to over here at Casa Petersik. We wish you nothing but the most fantastic and DIY-filled weekend!
&nbsp
By now you guys have probably grown accustomed to our random tours through places like Target, Ikea, Crate & Barrel and Anthropologie with our camera in tow. But this time we traipsed through HomeGoods and couldn't stop ourselves from snapping pictures of all the things that we loved (with fabulous prices to match). So without further ado, here's what's frying our bacon these days from the decor mecca that is HomeGoods…
This amazing white cut-out urn is nothing short of art when it's placed in the center of a large dining table or displayed on a console table or buffet. And although we've seen them in a few places for upwards of $100-150, this baby (which is nearly 2′ tall by the way) will run you just $55.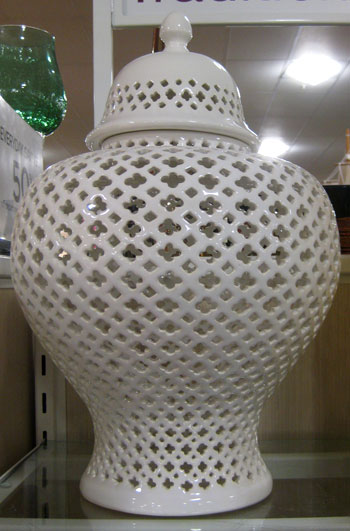 Here's another fun cut-out urn that came in a playful mustard color and was a bit smaller. This one's just $25 and we think it would look equally chic on any number of tables, shelves or bookcases. We love the exotic Moroccan vibe and can even picture it in a posh bathroom full of sea sponges.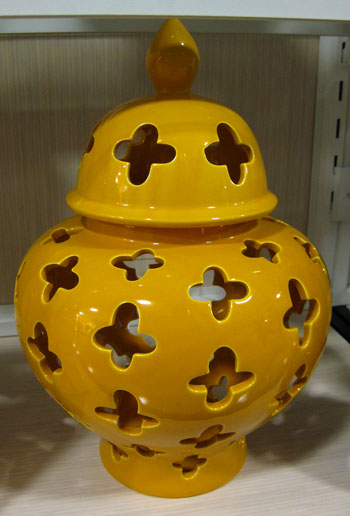 This $12 hot pink Buddha made us smile, and we can just see it lending a cool Domino-ish effect to any room when placed atop a large pile of hardcover books or displayed on a bookcase with some other eclectic accessories.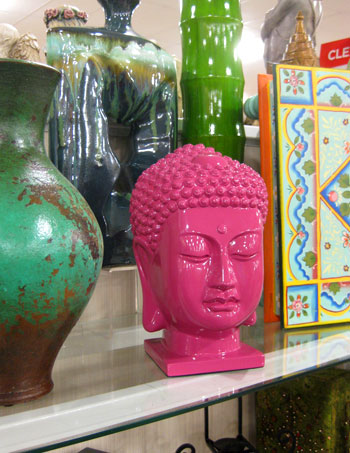 And although I know they're not everyone's cup of tea (John even declared that these guys were "straight up ugly") you know I was smitten with these gorgeous $39 oversized white lacquered greyhounds. I can't help it- my white ceramic animal menagerie always has room for one more (or ten…).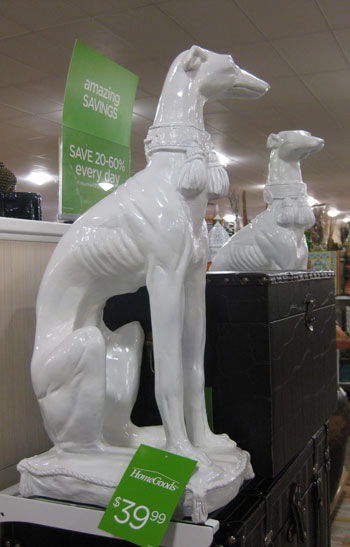 But don't get me wrong. Not all animal-related accents are created equal in my book. Some are just plain weird. Like this cat that is somehow holding a basket with a kitten in her mouth. But with so many treasures to be discovered you're bound to have to dig through some questionable things too. And we're always down for a laugh while we window shop so we welcome discoveries like this.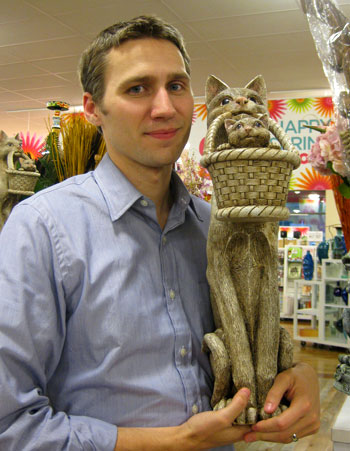 This large round mirror is a bit reminiscent of the one we painted for our nursery, but this one comes in crisp white and is a bit softer and less geometric when it comes to the frame. Oh and have we mentioned the $39 price tag? Not bad at all.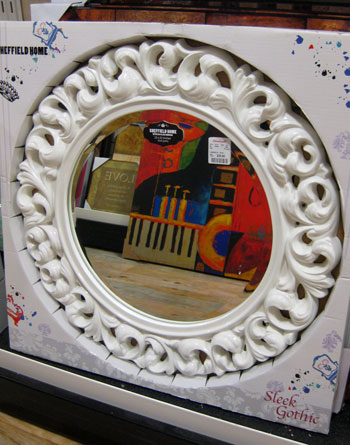 HomeGoods is also a great place to dig around for affordable art, and this giant ready-to-hang canvas is just $49.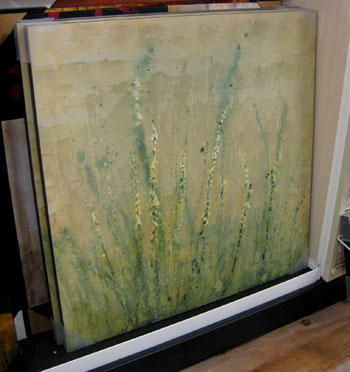 We also loved this frame with a beachy coral vibe. It'll only set you back $6.99 and we think it would look charming in nearly any environment, from a home office to a bedside table.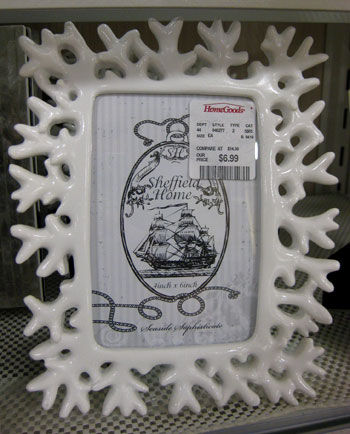 This romantic and ruffled pillow looked so high end in so many ways. From the raw silk embellishments to the so-hot-right-now greeny yellow tone, it had me drooling. And the price tag? Just $14 (it originally sold for upwards of $60). Score.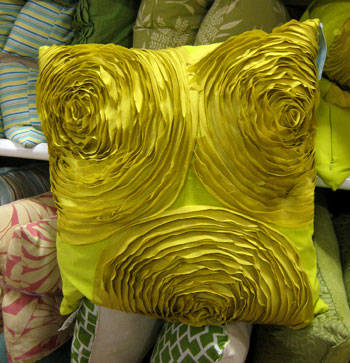 We actually have very similar chic little glasses with woven sleeves but ours were on clearance from Sur La Table. We haven't seen anything that's very cheap since, but these guys are just $2.99 a pop so they're definitely a do-able way to add texture and interest to any table setting (and they even look charming as vases, votive holder, pen holders, or even cotton ball and q-tip containers in a beachy bathroom).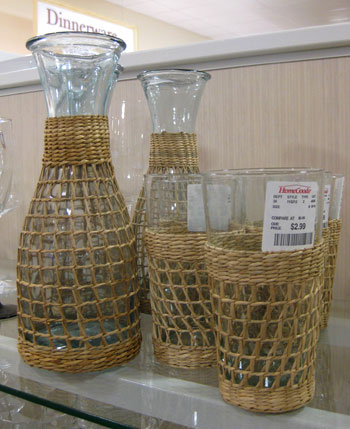 We thought these initial mugs were reminiscent of the ones sold at Anthropologie for $6 but these are just $3.99 a pop. They too would make such great pen holders on a desk and could even work as a monogrammed toothbrush holder of sorts in an elegant black and white bathroom.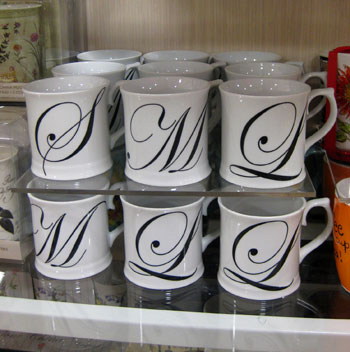 And these Chantal tea kettles came in so many glossy and fun colors (with $24 price tags) that we could totally picture someone snatching one up to add a bit of zip to any kitchen (just leave it on the stove full time for a dash of color- and of course use it to whip up tea for company).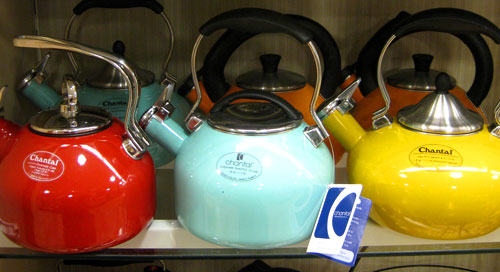 The towel selection was also pretty impressive this time around. Sometimes things like that are hit or miss but we were loving all the prints that resembled vintage hex-tile details from a bathroom. And the soft blue, white, tan and mocha color scheme was right up our alley.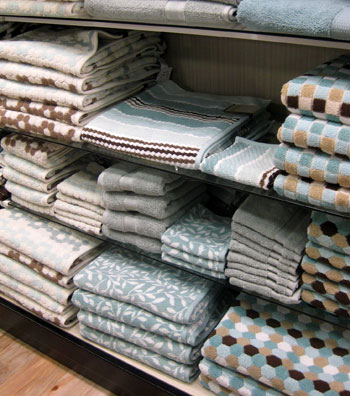 But if there's one thing HomeGoods has above all other stores, it's their amazing (and affordably priced) lamp selection. There are always at least two (if not many more) that I'm dying to buy on the spot. If only our house had ten more rooms that needed table lamps! This cheerful yellow guy was huge and bulbous (in the photo you can't really tell the scale, but it's gorgeously large and in charge). And the $49 price tag beats the pants off any other colorful ceramic lamps and shades that you can find (which usually can run you around $130+ at lighting stores and even places like Pottery Barn and Crate & Barrel).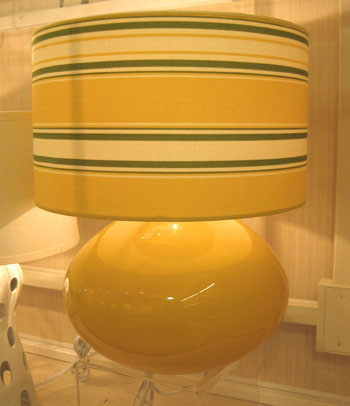 We also loved this curvy blue-based beauty. And the $39 price tag was the icing on the cake. Two of these babies on either side of a bed or couch could MAKE the room. And they're hundreds of dollars less than picking up two almost anywhere else.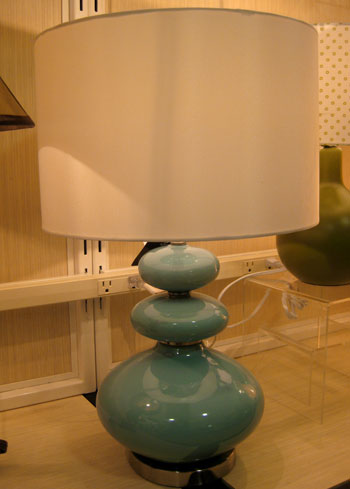 So that's what tickled our fancy when we took a stroll through HomeGoods. What do you guys think? Any favorite items among the bunch? Are there any other cheap-o home accessories (from there or anywhere else) that have you drooling these days? What colors are doing it for you these days? And what accessories are you currently on the prowl for? Do tell. Oh and check out Bryn's recent HomeGoods excursion (I'm obsessed with the green elephant at the end).
Oh and p.s. – We have no affiliation with HomeGoods nor were we paid or otherwise rewarded for this post by those fine decor-loving folks. We just like sharing affordable items that appeal to us and we hope that you enjoy our little window shopping excursions. If you'd like to check out more of our shopping adventures, click here for a plethora of past virtual shopping sprees.
&nbsp