We're back with another House Crashing adventure, and this one happened right here in Richmond. This charming Westover Hills house was just too pretty to pass up, so when Lori and her husband Greg invited us inside to poke around we knew we had to bring our camera and snap some photos for you guys as well.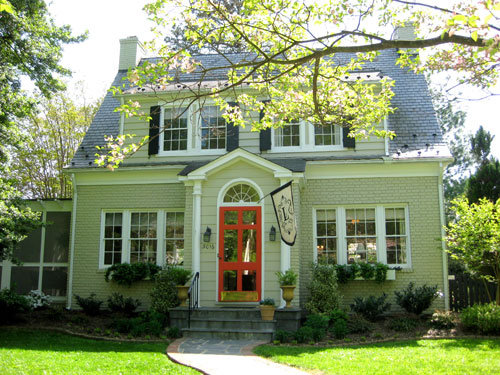 And here's the cute couple now…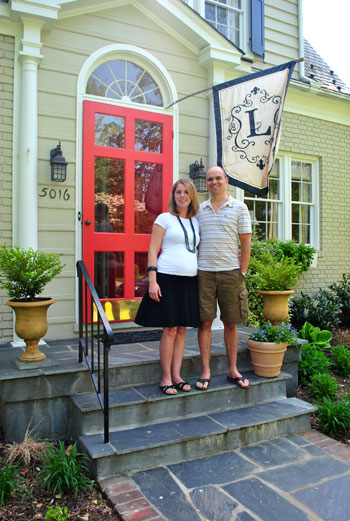 Lori's actually expecting a wee one in August, but although the whole nesting thing hasn't quite kicked in just yet, her house was spotless none the less. Here's the view as soon as you step into the front door. Gorgeous and sundrenched would be exactly how we can describe their entire house.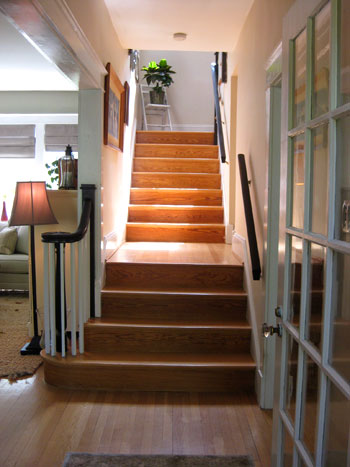 To the right of that stunning staircase is the living room full of (surprise!) more light and nice substantial molding and extra high ceilings. And that armoire on the right is actually a home office of sorts that they keep tucked away behind closed doors when it's not in use. Gotta love a little hidden extra function like that.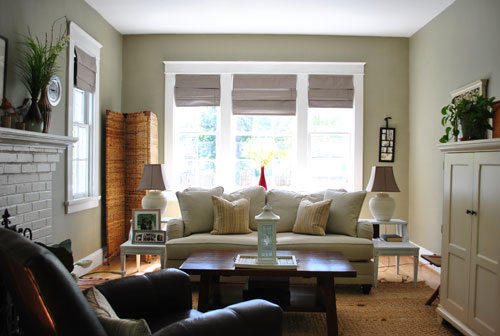 The living room fireplace is definitely a gorgeous accent in the room. Everything from the framed butterflies to the crisp white painted brick charmed us from the moment we stepped into the space.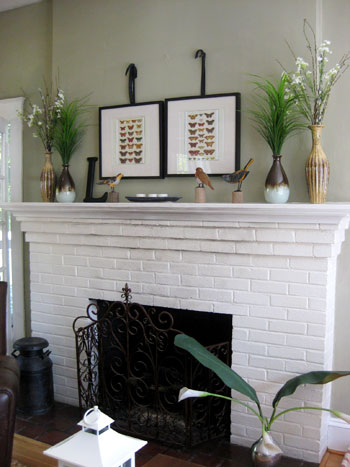 And the kitchen. Oh the kitchen. It seriously had us looking around like tourists at the Grand Canyon. It was simply breathtaking. They did a total reno when they knocked down a wall to open it up to a family room that they added on to the back of the house. And their gorgeous white cabinets mixed with sleek black granite counters really made for a classic and elegant result.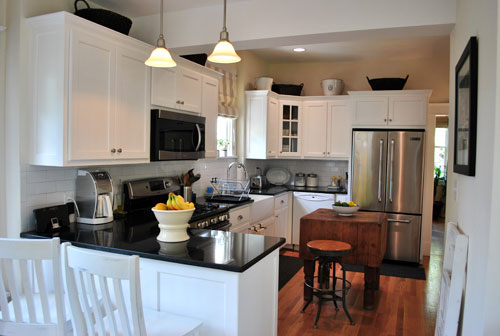 And check out that amazing butcher block island made from insanely heavy and solid wood (it took seven people to carry it into the house, and when they attempted to put it up on casters it crushed them like twigs). Guess where they got it? Craigslist. Yeah, we were jealous too. We love how worn and substantial it is- it adds so much rustic charm and life to the otherwise sleek space for the perfect balance of homey and chic. And just beyond the kitchen you can see the family room that Lori and Greg added on…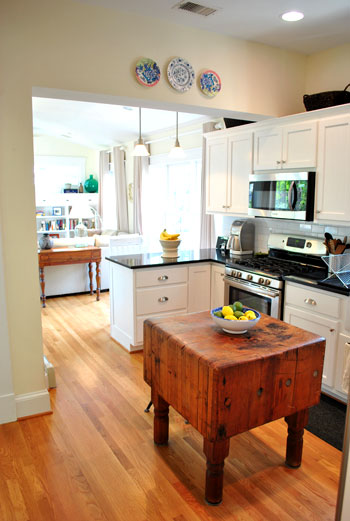 It's complete with a cozy sectional and tons of floor to ceiling windows (which lend a sunroom-ish effect)…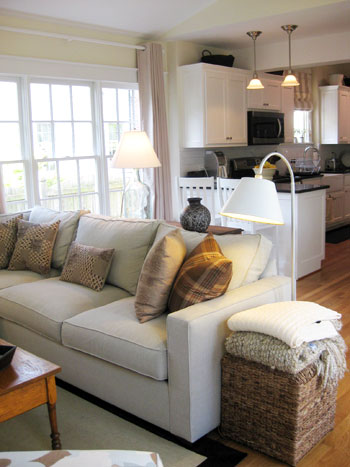 The room also features an amazing back wall of built in cabinetry for books, other storage and of course to accommodate the crisp flat screen TV they added to round out this family friendly space. Plus you might recognize that slipper chair as a Target find. Don't you love that cool furniture doesn't always have to cost a fortune?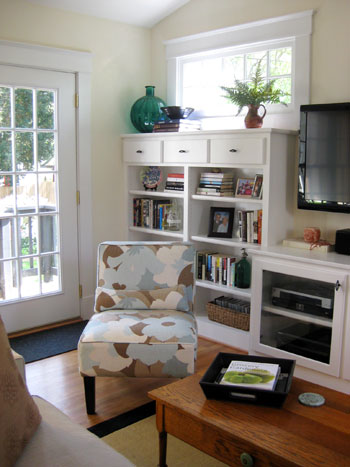 They also had a charming display in their half bathroom right off of the kitchen and living room- check out those great vintage boxed that they hung on the wall to corral toilet paper, towels, and other bathroom necessities.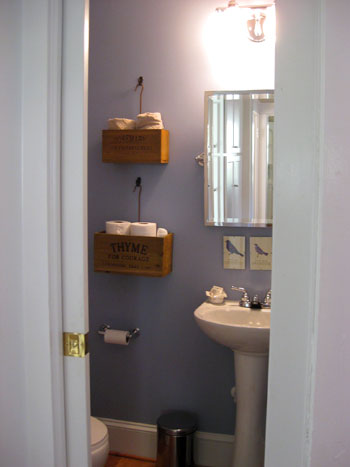 Then there's the dining room, which has that rustic farmhouse feeling with a touch of chic elegance thanks to the super high curtains and that gilded chandelier. And you know I was all over that big blue oversized glass jar, right? As in, I wanted to rub my face on it. Obsessed.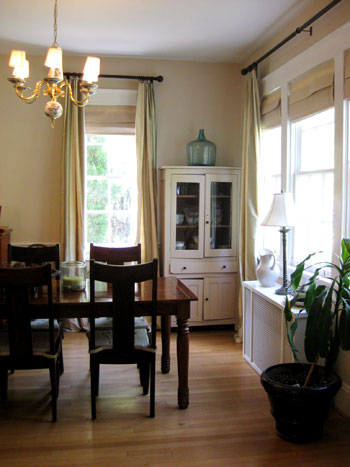 Next we have the serene and super inviting guest bedroom that again is full of light and soft relaxing tones.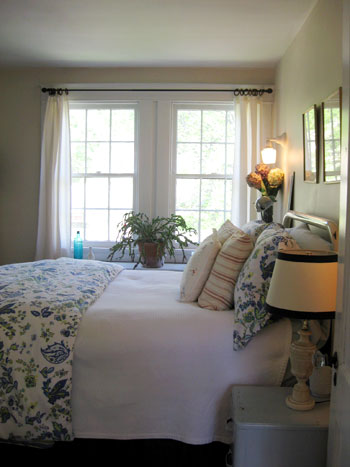 We especially loved this view of the room with that amazing chair (Lori rescued it on a budget and had it reupholstered to give it a whole new life). And that charming soft yellow dresser adds so much tone on tone charm to the space.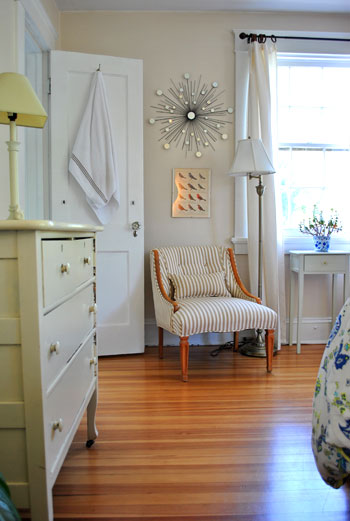 And lastly, we'll leave you with this gorgeous shot of their private backyard complete with a fun hammock and chiminea (they love having gatherings back there). It's also the stomping ground of their cute pooch Maggie and there's even an expanded patio off of the kitchen with a full outdoor dining area. Not too shabby, eh?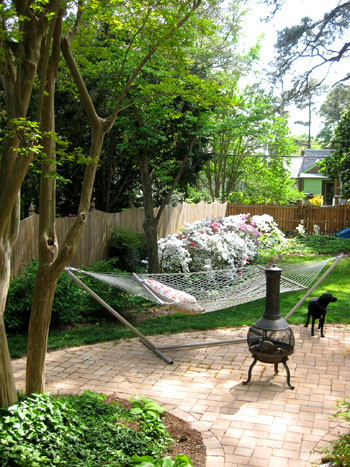 And since we know you guys appreciate a source list, here you go:
Living Room: paint: Benjamin Moore Saybrook Sage, couch: Bassett Furniture, pillows: Restoration Hardware, rug: West Elm, coffee table: Crate & Barrel, side tables: Craiglist, Roman shades: JC Penney, computer armoire: Craigslist, plantation chair: local antique shop. Dining Room: paint: Benjamin Moore Devon Cream, table: Miss Pixie's in Washington DC, chairs: World Market, buffet: Craigslist. Kitchen: paint: Benjamin Moore Linen White, butcher block island & stool: Craigslist. Family Room: paint: Benjamin Moore Linen White, sectional sofa: Room & Board, pillows: TJ Maxx, slipper chair: Target, glass lamp: local antique store (shade from Target), sofa table: local antique store. Guest Bedroom: bed, dresser & skinny chest: vintage, bedding: TJ Maxx, chair: reupholstered thrift store find; art: West Elm (mirror) and vintage prints.

So there we have Lori and Greg's lovely Richmond home full of sunlight, lofty ceilings, and charming details. Of course we have to send them a big wet kiss for inviting us inside. And we'd love to know which rooms/furnishings/accessories have you drooling. Don't you just love sno0ping around in people's houses? We could do it every day…
Psst- We're always on the hunt for a mouthwatering house (or ten) to crash, so if you or anyone you know has a casa that's feature-ready just shoot us an email along with some photos of the space and if we're ever in the neighborhood we'll be sure to drop in.
&nbsp
Just thought we should mention that we recently welcomed a new member of the family.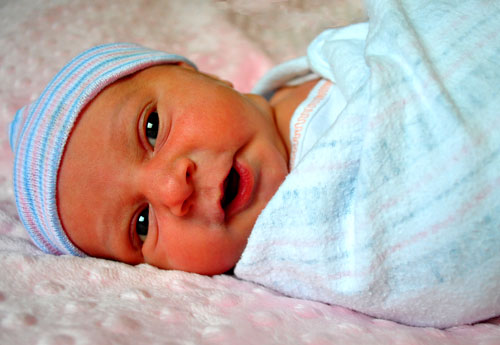 On Friday the 14th at 5:57pm, Clara Kenley Petersik was born with a paint brush in her hand weighing in at 7 lbs 10 oz and measuring 20.5 inches long. We're insanely in love with her. And she and Burger are already best buddies. Seriously, he thinks it's his job to stand guard next to her at all times.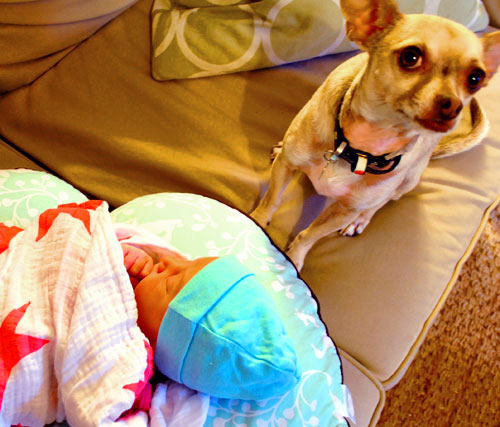 Clara was named after John's grandmother on his dad's side. And her middle name, Kenley, is an homage to my dad (Ken) with John's mom's maiden name worked in there (Kelley) along with a reference to my great aunt on my mom's side named Lee. Gotta love rooms and names that multitask.
We're all home from the hospital and happily settling back into life here at Casa Petersik (there's nothing like a four day hospital stint to make you miss your house like crazy). Yes, we actually had an extended stay due to a pretty terrifying scare during Clara's birth (an unexpected placental abruption paired with an umbilical cord prolapse had a slew of wonderful doctors and nurses performing an emergency c-section in under three minutes to ensure that Clara was a-ok). But although her delivery was anything but restful, we're both over the moon that she's 100% healthy and 1000% adorable (not that we're biased or anything).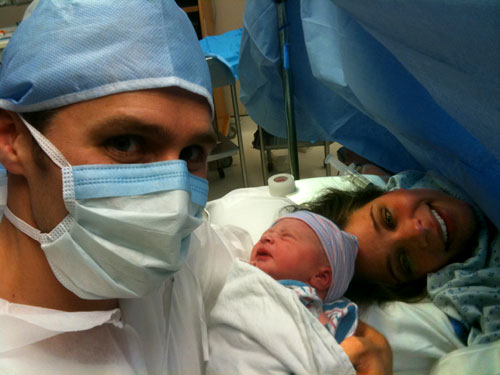 And now that we're all back home, Clara really seems to be enjoying her new surroundings. Everything from the chandelier in her nursery to the mantel in the den have caught her attention. She even smiled when we showed her our laundry nook (ok, maybe it was just gas).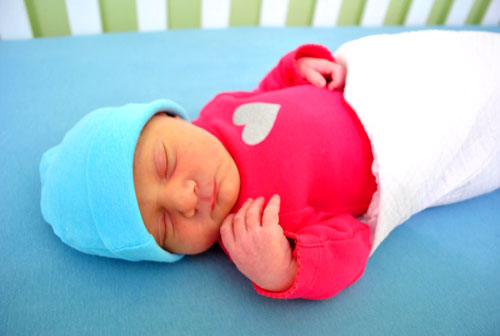 In short: we feel like two of the luckiest people in the world. And we're so thankful to be able to share this amazing time in our lives with such wonderful readers. Thank you all for the well wishes that you've passed along throughout our big journey to parenthood. We can't wait to detail all the ways that our house grows and changes to accommodate a little person and we promise to share all the organization, storage, and simple living tips that we pick up along the way (while tackling even more DIY adventures and cheap-o room makeovers of course).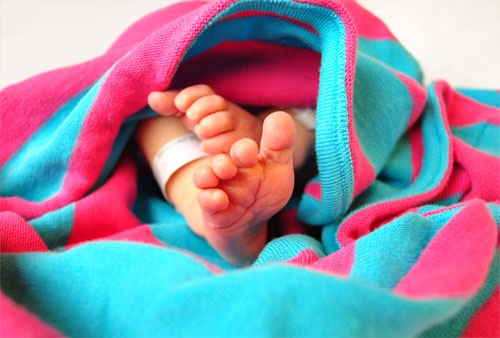 But now back to our regularly scheduled blogging. We have a killer house tour to share, so stay tuned…
Psst- We'll also be announcing the random winner of the big baby pool (and a $100 West Elm gift card) tomorrow, so stick around.
&nbsp