Our toilet is no longer the mild-mannered everyday toilet that you'd assume it was. Thanks to being born on the planet Krypton some simple DIY projects that we tackled last weekend, our former Clark Kent of a throne now boasts two new super powers. Can't you just picture the comic book?
Here's a rundown of the two blissfully "tool free" (more on that later) projects that we took on. The first was to convert our toilet into a dual-flush tank using a simple $20 converter kit (search HydroRight on Amazon.com or check to see if Home Depot has it) that a reader mentioned to us (thanks Allison!). The second was to add a Bum Genius diaper sprayer to make our cloth diaper clean-up a bit easier (that toilet add-on was $45, but we luckily got it as a shower gift). Oh and our toilet truly isn't any fancy or special model, so both of these john-upgrades are projects that anyone can tackle in about an hour using any ol' toilet to start with… although we do realize that a diaper sprayer isn't high on everyone's "must have" list.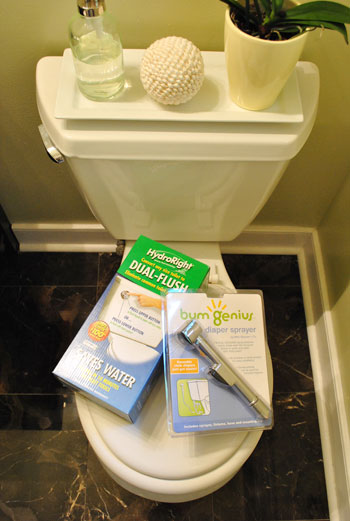 Let's start with the dual flush conversion kit. If you find yourself thinking "whaaaa?" let me explain. Splitting the flushing power of your toilet is a water conservation trick that allows you to tell your toilet when you need either a little or a lot of water to, um, take care of your business. Since flushing "liquids" doesn't require as much water, a dual-flush toilet has a setting that uses a lot less of it. Word on the Interweb is that a dual-flushing function allows your toilet to use 30% less water, which can save the average household 2000 gallons of water a year. And the box that came with our dual flush converter states that the average family can save up to $100 a year just by adding one of them to one toilet in any household (which means it pays for itself five times in the first year alone). And just imagine how much you can save installing one on every toilet.
The box also claimed that this installation would be totally tool-free. But sadly my experience quickly required a tool to remove the tightly-screwed old handle (although it can easily be argued that some toilets wouldn't necessitate one- ours was just super tight). The good news is that it was still a super easy undertaking. And the next step of removing the flapper (the gray thing that you can see a sliver of in the bottom-right) was far less involved (no tools required at all). Oh and turning the water off was optional, but I did decide to do that so I didn't have to keep sticking my hand into tank water.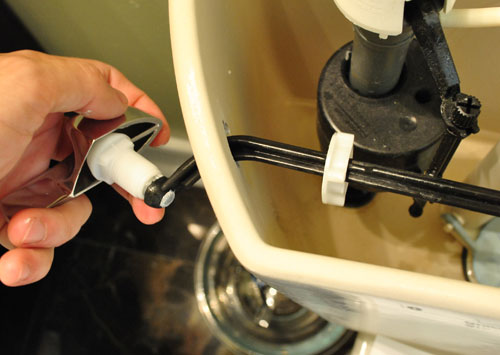 With the old pieces removed, the first task was to slide the bottom part of the dual-flush tower into place where my old flapper had been.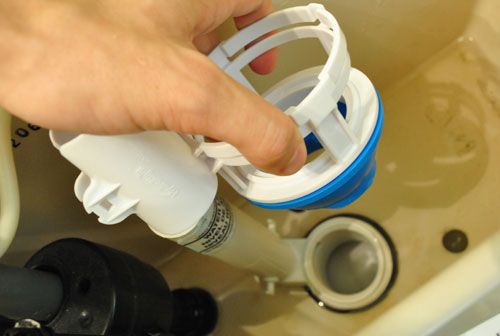 Then I wiggled a tight, black rubber band over the fill tube to keep the dual-flush piece in place and firmly pressed against the opening. There's also a zip-tie at the back of the piece that I pulled tight to help keep things in place. I had accidentally cut the tie off at first, thinking it was part of the packaging, but thankfully the kit actually supplied a back up! They must have known people would jump the gun like I did. Lesson learned.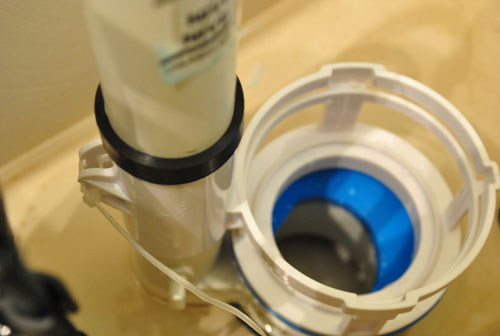 Then it was time to set the rest of the tower. It looks like quite a beast, but it clicks into place very easily with a simple drop-and-twist motion. You can see some of the technology in this shot – the adjustable blue slider is what helps to regulate how much water should be used in the quick flush function, and the green switch does the same for the full flush.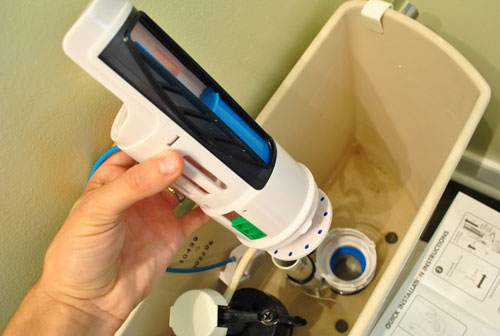 My next task was to put in the new button where the old handle had been. I was able to securely hand-tighten this (again, no tools required). Oh and hand-tightening is always a good approach because over-tightening things can potentially crack the porcelain of your tank or bowl. Not good.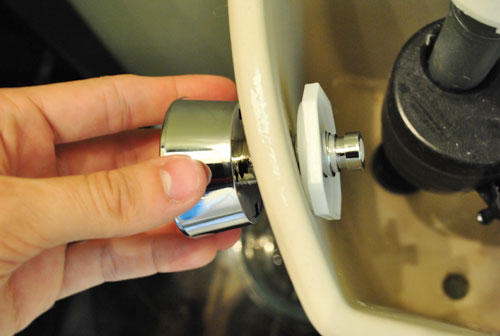 Here you can see what the button looks like. It's split for what we've been calling  a "single flush" (for liquids) and "double flush" (for, as the packaging describes, "when you need more power").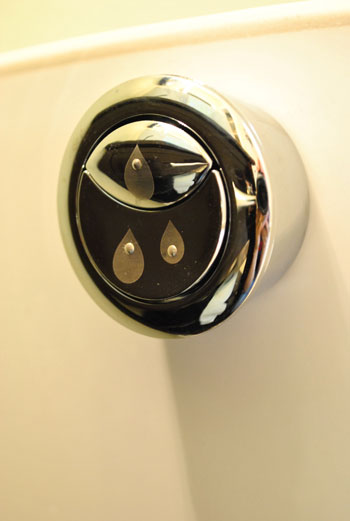 From there you just pop the button device (the white box at the other end of the blue cord) onto the back of the button. And there's no electricity or battery involved, despite the fact that it all started to look somewhat bomb-like at this point.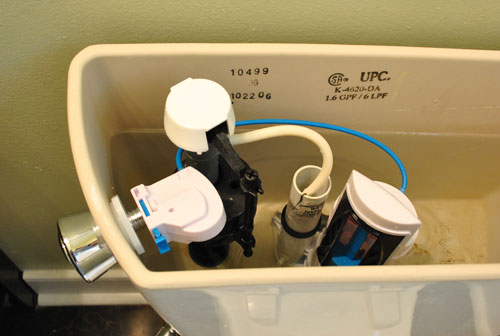 It took me about 20 minutes to get this far, but my eagerness to start flushin' was damped by the fact that the buttons didn't work at all at first. But through a few minutes of trial and error (which is pretty much how we do everything around here at Casa Petersik) I realized that the level of my blue slider was very important. If it was too close or too far from the water level, my button pushing wasn't strong enough to lift the tower's built in flapper. Fast-forward about ten minutes and this John was happy with his john. Both buttons worked every single time once we found that magical placement of the blue slider.
To demonstrate exactly what this dual-flushing function means when it comes to saving water, check out the difference between how little water is used at the single flush setting, and how much more goes out on the full flush setting. There was definitely an obvious difference in the water level, and you could even hear the toilet working a lot quicker for the single flushing action. Score.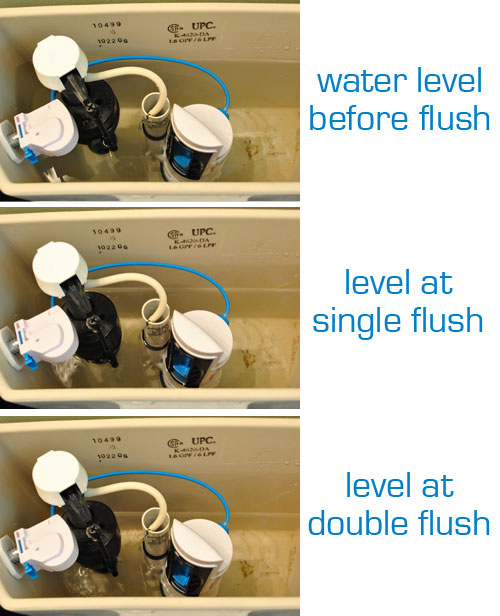 As for our toilet's second super power, the installation of the diaper sprayer also would've been completely tool-free had I not needed a wrench to unscrew my previous work. Other than that, the task was so simple that it barely requires step by step photography. The "Mini Shower" simply installs on the bottom of your tank right between your water line and the tank itself. Then a clear, plastic tube (which you can cut to a desired length) attaches with a firm push into the device on one end, and the sprayer on the other.
Here it is installed – you can see it even comes with a handle to adjust the water pressure. Very handy indeed.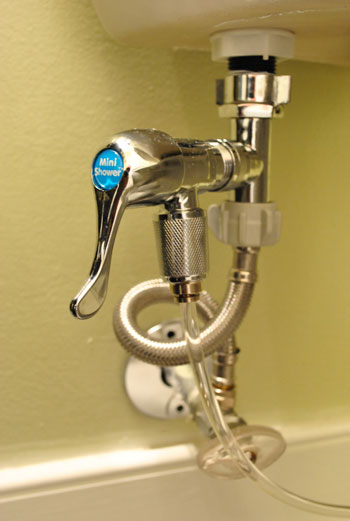 If you're still wondering what the heck a diaper sprayer is (as I admittedly was at first) it's supposed to be a huge help for cleaning cloth diapers. In fact, many of you even recommended it to us on this post. Without getting too descriptive, it lets you spray "stuff" off of the diapers and into the toilet so it doesn't go into the laundry (which is then done at a certain temperature to completely sanitize the diapers for their next use). Here's a demonstration photo (and yes, I did accidentally spray the ceiling while attempting to take this picture).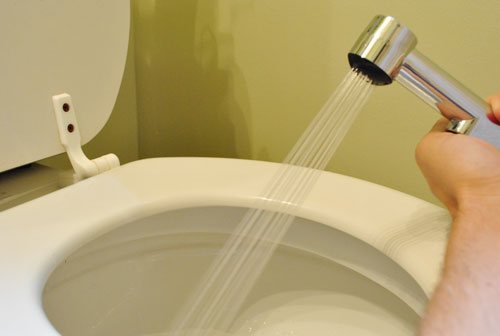 The kit even comes with a little sprayer holster that can be installed onto a wall, but we opted to use the more subtle hook that hangs on the side of the tank since it feels less permanent (hopefully we won't be diapering for the next few decades). You can also see that we chose to run the tube behind our tank to make the whole thing less of an eyesore, and this way we can keep the sprayer on the right side of the toilet (which is virtually invisible from almost every angle of our bathroom- plus it'll also come in handy on that side for two right-handers like us).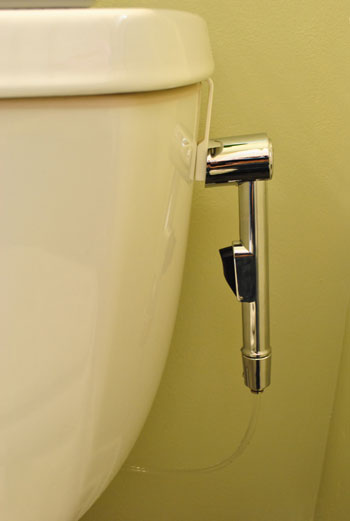 So here's our pimped out potty one last time in all of its super-charged glory.  We love that the upgrades were fast (60 minutes max), easy (almost 100% tool-free) and cheap ($20 converter + gifted $45 sprayer). And since the changes are fairly inconspicuous, our little loo can still keep its secret identity mostly under wraps. In fact, our half bathroom will be getting the same dual-flushing treatment asap because we're so in love with the eco friendly (and wallet friendly) benefits of such a simple $20 upgrade. Especially when you consider that people pay big bucks for dual flushing toilets and this kit allows you to keep the toilet that you have out of a landfill, but upgrade it with the same cost and water saving technology.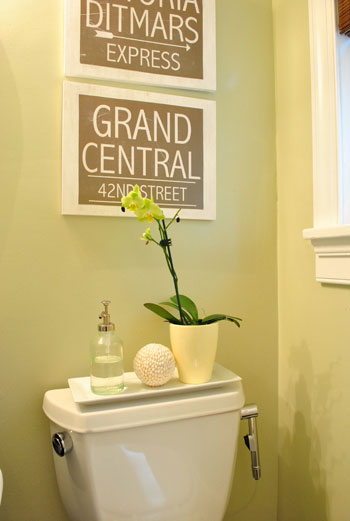 I don't know if it's the man in me, but the idea of an upgraded throne is actually quite appealing. It's the whole "my toy is better than your toy" frame of mind. And since I'll never win the award for the biggest flatscreen TV or the biggest biceps, at least I can brag that my toilet is smarter than my friends' toilets. Have any of you tackled either of these john-centric projects (or others like 'em)? We'd also love to hear if you have other tips for conserving water, saving money with an easy upgrade, or heck, cleaning cloth diapers for that matter. Share and share alike.
&nbsp
We're back with another House Crashing adventure, and this one happened right here in Richmond. This charming Westover Hills house was just too pretty to pass up, so when Lori and her husband Greg invited us inside to poke around we knew we had to bring our camera and snap some photos for you guys as well.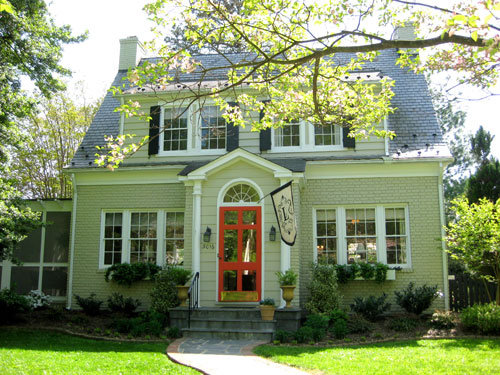 And here's the cute couple now…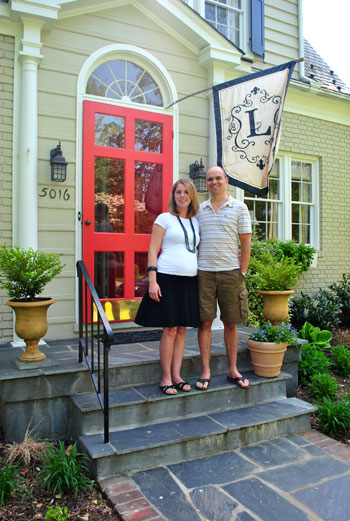 Lori's actually expecting a wee one in August, but although the whole nesting thing hasn't quite kicked in just yet, her house was spotless none the less. Here's the view as soon as you step into the front door. Gorgeous and sundrenched would be exactly how we can describe their entire house.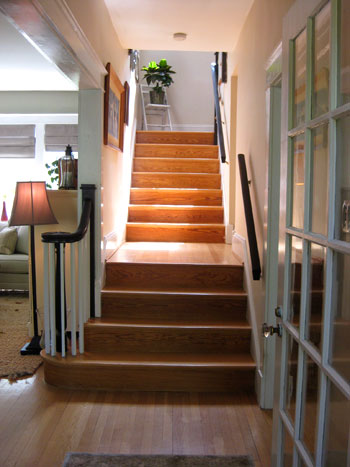 To the right of that stunning staircase is the living room full of (surprise!) more light and nice substantial molding and extra high ceilings. And that armoire on the right is actually a home office of sorts that they keep tucked away behind closed doors when it's not in use. Gotta love a little hidden extra function like that.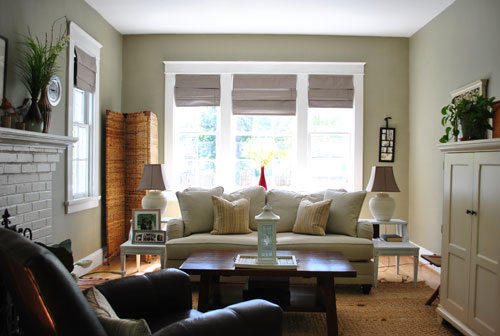 The living room fireplace is definitely a gorgeous accent in the room. Everything from the framed butterflies to the crisp white painted brick charmed us from the moment we stepped into the space.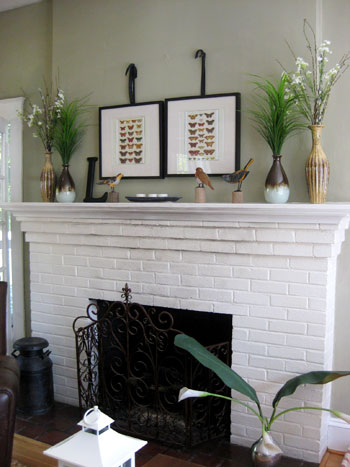 And the kitchen. Oh the kitchen. It seriously had us looking around like tourists at the Grand Canyon. It was simply breathtaking. They did a total reno when they knocked down a wall to open it up to a family room that they added on to the back of the house. And their gorgeous white cabinets mixed with sleek black granite counters really made for a classic and elegant result.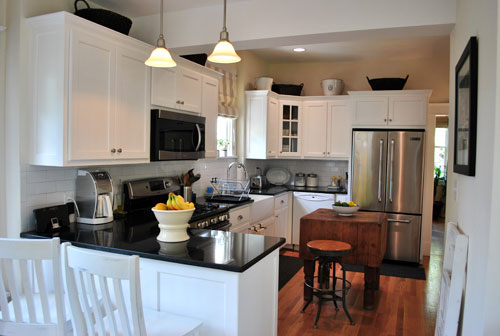 And check out that amazing butcher block island made from insanely heavy and solid wood (it took seven people to carry it into the house, and when they attempted to put it up on casters it crushed them like twigs). Guess where they got it? Craigslist. Yeah, we were jealous too. We love how worn and substantial it is- it adds so much rustic charm and life to the otherwise sleek space for the perfect balance of homey and chic. And just beyond the kitchen you can see the family room that Lori and Greg added on…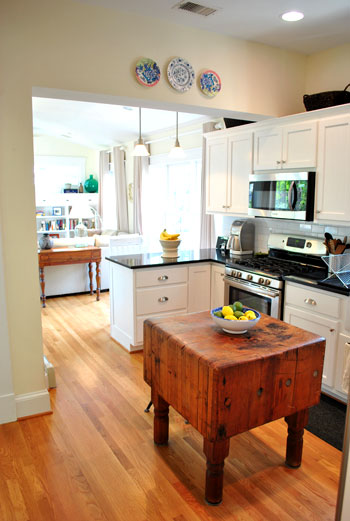 It's complete with a cozy sectional and tons of floor to ceiling windows (which lend a sunroom-ish effect)…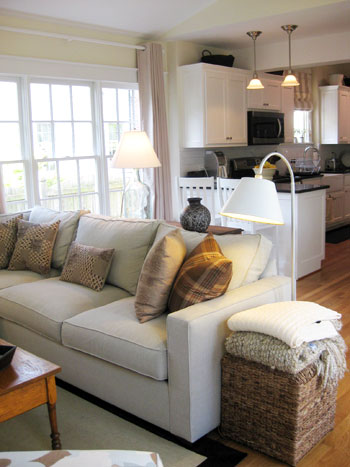 The room also features an amazing back wall of built in cabinetry for books, other storage and of course to accommodate the crisp flat screen TV they added to round out this family friendly space. Plus you might recognize that slipper chair as a Target find. Don't you love that cool furniture doesn't always have to cost a fortune?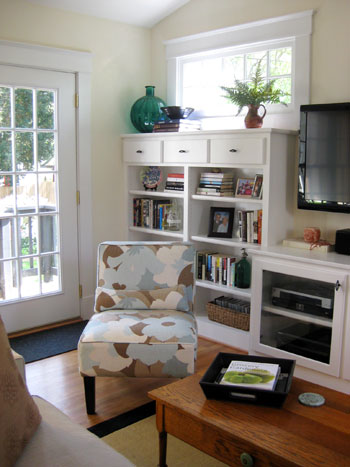 They also had a charming display in their half bathroom right off of the kitchen and living room- check out those great vintage boxed that they hung on the wall to corral toilet paper, towels, and other bathroom necessities.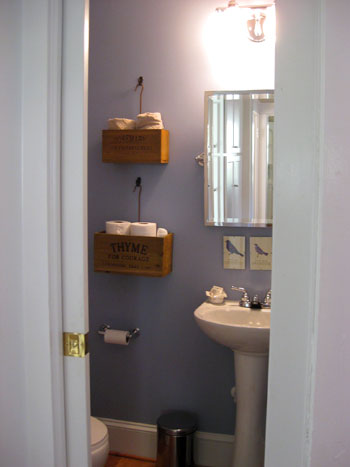 Then there's the dining room, which has that rustic farmhouse feeling with a touch of chic elegance thanks to the super high curtains and that gilded chandelier. And you know I was all over that big blue oversized glass jar, right? As in, I wanted to rub my face on it. Obsessed.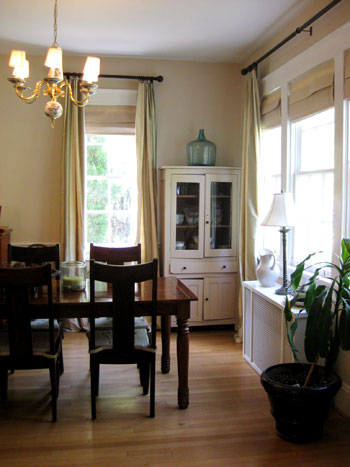 Next we have the serene and super inviting guest bedroom that again is full of light and soft relaxing tones.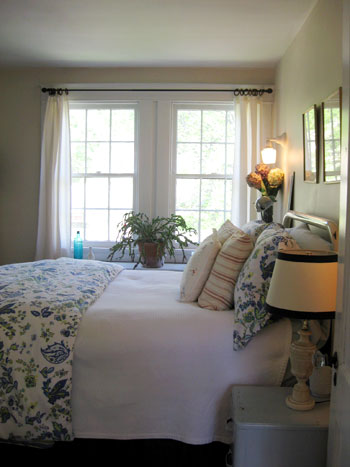 We especially loved this view of the room with that amazing chair (Lori rescued it on a budget and had it reupholstered to give it a whole new life). And that charming soft yellow dresser adds so much tone on tone charm to the space.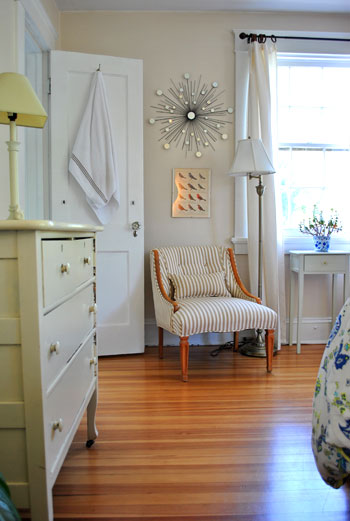 And lastly, we'll leave you with this gorgeous shot of their private backyard complete with a fun hammock and chiminea (they love having gatherings back there). It's also the stomping ground of their cute pooch Maggie and there's even an expanded patio off of the kitchen with a full outdoor dining area. Not too shabby, eh?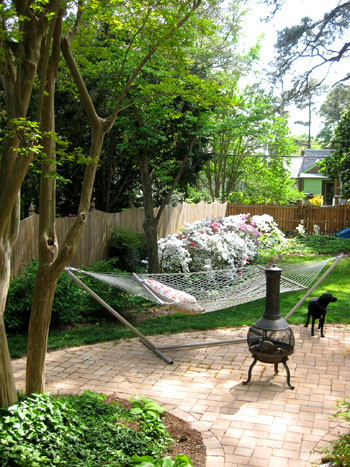 And since we know you guys appreciate a source list, here you go:
Living Room: paint: Benjamin Moore Saybrook Sage, couch: Bassett Furniture, pillows: Restoration Hardware, rug: West Elm, coffee table: Crate & Barrel, side tables: Craiglist, Roman shades: JC Penney, computer armoire: Craigslist, plantation chair: local antique shop. Dining Room: paint: Benjamin Moore Devon Cream, table: Miss Pixie's in Washington DC, chairs: World Market, buffet: Craigslist. Kitchen: paint: Benjamin Moore Linen White, butcher block island & stool: Craigslist. Family Room: paint: Benjamin Moore Linen White, sectional sofa: Room & Board, pillows: TJ Maxx, slipper chair: Target, glass lamp: local antique store (shade from Target), sofa table: local antique store. Guest Bedroom: bed, dresser & skinny chest: vintage, bedding: TJ Maxx, chair: reupholstered thrift store find; art: West Elm (mirror) and vintage prints.

So there we have Lori and Greg's lovely Richmond home full of sunlight, lofty ceilings, and charming details. Of course we have to send them a big wet kiss for inviting us inside. And we'd love to know which rooms/furnishings/accessories have you drooling. Don't you just love sno0ping around in people's houses? We could do it every day…
Psst- We're always on the hunt for a mouthwatering house (or ten) to crash, so if you or anyone you know has a casa that's feature-ready just shoot us an email along with some photos of the space and if we're ever in the neighborhood we'll be sure to drop in.
&nbsp