When Rhoda sent her amazing DIY staircase makeover we had to share the goods. Here's her letter:
I wanted to pass along photos of my latest project, since y'all are such DIY loving people. I hated the carpet on our downstairs set of steps, so I ripped all the carpet up. Oooops, you can see from the pics what I had to work with… and these stairs were never meant to be shown to the public.  But, I slowly transformed them by adding TONS of molding (I just used my hand miter box and lots of paint- including porch and floor paint for the stair treads). Then I added a natural jute runner down the middle (from Overstock). After stapling it on our stairs look absolutely fabulous, if I do say so myself. This is by far my most favorite DIY project that I've completed to date! Oh and you can find more info on my blog. I hope you enjoy! -Rhoda
Here are the terrifying before photos to show you what Rhoda was really working with: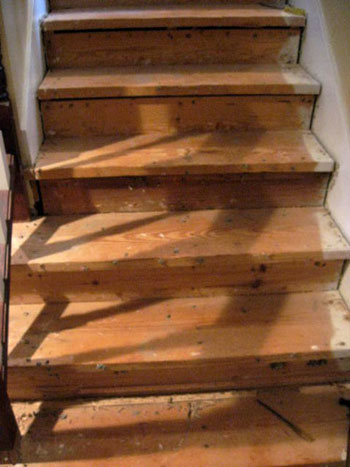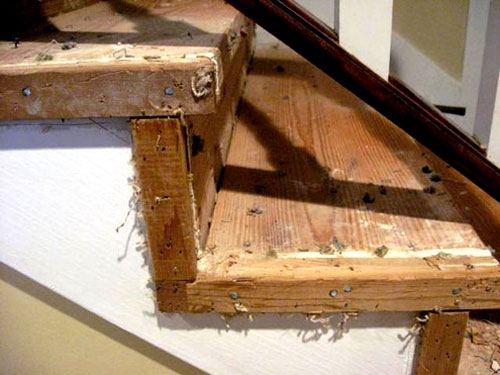 And here are the amazingly polished and pristine after photos after Rhoda worked her magic: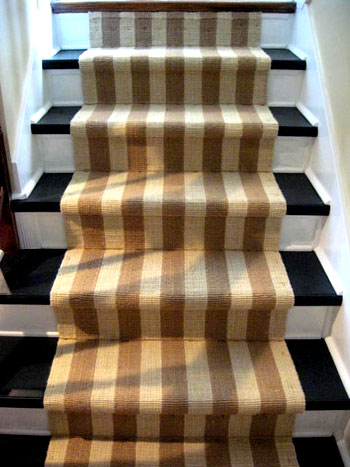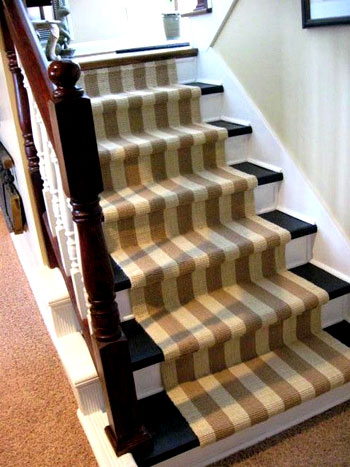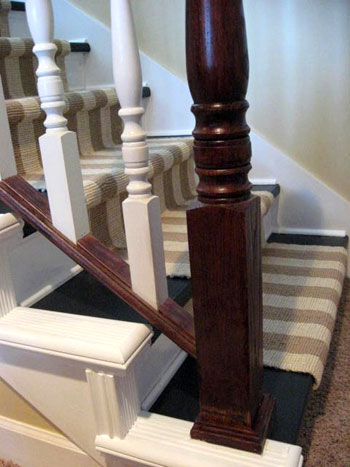 Is your mouth totally hanging open like ours is? We're amazed and inspired by Rhoda's hard work and unyielding DIY confidence. And we can totally see why it's her favorite home makeover project to date! Everything from the chic black and white paint to the affordable and perfect-for-stairs striped runner has us drooling over here. What do you guys think? Did Rhoda show those stairs who's boss or what? Anyone else inspired to attack their less than stellar stairs now that they've seen her work her magic? If only ranch houses had stairs…
&nbsp
First of all, thank you THANK YOU for all of your kind words and well wishes about the birth of our little Clara. It means so much to have so many people sharing in our joy. Now, who of you would like to share in our diaper changes?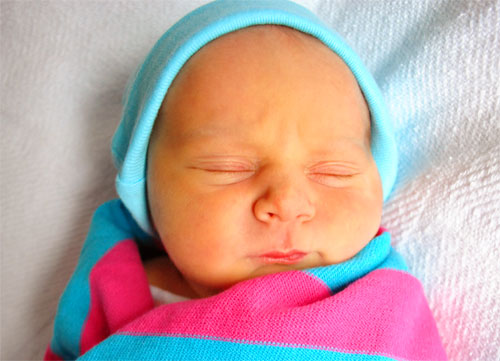 Obviously the winner of the baby pool (and the $100 West Elm gift card that goes along with it) is someone who picked May 14th as Baby P's birthday. And while I'd love to tell you how many people guessed the right date, going through 5600+ entries is admittedly not high on my daddy to-do list. But trust us when we say it was actually a rare choice, with many people guessing (like Sherry) that she'd come a bit late or on her actual due date (which just happens to be today). And in the informal family baby pool that we did with our extended family, not a single person guessed May 14th. Surprisingly, I actually had the closest guess (May 15 at 4:15am – which was only about 10 hours off). But it's not because I have any sort of daddy intuition at all, I just selfishly selected my own half birthday as the random day that she'd arrive. And apparently she decided to drop in a bit early to surprise us all.
But there's not a hundred dollar West Elm gift card in my future. That prize goes to one random spot-on guesser from our baby pool who picked May 14th (as selected by random.org). And that lucky lady is… Sue! We'd love to know if you used any secret method when it came to predicting the right date (phases of the moon? pulling numbers out of a hat?). Oh and we'd also love to know what you've got your eye on at West Elm! Happy shopping…
Find more freebie info on our Giveaway FAQs page.
&nbsp