Here's a simple little fan makeover project anyone can do. We decided our boring cheapo white fan in the den would look more high-end with a lamp shade on it instead of one of those generic and dated round glass bulb holders.
All we needed to make a quick switcheroo was a nice looking white lamp shade with a metal interior loop that is held in place by a bulb (don't get a shade that doesn't have the loop to go around a bulb, or there's no way your fan bulb will be able to hold it up).
When selecting a shade, we took size and proportion into account (as well as making sure it had that interior loop for hanging purposes). We didn't want anything too tapered since a shade that's only slightly wider on the bottom looks more modern and less granny than a big sloped triangular shade.
Then all you need to do is remove your fan's old glass bulb cover and unscrew the bulb. Slide the shade's bulb loop through the bulb so that it is held in place when you screw the bulb back into the fan.
Here's a quick before shot to clue you in on what we were working with:
And here's the after: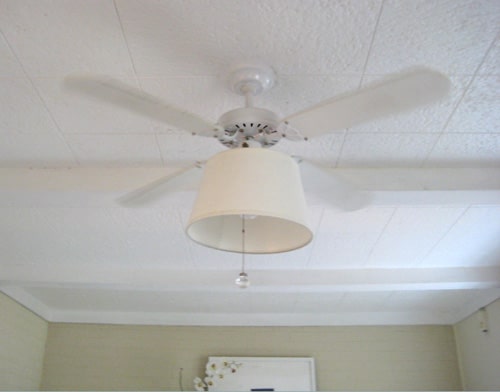 This project literally took all of 5 minutes once we found the right shade. And anyone who knows me knows I'm always a fan of a quick and easy home improvement project. And a terrible fan joke or two. My apologies.
Update: Click the speech bubble in the top right corner of this post to see the comment section with additional instructions and another photograph.
&nbsp
We said we'd fill you in on all the fabulous booty that we scored, so here ya go…
From my newly engaged best-buddy-in-the-whole-wide-world (who's marrying John's cousin by the way!) we got this fantastic personalized planter. It's perfect considering John and I were married in July of 07, and it'll be something we'll adore forever and a day. Now all we need is a plant with at least nine lives.
We also got a gift card to West Elm which we promptly spent about 20 hours after we unwrapped it. These shiny gold boxes were the first things that caught our eye (perfect for storing all the stuff we'd rather not see).
Storage must have been a theme, because we also fell in love with this pretty partridge piggy bank that looks more like art than a nickel & dime receptacle. It's also a huuuuge upgrade considering we used to keep our lose change in a plastic purple cup.
We also got a plethora of other amazing stuff, including a cute set of William's Sonoma mugs accompanied by some tasty mulling spices, a gorgeous black & white hardcover book of NYC photography, and a thoughtful donation to Richmond's Habitat For Humanity in our name. How cool is that?
Now it's your turn. Tell us all about your favorite holiday scores (and your least favorite- those are always fun too). Only 358 days til next Christmas!
&nbsp
Happy '08 everybody! We hope the new year brings you everything the old year hasn't. As for us, we're hoping it includes a finished kitchen.
To help celebrate our new year in our new kitchen, I snagged a perfect little gift off Etsy to be part of Sherry's Christmas present. It's a calendar called "A Year in the Kitchen" and it features 12 really cool illustrations of kitchen gear, each designed against a bold color that corresponds to the season. At 5.5″ x 17″ it looks good in several spots, but we're waiting for the countertops to go in before we commit to a final location.
You can get your own from the Smack of Jellyfish store on Etsy for a mere $18. She's got lots of other cool stuff there, including an alphabetic greeting card set full of animal groupings (an army of Ants, a flutter of Butterflies, a murder of Crows, etc.)
Sherry Claus was pretty darn good to me too. I was a little bit baffled when I first unwrapped these two little paper cut outs:
It took me a couple of guesses (king bread? royal toast?), but I quickly figured out that crown molding was in my future. Sherry then explained the best part – I didn't even have to install it! She's arranged for our much loved kitchen installer to come back and put molding in the bedrooms and the living/dining room. Quite the royal treatment, eh?
So again, I'll say that we hope 2008 brings you a kitchen, crown molding, a mess of iguana or whatever else you're hoping for this year.
&nbsp