When Jaime of Prudent Baby sent us photos of her gorgeous Los Angeles home to woo us out her way for a House Crashing adventure we were so there. Except for the whole newborn thing. So we decided to virtually crash her pad instead. Here's the charming exterior- isn't it sweet?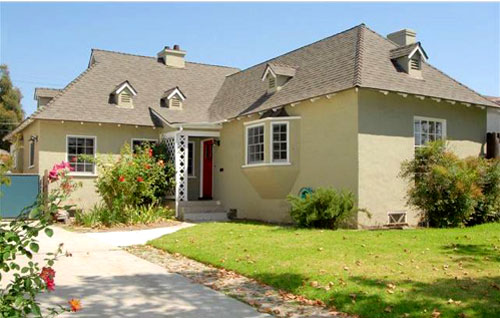 And look, here are the lovely homeowners now: Jaime, her husband Carleton and their sweet daughter Scarlet.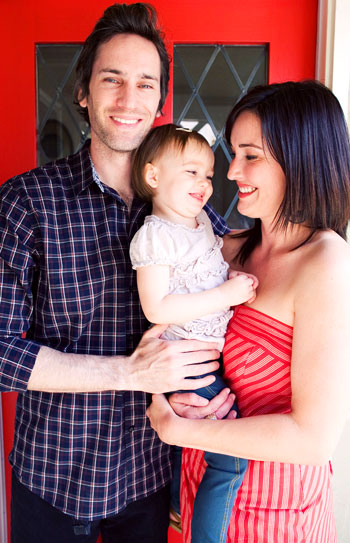 But enough fresh air, let's get inside. Check out the adorable homemade silhouettes of the family (including the dog) hanging by the door. And the stunning distressed wood chest by the window was scored for $35 at a flea market. Just beyond that space is a small breakfast room with a chair for relaxing and a mini kitchen for Scarlet.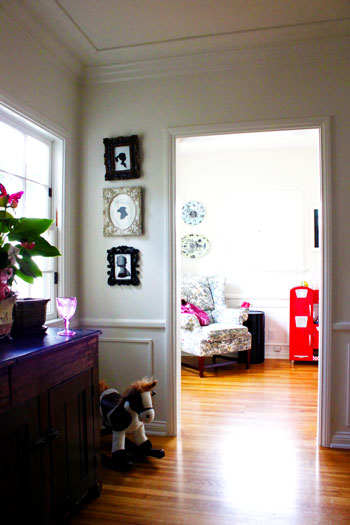 Then we have the actual kitchen, which is open to the sunny breakfast room on one end and the dining room on the other. The glass cabinet door fronts keep things feeling open and less heavy than solid wood ones would. And we love that orange mixer in the corner- so sunny and fun.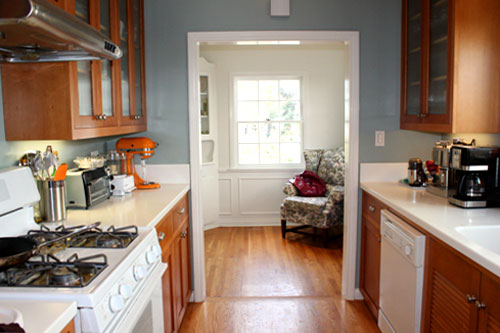 Here's the adjoining dining area that looks lively, eclectic and oh so posh. We love that Jaime found the mirror frame on clearance for $15 at Home Goods (and had a mirror cut to fit the inside). And she hunted down more affordable Louis Ghost chairs on eBay.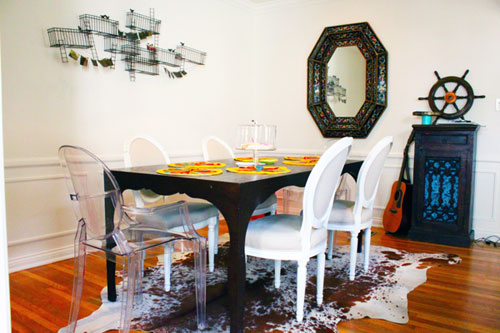 Here's the living room which again is full of eclectic finds and a mix of posh pieces and thrift store rescues. We love the splash of color in the sofa and the fact that the room is actually super lived in (as demonstrated by the plethora of books in those bookcases and the basket under the side table full of Scarlet's toys).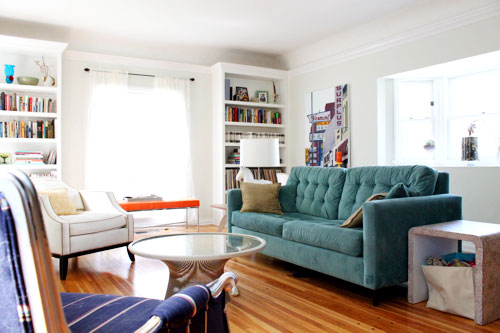 One of the coolest features in the living room is a large gray tone-on-tone cabinet (which Jaime stalked until it went on clearance from Anthropologie). Not only does it lend tons of storage and style, we love how much height and dimension it adds to the white wall next to that large picture window.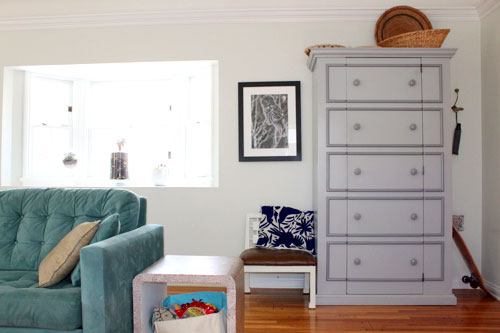 And because we couldn't resist sharing the gray cabinet from another angle, here you go: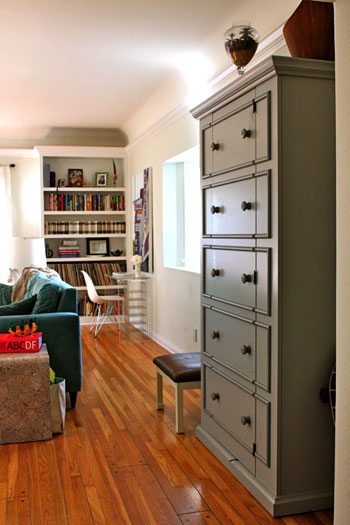 You may notice a small office in the background that Jaime was able to work in thanks to using some light and airy pieces that don't feel too heavy for the corner of the room: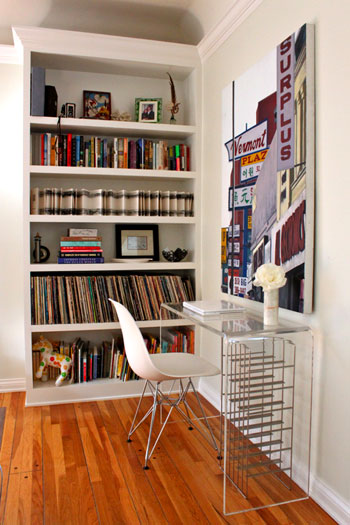 Here's the crisp and inviting guest bathroom complete with a little stool for Scarlet that Jaime craftily DIYed. We love how open the room feels thanks to the glass shower door and the mirrored backsplash that was added to the built-in across from the pedestal sink.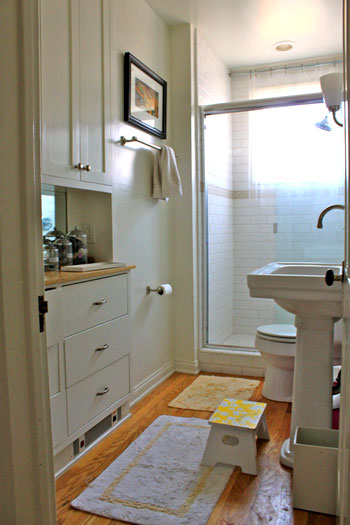 Next we have the dramatic master bedroom complete with another DIY project (yup, Jaime whipped up that headboard herself!). And we love how she chose an unapologetic lush red tone for the walls to play off the inky blue headboard fabric for a cheerful yet surprisingly high end result. Doesn't it feel like a boutique hotel in there?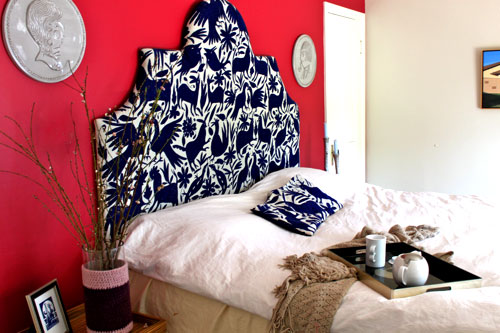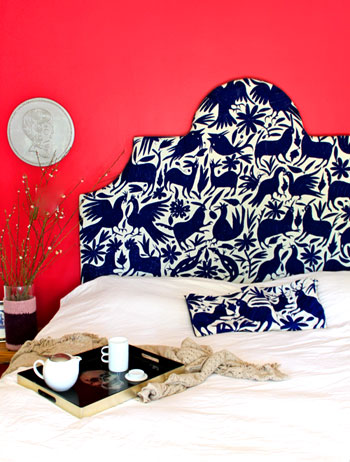 And here we have the master bathroom which is pretty much always flooded with light (oh LA, does the sun ever set there?). We also adore the great handheld shower (it has such a chic vintage feeling) and of course that DIYed yellow stool (a thrift store rescue covered in Dwell pillowcase fabric) paired with the clawfoot tub. And the gorgeous marble hex floor is totally speaking our language. Who's in the mood for a bath now? Just me? Come on, I can't be the only one.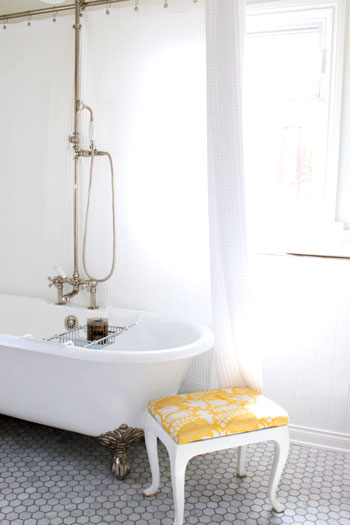 And here we have one of the most cheerful and fun places in the house- it's little Scarlet's nursery. We love that Jaime took on a ton of homemade projects in here (from the crocheted pennant garlands to the window treatments and even the spray painted Ikea mirror above the bed). We can only imagine how much Scarlet loves her special space.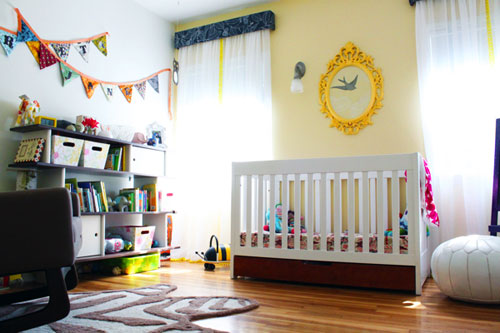 And because we know you guys love a source list, here you go (be sure to follow all the links that say "DIYed" back to Jaime's blog for more info):
Living room- blue chair: Anthropologie sale find, white chair: Jonathan Adler store display chair, Ikat pelmets: DIYed, orange bench: Pottery Barn, blue couch: The Dock Downtown, coffee table: Platner, lucite console used as desk: CB2, Eames chair: Modernica, gray cabinet: Anthropologie clearance sale, honeycomb end table: Anthropologie, brown leather/white wood chair: Jonathan Adler sample from eBay, pelmets: homemade with eBay fabric, painting above desk: LACMA Art Rental and Sales Gallery (rented for 8 yrs and finally paid off). Dining room/kitchen- mirror: $15 Homegoods frame with new mirror added, wire C Jere sculpture: ebay, buffet: Fairfax flea market, dining table: Brocade Home, Louis Ghost chairs: eBay, dining chairs: Wisteria, little cabinet: from a furniture mart (I added fabric to the doors), captain's wheel: Melrose Flea Market. Entryway/Breakfast nook- cameo plates: DIYed, bird embroidered chair: Anthropologie sale item, play kitchen – Kidcraft from Costco. Nursery- rocking chair: Nurseryworks sleepytime chair, crib: WalMart, bookshelf: Oeuf Mini-Library, spray painted frame: from Ikea, pelmets: DIYed with Ikea fabric, pom pom curtains: DIYed, crib sheets: DIYed w/ Alexander Henry fabric, leather pouf: Calypso, crochet pennant garland: DIYed. Master bedroom- headboard: DIYed with Otomi fabric from eBay, end tables: West Elm, pillowcases: DIYed. Bathrooms- remixed thrift store find, Indian-style-print roman shades from World Market, kids stepstool: DIYed, matryoshka tray: DIYed.
So there you have it, a stunning Los Angeles haven full of clearance finds, eBay scores and homemade projects galore. Thanks so much for inviting us into your gorgeous home to snoop around Jaime! Oh and feel free to check out her new book since she so generously allowed us to poke around her home. Now let's play a game we like to call what's-your-favorite-part? We're torn between that giant gray on gray cabinet in the living room and the sweet homemade silhouettes in the entryway. And that nursery. So sweet…

Psst- We're always on the hunt for a mouthwatering house (or ten) to crash, so if you or anyone you know has a casa that's feature-ready just shoot us an email along with some photos of the space and if we're ever in the neighborhood we'll be sure to drop in.
&nbsp
When Erica sent her awesome office overhaul our way we had to share the before and after photos. Here's her letter:
I love to read your blog and see what creative ways you come up with to save money. I recently fixed up my home office on a tight budget. Of course you can find more info about the room on my blog, but the L-shaped desk is made out of two hollow core doors (only 25 bucks each!), two table legs, and a bookshelf. The paint color is Valspar "Plum Passion." Both chairs were thrift store finds and all the art from the art wall was completely free, it all consists of things I already had (fabric and giftwrap) or things I printed on my home printer. I used three sources for printing artwork: Vintage Printable, a disk of clipart images I had, and Dafont.com. The pear, bicycle and tree sihouettes are all Dingbat fonts I downloaded from Dafont. When all was said and done I spent about $200 benjamins. Hope you enjoy! -Erica
Here are the lackluster before shots: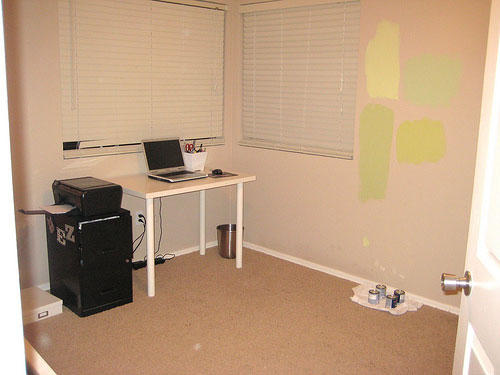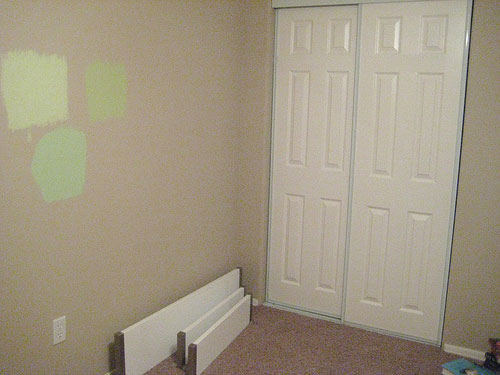 And here are the amazing (and enviably budget friendly) after photos: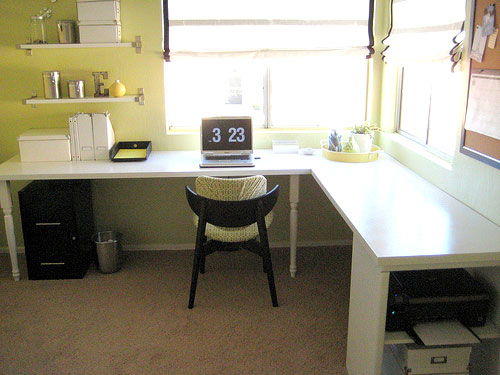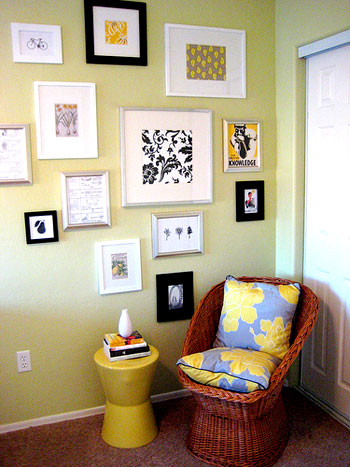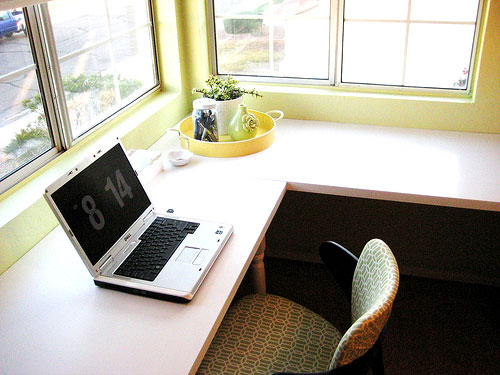 Is that not a fantastic office makeover full of wallet friendly ideas? Everything from the hollow-core-doors-turned-desk and the thrift store chairs makes us swoon. Plus the fact that the entire art wall was 100% free is amazing. We're sending over a virtual round of applause and one not-worthy bow to Erica and her fantastic office makeover. If that gorgeous room doesn't make paying bills and writing emails a bit more fun then we don't know what will! What do you guys think? And what's your favorite part? We love the white roman shades with the black ribbon trim a ton, and of course that amazing wall color paired with all the white furnishings is totally screaming our name. Lovely, lovely, lovely.
Psst- Wanna see how we made a desk with a hollow core door just like Erica? Click here for the deets.
&nbsp