One of the most common questions that we hear nearly every day is "how do I know what style really appeals to me? I seem to like a few conflicting things and I just can't seem to make a decision with any confidence." Well, here are three ways to get over decorator's block quickly and relatively painlessly:
Tip #1. Gather inspiration images and see what they all have in common. We've mentioned that we keep our favorite rooms organized in a nice thick plastic-sleeve-riddled binder (read more about that here). And this anthology of sorts was really paramount when it came to pinning down our style and learning what we love. It's amazing how an arsenal of love-it-so-much images can help you identify commonalities in rooms that really grab your attention. Sure you might find that you have a million "favorite" rooms sitting in a pile (or in a binder if you're Captain Organized like me) but it won't be until you go through them and make a separate pile of about 15 rooms that REALLY stand out to you (read: the best of the best) that you'll begin to notice some common color schemes, furniture finishes, and overarching style cues that many of these rooms have in common.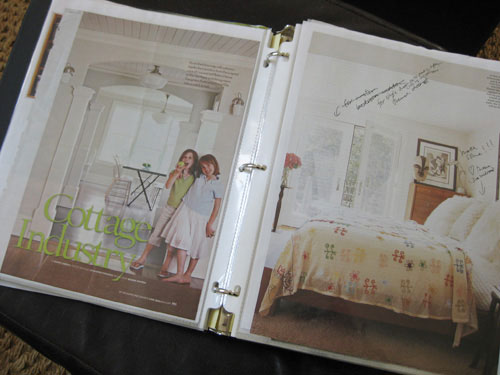 Take note of the wood finishes that you're drawn to. The wall colors. The furniture shapes. The textiles and accessories. The art. The overall effect (high contrast? dreamy? tone-on-tone? pops of color?). Of course your favorite rooms might not all be super obvious and similar when you study them as a group, but just try to see what patterns you can pick up. Maybe they all have dramatic floor to ceiling curtains or dark velvet sofas? Or perhaps it's more about patterned rugs or bright modern art on the walls? You might notice they all have neutral backdrops with pops of color in the pillows or accessories. Or a high contrast vibe (like dark wood floors paired with white walls). If you look long enough, we're sure you'll see some definite commonalities- and that's how you can start to develop your confidence and create a real overarching "look" for your home.
This exercise is the single most important thing you can do to help define your style and hone in on your aesthetic, so don't rush through it or halfheartedly select your favorite rooms without some serious thought. Heck even if you only have five cream-of-the-crop-holy-cow-I-love-this-room images, it's still more effective than tossing ten more eh-this-room-is-ok images into the mix. So really do some serious soul searching (and magazine and online searching) to see what tickles your fancy. Then lay them all out to study what they have in common- and what you can adapt and introduce into your very own home. Oh and check out these great online sites (here, here, and here) for galleries full of gorgeous rooms in a variety of styles.
Tip #2. Take a few find-your-style quizzes to see what they say that you like. Sure they could all be complete hooey, but it's not like they can really hurt. And they're all pretty quick to complete. Sometimes one or two of them will hit on something so eye-opening and illuminating that you'll literally feel like you finally know exactly what you like. Or at least like you're a lot closer to cracking the code. Ready to play along? Try this one, this one, this one, and this one.
Tip #3. Don't get caught up with a label like "Elegant Classic" or "Cottage Meets Vintage." Sure sometimes they can help (and if a label or a specific descriptor keeps you on track then by all means embrace it). But we don't really go out of our way to describe our exact style in any words at all. We just know what we like (capiz, jute, neutrals mixed with sea glass-esque greens and blues, dark wood, bamboo blinds, natural materials, glass based lamps, and white white white). Here's a post all about that. It's safe to say that we finally know what we love and can easily identify what will fit seamlessly into our house (and what won't – which is just as important).
But even though we have a handle on what fries our bacon when it comes to furnishings, accessories and so on, if you were to ask us to label our style we'd probably hem and haw while tossing out a slew of general terms like: clean-lined, airy, light, breezy, beachy, modern, classic, transitional… the list goes on and on! So don't worry if you don't end up with a specific decorating style name at the end of your figure-out-what-I-like pilgrimage. Just be open to embracing the colors, shapes, materials, and elements that you've identified time and time again as your cup of tea. Because a label doesn't make the room, and sometimes trying to encapsulate your style with some two or three word description is nearly impossible anyway.
Oh and remember that our we-know-what-we-like confidence didn't happen overnight. It was all thanks to decorating in stages and taking the time to figure out what worked and what didn't (the wrong paint color can be painted over & the wrong pillows, rugs and blinds can always be returned or upgraded down the line). Sometimes it's the mistakes that tell you the most about what you like and get you a lot closer to pinning down your true style. So don't be paralyzed with indecision- it won't get you anywhere! You have to start somewhere, and after you try out these three style sleuthing tips you'll hopefully have a nice little map that will get you closer to your own personal decorating holy grail.
But enough about what we think. We'd love to hear any and all tips that you guys have on the subject of pinning down your style and making your house feel welcoming, chic, and oh-so-you.
Psst- Looking for more decorating advice when it comes to pinning down your style and figuring out what will work. Here's a post all about avoiding decorating ADD and here's one about keeping things looking layered and lovely as opposed to hodge podge or matchy-matchy.
&nbsp
When Jaime of Prudent Baby sent us photos of her gorgeous Los Angeles home to woo us out her way for a House Crashing adventure we were so there. Except for the whole newborn thing. So we decided to virtually crash her pad instead. Here's the charming exterior- isn't it sweet?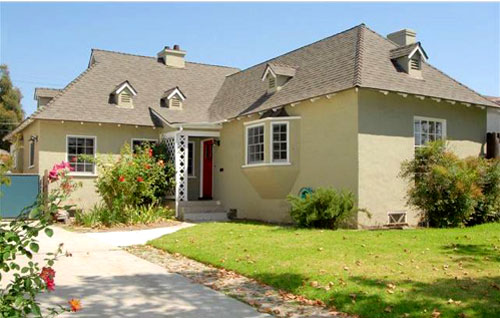 And look, here are the lovely homeowners now: Jaime, her husband Carleton and their sweet daughter Scarlet.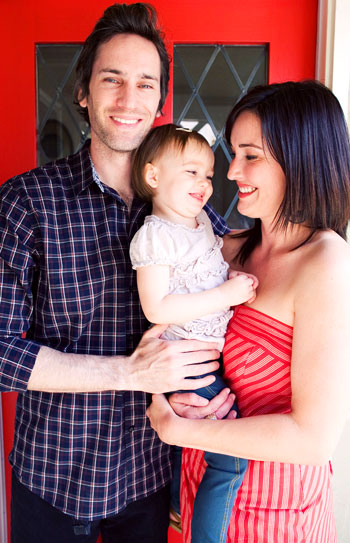 But enough fresh air, let's get inside. Check out the adorable homemade silhouettes of the family (including the dog) hanging by the door. And the stunning distressed wood chest by the window was scored for $35 at a flea market. Just beyond that space is a small breakfast room with a chair for relaxing and a mini kitchen for Scarlet.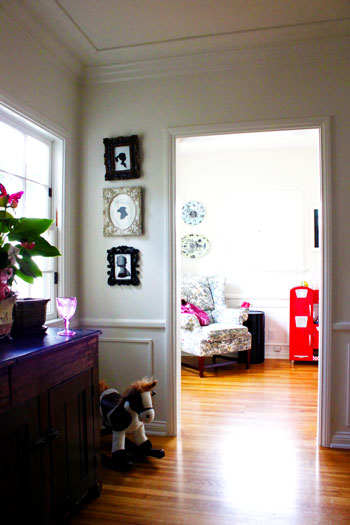 Then we have the actual kitchen, which is open to the sunny breakfast room on one end and the dining room on the other. The glass cabinet door fronts keep things feeling open and less heavy than solid wood ones would. And we love that orange mixer in the corner- so sunny and fun.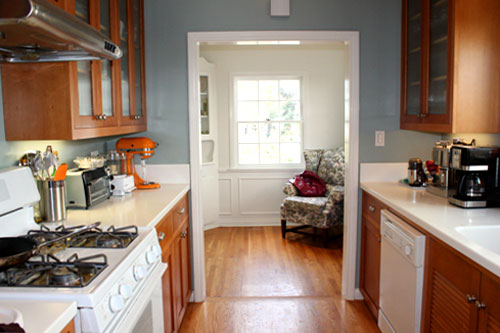 Here's the adjoining dining area that looks lively, eclectic and oh so posh. We love that Jaime found the mirror frame on clearance for $15 at Home Goods (and had a mirror cut to fit the inside). And she hunted down more affordable Louis Ghost chairs on eBay.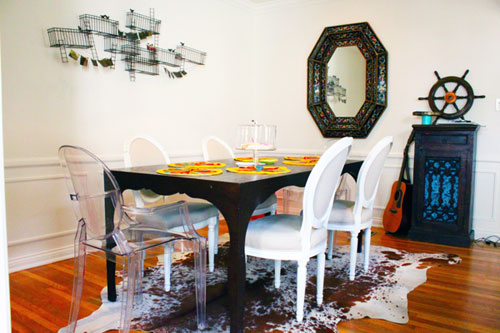 Here's the living room which again is full of eclectic finds and a mix of posh pieces and thrift store rescues. We love the splash of color in the sofa and the fact that the room is actually super lived in (as demonstrated by the plethora of books in those bookcases and the basket under the side table full of Scarlet's toys).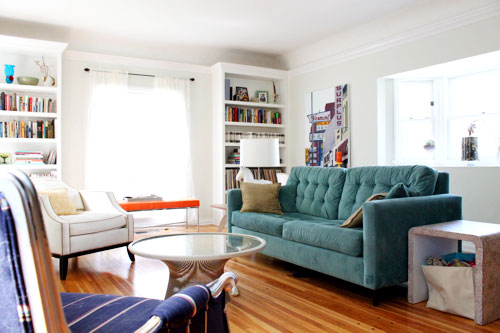 One of the coolest features in the living room is a large gray tone-on-tone cabinet (which Jaime stalked until it went on clearance from Anthropologie). Not only does it lend tons of storage and style, we love how much height and dimension it adds to the white wall next to that large picture window.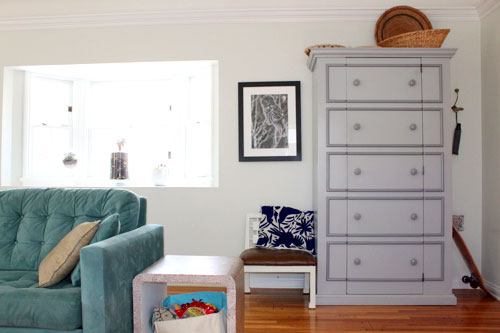 And because we couldn't resist sharing the gray cabinet from another angle, here you go: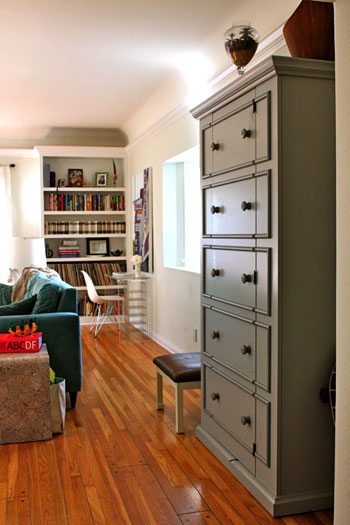 You may notice a small office in the background that Jaime was able to work in thanks to using some light and airy pieces that don't feel too heavy for the corner of the room: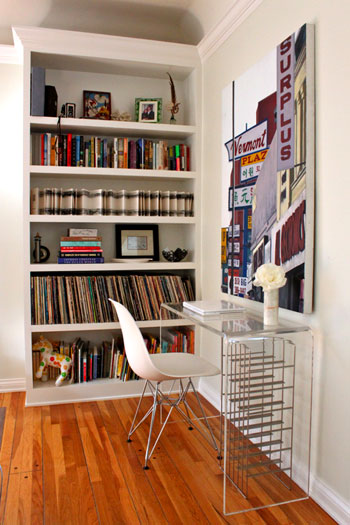 Here's the crisp and inviting guest bathroom complete with a little stool for Scarlet that Jaime craftily DIYed. We love how open the room feels thanks to the glass shower door and the mirrored backsplash that was added to the built-in across from the pedestal sink.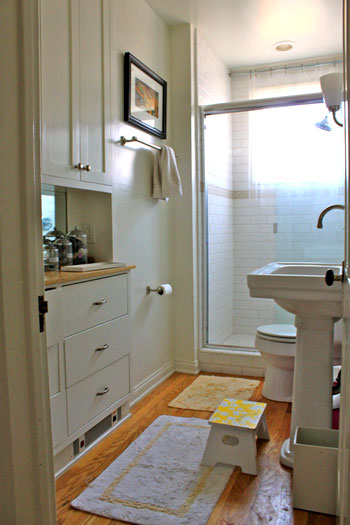 Next we have the dramatic master bedroom complete with another DIY project (yup, Jaime whipped up that headboard herself!). And we love how she chose an unapologetic lush red tone for the walls to play off the inky blue headboard fabric for a cheerful yet surprisingly high end result. Doesn't it feel like a boutique hotel in there?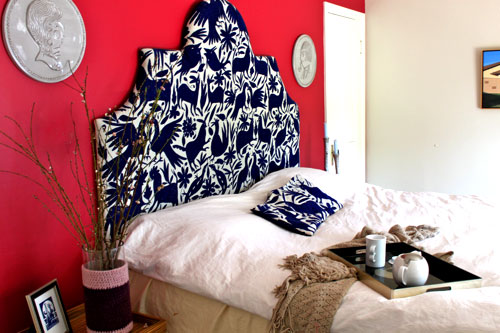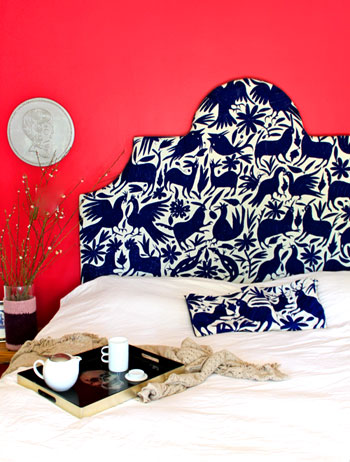 And here we have the master bathroom which is pretty much always flooded with light (oh LA, does the sun ever set there?). We also adore the great handheld shower (it has such a chic vintage feeling) and of course that DIYed yellow stool (a thrift store rescue covered in Dwell pillowcase fabric) paired with the clawfoot tub. And the gorgeous marble hex floor is totally speaking our language. Who's in the mood for a bath now? Just me? Come on, I can't be the only one.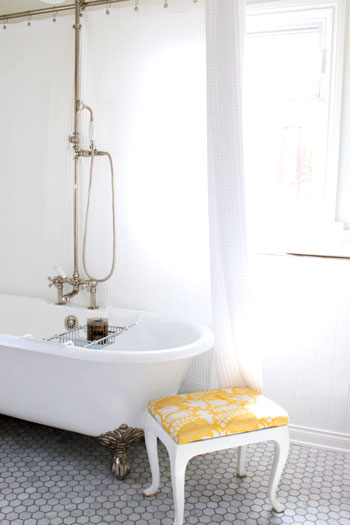 And here we have one of the most cheerful and fun places in the house- it's little Scarlet's nursery. We love that Jaime took on a ton of homemade projects in here (from the crocheted pennant garlands to the window treatments and even the spray painted Ikea mirror above the bed). We can only imagine how much Scarlet loves her special space.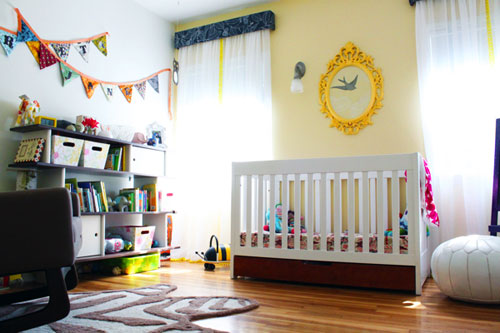 And because we know you guys love a source list, here you go (be sure to follow all the links that say "DIYed" back to Jaime's blog for more info):
Living room- blue chair: Anthropologie sale find, white chair: Jonathan Adler store display chair, Ikat pelmets: DIYed, orange bench: Pottery Barn, blue couch: The Dock Downtown, coffee table: Platner, lucite console used as desk: CB2, Eames chair: Modernica, gray cabinet: Anthropologie clearance sale, honeycomb end table: Anthropologie, brown leather/white wood chair: Jonathan Adler sample from eBay, pelmets: homemade with eBay fabric, painting above desk: LACMA Art Rental and Sales Gallery (rented for 8 yrs and finally paid off). Dining room/kitchen- mirror: $15 Homegoods frame with new mirror added, wire C Jere sculpture: ebay, buffet: Fairfax flea market, dining table: Brocade Home, Louis Ghost chairs: eBay, dining chairs: Wisteria, little cabinet: from a furniture mart (I added fabric to the doors), captain's wheel: Melrose Flea Market. Entryway/Breakfast nook- cameo plates: DIYed, bird embroidered chair: Anthropologie sale item, play kitchen – Kidcraft from Costco. Nursery- rocking chair: Nurseryworks sleepytime chair, crib: WalMart, bookshelf: Oeuf Mini-Library, spray painted frame: from Ikea, pelmets: DIYed with Ikea fabric, pom pom curtains: DIYed, crib sheets: DIYed w/ Alexander Henry fabric, leather pouf: Calypso, crochet pennant garland: DIYed. Master bedroom- headboard: DIYed with Otomi fabric from eBay, end tables: West Elm, pillowcases: DIYed. Bathrooms- remixed thrift store find, Indian-style-print roman shades from World Market, kids stepstool: DIYed, matryoshka tray: DIYed.
So there you have it, a stunning Los Angeles haven full of clearance finds, eBay scores and homemade projects galore. Thanks so much for inviting us into your gorgeous home to snoop around Jaime! Oh and feel free to check out her new book since she so generously allowed us to poke around her home. Now let's play a game we like to call what's-your-favorite-part? We're torn between that giant gray on gray cabinet in the living room and the sweet homemade silhouettes in the entryway. And that nursery. So sweet…

Psst- We're always on the hunt for a mouthwatering house (or ten) to crash, so if you or anyone you know has a casa that's feature-ready just shoot us an email along with some photos of the space and if we're ever in the neighborhood we'll be sure to drop in.
&nbsp