****This giveaway is no longer accepting entries***
Having now been a father for one whole month (Happy 1- month birthday, Clara!) I'm totally psyched for this Sunday: my first Father's Day. Another reason I'm psyched? Because our friends at Lowe's have offered to help us celebrate Daddy Day with a handy gift guide mood board along with a totally testosterone-ready prize. So if you're still scratching you head about what to get ol' pops, here are a few ideas to get you started. And if you're our lucky winner, you might just be covered entirely (for the next few years even):
What's Father's Day without tools? Kobalt 22 Piece Set ($50) is a great starter set if your guy happens to be tool-less. It covers all the basics, plus dad gets a tool bag to keep it all organized.
If dad's covered in the tool department, help him step it up a notch with a Kobalt 60 Piece Driver Set ($54) that has a bit for just about any job you can think of and then some.
Now if you really want to splurge on pop this year (or your last name is Trump), pimp his workshop with a Kobalt 53" Tool Chest ($1798). It's not your everyday tool storage space – it's got a radio and mini fridge built in! Like woah.
If tools aren't his thing, help him tend to the yard with the Fiskars Momentum Reel Mower ($199) that we're enjoying. It's an eco-friendly way to mow, plus he'll get a little extra workout in.
Or hook him up with a Troy-Bilt String Trimmer ($100) to keep those edges in check. Bonus: he might just stop mowing over the flower beds.
You can also send him on a power trip with the Porter Cable 4 Piece Combo Kit ($129) that's got a cordless reciprocating saw, circular saw, drill and flashlight all powered by the same battery.
But enough about gifts that put dad to work. What about letting him relax with a nice meal straight from the grill? This compact, but powerful 2-burner Char-Broil Urban Grill ($269) could do the trick.
Lastly, if he's like most guys and is just plain hard to shop for. You can never go wrong with a Lowe's Gift Card, right?
If you read this morning's post about my experience with the Fiskars Momentum mower, you already know that it's part of this week's prize.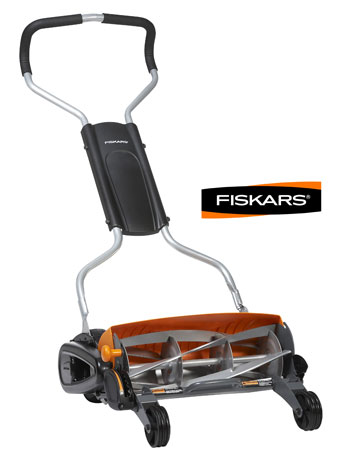 What you don't know is that this week's winner is also gonna score #7 on our gift guide too. Yep, the Char-Broil Urban Grill is also making it's way to one of you. That way you can spoil the dad in your life with a one-two punch of prizes (or split 'em up if you got a few fathers to pamper this year). Okay, and we wouldn't blame you if you just kept 'em for yourself. Can't beat nearly $500 in free stuff, right?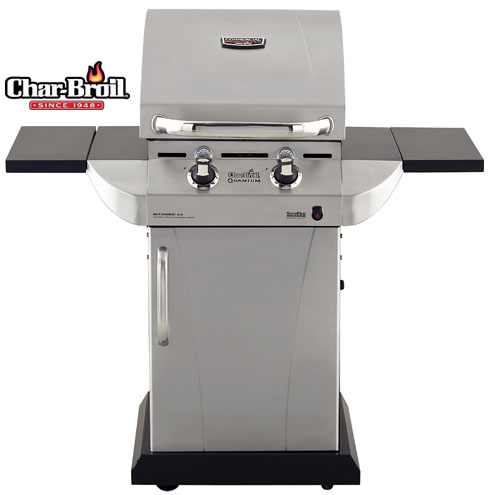 Now let's get on to how you enter:
PRIZE: The Char-Broil Urban Grill and Fiskars Momentum Reel Mower courtesy of Lowe's, Char-Broil and Fiskars
TO ENTER: Comment on this post with the words "HAPPY FATHER'S DAY _______!" (inserting the names of the dad(s) or father-like figures in your life) and…
BONUS QUESTION: … why not share something you love about them or how you plan to celebrate, honor or remember them this weekend. Feel free to gush, get sappy, or just tell an embarrassing story that captures why he (or they) make your day.
GIVEAWAY CLOSES: Wednesday, June 16th at 8pm EST
NUMBER OF WINNERS: One
PRIZE SHIPS: The 50 United States
USUAL STUFF: One entry per e-mail address is permitted. The winner will be selected using random.org and announced on Thursday. Good luck!
Find more freebie info on our Giveaway FAQs page. Pics courtesy of Lowe's.
&nbsp
The universe works in funny ways sometimes. Take a few weeks ago when we were lamenting the death of our lawn mower on Facebook and Twitter (though we later resuscitated it with some basic DIY maintenance). After we sounded the Twitter and Facebook alarm, not only did we get lots of suggestions from you guys, but our friends at Lowe's noticed our online call for help. In fact, they – along with the kind folks at Fiskars – generously offered up one of their newest mowers: a Fiskars Momentum Reel Mower, which just happened to be one of the more frequent recommendations that we got via Twitter and Facebook. Coincidence? We thought not. So we gratefully took Lowe's up on their generous offer. And they even agreed to extend the offer to one lucky reader- so stay tuned for that prize as part of our Lowe's Fathers' Day Freebie which we'll be posting later today!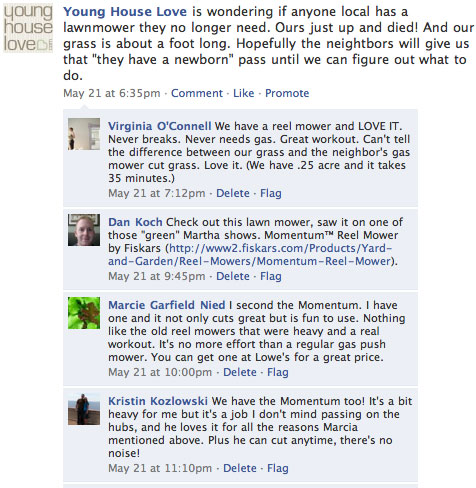 But back to the matter mower at hand. I'll admit that I was a bit skeptical of a reel mower at first, since it seemed like such a low-tech, high-effort, and mixed-result way of mowing your lawn. Especially a pretty large front and back yard like ours. But all the online suggestions from helpful and enthusiastic readers (plus a bit of my own reasearch) proved to be very convincing. We soon realized that not only would a reel mower be a better option for the environment (no gas fumes) and for my wallet (no buying oil or gasoline – plus it's only $199 itself at Lowe's) but it also complies with my apparent aversion to mower maintenance (no more oil changes, filter changes, or spark plug replacements necessary). It's even healthier for me (no fumes in my face, plus a bit of a workout thrown in there for good measure). Oh, and I loved how easily it fit into the back of our Altima for the ride home. Definite perk.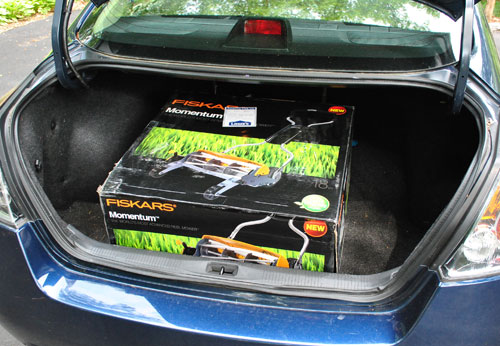 So here's the play by play when it comes to my maiden voyage with our brandspankingnew Fiskars Momentum. Right off the bat I was immediately won over by how few parts it had and how easy it was to put together. This is what it looked like out of the box…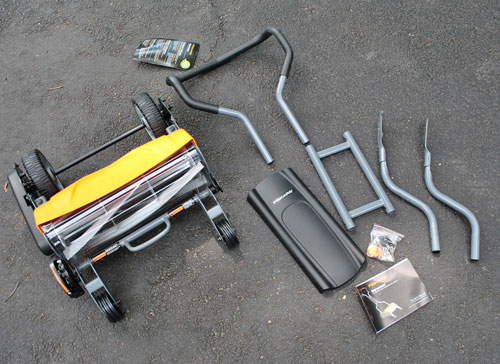 …and here's what it looked like about 8 minutes, 4 screws and 2 cotter pins later. Ready to roll.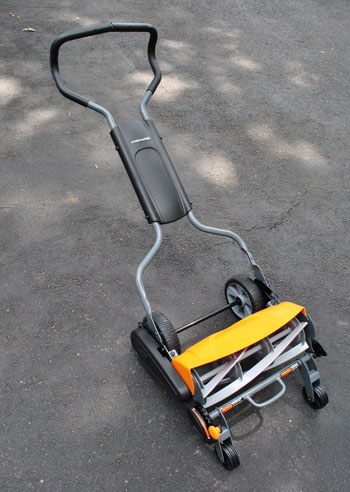 In case you're still scratching your head at this thing, a reel mower is a human powered machine. You "walk briskly" with it (as the manual suggests) which spins the blades and cuts your grass. And this reel mower claims to have innovations that make it easier to push (bonus) but since I only have experience with self-propelled gas mowers I realistically knew that this guy was gonna be a bit more work than I was used to no matter what. But one of the other improvements that Fiskars talks about is that the blades never touch each other, meaning that they need to be sharpened far less often than the average reel mower (perhaps even never). Again, not a difference that I really have anything to compare it to, but it's nice to know that it's a top of the line contender in the category that's both lower maintenance and easier to push.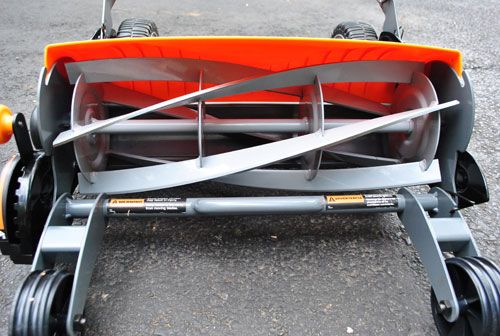 One difference that I was able to immediately pick up on and enjoy was the ease of setting the cutting height. My Troy-Bilt mower required that I adjust each of the four wheels separately and the levers were getting so old that it was quite the chore to move them. The Fiskars only required that I shift one lever to change the cutting height anywhere from 1″ to 4″ (anything over 3″ is said to be the greenest option for your lawn since it allows the blades to soak up more sun and water than closely cropped lawns do). And this easy height change capability is yet another listed improvement over other reel mowers, which can be notorious for cutting grass to short.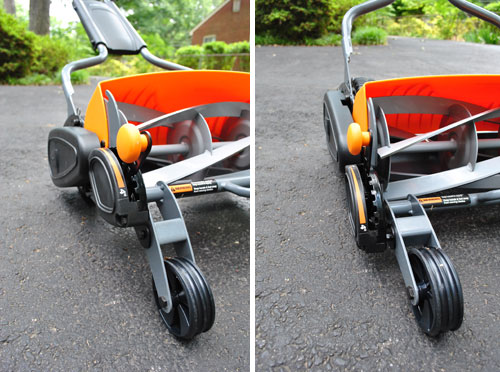 But enough about features. What was the whole mowing experience actually like?
Well, it was kinda fun. For one, it was virtually silent compared to the engine roar that I was used to, meaning I didn't have to crank my iPod up to deafening volumes just to rock my way across our yard. Plus, the way the mower stealthily sprayed grass clippings out the front was not only mesmerizing to watch, but I loved the fact that it wasn't kicking them back at my feet or off to the side (like the ol' gas mower did – meaning I often sprayed the driveway and patio with messy looking cuttings). I tried to capture the front-spewing feature on film several times for you guys, but I had limited success. I guess flying blades of grass on a background of more grass isn't the most high contrast subject matter.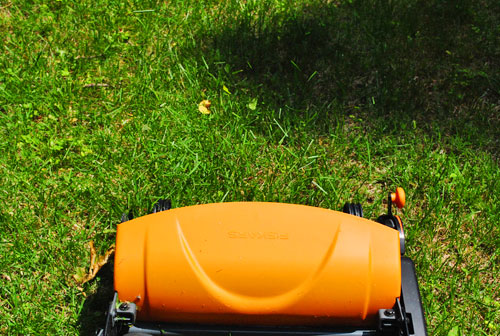 Here's a close up so you can (hopefully) see those flying blades a bit better. And yes, I was totally mowing with one hand and snapping pictures with the other. I don't even want to know what the neighbors were thinking. But that does go to show you that it's not dauntingly heavy or super hard to push.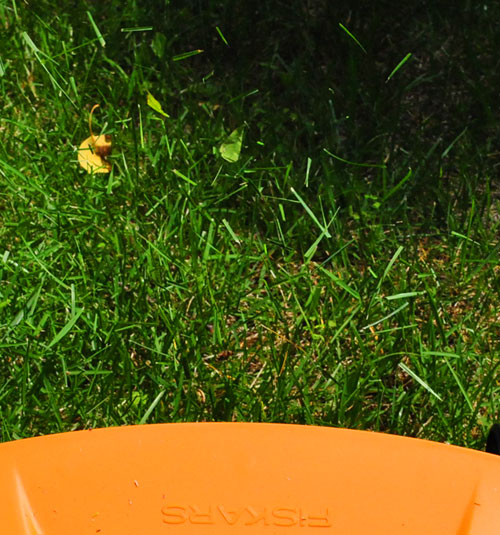 Actually, the neighbors were probably thinking: "Who is that weird kid trying to manually mow that big lawn with a reel mower?"
I can't blame them. Between just the front and back yards (not including the wooded area out back) we have over a third of an acre of grass. And the neighbors on either side of us both use rider mowers, so you can probably guess what they thought of the sight of me and my new orange friend. Even Fiskars themselves admit that reel mowers aren't typically a good fit for people with large yards, so off the bat I knew we weren't prime candidates to fall in love with the Momentum. But the odd thing is that after mowing both the front and the back yard once, I found myself looking forward to the next trim session, which occurred just about a week later. And the second time was even more fun than the first since I knew what to expect and welcomed the fume free workout that it was sure to provide.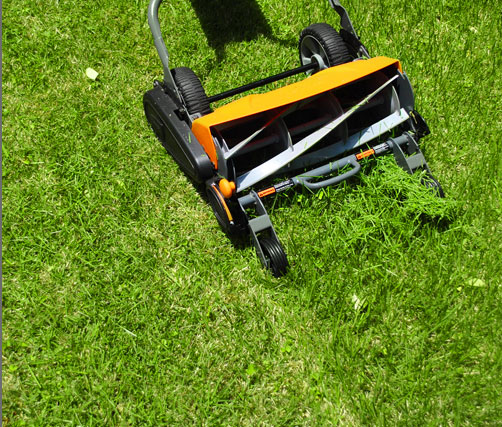 As for the overall experience with our new reel mower, I think the Momentum is great (especially in being a greener option), but I discovered a few things that made me realize that this mower isn't for everyone (just as the fine Fiskars folks proclaim on their website). So in an attempt to share what I've learned and help people end up with a mower match made in heaven, here are a few points to consider when deciding if the Fiskars mower is just the ticket:
The size of our front and back yards (plus the fact that both have a slight incline to them) meant that mowing took a bit longer and was more of a workout than using a self-propelled gas mower. However if you have the time and energy and welcome the exercise, it could be just what the doctor ordered (but it's not the perfect tool to squeeze in a quick mow before the sun sets if you have a spacious lawn).
It doesn't seamlessly chop weeds or grass over 6″ (and we unfortunately get a smidge of both from time to time). Some weeds are just too tough for its blades and tall stalks get flattened instead of sliced (both things that Fiskars warns potential buyers about upfront). So I did find myself having to go back and pull a few weeds by hand afterwards. In a way, it may actually lead to a healthier lawn if I'm forced to deal with my dandelions instead of just mowing them over. But again, it's not the easy or fast solution for those without time to tend to a few things that may be left behind.
It doesn't do sticks either, and with all of our trees we get our fair share of 'em. Again, Fiskars says upfront that you need to remove any large or medium sized sticks as not to jam the mower or damage the blades (and generally this is a good idea for regular mowers too) so I found myself stopping a few times because a few twigs momentarily stopped the blades. It wasn't a bit deal to get them out, but it added a few seconds here and there to the project.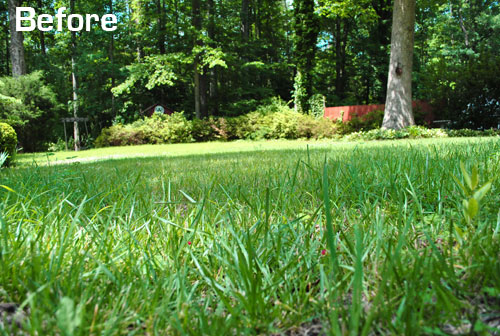 The verdict? I think moving forward I'll probably go steady with our new Fiskars but occasionally date our old-but-revived gas mower. After all, we're used to going a bit above and beyond to be greener, so I'll put in the extra effort with the Fiskars whenever I can. But I do plan to rely on my gas-powered Troy Bilt on the rare occasions when I'm super short on time (and once or twice in the fall when I like to mulch leaves right into it). But if your yard doesn't pose the same problems as ours (big and sometimes stick-riddled) then the Fiskars is probably a one-mower-fits-all option for you. After all, it still leaves a darn good looking lawn behind: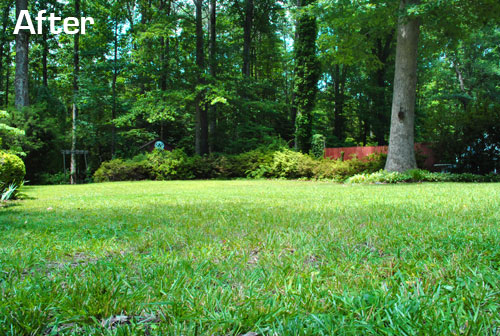 Do any other Fiskars Momentum (or other reel mower) owners want to weigh in on their experiences? Anyone else have a mower that makes their heart go pitter patter? Do tell. And don't forget that you'll have the chance to win a Fiskars Momentum for yourself as part of this afternoon's giveaway from Lowe's (along with another pretty sweet Dad's Day prize) so stay tuned…
&nbsp