A while back we promised another post about wall art, so here it is. Being sentimental- and on a budget- we've had to get creative in the art department. So until we can afford that original Warhol piece we have our eye on (yeah right), we'll stick to providing interesting art alternatives.
For example, take this vintage map project that Sherry surprised me with this Christmas. She found this amazing map (from 1907!) on eBay for around ten dollars, picked up a white frame at Ikea, and then removed the glass and added some cork backing and pinned the map in place. Then she stuck more pins (actually called "map pins" from Office Depot) into all the places we've been together. It's fun interactive art. Plus it encourages us to get out there and see the country so we can stick more pins into the map asap.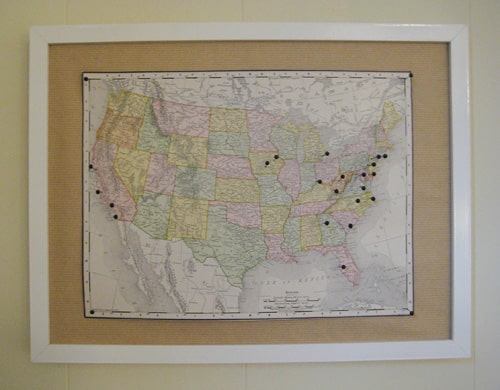 Here's another easy project guaranteed to peak people's interest (everyone who comes over gravitates towards this tiny frame). As another surprise, this time for our anniversary, Sherry hunted down copies of some keys (all it took was a few calls to old New York City roommates) and framed them with little handwritten labels underneath each one.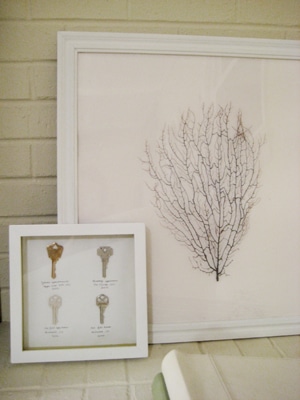 The key on the top left says "John's apartment, Upper West Side NYC, 2005″, the key on the top right says "Sherry's apartment, The Village NYC, 2005″, the key on the bottom left says "Our first apartment, Richmond Virginia, 2006″ and the key on the bottom right says "Our first house, Richmond Virginia, 2006." Also note the black sea fan leaning next to the little framed keys. Sherry ordered that from an online sea-life website and just threw it in a frame. Ain't she clever?
This is another "custom" framed piece by my crafty wife- this time it's a shadow box full of objects from our backyard wedding (click here for some wedding photos). It was a great way to remember the day and add another interesting and personalized art piece to our home. A fabric scrap from one of our table runners, a printed dessert napkin, a goofy Save The Date photo strip (we rented a photo-booth for the wedding), our invitation, our stamped place cards held down by river rocks, our favor bag (which contained a gladiolis bulb and had another photo strip clipped to the front), and even our thank you postcard (featuring a wedding photo) made it into the frame. I think she captured the casual, happy, summer day just perfectly in our little wedding time capsule.
We hope these projects reinforce that there's really no end to the things that you can frame. Please feel free to share your brilliant wall art ideas with us.
&nbsp
Inquiring minds wanted to know what I got for my lovely hubby in return for my fabulous four legged friend. Well, inquire no further. The answer is: a super fabulous jumbo sized electric griddle with a removable plate that can be popped in the dishwasher. You see, John is The Pancake King. Notice the capital letters because it is actually his title. He makes pancakes with chocolate chips, peanut butter, vanilla, banana, apples, honey, or anything else he can possibly find around the kitchen. And they're magnificent.
So about a year ago when we were putting together our wedding registry, we found the most amazingly fabulous griddle, and registered for it on the spot. The heartbreaking part came after we received it as a wedding gift and only then realized that it didn't fit into any of our tiny, 50 year old kitchen cabinets. Major bummer. So we begrudgingly exchanged it for a normal ol' stove top griddle pan of a much more reasonable size. And I swear I saw a tear gleaming in John's eye.
But now for the happy ending. With our new super-sized kitchen we have room for ten jumbo electric griddles. I settled for one and wrapped it up with a big red bow (just like someone else's V-day present) and even taped some heart shaped pancake cut-outs on the front of the box. And this time John's eyes were gleaming with excitement.
&nbsp
This morning as John headed off to work he mentioned that he'd hidden "a little something" around the house and encouraged me to "go on a scavenger hunt." As I embarked on a journey that I expected to include lots of looking under, over and between objects in every room, imagine my surprise and delight upon immediately finding this huge concrete greyhound statue waiting for me by my desk- complete with a big red bow.
You see, my obsession with greyhound statues began eons ago when I spied a pair of white glossy, ceramic greyhound statues flanking a fireplace in Jonathan Adler's book, My Prescription To Anti-Depressive Living. I then began seeing them everywhere, from hotel designs by Kelly Wearstler to the pages of Domino. And I was itching to adopt one too! And then one fateful day about three months ago we stumbled across a concrete version at a local home and garden center. How cute of my man to remember my greyhound crush after all this time and make one mine. And as always, we saved a pretty penny since I recall that our concrete pup was priced somewhere around FOUR HUNDRED DOLLARS CHEAPER than these glossy ceramic versions going for $465 at Perch.
Originally when we discovered the concrete version at the home and garden store, I daydreamed about topping it with white semi-gloss paint to mimic the sheen of the ceramic statues. But after setting my Valentine's Day puppy down next to the living room fireplace, his subtle matte finish is actually perfect.
And speaking of perfect, I can't have a post about puppies and not mention our other adorable accessory. Burger wishes all the ladies out there a very Happy V-day. And guys, guard your girls, he's a little heart-breaker.
&nbsp