Yup, our third annual Wedding Week is upon us thanks to our upcoming anniversary this Wednesday. And it's hard to believe that yet another year has flown by, especially since our DIY backyard wedding (held right here at Casa Petersik on 7.7.07) still feels like it was yesterday.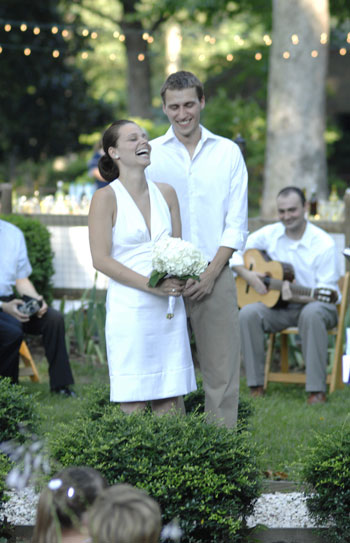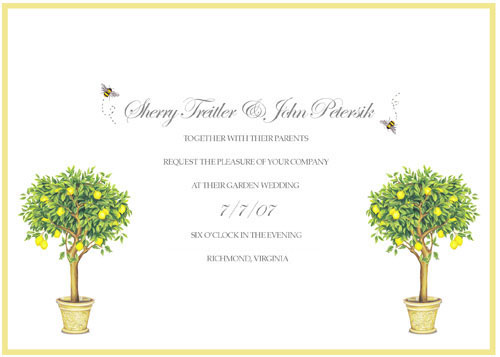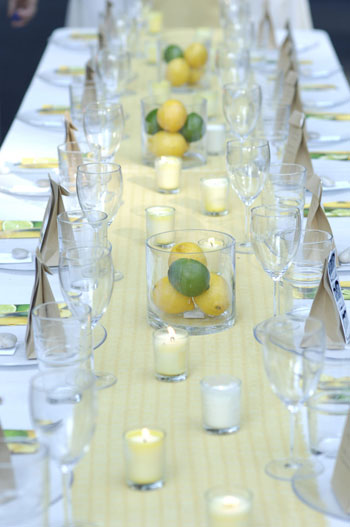 Of course most of you have already read all about our wedding by clicking that tab under our blog header, and we've used Wedding Week I and Wedding Week II to describe things like our courtship, our engagement, and our honeymoon in detail. We even divulged home related DIY projects, like how I dyed my wedding dress…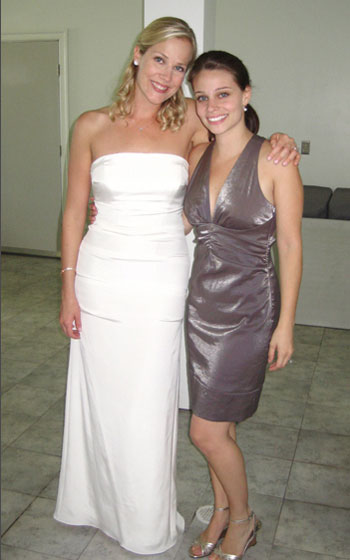 …and how we commemorated our nuptials with a shadow box filled with wedding paraphernalia. We also mentioned some fun anniversary traditions, like when we recreated the same meal that our guests enjoyed at our wedding for our first anniversary…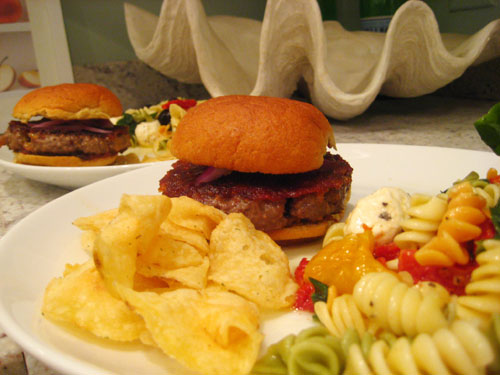 … and went out to eat at the restaurant where we had our rehearsal dinner for our second anniversary. In fact, here's a quick and dirty rundown of all the wedding related posts that we've already covered:
And since we've already touched on a whole lotta wedding-related stuff in these posts of yore, we're doing our best to keep things exciting this time around. This week you can look forward to:
A fun wedding-themed giveaway (that's also for non-engaged & already-married folks)
A post about how we solve decorating disagreements
A romantic bedroom mood board for anyone who wants to feather their love nest
A roundup of DIY home decor that we whipped up to commemorate special moments
A post about the gifts we exchanged this year
A post about how we expanded upon our anniversary tradition
Sure, it's a little bit self-indulgent and some of the deets are a tad unrelated to home improvement, but we'd like to think that our relationship is an important part of what makes Young House Love tick. So we hope you'll enjoy this week's lovey-dovey detour with us (don't worry, we'll still be dishing out some of the usual home-related stuff too). As we like to say so often around these parts, stay tuned…
&nbsp
Jen sent us this simple yet totally transformative dresser makeover and – as much as we love painting furniture white – we thoroughly enjoyed the fact that she took this piece back to its wooden roots for an awesome two-tone vibe. Here's her letter:
I've discovered your site recently and love it! My faves are the reader redesigns, so I figured I'd share a little project with you and the rest of your readers. This is a hand-me-down dresser from a fantabulous neighbour. We're working towards an adoption and people keep telling us that we'll have no time when the baby comes, so I'm trying to get a few things on the move well ahead of time.
As for the work: I wanted to get the top down to the wood. There were a few coats of paint hiding under there. I began attacking it with a paint stripper… but only got so far. It was time for the big guns: the belt sander! (I may add that my shoulders got a little workout holding that thing steady- bonus!). I also picked up some new hardware and paint (from Home Depot). The paint is a soft celery colour – Behr Premium Plus 380F-4 Ground Ginger – and the stain on the top and front is Minwax Golden Oak. The little giraffes had a little paint makeover as well and their new colour is Behr Premium Plus in S-G-360 Bright Star. Thanks for taking the time to check it out! -Jen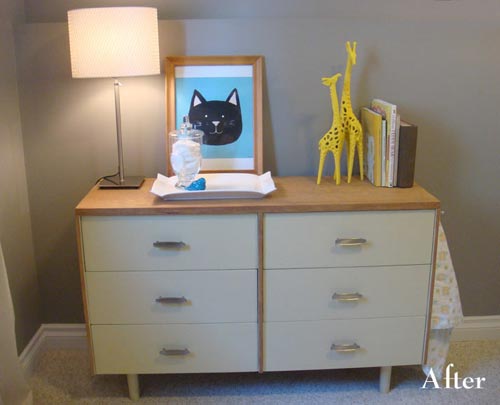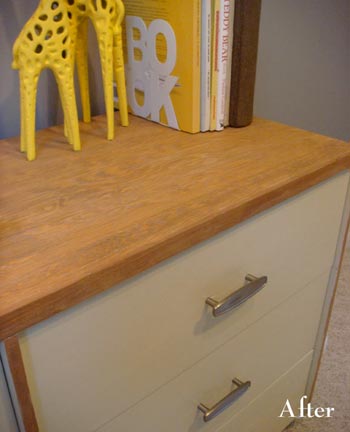 Isn't the new wood finish just gorgeous? All of Jen's hard work and belt sanding clearly paid off big time. Makes me wanna go sand something myself. And those giraffes? As you can guess Sherry is ob.sessed. with them. You know she has a ceramic animal addiction, right? Anyway, you can read more about the transformation here on Jen's blog – and don't forget to check out the graphic treatment that she's given the wall behind the dresser since submitting these pics. Fun, fun, fun.
&nbsp