Ok, so here's a bathroom update that's way overdue. This is what our bathroom looked like when we started this whole mini-overhaul in an attempt to salvage our vintage basketweave tile instead of demoing every last cracked and peeling corner of our bathroom (warning: this ain't pretty):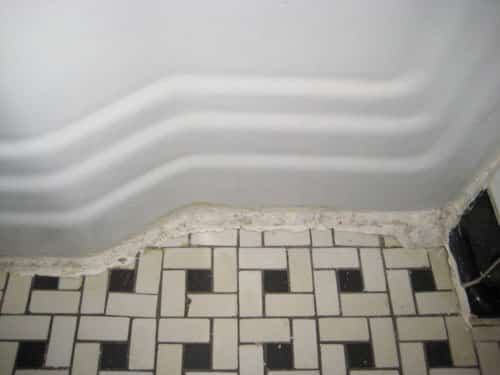 Now for a few more slightly less than pleasant "during" shots in the spirit of sharing the semi-painful process. First, we cut out all the old caulk with a box-cutter (as captured in this tasty photo):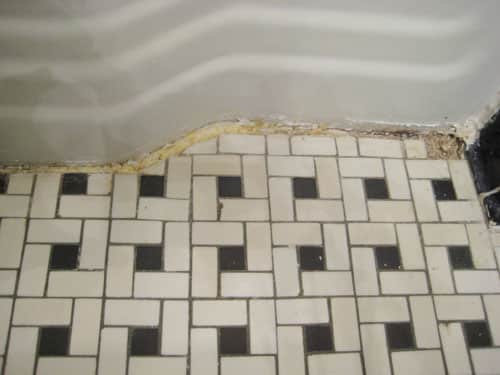 Then we did some serious tile cleaning with the 40% peroxide (purchased at a beauty supply store) that one of our readers recommended (thanks Gimbler!). After we let the peroxide soak in overnight, we scrubbed the heck outta the tiles the next morning and they definitely looked lighter and brighter. So it was on to the next step, which involved taping off all the places that we needed to re-caulk.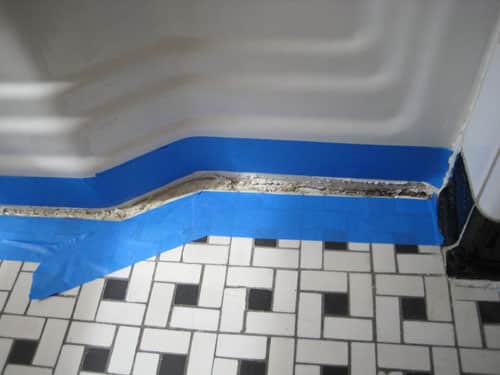 The painters tape was another fab tip from a perfectly helpful perfect stranger (thanks Mary!) which resulted in perfectly straight caulk lines that look much improved. The details: caulk, smooth caulk with finger, and quickly remove tape before caulk starts to set. Easy peasy.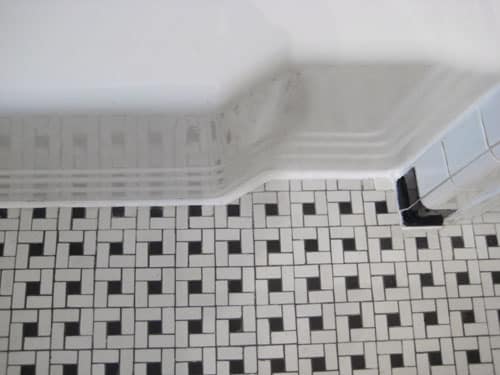 Doesn't less dingy tile and a clean caulk line make all the difference? It also should be noted that we purchased one replacement tile for the top right hand corner where the tub meets the tile (if you scroll up to the picture where we cut out the caulk, you'll see that there's a huge hole where a tile should be). We actually couldn't find an exact match, but it's really pretty close. Plus the fabric shower curtain hangs down completely obscuring the new caulk line and that tile anyway. But it sure is nice to know that when a guest pulls back the curtain there won't be a hairy surprise waiting for them anymore.
We also used a little more caulk to totally overhaul our gross-ish drain. Since our tub was reglazed about 8 years ago by the previous owner, the glaze was perfect everywhere except for around the drain. Observe: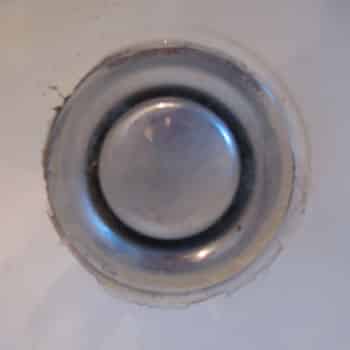 But caulk is like magic in a tube. Look at the difference a little ring of the stuff can make: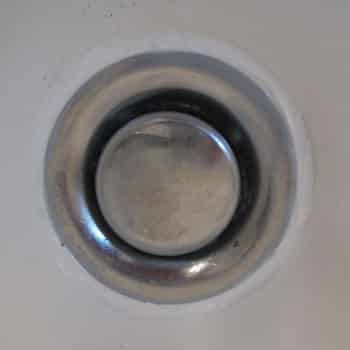 And while we were at it, the old bath and shower fixtures had seen better days. They were original to the house (51 years old) and the corroded knobs and leaky faucet just weren't up to par anymore.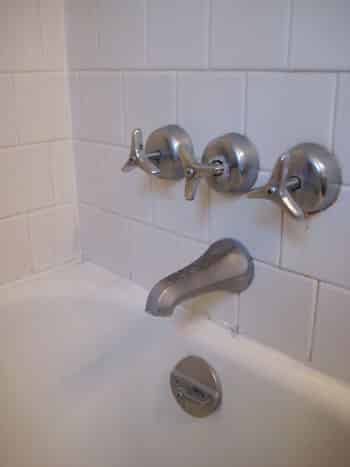 So we switched them. Well, by "we" I mean Mr Rooter. We tried doing it ourselves but the crazy old configuration of the pipes behind the wall made it necessary to call in the experts (who actually needed to use a diamond blade to cut through a 2-inch cement wall to access the old rusty pipes). We're so glad we knew when to say uncle, because it took two experts over four solid hours to make the change. Luckily they quoted us a price before they discovered the cement wall.
When it came to new fixtures to install, the pickins were slim because we had to match the old three-across configuration of our prior faucets. But thankfully this cute retro-ish set ($136 from Home Depot) looks right at home in our black and white bathroom.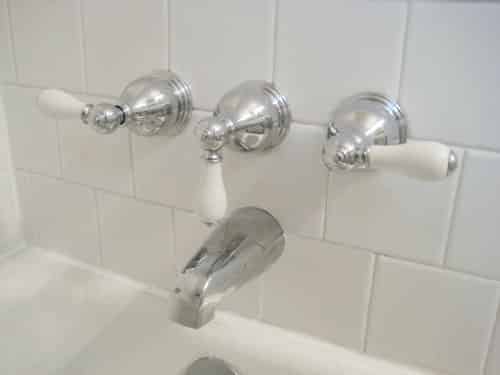 Burger loves the mini-bathroom-overhaul (see that happy gleam in his eyes?) and so do we. Mission Save-The-Basketweave accomplished. Thanks so much for all of your help!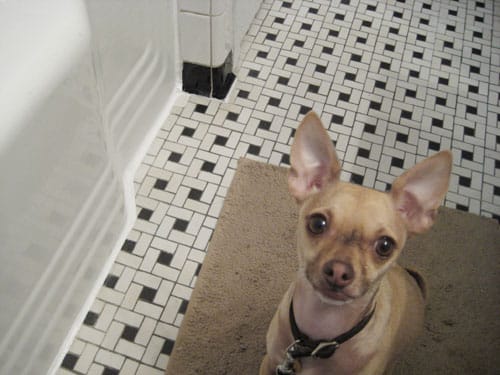 Update: Alas, a few years of use later made it clear that our cracked and stained wall and floor tiles just couldn't be saved (although the cleaning and caulking tips above definitely tided us over for a while). So we embarked on a full bathroom overhaul in late 2009. Here are those details.
&nbsp
My birthday came early this year, with our trip to Williamsburg kicking things off last Friday, and no shortage of cards and special deliveries arriving in the days that followed. And because today is actually my 26th, I thought it was high time I shared the goods.
First, an adorable (photoshopped) pic of my baby boy (in the appropriate birthday celebrating garb) from my best buddy Heather :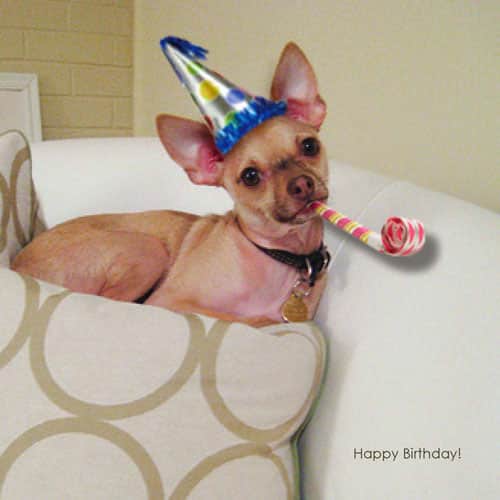 My hubby pulled at my heart strings too with a custom ordered portrait of Burger that was actually cut out of black paper by a fabulous silhouette artist. It's amazing that Burger's complex personality (snuggly, squirmy, squishy, sweet) can be captured in a clipping, and no detail was overlooked- even his eyelashes! My amazing one-of-a-kind portrait looks fabulous on our asymmetrical wall of frames.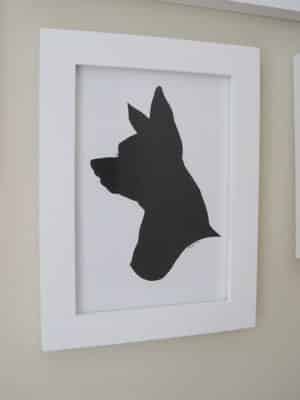 Thanks to the new kitch, I got a cornucopia of cupcake-related gifts from John's sweet parents- like this adorable cupcake carrying caddy, some sugared sprinkles in spring-y colors, and a box of gourmet cupcake mixes (in flavors like vanilla strawberry, poppy lemon, and chocolate caramel… mmm). They're the perfect compliment to my festive cupcake pajama pants (which were also part of the themed gift).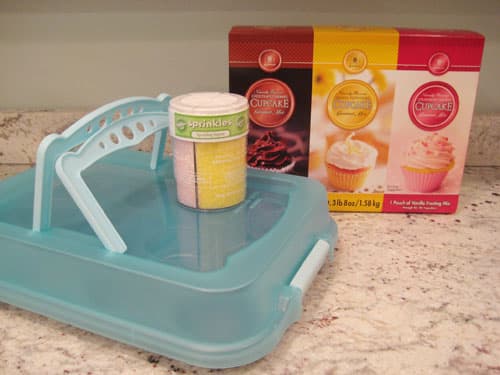 And I unwrapped these gorgeous oversized glass vases from ZGallerie thanks to John's parents (they're too generous) and his little sister.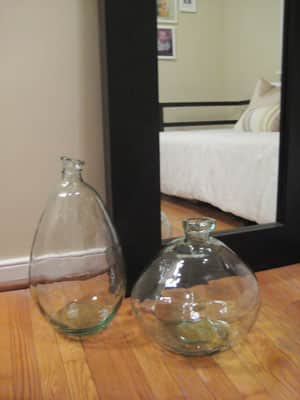 And then came the big reveal. John got me the new silver iPod nano and even loaded it with some photos (some of us, most of Burger) while both of his older sisters and their men got me two amazing Beatles anthologies to add as well. Now this may come as a shock to everyone in the universe, but this is my first iPod. That's right, I'm the last person on the planet to join the white earphone club. But my super swanky new model can play videos, store pictures, and of course hold music-a plenty, so I can't wait to break it in during my almost daily three mile walks with Burger. I only hope he'll forgive me for listening to tunes instead of the pitter-patter of his little paws.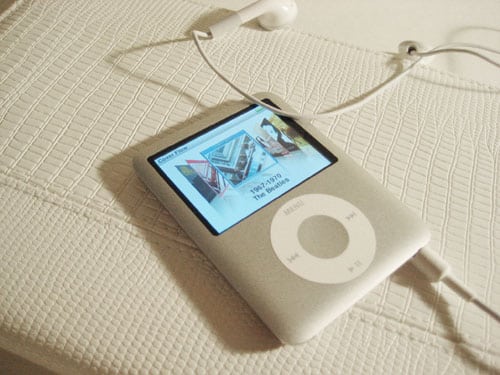 In summary: best birthday ever.
&nbsp
Friday was the start of Sherry's birthday. Her real birthday isn't 'til tomorrow, but what kind of husband would I be if I didn't start the party early?
So we took the day off and day-tripped down to Williamsburg, VA, which most of you probably know as the epicenter of America's colonial history. We, however, were there to check out the town, shop a bit, stuff our faces and, of course, keep our eyes peeled for home inspiration. But the history's a little hard to avoid in that town.
For instance, we bumped into our good friend Thomas Jefferson and took his mind off declaring our independence for a little while:
And Sherry spotted one of her favorite exterior design elements – an oversized lantern. VERY oversized, in this case: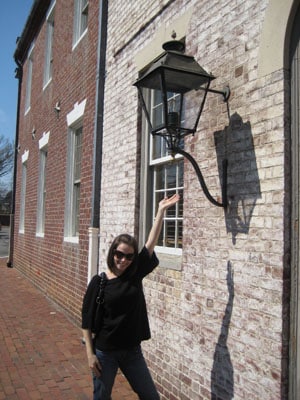 We also strolled through this colonial garden with some serious old school charm. We're über inspired by those big glass jars and the, er, beehive-y things.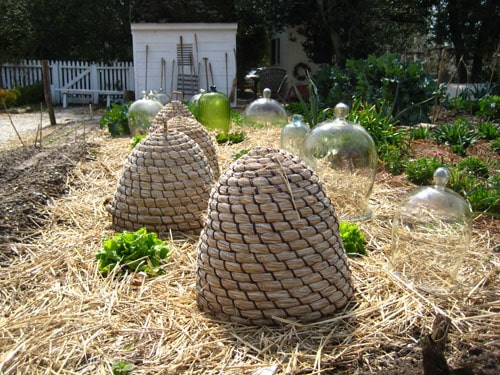 And after Williamsburg, we squeezed in a quick side trip to nearby Yorktown where we found more boutiques, some Ben & Jerry's, a beach (!!!) and a couple colonial-home-turned-antique-shops. Doesn't this antique display look like it's straight out of a design magazine?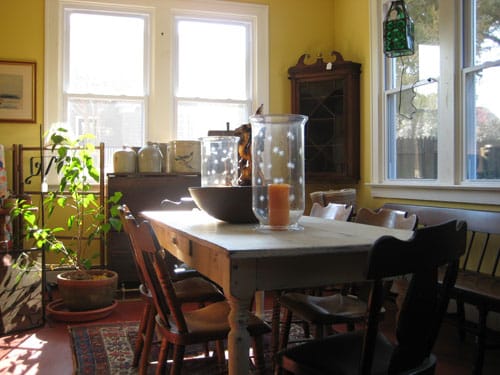 Check out more photos from our trip on our Flickr page. And stay tuned for continuing coverage of Sherry's big 2-6.
&nbsp