This post is a little compilation of sorts, with a few never before seen items tossed in for fun. We're rounding up a slew of personalized and meaningful momentos that we've sprinkled throughout our house to remind us of special days gone by. Because you gotta keep the romance alive at home, right? Some of them are DIY projects while others are just things we decided to display (that we previously had tucked away in a closet or drawer). And the good news is that none of them are very hard to do (or hard to swing, for those on a budget). Hooray for easy and sweet home accessories that feel oh so customized – without draining the ol' bank account of course.
Our first item is the wedding shadow box that we already mentioned in a wedding post a while back. But we figured a bigger (and clearer) photo would better depict the setup. All we did was toss in fabric from our DIY table runners along with our actual place cards, invitation, thank you post card, favor envelope and a save-the-date photo strip along with a lemon & lime napkin from our big day. Voila: our wedding in a box. Learn more about how we put it all together here.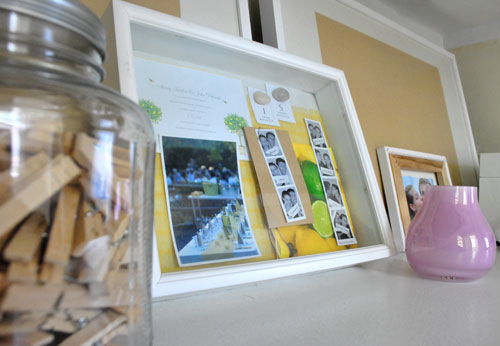 When it came to filling an inexpensive Ikea frame that we picked up to accessorize the three floating shelves in our dining area, we both wanted to hang a bit of food-related art to set the stage. So we looked no further than three favorite wedding photos (one that features the table setting, another that shows off some of the fresh fruit that we served, and one that showcases all of our pretty white wedding cupcakes lined up and ready to be devoured). We love that instead of being tucked away in an album they're out for us to enjoy on a daily basis.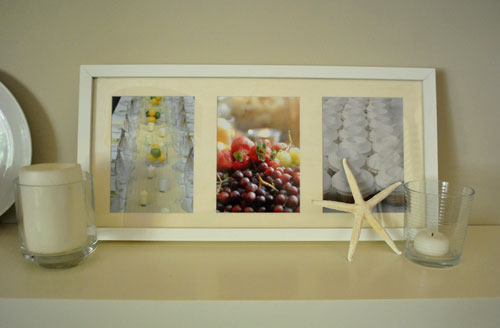 One of our most treasured wedding remnants are the photo strips that our friends and family left behind for us (we requested that they slide through the booth at least twice so they could take a photo strip with them and leave one for us). We keep all of them corralled in a lovely white leather album, but we selected a few favorites to photocopy and hang on the wall above our console table in the living room in two different frames. Simply taping seven of them to white cardstock (3 in one frame, 4 in another) was all it took to showcase them for less than a dollar. And we love when our friends and family stop to check them out on their way in the door.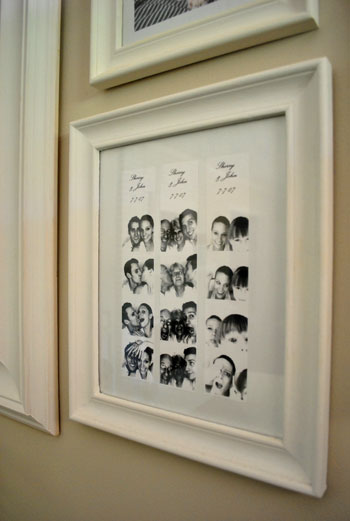 A tradition that dates back to our dating days is to step into a photo booth at a restaurant or bar on a special day to commemorate the event. Then we just record the occasion (engagement, anniversary, birthday, found out we're prego, etc) on the back and stick them in a cup on the open shelves in our dining area to enjoy. Read more about that tradition right here.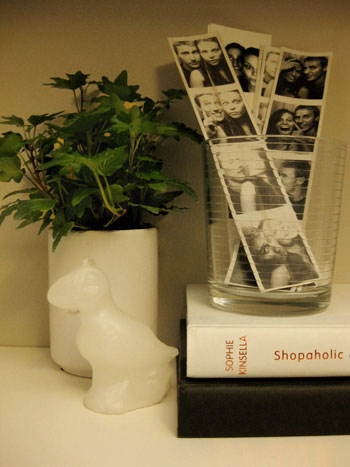 And speaking of sticking things in a cup, we also have a tradition of having sushi every single New Year's Eve that we've been together (the first few years were a coincidence, but now we make an effort to grab sushi on the last day of each year). Then we just write the date and the place on a chopstick that we take home from the restaurant and corral them all in a pretty vase to keep track of all the delicious meals we've shared to usher in the beginning of each year together.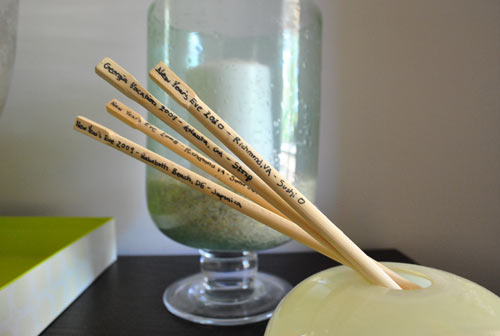 We're back to wedding paraphernalia, and this time it's two stacks of cards that our beloved friends and family filled out for us. The pile on the left is actually a collection of RSVP cards that people sent back with adorable little notes on them to share in the excitement. And the pile on the right is a stack of sentiment cards from our wedding day itself (instead of signing a guest book we asked people to share advice or just leave a simple message on these DIY voice bubble cards that we printed out in our wedding colors). Flipping through each stack from time to time is definitely something I really enjoy- and I often find different cards on top of each pile to indicate that John has been flipping through them as well. Even those quirky wood block printing letters (picked up at a flea market) remind us to stop and smell the roses when it comes to our relationship.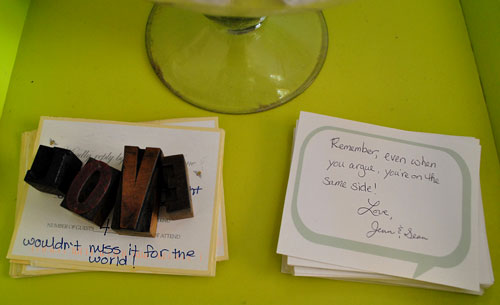 Another cute little tradition we've kept going is sending ourselves a postcard whenever we travel. It's a great way to record special memories from the trip – like restaurant names, and activities that we've enjoyed. And instead of tucking them away in a box in the closet, we drop them all into a glass vase on the fireplace mantel in the den that we can glance at to remind us of all the fun places we've experienced together.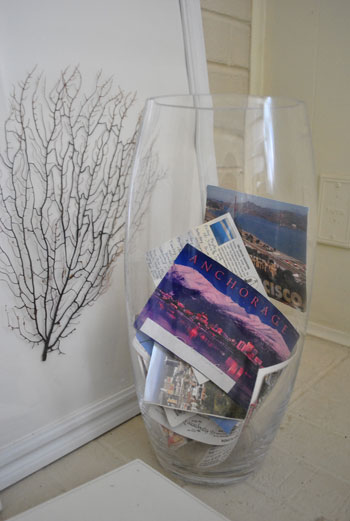 This is an example of a simple purchased item that makes us feel all warm and fuzzy when we gaze at it. We snagged this print a while back for $35 including shipping, and the soft "thistle" color really complements the sandy-gray paint on the wall of our living room. John is a typography freak, so he adores it for the graphic nature of the print. And I love it for the oh-so-sweet message that we see every time we step in the front door.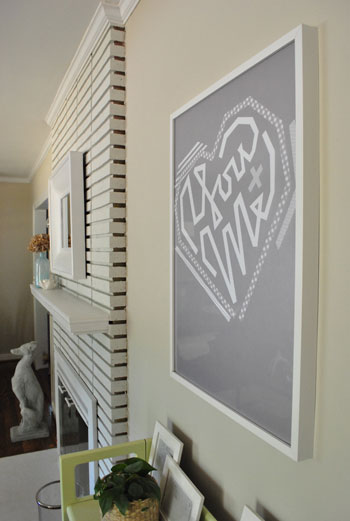 Next we have yet another little typography-based collection of two. When we spotted each of our initials at a local shop a few months back, we had to have 'em. Especially because they're white and ceramic (and we all know how much I love anything white and ceramic- like those birds in the background). Sometimes when I'm watching TV I find myself staring at our initials adoringly- kind of like a fifth grader who scribbles the name of her crush over and over again in her notebook. Sure it's sappy, but it's amazing how tiny reminders of our union like these can be so touching- and they really make a room feel extra personalized and special.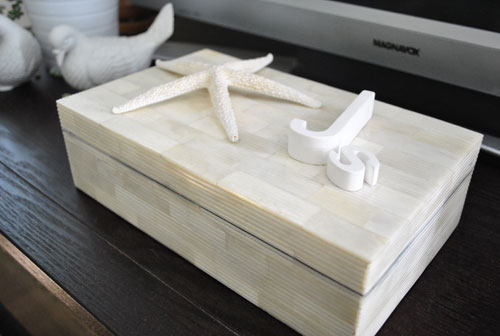 Next we have the vintage map (from 1907!) that I scored for cheap on eBay and mounted in a frame without the glass on top of a piece of cork board that I picked up at Target. It was a Christmas gift for John a few years back and it's been quite a hit. We just use simple map pins from Office Max to track all the places we've been together, from the California road trip we enjoyed a few months after we started dating to the big 40 hour drive to and from Texas that we tackled last summer. Check out a video of that crazy trip here.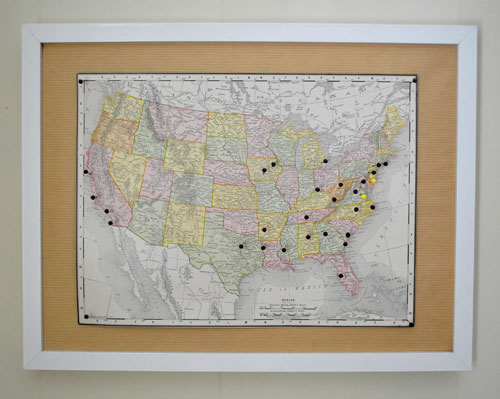 And recently we added yellow pins to the mix to indicate the places that we've been with Clara. In fact she's already enjoyed a trip to the coast of Delaware (and she's a great little traveler… thank goodness!).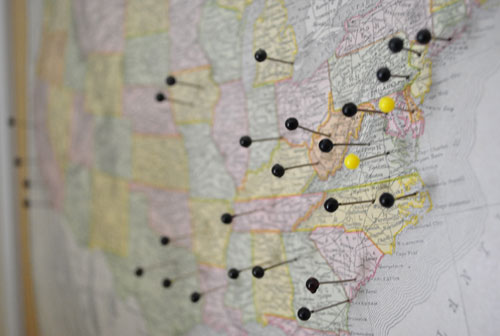 We can't forget the framed keys that I whipped up for John to celebrate all the places that we've lived since we began dating five years ago. The first key is from John's Upper West Side apartment and the second is from my apartment in The Village (where we each lived in 2005 when we met). The third key is from our first shared apartment here in Richmond and the last one is the key to our current casa (both from 2006 when we packed up and moved to Virginia).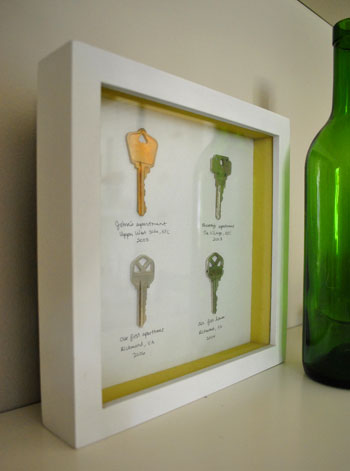 And it was super easy to make (after I begged John's old roomie to send a copy of his key my way to complete the collection). I picked up an affordable little shadow box from Target and simply adhered each key with a few dots of Liquid Nails and scribbled the location and date of each key underneath. To this day it's one of our favorite items in the entire house. The keys are like fun little artifacts of our relationship.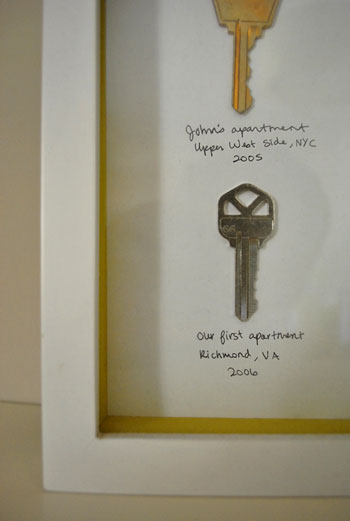 We also filled the sliver of space above our bed with personalized initials which say "J", "and" (in sign language), and "S." This free project just called for a bit of googling around for initials we loved (which we customized in Photoshop and printed right at home). Then we popped them into three already-owned Ikea frames that we knew would be perfect for the space.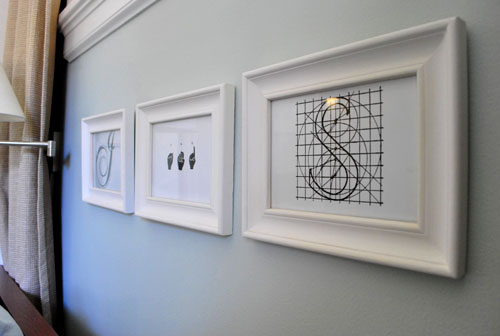 We love that they even indicate which side of the bed we sleep on. Sweet.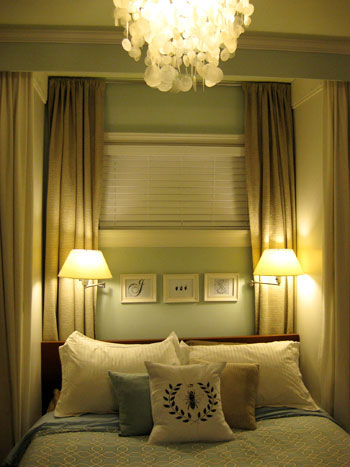 This next project is a more recent one that we shared with the big bathroom makeover. We loved the idea of some DIYed "vintage"signs to fill up some wall space in there, but when it came to what the signs would say, we wanted them to have meaning to us. So since we worked right near Grand Central (where we met) and had both lived in Astoria, Queens at one point, we decided that selecting those locations for our homemade signs was the way to go. Now they're connected to so many memories, and the fact that we made them together also feels more romantic than anything we could have picked up at the store. Learn more about how we whipped them up here.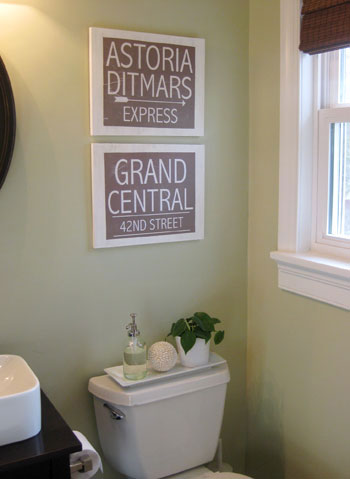 Here we have a customized calendar that we made at the beginning of this year. We decided that nothing would feel more personal and sweet than picking a quote that we love for each month of the year. And while some are just plain weird (like April's "You look like a rabbit" and June's "And then he ate my brain"), some are downright sweet (like July's "I do" in honor of our wedding month). Check out the whole calendar making process and download a free template to make your own here.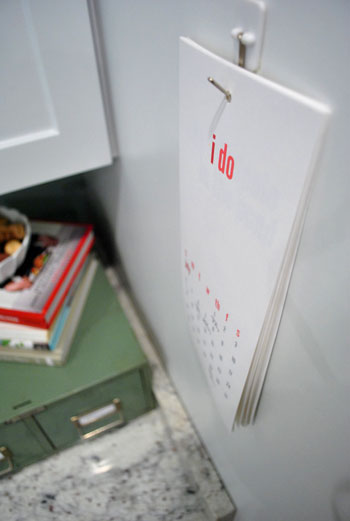 Here's another NYC related item that brings us back to the good old days of strolling hand in hand through Central Park or Washington Square Park together. We actually received a box of New York City Walk cards as a gift, and after we moved to Virginia we decided that instead of keeping those cards in a drawer we should frame a few of our favorite walks from back in the day. It was super easy to pop them into inexpensive Ikea frames, and we love that they remind us of time spent together during our courtship in the big apple.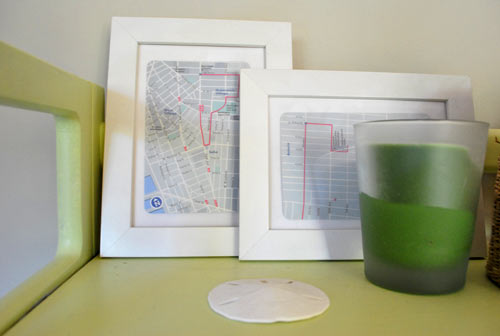 Lastly we have our little vacation jars, which are filled with everything from a hot stone from a massage that we enjoyed on our Alaskan honeymoon to shells, sand, and even a Metrocard from our trips of yore. Simple fifty cent canning jars become charming time capsules when you fill them with items that you've collected on each journey and label them with the location and date written on a piece of clear tape in the front of each one. It's such a cheap-o project, and they're another set of keepsakes that never fail to elicit complements and interested glances from friends and family. Plus it's always fun to pick up things for each jar while we're traveling and sift through 'em to select only the best of the best when we get home.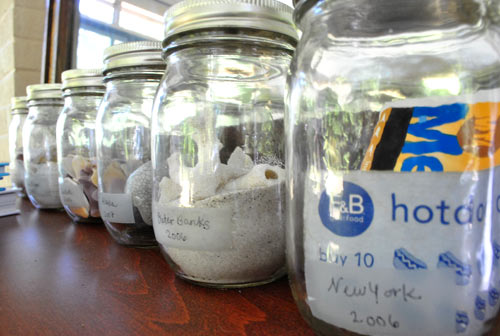 So that's how we do our best to inject some romance and a bit of customized personality into our humble home on the cheap. What do you guys do to commemorate special events when it comes to home decor? Any frame collages of family members? Or collections of magnets from trips you've taken together? Do tell.
Psst- For more DIY art ideas, check out our How To page (see that tab under the header?) and scroll down to the "Artsy Ideas" category.
Pssssst- As good as John and I think we are together, Burger and Clara have us beat. They're the cutest little pair that ever lived. See for yourself here.

&nbsp
One project Sherry and I have been especially excited about for the office is the art. The big blank wall above our desk had us thrilled at the possibility of making something cool AND paralyzed thanks to that "what the heck do we do?" question that loomed in front of us. Actually, as of a few days ago, we were feeling more paralyzed than thrilled. Sherry and I were officially stuck. We just couldn't agree on art that appealed to both of us. So because we get lots of emails asking how we solve decorating disagreements, we thought sharing the process that got us through this little art stalemate would be a good exercise. Here's the whole sordid play by play…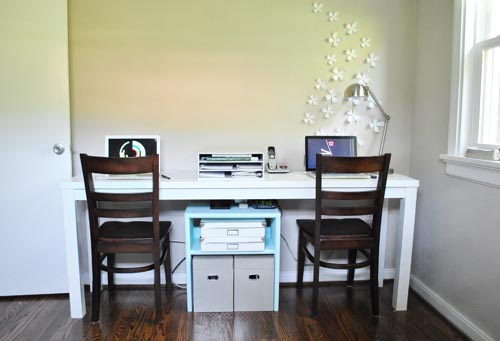 When it came to that blank wall above our desk (that we'd be staring at for at least 90+ hours a week combined) we both agreed that we wanted to DIY something (surprised?) and we thought it should be in the green/blue palette that we already had going on with our sleeper sofa and our customized bookcase. We also agreed that we didn't want to do another big frame collage like the asymmetrical one in Clara's room or the more balanced one above the console table in the living room and above the couch in the den.
But beyond that point, we weren't really seeing eye-to-eye at all. Sherry thought one big piece on the whole wall would be best. I felt like two or three items might suit us better. Sherry leaned towards a photograph. I leaned towards a painting or illustration. I wanted to leave the wallflowers. She thought they should be moved to another wall in the room. And since our attempt at talking it though was getting us nowhere, we decided we needed to help each other visualize every possible idea (we're both really visual people). So here are some of the techniques that we used:
Exercise 1: Collect A Digital Inspiration Folder- One of Sherry's favorite things to do is to troll the interweb for inspiring images. Once she had collected a pretty decent range of art ideas – including a few that fell more in my preference category – we were able to flip through them to see which ones agreed with both of us. And while there were lots of strong contenders, none felt like "the one" (or at least "the one we could afford").
Exercise 2: Go Where The Art Is- We may be too cheap/DIY-addicted to buy a "real" piece of art, but that doesn't mean we were above finding inspiration in a bona fide art gallery. And lucky for us, the new-and-improved (and 100% free!) Virginia Museum of Fine Arts recently reopened its doors here in Richmond. So with Clara snug in her Ergo carrier, off we went to be wowed. The new building was definitely a wow in and of itself, and we did come across a couple of inspiring pieces – including this one from local artist Heide Trepanier.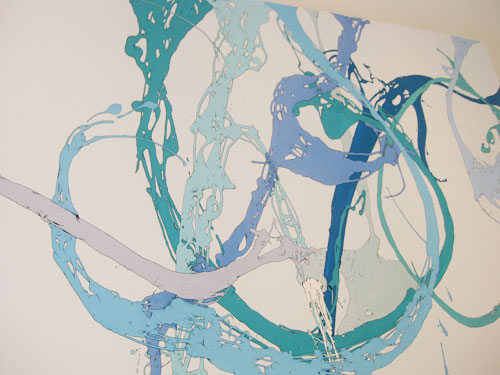 I'd actually admired Heide's work since we first spotted it in our local Saks Fifth Avenue back in 2006 (it hung in the dressing rooms where Sherry was trying on white summer dresses for our wedding- another sweet relationship reminder). Heide artfully tosses acrylic or enamel paints in motion-filled lines, then outlines them in black. We definitely couldn't afford an original, but I though we might be able to create a decent piece of our own inspired by hers. Alas, I couldn't quite convince Sherry that it was the perfect cure for our bare wall (even though I was pretty sure we could pull it off, especially with her fine arts background).
Exercise 3: Find Art In Everyday Places- Thankfully, art doesn't only live in galleries. So for the last few weeks we kept our eyes peeled every time we walked into a coffee shop, restaurant, or home store to see if whatever they have on their walls might look good on ours. We bumped into one especially beautiful piece when shopping during our vacation last week to the Delaware shore (yep, surprise – we were blogging from the beach last week – it was Clara's first trip to the ocean!). Anyway, here's the beachy blue-green painting we spotted at a fancy shop called Tulip. It definitely had us saying "maybe we can do something like that." But again we just weren't (in the words of my wife) 100% smitten.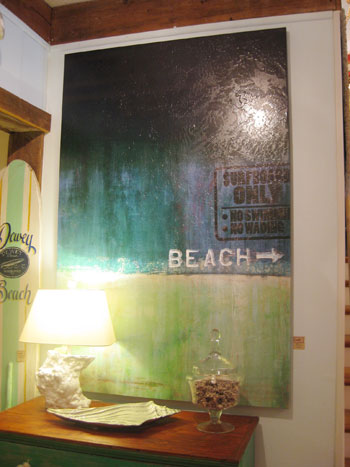 Exercise 4: Look Around The Room- Since leaving the house didn't seem to be solving our problem, we also tried to find inspiration right in our own office/playroom/guest room itself. We already knew we wanted our art to somehow work with the blue-green color scheme that we had going on in the room… which could be why the pattern on this West Elm pillow caught our eye during our in-room inspiration hunt. Perhaps we could make a nod to the graceful arches in a large scale piece of painted wood that we'd hang on the wall? The only problem is that neither of us could decide what scale we should make the pattern when translating it onto the wall (we feared going too small with the scales would be too busy while making the scales too big might be a bit too bold and headache-inducing). So we begrudgingly moved on.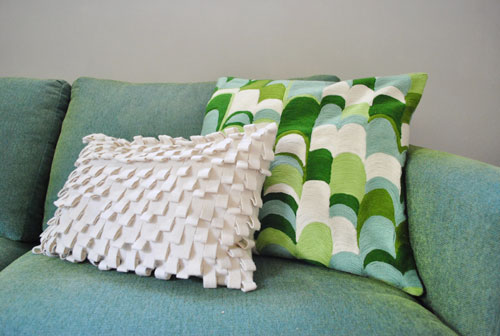 Exercise 5: Turn To Our Own Readers- Of course we also absorb a ton of inspiration from you guys every day! Between House Crashings, Reader Redesigns and all of the items you post on our Twitter and Facebook pages, we couldn't ignore your own amazing makeovers as a potential answer to our big art dilemma. And one solution in particular that seemed like a good fit for us (especially given my nerdy love of maps) was Kate's playroom makeover. We thought a giant roll-down blue and green map like this would work within our palette, and we could even trim it out on the wall with molding like Kate had done (or adhere it to a large thin plank of wood for a vintage-sign look like the art that we whipped up in the bathroom). Our only hesitation was that we already had some mappiness going on in the den. And we still didn't get that "yesss- this is it" feeling that we were waiting for. On to the next idea.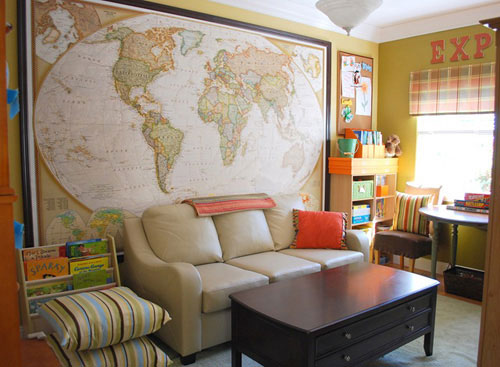 Exercise 6: Mock It Up- With so many ideas floating around in our heads, we figured one of them was bound to work if we could just see it in the room. Here's where Photoshop came to our rescue. We used an old pic of the desk (before adding the file storage) and went to town making some rough mock-ups of what some of our ideas might look like (rough being the key word).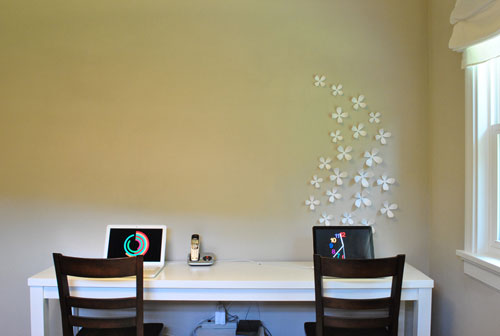 First we decided to explore an idea inspired by the abstract-yet-colorful painting that we spotted in that shop in Delaware. We quickly threw this together in Photoshop (and even played around with the idea of marking it with an anniversary-inspired number 7). I also left up the wallflowers that Sherry wanted to move (since I wanted them to stay) just to keep things diverse and exhaust all possibilities.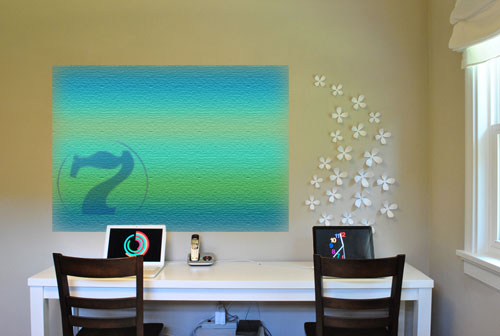 But it just wasn't doing it for us. Maybe a poor first attempt at Photoshopping was to blame, but our quick visual was enough for both of us to kill the idea (hey, at least we were unanimous!).
Then we came back to our pillow-inspired pattern idea. Maybe we could mix things up and do a long narrow piece instead of a big overwhelming rectangle?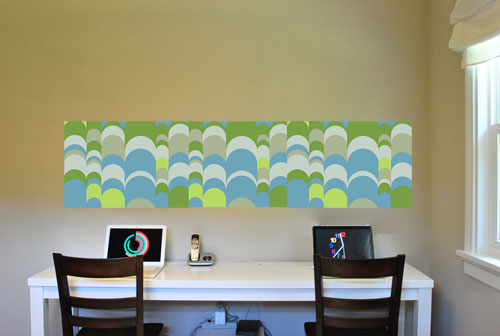 But as intriguing as this little exercise was, I was able to convince Sherry that it isn't interesting enough to stare at all day, everyday. Plus something that repetitive and busy might make a chaotic workday feel even more overwhelming.
Next we were on to the map idea, courtesy of a sample found on AllPosters.com (which we blew up and photoshopped on the wall). It struck us as a lot more interesting to look at than the scale-y pillow pattern, but neither of us (me especially) could quite fall in love with the idea thanks to our US map that already lives in the other room. Though the idea of simply hanging a poster and then framing it with molding was a tempting DIY project.
So we were left to face a nerve-wracking scenario: all of that brainstorming had come and gone, and we still couldn't agree on what we should spend our time and money DIYing. That's not to say that the process of hunting for ideas together and mocking things up to deliberate over the possibilities wasn't helpful. Because it really, really was. It magically turned our "I'm right and you're wrong" debate into a "we're both wrong" sense of agreement – mainly because we were able to clearly see each others' ideas and discuss them more intelligently than any "trust me, a huge painting will look the best" reassurances that we could offer.
But while it was good for our relationship, it still did nothing for our big empty wall.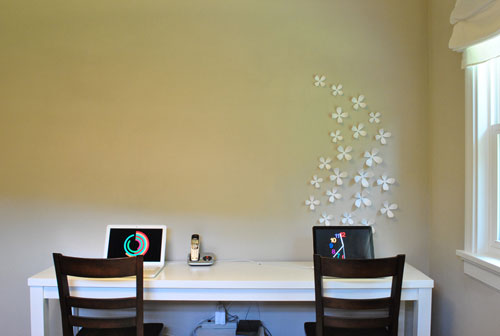 Then we learned what was perhaps the most important lesson of this whole scenario. As much as hunting for inspiration can work, sometimes it just has to fall into your lap. Even if that lap happens to be pantsless.
Let me explain. While at my parents' beach house last Friday, I stepped out of the shower and spotted a recent issue of R. Home, our local home decor magazine. And would you believe the word that was staring right back at me?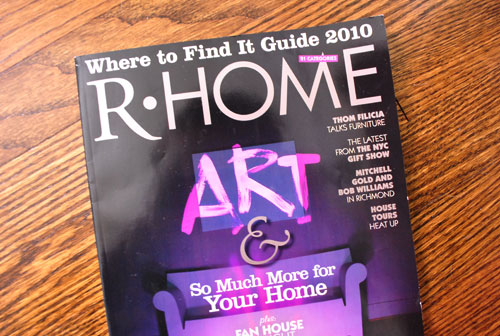 So I picked it up. And (after drying and dressing) I took my find to Sherry and we started flipping through the pages in hopes of spotting something that caught both of our eyes. And a mere ten pages from the end of the issue, one image did just that. OH HAPPY DAY.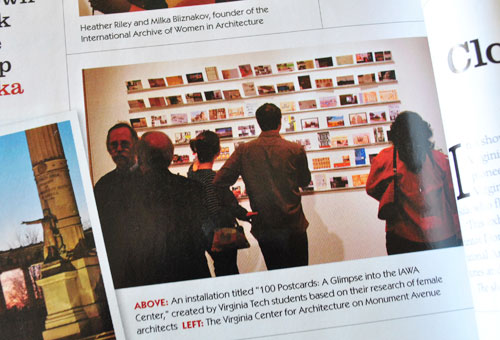 It's actually a photo of an architecture exhibit at Virginia Tech, which features 100 postcards that appear to be leaning on some sort of thin ledge. Sherry and I were both immediately attracted to the big impact that the display had as a whole. And we also loved the idea that (when adapted to our house) it would be the perfect cure to our indecision: we could display several photos, postcards or small art prints and we could change them out if we ever fell out of love with any of 'em. Plus, we didn't have to 100% agree on everything (if I don't like one of Sherry's pieces, it can just sit on her side of the ledge).
We were surprised that in many ways this final decision is the polar opposite of what we both thought we wanted (it's nothing oversized or super bold, but the sum of its parts equal something so special and personalizable that it totally screamed "the one"). Plus in some way it fulfills all of the things we both wanted (we can incorporate photographs and abstract art and typography and on and on). Yup, we're both totally psyched to get down to business. And everything from making the shelves, devising a hanging system, and coming up with dozens of pieces to display on the wall (with enough weight to keep them from blowing around) should be tons of fun. In fact, assuming all goes well, we'll have that update for you in a week or two!
Have any of you ever felt stumped on a shared project? Do you have any other tips or processes you'd like to share when it comes to overcoming a decorating disagreement? Oh and feel free to toss out additional sources for art inspiration for everyone who's struggling with a similar art dilemma.
Psst- Wanna follow the entire office/guest bedroom/playroom makeover? Click here for the intro post, here to read about the big sleeper sofa hunt, here for the DIY desk play-by-play, here for the homemade light fixture project, here for our hacked Ikea bookcase, here for the file storage we built, and here for how we squeezed in some toy storage.
&nbsp