In honor of wedding week we whipped up a romantic bedroom mood board just for fun. So if you and your other half are looking to spice things up in the bedroom (er, in the decorating sense of the term) just check out a few of these charming and wallet friendly items.
1. Colors like light and dark plum, brown, mocha, soft teal, and hammered gold make for a romantic and welcoming boudoir. And when it comes to a wall color that we're imagining for this space, anything from a soft lavender (Benjamin Moore's Violet Mist 1437) to the warm sand color shown behind the headboard above (Benjamin Moore's Dellwood Sand 1019) would look lovely.
2. Necklaces and earrings never look more ooh la la than when they're dangling on a wall mounted jewelry holder- especially when it's shaped like a sweet little bird cage (and costs just $28 beans).
3. A personalized $30 Etsy print with you and your honey's name (and even those of your children if you've got 'em) can add more customized whimsy and charm. Plus those blue-green leaves tie in perfectly with this room's color palette.
4. Matching end tables flanking the bed with these babies hanging above each of them will frame out the bed and make for some super romantic ambiance. And at $48 a pop they're cheaper than nearly all other chandeliers we've seen.
5. This luxe tufted headboard (originally $600 but now on clearance for $269) has sexy curves and detailed button tufting that adds a soft and enveloping vibe to the space, especially when paired with the patterned bedding we dug up.
6. This large champagne colored mirror will add a bit more glitz to the space without stepping into Donald Trump territory. And mirrors always bounce light around for a soft come-hither ambiance that bright overhead lights just can't provide.
7. Nothing whispers kiss me like a paisley loveseat, right? This one pairs perfectly with everything from the tufted semi-formal headboard to the plum patterned bedding- and it looks like a nice place to sit and smooch for a spell. Plus a seating area in the bedroom always feels kind of indulgent if you can squeeze it in.
8. This organic plum patterned duvet (on clearance!) is geometric enough to please most males without stepping into the dreaded "floral" category of textiles that has most guys exercising their right to veto. And adding some breezy white curtains (Ikea's Vivan panels are $6.50 a pop and oh so sweet) along with a plush 8 x 10 rug (anything mocha, chocolate, or even cream would work) will complete the look with style to spare.
So there you have a romance-inspired bedroom in a box (well, a board) for anyone who's looking to feather their love nest. And speaking of romantic touches, what do you guys associate with love when it comes to home decor? Scented candles or a flickering fireplace? Pink tones and ruffled textiles? Plush flokati rugs and velvet curtains? Framed photos and other personalized memorabilia? Do tell.
&nbsp
It was really fun to read about all of the smitten betrothed people on this week's wedding-themed giveaway from sister sites Two Paperdolls and Louella Press. We hope you all love being engaged and adore your big day. And hopefully, at least for one of you, this week's prize (a free set of custom letterpress invitations) will be a beautiful part of making that dream wedding come true.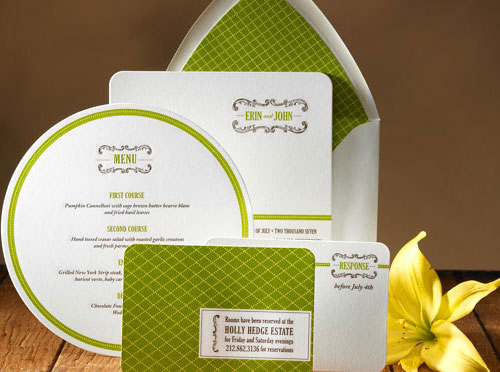 The great news is that even if your name didn't float to the top this week, Louella Press is offering all YHL readers 20% off any wedding invitation order of $750 or more for the entire month of July. Just mention Young House Love when calling or emailing to snag the discount. By our math, that means you can save at least $150. Score!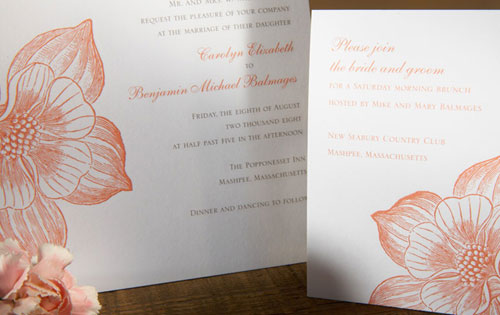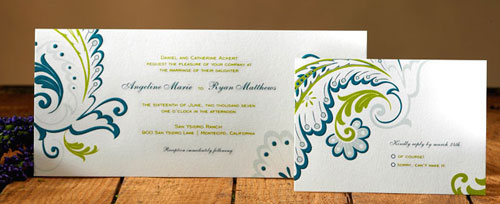 But since it's not ever a wise move to make a bride wait, I guess I should get on to naming a winner. After asking random.org who the lucky lad or lady is (on bended knee of course) we learned that our big winner is… Pippin (who's getting married at a Colorado destination wedding next summer). Congrats! And best wishes to you and your soon-to-be-spouse.
Oh and don't worry if you didn't snag the big prize this week, on Monday we're back to non-wedding themed loot, and let's just say there's some pretty cool booty to be had (and yes, there's a clue in there somewhere). Stay tuned…
See more info on our Giveaway FAQs page. Pics courtesy of Two Paperdolls & Louella Press.
&nbsp