Ok, so between all the pics and video tours you may think you've seen every inch of our house. On the contrary our dear readers. We have an entire room that you've never been privy to.
Until now.
You see, under our sunroom is a private entry basement. This means that the only way to get there is to walk outside and down a few steps.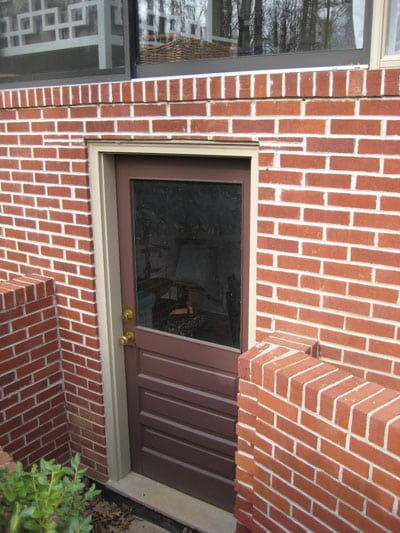 And since it's not exactly easily accessible (or easily seen) we've been using it as more of a dumping ground than an extra room. We hesitate to show you the chaos that inhabits our little basement, but here it goes: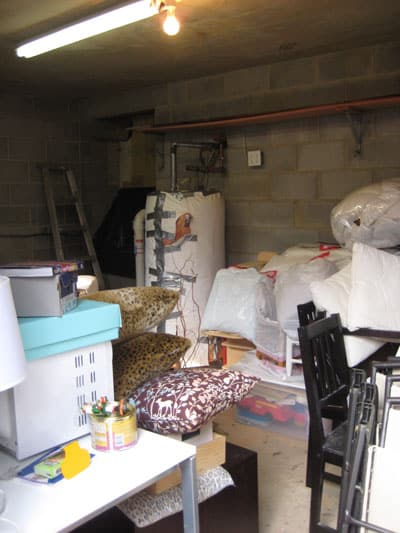 Now granted, this isn't exactly a finished room, so I'm sure lots of people would use it for storage but it's totally out of control. We can hardly walk halfway into the room anymore. But the reason we've stockpiled so many items in this tiny space is that we've been planning a garage sale for over a year now. And now that we've finally picked a date (Saturday, April 26th) we have to get our act together.
This is where you guys come in. Does anyone have any good garage sale tips? Everything from advertising to pricing would be helpful so please let us know what's worked for you. In return, we'd be happy to show you some after pics once we get the room under control. Of course we have big plans for the bonus square footage- lots of paint, new lighting, a cozy rug, a screen to cover the ugly water heater, and some furniture. So be sure to stay tuned…
&nbsp
Here's a quick steal for those of you looking to spice things up in the kitchen without having to actually turn on the oven. Get your mitts on these festive scalloped bowls.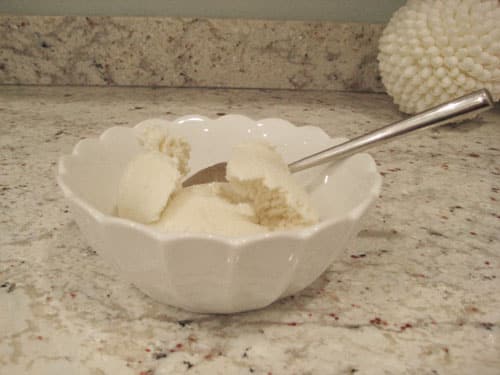 We recently picked 'em up at Target for $3.99 each. Where else can you get something decorative, fun, and perfect for entertaining for around 16 bucks for a set of four? You can set 'em out as candy dishes or use them to serve up ice cream sundaes…
… and they look just as good when they're not in use. Check 'em out on the second shelf of our glass front cabinet.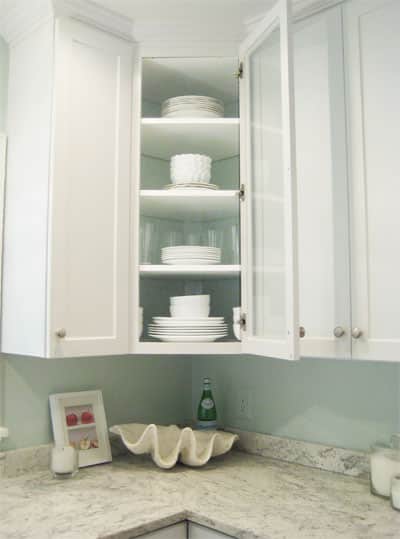 It's always nice to know we're in good company. Our friend Nicole from Making It Lovely mentioned that she recently picked up the exact same ones. I guess great minds love pretty china.
&nbsp
At a recent open house, our suspicions that a last-minute countertop switch saved our kitchen were confirmed when we saw this kitchen with a granite countertop in Blanc Noir- the style that we almost chose: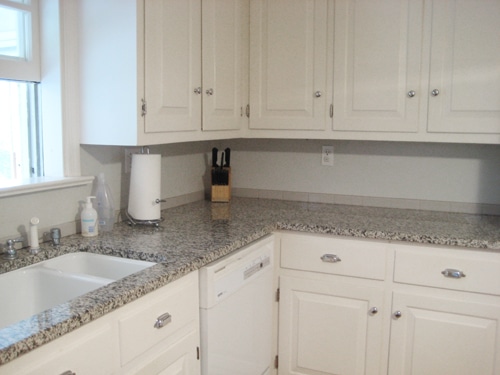 In fact, we did choose Blanc Noir, but when we viewed the full slab (as opposed to a tiny sample that Home Depot provided) we pulled a last minute switcheroo from Blanc Noir to Pashmina. And this open house kitchen was all the proof that we needed to be sure that we absolutely without question made the right decision. Here's our granite counter in Pashmina for comparison: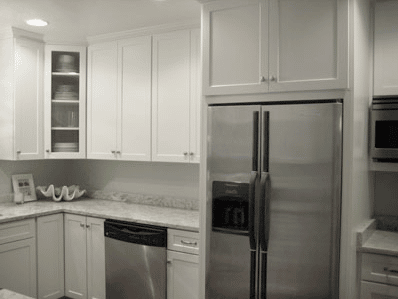 Our fears that the Blanc Noir granite would be more busy and patterned (at one point we started calling it dalmation-esque) were absolutely confirmed. We're so glad we went with the more subtle and veiny (as opposed to spotty) Pashmina- and although it was slightly more expensive, the high end marble-look is worth every extra penny.
Let this be a lesson to all of you in the process of picking out a counter- be sure to check out the giant slab at the stoneyard! The mini samples of each of these styles looked extremely similar, but when we saw a big slab of each of them they couldn't have been more different. Whew.
&nbsp