Oh sweet victory, our much debated office art project is done and I'm here to spill the beans about how it all went down, er, up. After all, we already gave you this no-detail-left-behind play by play about how Sherry and I fiiiinally agreed to base our design on this gallery postcard display that we spotted in Richmond magazine: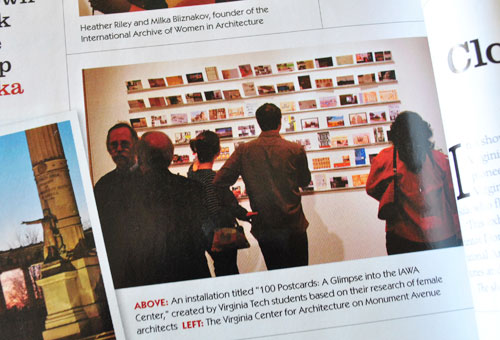 The project was pretty darn easy and actually really fun to do, especially after some of you suggested that we collect reader-submitted postcards from across the globe to fill our wall with an ever-changing arrangement. That suggestion really made trips to our PO Box a lot more exciting than usual. So thanks to everyone who sent a postcard our way (from a bunch of exciting places like Hawaii, England, Spain, Canada and a slew of other spots in the lower 48).
The gallery-inspired shelves started with a trip to Home Depot (Clara's very first!) to buy supplies. And boy were some of our orange-apron-wearing friends excited to see the tiny human who lived it up in Sherry's belly for all those months. But back to business. Based on some measurements of the wall, we determined that we wanted four rails above the desk, each measuring 64″ long (we used blue painter's tape to mark where we wanted them and how long they should be – it's such an easy way to try out a few zero-commitment arrangements to land on something you love).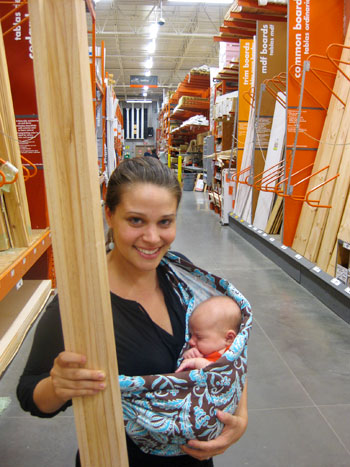 So with our trusty measurements in hand, we snagged some simple 1 x 2 pine boards for about $4 a pop, plus a bunch of screws and anchors (which I'll talk more about later). In the end this would be the only cost for the entire art wall project, bring the grand total to under 25 bucks. Not bad for filling a giant expanse of wall, right?
And although we once had visions of taking a more complex narrow-shelf-with-a-raised-ledge approach, that all went away when we realized this was the perfect project to break out my Father's Day present: a Dremel Trio. Sherry must've seen me lustily eying it every single time we entered any home improvement store (I'll admit that I lingered a bit each time), so she surprised me with the $99 tool for daddy's day (even though I didn't have a specific sanding, routing, or cutting project in mind). I like to call it fate.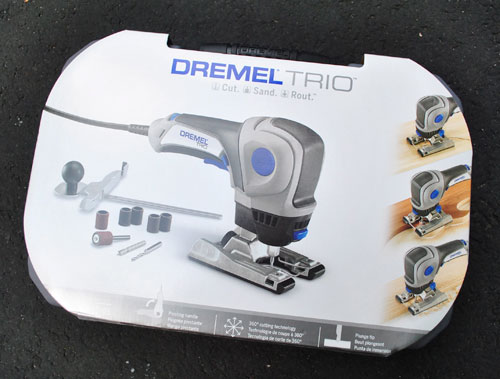 The reason the Dremel would be perfect for this project is because it would allow me to route a small straight groove along each of my four pine boards, creating a perfect spot for postcards and other small art to rest. But before breaking out my new tool, I used an old friend (the miter saw) to cut my four 1 x 2s to identical 64″ lengths. Note: you can have this done at the home improvement store if you don't have a saw on hand.
Then, despite my enthusiasm to begin Dremel-ing, first I decided to read the directions and (more importantly) do a few test runs on a scrap piece of wood. Thank goodness I did, because I spent about five minutes trying to route with the cutting tool. D'oh. I also learned that the Dremel really likes to pull to one side, so making straight grooves posed a challenge. But thankfully it was a challenge that could easily be overcome by using the metal guide included in the set. Disaster averted.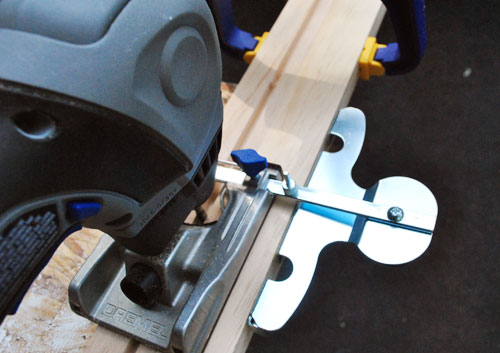 The adjustable guide let me set exactly where I wanted to make my grooves. Although I did hit one snag in that the 1 x 2 boards were thinner than the width of the Dremel. So to use the guide I had to clamp two boards together. No biggie.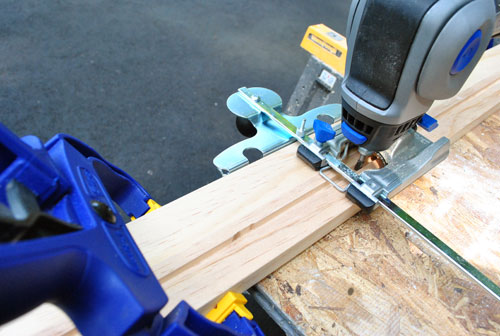 With everything clamped I set my guide so I'd make my cut about a half inch from the outer edge and I set my depth to about 1/3″ inch.
I found the Dremel really easy and fun to use, and once I had everything set and had practiced my system of moving clamps as I went (since they would eventually get in the way of my routing path), it took me about ten minutes to do the remaining three boards.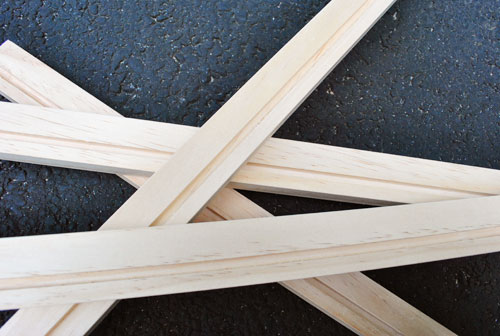 With everything cut, I did a quick sanding job to smooth everything out (by hand, not using the Dremel) and then applied one coat of primer followed by one coat of semi-gloss white paint. Sherry and I discussed staining them a dark wood tone or even painting them a color, but ultimately decided they weren't the stars of the show so the white would help the postcards pop best while making the shelves feel architectural (like the white trim and crown molding in the room).
Then we could move into the installation phase of the project. Again we discarded any complex ideas about hiding the screws and decided we'd just screw straight through the boards into some anchors in the wall (and then roughly disguise the screwheads on the front of each shelf with a bit of white paint). Since the boards were pretty light, just 2″ deep, and would be holding postcards, we weren't too concerned with them being able to bear any intense amount of weight. So our weapons of choice were some long 2.5″ screws and a pack of drywall anchors (since only about 1/2″ of screw would be sticking out the back end after it passed through the 1 x 2, we had to buy a separate pack of smaller anchors).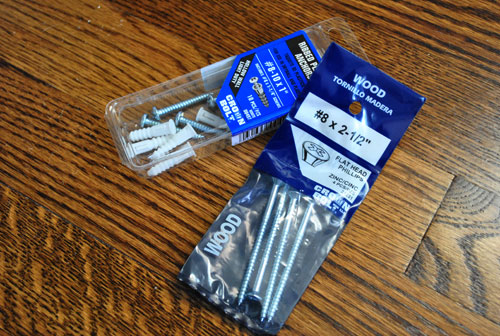 We opted to go the anchor route (instead of finding studs) so we could place the semi-visible screws evenly across the front of the 1 x 2s. Speaking of which, I took my first board, measured an even spacing for each of the four screws and marked spots to drill my pilot holes. Thus would begin my somewhat intricate one-person system of hanging these suckers. Sherry had already helped me mark a level line for the bottom shelf before Clara woke up (phew) so I was able to hold the shelf in place and then re-drill through my pilot hole far enough to make a small mark on the wall. After following the same process to mark the rest of my holes, I put the shelf down, drilled the rest of the holes, and placed the anchors.
Now here's a little trick I like to use when doing these things. Trying to screw the rail in place by myself could be a nightmare in terms of lining up the holes to the anchors. So instead I put the screws through each of the four holes in the 1 x 2's on the ground, allowing the screw tip to poke through the back of the shelf, just a bit. Then when I held the shelf back up against the wall and attempted to line it up with the anchors that I sunk into the wall, I could feel when the screw tips fell into place (plus it helped to keep the shelf from slipping while I one-handedly tightened all of the screws into the anchors in the wall).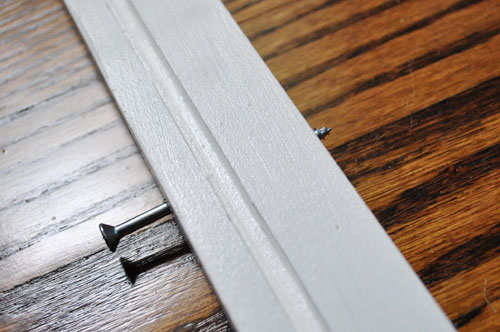 Hanging the first shelf was pretty easy (heck, it almost stayed in place with just one screw). But getting the other three to be straight and evenly spaced required a game plan. Sherry and I had decided that we wanted the four shelves to be nine inches apart to allow enough breathing room for a vertically placed 5 x 7″ piece of art on the shelves. So to measure my nine inch increments I vertically leveled a yard stick and employed some blue painters tape as my second pair of hands to hold it in place while I marked the wall. I did this for each of the four vertical spots that I'd be placing a screw to make sure all of my anchor points were lined up and evenly spaced.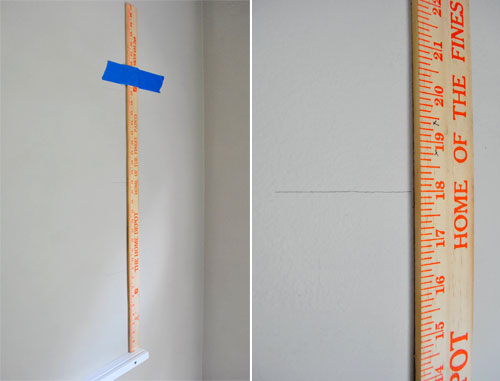 I spare you the rest of the process since it took longer than I expected, especially since I double and triple checked a lot of my measurements. But in about 45 minutes I had all four of the shelves hung. And wouldn't you know it, they were perfectly level and extremely secure. Phew!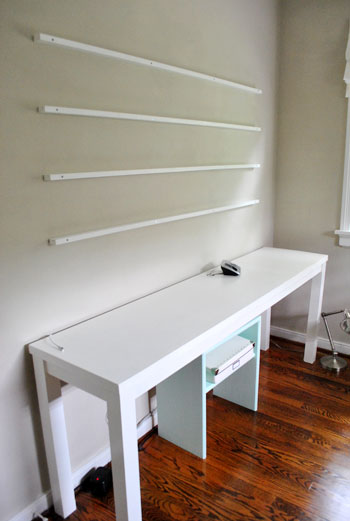 Then all that was left to do was to populate the shelves with postcards and other postcard sized artwork. And thanks to a bunch of you, we had plenty to choose from! We also peppered in a few photos, cards, and other miscellaneous items that we liked (from flattened foil chocolate wrappers with sweet quotes on them to art that we cut out of magazines and backed on cardstock to create a postcard-esque weight). Here's a shot of what it looked like yesterday afternoon (after a trip to the PO Box- thanks again to everyone who sent cards our way!).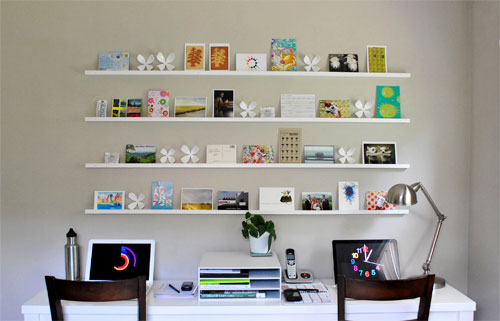 You'll notice that a few of the displaced Wallflowers made it back up on the shelves. Oh and we found a new spot for the rest of 'em too, which we'll share in our next office progress post. But for now we're happy to bask in the glory of this project: the big intimidating blank wall is no more. And we finally have a rotating wall of eye candy to enjoy (and switch up whenever the mood strikes).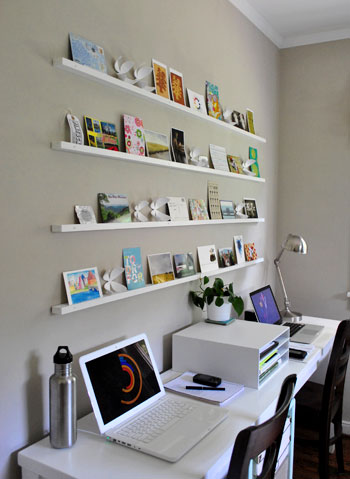 Heck, it'll probably look different by the time we post our "big reveal" photos of the whole room.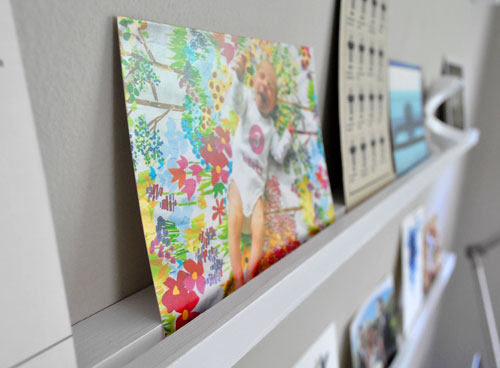 We know some of you are wondering how we're going to keep things from blowing off of the wall. We haven't devised a system for that yet, since it's not a problem that we're going to encounter 'til (at earliest) the fall when we might throw open a window or two. But when the time comes we're thinking of possibly backing things on hefty mat-board to keep them from budging in the breeze, or even using that removable blue sticky tack to keep the backs of the cards adhered to the wall (other ideas we flirted with: magnets or even velcro). Ultimately we don't want to do anything too permanent because it defeats the ever-changing nature of such a project. We promise to keep you posted if we find that we have to implement any of those stay-in-place strategies.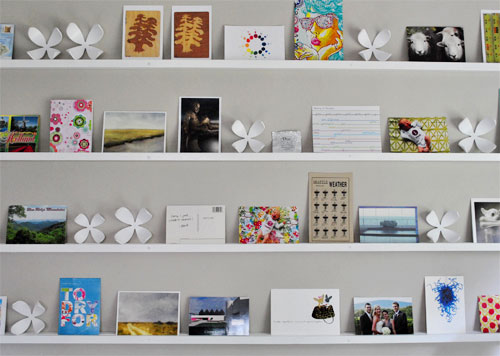 Thank you again to everyone who sent us postcards. It's been such a sweet byproduct of this art project and we're very grateful. We plan to keep a stash of all of them so we can continually rotate them out (so if you don't spot yours in these pictures it'll definitely still be enjoyed!). And if you want to add to the collection our address again is: PO Box 36665, Richmond, VA 23235. We'd love to hear from you!
But enough about us, we're wondering if you guys have implemented or otherwise come across any other interesting ways of displaying collections, whether they be 3-D or flat-ish (like our growing postcard collection). Any gallery-inspired art walls? Or shelves full of like objects (snow globes? Eiffel tower statues? garage sale oil paintings?). Spill it.
Psst- Wanna follow the entire office/guest bedroom/playroom makeover? Click here for the intro post, here to read about the big sleeper sofa hunt, here for the DIY desk play-by-play, here for the homemade light fixture project, here for our hacked Ikea bookcase, here for the file storage we built, here for how we squeezed in some toy storage, here for how we picked out some DIY art that we could agree on, and here for how we wrangled our wires.
&nbsp
***This giveaway is no longer accepting entries.***
If you're a Richmonder, you might've already deciphered that the Sunny mentioned in this morning's Reader Redesign is none other than local paint heroine Sunny Goode. Heck, even non-locals with a good memory might have picked up on it since Sunny's name has popped up more than once on YHL, like when we house crashed this Domino-featured home that sported Sunny's signature stenciled paint treatment on her floors: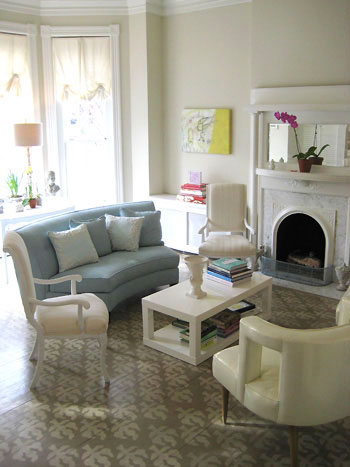 Or when we dropped in on her store, Sunny's Goodtime Paints, a couple of years ago: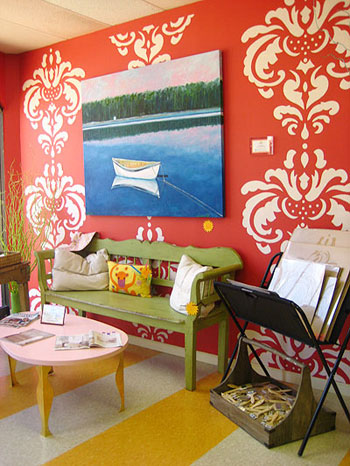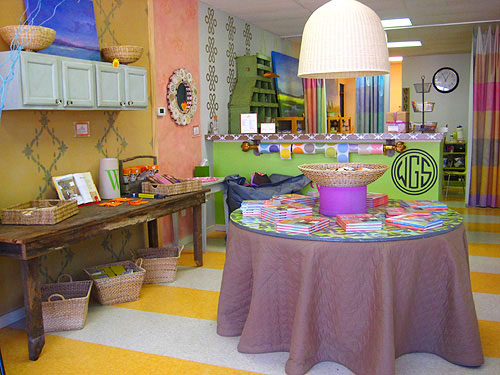 Plus we even got to sneak a peek of one of her newest creations: the floor at the soon-to-be open children's consignment boutique called Clover located in Richmond's Carytown district. Sidenote: we'll be showcasing even more inspiration from this stunning shop soon because it's chock full of awesome (and doable!) ideas.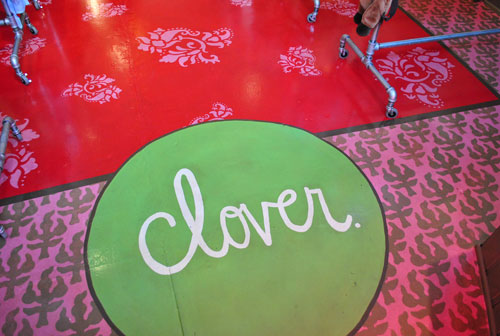 But in case you're still in the dark about just how talented and inspiring Sunny is, allow us to shine a little light on the subject. Sunny serves up a boatload of tools and inspiration to make your next paint job work a little harder when it comes to creating a more unique, playful, personal, and beautiful space. We know her best for her stencils, color washes, and stains- which can bring some much-needed pattern to a blank floor or wall. But she's also got monograms, decals, and even two books (Paint Can! and its kid-tastic sidekick).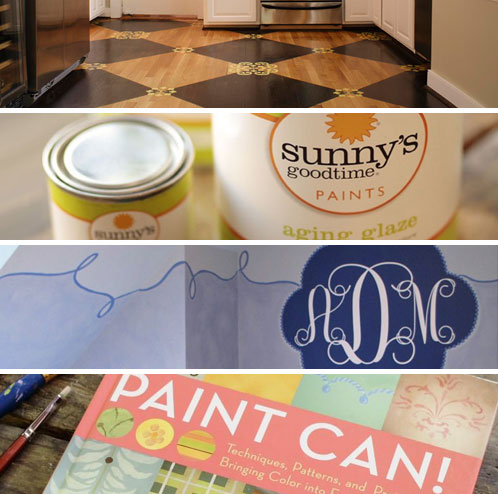 So because Sunny has so much fun stuff to dish out, we're excited to announce that TWO lucky winners will score an $100 shopping spree. So you have the chance to snag whatever goodies catch your eye on her site the most! And the rest of you will be able to cash in on a pretty sweet discount too (stay tuned for those details on Thurs). But enough jibber-jabber. Here are all the deets:
PRIZE: $100 towards anything from Sunny's Goodtime Paints
TO ENTER: Comment on this post with the words "SHINE ON ME!" and…
BONUS QUESTION: … help us get the creative painting juices flowing and share your favorite use of paint (whether it's something you've done or just something you've seen). Is it a surprisingly stellar color combo? An object that was totally transformed by a few brushstrokes? Or perhaps a painted pattern or stencil that really make the room?
GIVEAWAY CLOSES: Wednesday, July 21st at 8pm EST
NUMBER OF WINNERS: Two
PRIZE SHIPS: The lower 48 United States
USUAL STUFF: One entry per e-mail address is permitted. The winners will be selected using random.org and announced on Thursday. Good luck!
See our Giveaway FAQs page for more info. Pics courtesy of Sunny's Goodtime Paints.
&nbsp