Right around the time we announced that we were expecting there were a number of friends and family members who also revealed that they had a bun in the oven… and people always joked that there must be something in the water. The ironic thing is that ever since that bad joke popped up a few dozen times many months ago I've been wondering: what IS in my tap water anyway? Then I recently caught the end of a Dr. Oz show where he was talking about lead in your water- and when he mentioned that pregnant & nursing women need to be careful when drinking from pipes in older homes which could have lead (a very bad neurotoxin for developing babies) I practically spit the water that I was drinking out all over myself. Eeks! It was definitely time to get to the bottom of the whole what's-in-the-water mystery.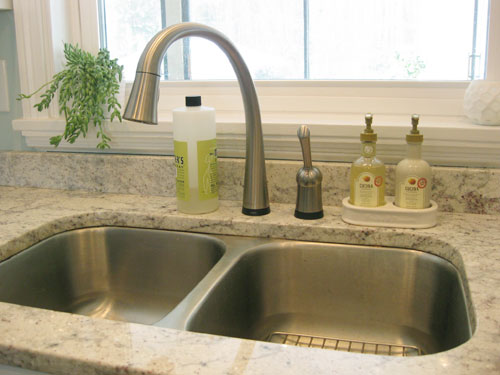 We had thought about the possibility of lead paint during our bathroom reno (you can read about a bunch of protective just-in-case methods that we used here) and even checked an old thrift store chair for lead after we decided to use it for our nursery (read about how we did that simple lead test here) but I can't believe I never stopped to think that our home's original plumbing might have more than just water running through it on a daily basis.
The good news is that after further research I learned from the EPA that "the age of your home is a major contributing factor. Older homes with plumbing installed prior to 1930 are likely to have lead pipes. In addition, plumbing with copper pipes installed before 1988 may contain lead solder. Today lead pipes and materials are prohibited from being used in plumbing that leads to drinking water taps."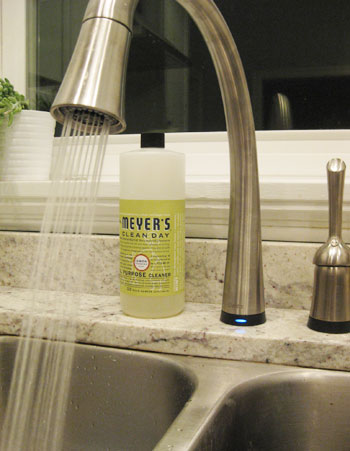 That's comforting to hear since our house is a product of the 50's and has galvanized steel piping (as opposed to lead or copper ones). But your home's pipes are only half the battle. Did you know that lead can actually be present in trace amounts in your city's water? Not the most comforting thought. Doctor Oz actually urged his audience to call their local jurisdiction and request a copy of their annual water quality report. Being the paranoid mother hen that I am, I was on the phone before Dr. Oz finished his sentence. For any locals wondering exactly who I contacted, I called the Commonwealth of Virginia's Division of Consolidated Laboratory Services at 804.648.4480 and later talked to Gigi Meyers at 804.864.7491 to help me decipher my results.
No matter where you live, a few calls to your city council or any other office (just google around for the main number) should hopefully direct you to the right department (I was bounced around about ten times before getting the right person, so it felt like a mini victory just to find someone who knew what I was talking about in the end). I may have had to work for it a little, but it was well worth the effort and the piece of mind. A few days later my official water analysis arrived in the mail and although I couldn't understand a smidge of it (lots of greater than and less than symbols with abbreviations like PMCL and SMCL), calling Gigi Meyers at the lab for help interpreting the data finally put my mind at ease. So once you receive your report you might want to call the number on that report to get someone to help you descipher your results.
The fabulous news is that our county's water met or exceeded all EPA guidelines, so although it may possibly possess trace amounts of a bunch of scary chemicals (arsenic! lead! mercury!) they were all well below the limits that are known to be dangerous (basically Gigi explained that they couldn't definitively say zero for any category so they select a range like "less than .002 PPM" which is super minute amount and possibly zero). Whew.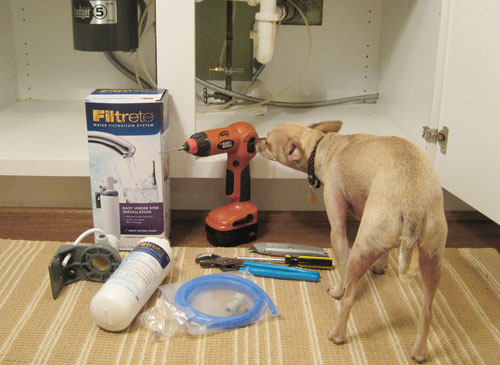 Plus we can't forget that we installed an under-sink water filter a while back, which "reduces sediments, chlorine tastes, and odors" just like a Brita pitcher would (it's also NSF and ANSI certified to be super safe and free of phthalates and other leeching hazards). I guess we were doing more things right than we realized (although we can hardly take credit for our house being "new" enough to avoid lead piping and our county being lucky enough to have water that exceeds all of the safety standards set in place by the EPA).
The lesson: if you fear that there's something in the water at your house, there's lots you can do. There are kits you can buy at any home improvement store to test your water for lead. You can also install a filtration system to further cut down on unwelcome toxins. And of course you can call your county to get information and make a stink if your water doesn't meet the standards that it should (the county is obligated to send you an honest report, but the shocking thing is that it's just mandatory that they tell you what's in the water, and not necessarily mandated that they do anything immediately to rectify any high levels of anything – apparently budget issues and review boards can take years for any clean-up efforts to take effect). So that means if you see anything on your results that don't sound good it's definitely worth writing to people and even starting a local petition to educate and empower everyone in the community and hopefully get your tap water cleaned up quickly!
Oh and if you're looking for more information, the Environmental Working Group recently put together a nationwide database of drinking water test results where you can go to look into the water rankings in your area (the New York Times even asked to use it in a series about what's wrong with America's drinking water, so it's a trusted source for this sort of info). The good news is that they found that "when the Environmental Protection Agency sets mandatory water quality standards, the tests show that local water suppliers meet them 92 percent of the time." Plus they ranked all the big cities for water safety so you can see where your area falls among the spectrum from best to worst (Richmond actually made the top 11- wahoo!). The bad news? They still think "standards need to be tougher to protect young children and pregnant women." We're glad they're fighting the good fight and providing lots of enlightening info along the way.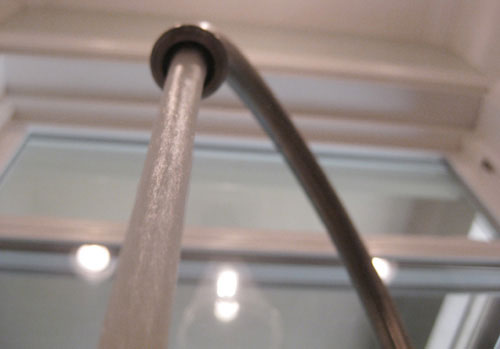 We also learned a few more simple "rules of thumb" that should be used in protecting your family from contaminated tap water (as listed here):
Flush your pipes before use. Prior to using water for cooking or drinking, run the tap water until it becomes as cold as it will get.*
Use only cold water for drinking & cooking – hot water is likely to contain higher levels of lead.
Inspect your plumbing system to detect lead. Lead pipes and solder are dull gray, when scratched they will look shiny.
Test your water with a lead detection product, such as PRO-LAB's Lead in Water Test Kit, that utilizes U.S. EPA recognized laboratories. If your lead test comes back positive, the best way to handle the problem is to determine the source and remove it.
*The worst part of the tips above was the whole "flush your pipes" since we hate watching wasted water literally go down the drain. We have found that whenever we feel the need to flush our pipes (if we've been away on a vacation for a week or so) we use a big basin to catch the water we're "flushing" and then use it for everything from watering the plants to washing the car and even doing other household cleaning like windows/floors, etc.
So that's what we learned in our little foray into what I like to call "find out what the heck we're ingesting on a daily basis." These days I'm chugging water like nobody's business (nursing will do that to ya) so you'll have to excuse me for getting all Erin Brockovich on you. We just thought our witch water hunt might help anyone else out there who squints at their glass and wonders what the heck is in there. And now we know… sort of.
Of course we'd love to know what you guys do to keep your water as pure as possible. Do you use filters or check out your annual water report? Do tell.
&nbsp
You guys may remember Kara from Kara Paslay Designs thanks to the amazing house crashing tour that she took us on a while back. And when she sent over some photographs of a stunning ottoman that she DIYed, we begged her to treat us to an exclusive little YHL tutorial. And- oh happy day!- she was game. So without further ado, we'll hand this post over to Kara so she can take you through the process of making your very own version of the lovely (and surprisingly doable) ottoman that she whipped up. Gorgeous, eh?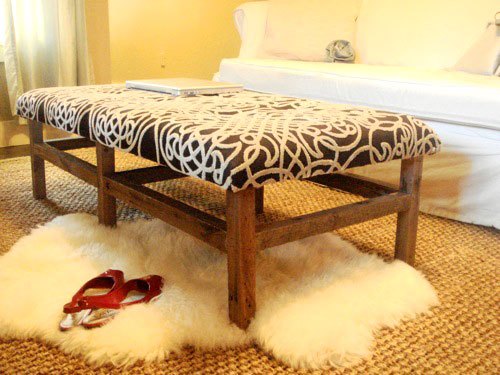 Hello YHL readers! I am so excited that John and Sherry have invited me to share the details about my DIY tufted ottoman! Here we go:
Step 1- Cut a piece of wood (or MDF) to the coffee table size of your choice, unless of course you are using your current coffee table to save some moolah. If you're building it from scratch, I'd suggest using 3/4″ plywood (or MDF) to avoid sagging. Next, choose the spots where you'd like to add button tufts (6 or 8 or as many as you'd like) and pre-drill small holes through the MDF or wood. Then cover your wood top with contact cement and place 2 inch foam (cut to the same dimensions) on top. You can find the foam at your local craft store.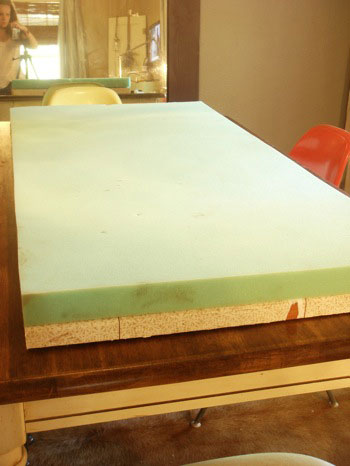 Step 2- Cover your top with extra-loft batting, securing it underneath the table top with a staple gun. Then trim the excess.
Step 3- Cover the batting with your chosen fabric. If your fabric has a pattern, make sure it is straight before placing all your staples. When upholstering a simple square or rectangle: put a few staples in one side, then go to the opposite side, pull it tight, and add a few staples there. Do the same with the other two sides. This ensures that your fabric is taut and you don't end up with bunches and bulges that you didn't expect. Also pay attention to how tight you are pulling the fabric and keep the tension the same all the way around for a professional look!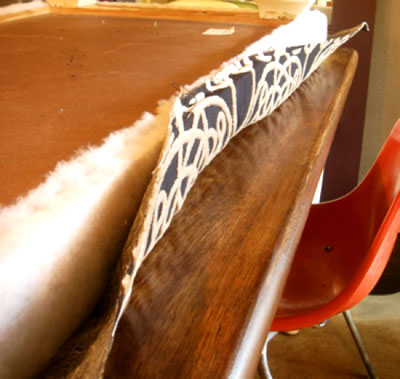 Step 4- Finish out your corners. They should look like the photo below at the beginning.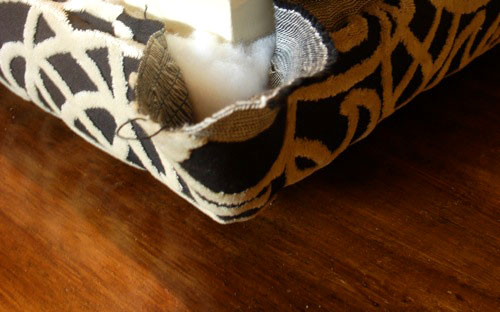 Then pull the left flap to the right and staple. Next pull both flaps to the left and staple, being sure to smooth out any lumps and humps because regardless of what the song says, these are NOT lovely or ladylike! Here's what you should end up with: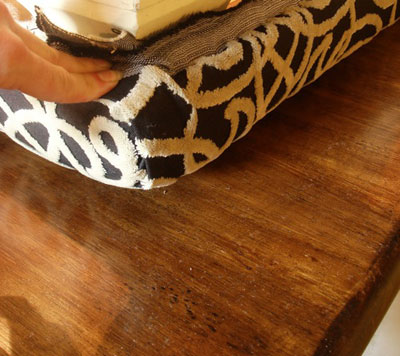 Step 5- Now it's time for tufting. You can find buttons and cover kits at your local craft store. Once home, cover your buttons using the instructions on the packaging.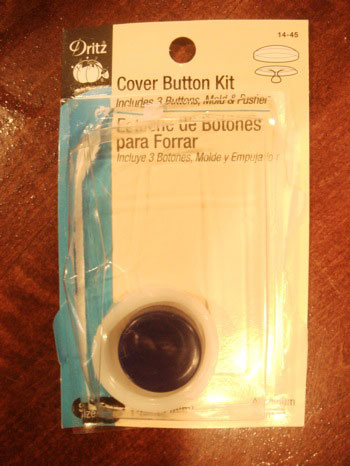 Step 6- String a heavy and strong thread through the eye of a very large needle. Do not cut the thread.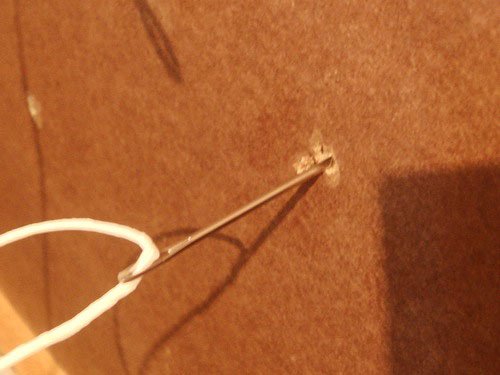 Step 7- Push the needle and thread through (from the back to the front) of your piece, through a pre-drilled hole where you want your button tufting to appear. You may need to use pliers to grab the needle and pull it through.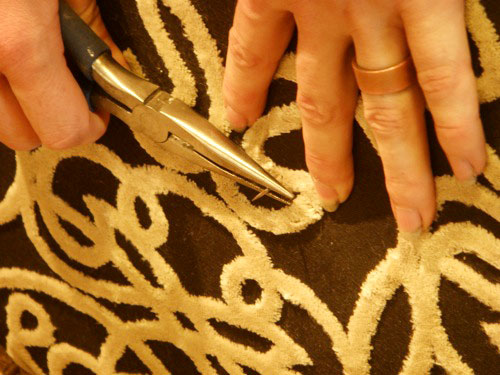 Step 8- String your button onto the thread and then push the needle back through. It may take a few tries to find the hole, but keep trying and you will get it!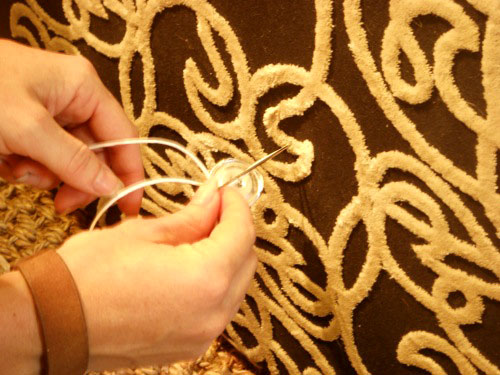 Step 9- Thread a washer onto one end of the string and then use both ends to tie a knot ensuring nothing comes loose. Have a friend or spouse push the button in on the other side while you tie the knot to ensure that all your tufts are the same depth.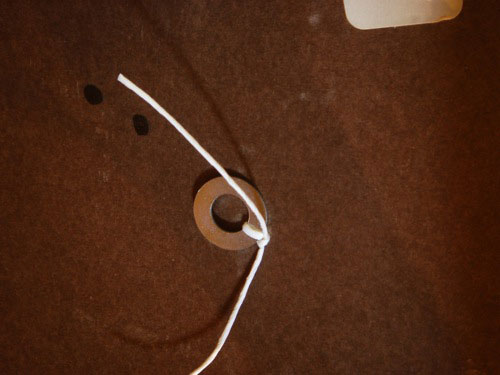 You tufted button should look like this once completed: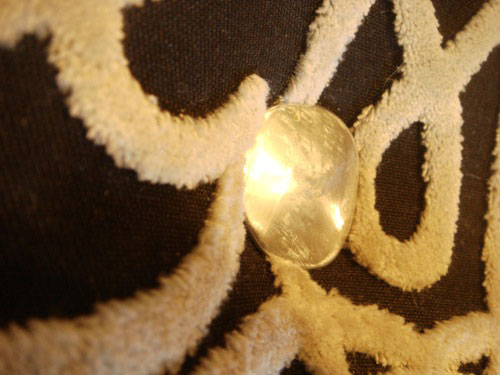 After you do all of your buttons this way you should be left with a beautiful tufted HEADBOARD!!!! All you'd have to do is hang it! But we needed an ottoman, so Tim and I put together some "look at me" legs. I always like a piece with some history, so I chose to make my base with old 2 x 2s that we removed from our house during its renovation. Our house was so old/not up to code, a few walls were made up of 2 x 2s set in a grid pattern (instead of 2 X 4s centered on 16s). YIKES!
Step 10- Next we cut our wood into: six 2 x 2s at 12 inches, three 2 x 2s at 19 inches, and four 2 x 2s at 22 inches. Here is a color coded drawing to show you how we put the pieces together. The 1st drawing is a side view while the bottom drawing is a birds eye view.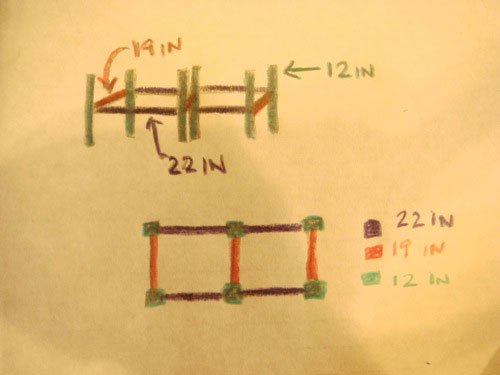 Step 11- Bring your base together. Now would have been a great chance to use that Kreg Jig that John has been loving, but unfortunately we don't have one. So, we opted for a 1-2 punch of finish nails and Liquid Nails. You could also use screws and Liquid Nails. Things are pretty sturdy in the beginning, but once the Liquid Nails hardens up, things are Jillian Michaels tough!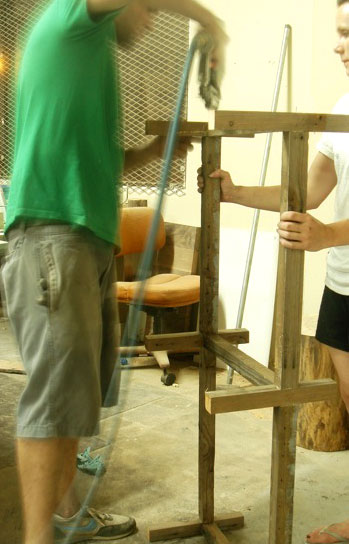 Step 12- Attach the base to the top. We used Liquid Nails again and then toe-nailed our finish nails to secure the top to the bottom. To "toe- nail" simply means to nail things in at a diagonal. You should also do this if you are using screws (and be sure to pre-drill)!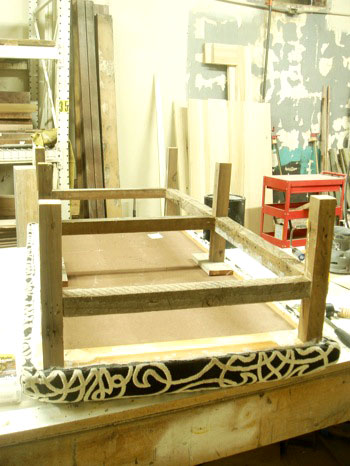 Now that we're finished, here's what it looks like in our living room!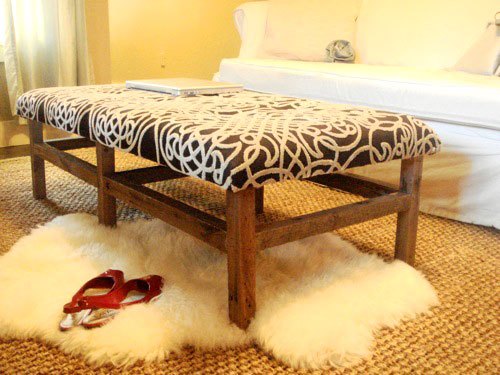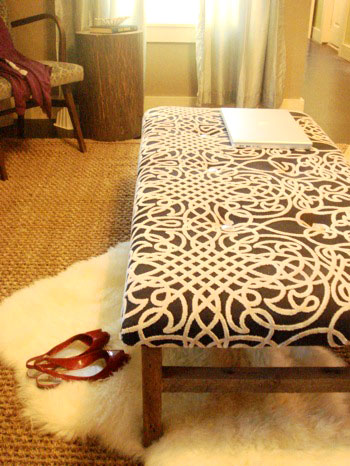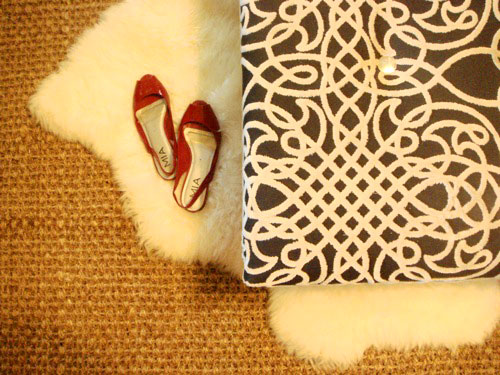 We are so excited to have a brand new piece of furniture that is incredibly functional, serves as a reminder to our renovation experiences, was made from mostly reclaimed materials, and only cost us about $35! Here's the budget breakdown:
Top from former coffee table- FREE
2″ thick foam- $27 (with 40% off coupon)
Contact cement- already owned, aka: FREE
Fabric (scrap piece) – FREE
Tufting buttons- $5
Reclaimed wood legs- FREE
TOTAL COST: $32
Although we lucked out by finding pieces we could reuse, we're sure you can do the same by upholstering a coffee table you already have, using an old curtain panel for your fabric, and scouring your local thrift shop or Habitat For Humanity ReStore for wood scraps or pieces that you could reinvent as an ottoman. Good luck!
Doesn't that DIY ottoman look fantastic? And you can't beat that price. We're sending out a huge thank you to Kara and Tim for providing such amazing photos and this awesomely detailed play by play of their upholstering and building process. What do you guys think? Anyone out there who will be referring to Kara's tutorial to whip up one of their own? We must admit that we're more than tempted to try our hand at one for ourselves!
&nbsp