After countless readers asked what was hanging to the left of our living room fireplace, we thought our cheap teardrop vases from CB2 warranted a post of their very own. With 15 framed works of art in the expansive living and dining room (yup, I counted) the last thing we wanted to bring in were a few more hard edged rectangles. So for less than $12 (actually they were a gift so they were F-R-E-E), we added instant interest. Some wild grass "borrowed" from a Target parking lot completed the look (and has surprisingly held up for the last 12+ months). Observe: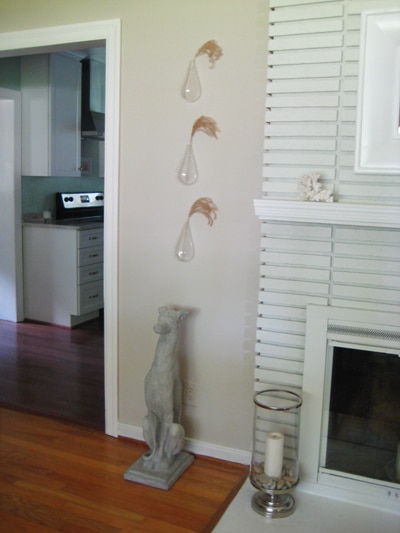 These vases are versatile. If you have a wall at the end of a hallway, a landing at the base of a staircase, a thin slice of space that needs a little spice, or any place that could use some clean curves, these vases are da bomb. So get your order on and send us the after pics, yo. Happy shopping…
&nbsp
Inspiration can come from the strangest places, so I wasn't even surprised when I saw some cool old canning jars in a recent Pottery Barn catalog and needed to take a closer look. Upon closer inspection I realized they were antique bell jars filled with shells, sand, and even just ocean water with fancy labels that said things like "Mikonos" and "Fiji". Adorable. So I looked around and realized I had at least one or two keepsakes from each and every vacay that John and I have spent together. Why not put them on display instead of in a box in the closet? So after a trip to Michael's to pick up 6 canning jars (for just six smackaroos) I returned home and slipped the items into little labeled jars of my own.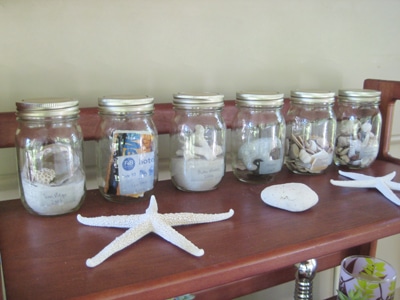 Now we're hardly as posh as the imaginary family who loves in the Pottery Barn catalog, so our labels (hand written with a fine point Sharpie on clear tape) boast locales like San Diego, Rehoboth, Madeira Beach, Alaska, and the Outer Banks.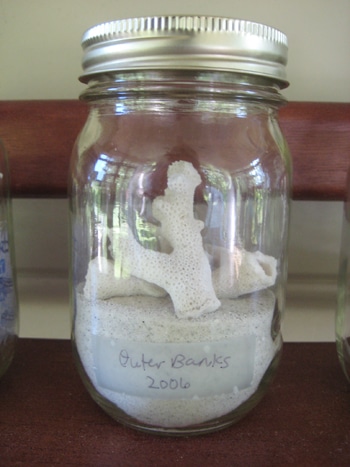 But they're just as charming lined up on a shelf in our sunroom near the back door (which we pass through at least five times a day). And it's nice to glance at our little vacation time capsules on a daily basis instead of keeping them out of sight (and out of mind). I even made a little reminder of our old life in Manhattan complete with our last MetroCard, a buy-ten-get-one-free hot dog card from our favorite little hole in the wall, and matching business cards from the advertising agency where we met.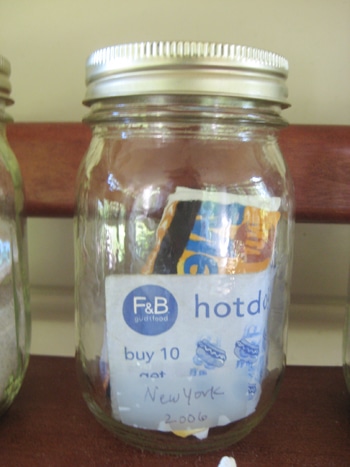 It's nice to know that even when we go somewhere sans sand and shells, we can still stick little keepsakes (a ticket stub, a matchbox, a hotel key) into a $1 jar to fondly remember the trip. In fact, to document our Alaskan honeymoon, I used a rock from a hot stone massage that we enjoyed along with a tiny ceramic bear from a craft fair in Anchorage. I can't wait until our modern day snow globe collection takes over our entire three-tiered bookcase… better start planning some more vacations. And since everyday objects work just as well as shells and sand, it's no big deal if we don't make it to Mikonos or Fiji for a while. Whew.
&nbsp
Thanks to time lapse photography (aka, us remembering to take the occasional picture of our backyard garden) we present to you our patio planting progress over the last few months.
In February it was a blank canvas. We planted about a million annuals for our backyard wedding the year before, but now wanted to introduce some evergreens and a few lower maintenance perennials for color and texture that comes back every year and looks good in every season.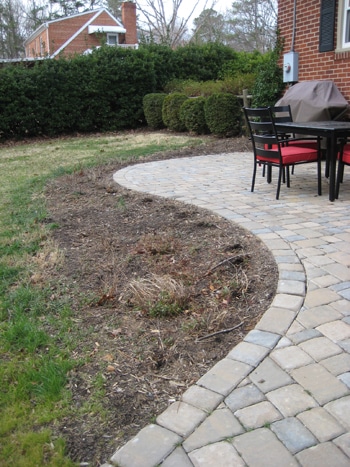 In early March we brought in a bunch of evergreen plants (which never drop their leaves) for some year-round shape as well as some hardy perennials for spring, summer, and fall color. If all goes well they'll come back every spring through fall while the evergreens will stick around all year to keep things from looking too bare.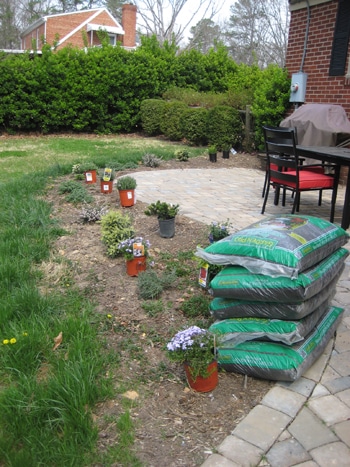 After we planted them they looked kinda sad for a little while…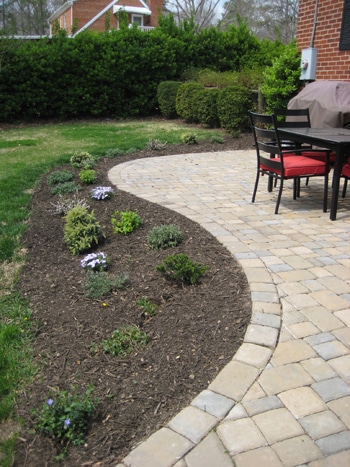 … but by late April (thanks to all the showers) they hit their stride. And now each and every texture, shape, color and even smell (the purple flowering Catmint bushes smell nice and minty) is so worth all that digging and mulching. (Note: the other difference in this "after" is that we switched out the red seat cushions on our patio chairs in favor of neutral ones to create a more natural look).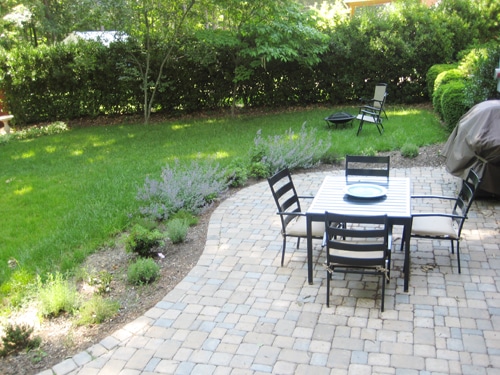 In case you're curious, a few of our favorite evergreens are Variegated Dwarf Gardenia, Firepower Heavenly Bamboo and Dwarf Cavatine Pieris (below middle) while a few of our favorite perennials have turned out to be the aforementioned Catmint (below left), French Lavender, and Sunny Border Blue Veronica (below right). We stuck to a white and pale purple color scheme when it came to flowers to keep things looking calm and not like a crazy-kaleidoscope-of-chaos.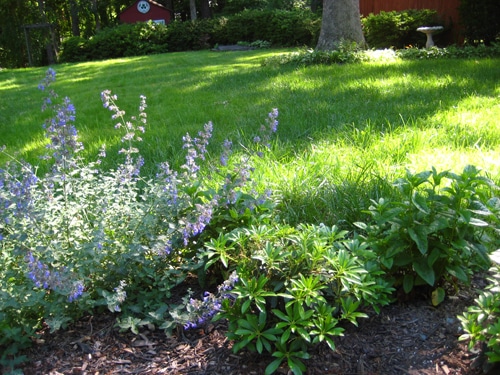 Things will continue to fill out and hopefully by next year more of our evergreens will grow a bit larger for more presence in the bare winter months.
Until then, our cat sized dog can be found enjoying the Catmint (not by eating it, just basking in its sweet minty scent).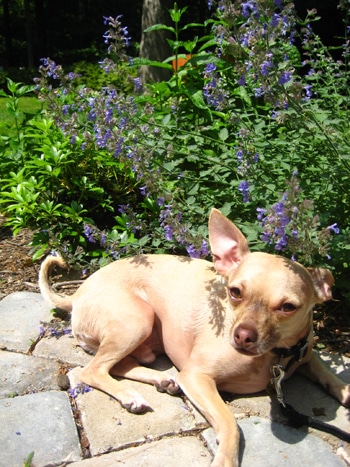 Gotta love a dog who's appreciative of our ongoing landscaping efforts.
&nbsp