Sometimes it's the little things that can make any house feel like a happy home. Here are five of our favorite little things that make our days just a little bit sweeter:
1. Our shower radio – it makes it feel more like a mini escape and helps us conserve water because we have a two song limit.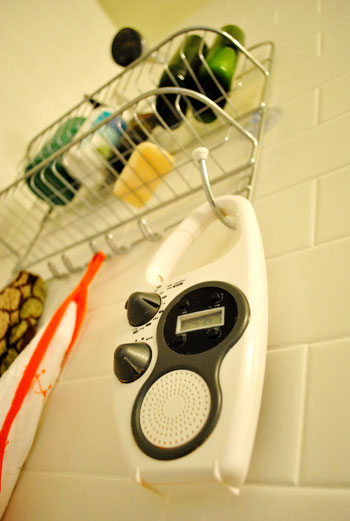 2. Large glass cereal jars – they're so much more charming than pouring from the box- plus we always know when we're running low.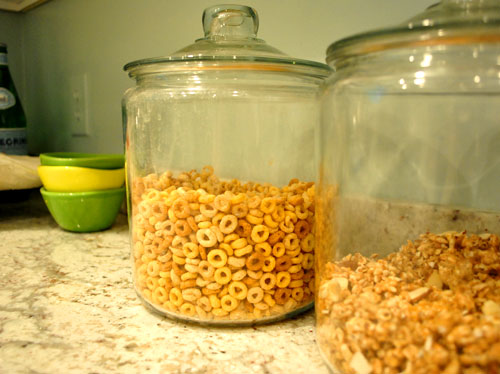 3. Fresh flowers and green leafy plants – they purify the air and inject a nice dose of natural texture- plus it's nice to fill a house with life, both figuratively and literally.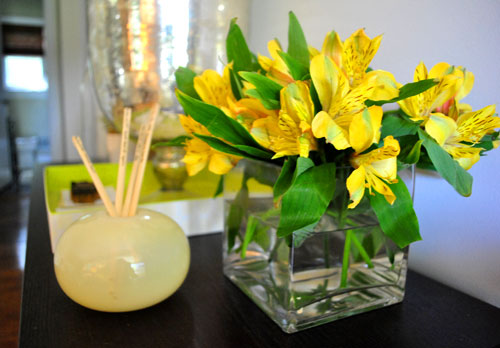 4. Our backyard firepit – when Monday looms there are always melty homemade s'mores on Sunday night to remind us that the weekend isn't quite over yet.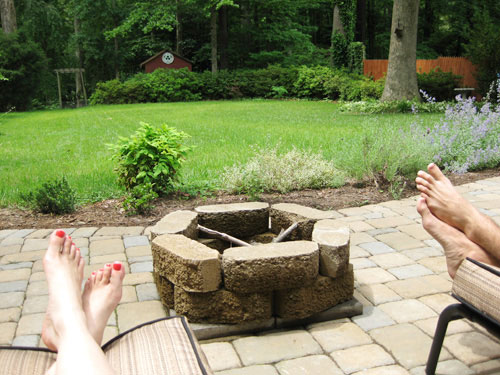 5. Baskets full of magazines and stacks of hardcover books- they coax us to sit down and relax for a moment and they just make a room feel more lived in and inviting.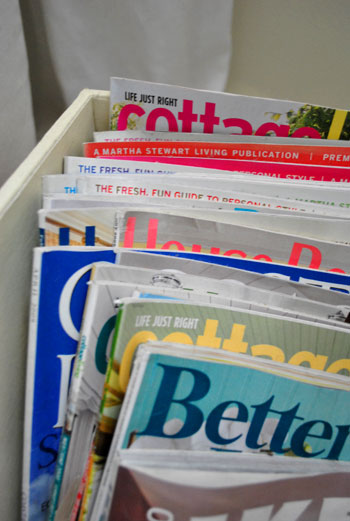 So that's our quick little rundown of five things that bring a smile to our faces (all without breaking the bank). In fact we spent about $12 on number one, around $15 on number two, just $5 to $10 a pop on number three, a mere $28 to build number four, and just a few dollars a month on number five (thanks to subscriptions, which save us mucho bucks off the cover price). What about you guys? Do you have any affordable little upgrades that just seem to make life better at your casa? We'd love to hear five things (or even just one) that make you happy to be home.
&nbsp
Shannon reminds us a bit of ourselves (well, mostly Sherry) since she completed an inexpensive room update while very much pregnant (I've yet to accomplish that feat). Check out the simple but awesome makeover she sent our way:
I thought I'd share our recent guest room makeover that got done with zero paint, $300 bucks, and an 8-1/2 month pregnant belly. I'm sure you can relate ;)  It is a large open space over our garage with slanted walls that make the room awkward and angular. I wanted it desperately to be a warm, inviting guest room, especially for our post-baby visitors.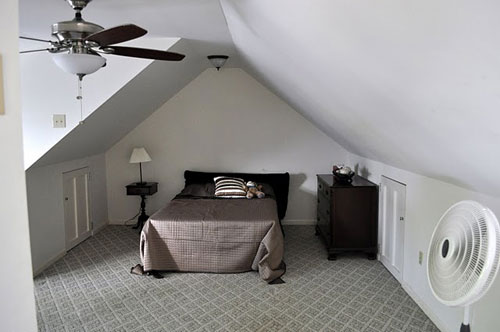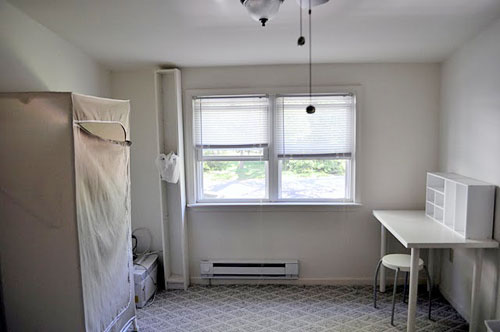 Here are the deets:
I used a lot of the existing pieces and went "shopping" in my garage and basement for furniture and accessories.
The size of the room, plus the short time span, plus my bloodhound pregnancy nose made painting the walls a no-go.  Same thing for replacing the builder's berber carpet and contractor-pack light fixtures. They were all staying.
I'm a cheapskate… everything came from Craigslist, Ikea, HomeGoods, TJ Maxx and Target.
I finally made my own headboard! And I also managed some no-sew throw pillow covers. Add some free artwork from the interwebs and I was DIY'ing all over the place!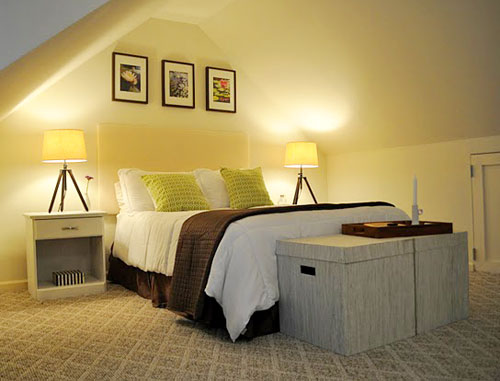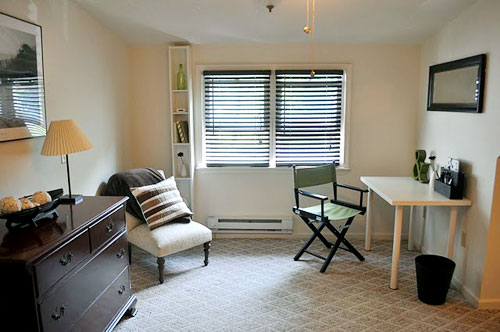 It took me about 3 – 4 weeks to pull it together and with six weeks left before baby, I was feeling much more prepared! There's more info and pics on my blog Shannanigans too. Thanks! -Shannon
Shall we all give Shannon a round of applause for this $300, paint-free room refresher? It looks totally warm and ready for guests. It's also a great reminder that room projects don't have to be backbreaking (especially if you've got a baby on board and your back hurts enough already). Here's an early congrats on Blinky's any-day-now arrival! And we'd love to know what you guys deem your favorite part of the makeover. We're especially loving those sculptural bedside lamps.
Psst- YHL will be down for an hour or two on Sunday morning EST due to some server upgrades (which will hopefully result in faster loading and site navigation). Fingers crossed…

&nbsp