I don't think you'd be able to stomach any such mustard after one peep at this Reader Redisign sent in by Annastazia. But before we get to the stomach churning before, here's her letter:
Hi John and Sherry- I've been reading your blog for a while now and am so envious of both your talent and your ranch home! Stairs and second levels are overrated if you ask me. I thought you should know that your bedroom design totally inspired me when I was stuck about what to do with our own bedroom. With low angled ceilings that slope as low as four feet from the ground and very small rooms, furniture placement and design have been difficult to say the least. I knew that I wanted peaceful pale blue walls with a black and white color scheme, but after that I was stuck. That is, until I saw your "hotel inspired" bedroom makeover! Alas, my designer's block was gone and I had a vision! I decided to use very low-to-the-ground furniture in order to make the room appear taller. Thanks to IKEA, I also found the perfect furniture, curtain fabric and lamps to mimic that "hotel room" feel. Let me tell you, it feels like an entirely new room up there! We feel like we're sleeping in a luxury hotel room and I have you to thank!
Oh Annastazia, you peach. We're blushing. And we're sending you a big virtual pat on the back for all the hard work it took to transform that doozie of a bedroom. And now ladies and gentleman, we give you the before… which frankly just doesn't cut the mustard: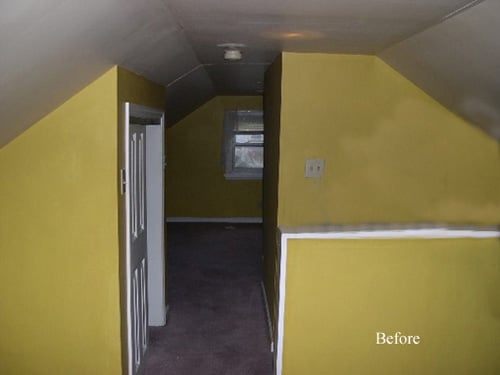 And the delicious and delectable afters: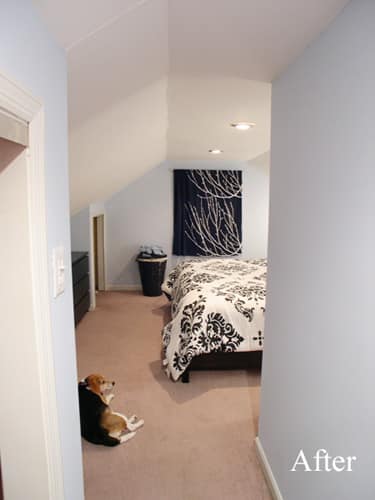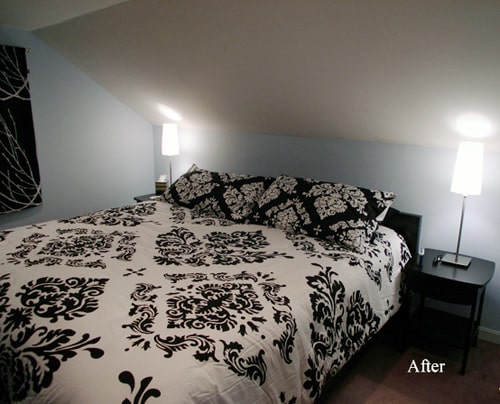 One of the funniest things is that Annastazia's bed and dresser and both from Ikea's "Malm" series, which is EXACTLY what we have in our bedroom (but in the dark walnut color). It's a small world (with sloped ceilings evidently). Anyway, many thanks for sharing the fantastic bedroom makeover Staz!
And everyone knows we love home makeovers (especially when we don't even have to lift a finger) so feel free to send over your amazing before and afters, you clever readers, you.
&nbsp
Our post back in May about the IKEA-sponsored "America at Home" project ended up catching the attention of Will Allen and the Rick Smolan, who co-authored the project's coffee table book. Next thing we knew, we had our very own copy of "America at Home" arriving at our door. We even got to design a custom cover using a photo from our own backyard wedding. Check it out…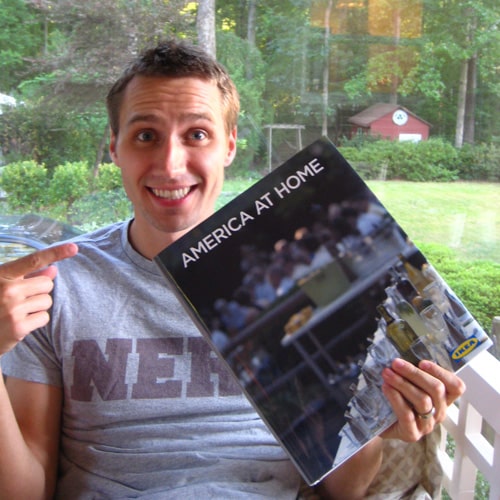 And as excited as we were about our custom cover, we were also really excited to peruse all 200+ pages documenting the many ways that Americans live (from farmhouse to penthouse and everything in between). We eat that stuff up. After all, we are a couple that got married at home, works from home (well, Sherry does) and practically spends every waking moment improving our home. So you can imagine how much fun we had getting to peek inside other people's home lives as well.
The book does a great job of capturing the incredible range of homes in America (from quiet cottages to urban rooftops) and the funny and touching ways that we use them (for celebration, prayer, relaxing, and everything else under the sun). And while I would've loved to see a few more Virginian homes, I was particularly proud to see our state represented by a one-armed man who completely restored a home he bought for $1 (page 122). He even put on the new roof!
To snag your own copy, you can create a custom cover here (it's über easy to do) or you can just pick one up at your local Barnes & Noble. And if you're ever in Richmond, we've got a copy proudly displayed in our guest bedroom for you can enjoy… you'll just have to wait your turn behind Burger (who's absolutely enthralled with our new reading material).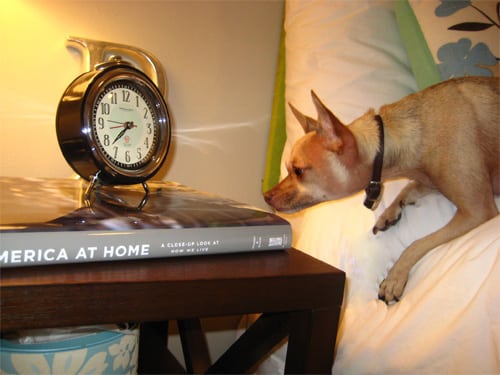 &nbsp
John's sister Emily has been a busy girl since our last post about helping her move into her fabulous new home (that she and her husband Todd designed themselves). Yes, only a month later, she's managed to furnish, fluff and feather nearly every room and has graciously allowed us to invade her space once more to bring you some fresh & fabulous after photos. Let the house crashing begin…
Here's a shot of the swanky modern exterior with Emily and Olivia hanging out on their front deck. The house's theme was clean lines, modern touches and windows galore. When you buy a corner lot with nothing but green in three directions it's easy to see why it's all about the view. And although the house appears to be one level, it's actually three generous floors since it was built into a steep incline. You enter into the third floor living area from the front, but walk out the bottom floor's sliding glass doors into the backyard at the base of the hill. Tres cool.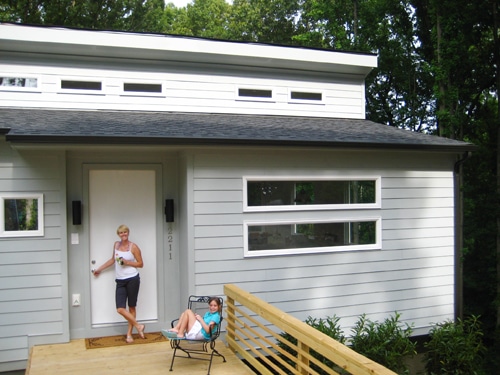 The minute you walk in the front door, you'll find yourself in an airy open space for living, dining, and cooking. The crisp white walls accented by tones of wood and a little bling in the form of stainless steel light fixtures really make the space feel sleek, simple and sophisticated.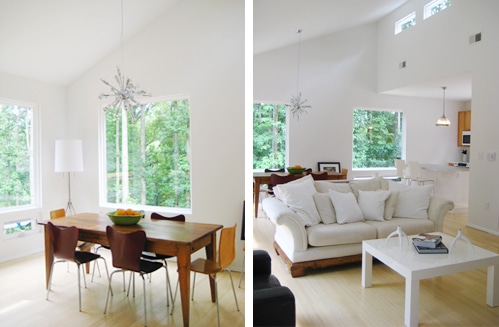 Emily's kitchen is insanely enviable. From the new glass front Jen-Air appliances to the Restoration Hardware pendant illuminating the Ikea island, the kitchen is a mixture of high and low that comes together in a totally seamless way.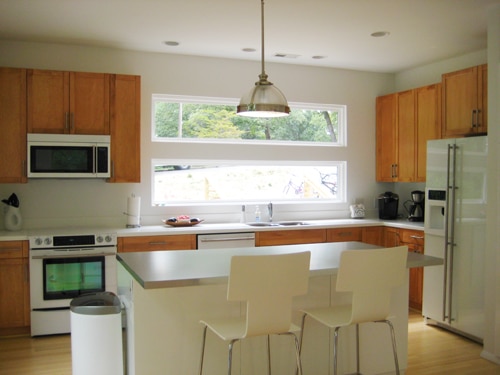 Emily even convinced her builder to work in a pull out pantry from Ikea, which can be accessed by her two snacky kids from either side. Delicious.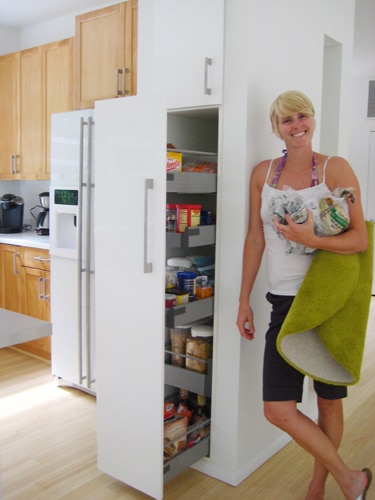 The master bedroom also resides on the top floor with an attached bathroom boasting both a jacuzzi tub and a separate shower. The coolest feature has to be the barn door that they incorporated into the design, which slides along a stainless track to obscure the view of the bathroom for privacy and style to spare.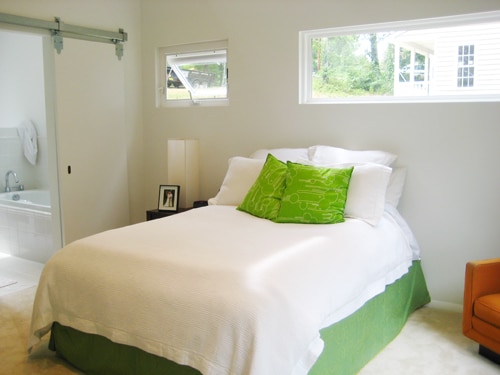 Another noteworthy detail of the master bedroom is the amazing wall of contemporary closetry (which also hails from Ikea). Emily and Todd decided that they'd rather leave room to tuck these spacious wardrobes right into the floorplan instead of having their builder craft a traditional closet. They liked the outcome so much that they used Ikea armoires in both of the kids' rooms in lieu of closets as well.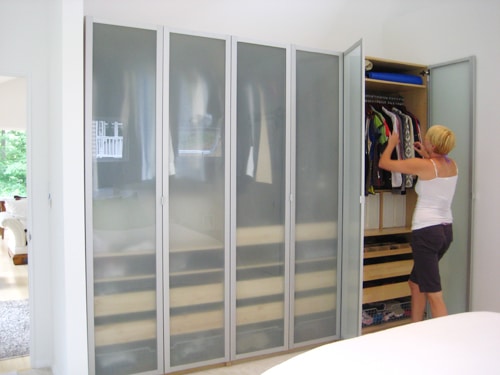 Speaking of the kid's rooms, they're still a work in progress, but stay tuned for some fun DIY projects (like how to make an upholstered headboard) in the coming weeks. Until then, we'll leave you with this swanky pic of their delightful guest bedroom, sporting some Target bedding, a few West Elm pillows, an Ikea lamp and a chair from a thrift store. Now that's our kind of room. Too bad the fact that we live eight minutes away makes a sleepover semi-improbable.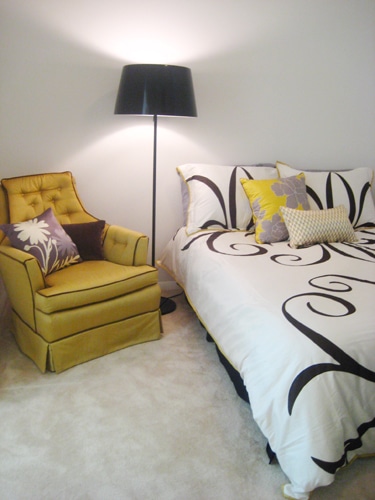 So whaddya think? Did the pull out pantry and that sliding bathroom door make you drool? Do tell. And if you have any fun rooms of your own (modern or otherwise) that you're itching to share, feel free to send 'em on over. Ta ta for now.
&nbsp