As most of you know, every month we like to enjoy one inexpensive- and sometimes free- bouquet to keep things feeling fresh around here (the idea actually stemmed from a super sweet Christmas present from the hubs a while back). And since July was our anniversary month, we decided to honor that fact with some gladiolus stems that we snagged for a song at the grocery store a few weeks back (just $2.39 for the entire bouquet!).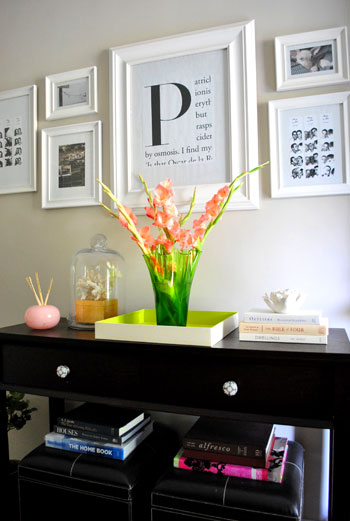 What do gladiolus stems have to do with our anniversary? Well, three years ago we whipped up garden themed favors for our backyard wedding. We just picked up simple brown mini paper bags at Target and dropped a single gladiolus bulb into each one for our guests' garden. We even added easy handwritten planting instructions on the back of each bag (they were one of the only bulbs that could be planted that late in the season). Clipped to the front of the bag was a photostrip (tying in with our photostrip save-the-date and the actual photobooth that we rented for the event) and the strip on the favor featured John's face covered in lipstick kisses while we held signs that read: Plant one… on us! *smooooch*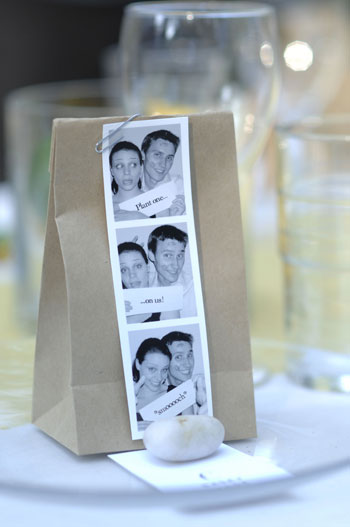 Believe it or not, many of our friends and family members planted their gladiolus bulbs and actually get to enjoy their own little backyard blooms every summer when they sprout (my mom sends us pictures of hers every year without fail). But since ours never bloom (they shoot up leaves but don't get enough sun to flower) we opted to pick up this under $3 bouquet to fill the void.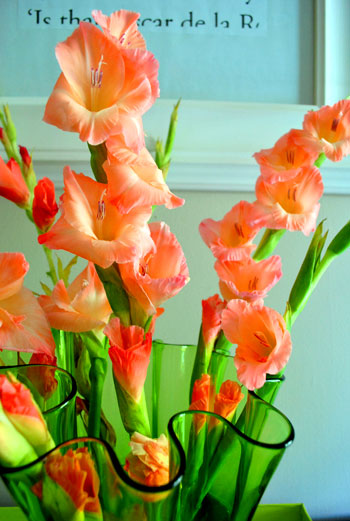 We love the sweet pink color and the tall sculptural stalks. Especially paired with my fun curvy green vase (a birthday gift from John's sister from Crate & Barrel).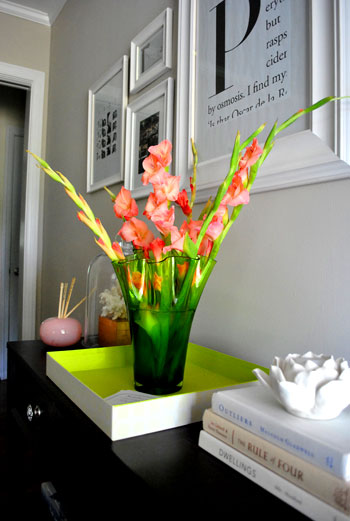 So although we didn't get a chance to share our July bouquet in July, we figured it was better late than never. And before you know it we'll be back with our August blooms so we're sure not to miss those this time. But enough about us. What about you guys? Did you recently snag any greenery on the cheap from your backyard, your local grocery store, or even the farmer's market? Tell us all about what flowers and other outdoor finds you're loving this month.
Wanna see our first grocery store bouquet from last January? Itching to check out February, March, April, May, June, July, August, and September too? How about this year's January, February, March, April, May, and June bouquets? Just follow the links for some pretty sweet cheap-o (and even free) bouquets.
&nbsp
Imagine our surprise when not one but two readers submitted their take on some of our favorite Crate & Barrel prints (which you might remember from this mood board makeover or this mood board makeover). And since both readers took different but equally successful paths at DIYing their own versions of the prints, we decided to share both of their methods with you. Let's start with Lindsay's letter:
I thought you'd like to see the artwork I drummed up for our living room. You posted this mood board awhile back featuring Crate & Barrel's Classical Symmetry prints. As soon as I saw them, I knew I wanted to DIY them. I used masking tape to create the lines on the lattice patterned one and the last two were made with a hand drawn stencil. I already owned all of the art supplies (paper, paint, tape, etc.) but found some affordable square frames at Target for about $24 each. So I was able to come in way under Crate & Barrel's price and I always find it satisfying to hang my own artwork on the walls. Thanks for all of your inspiring projects & ideas! – Mahalo, Lindsay from Aisle to Aloha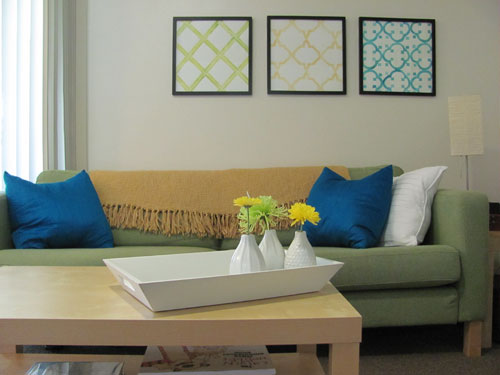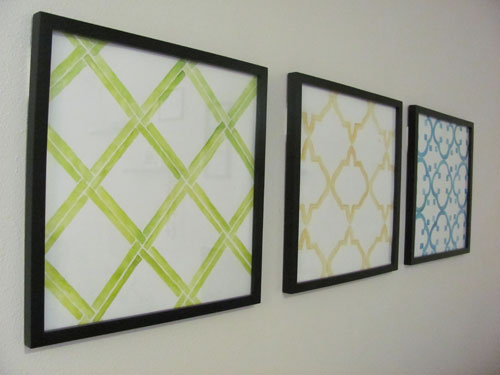 Don't they look great? Now on to Amanda's take on the same geometric artwork:

I became a little obsessed with the Crate & Barrel art that you posted for Ashley's Design Dilemma but when I clicked on the link and realized they were a bit more than I'd like to spend I decided to DIY it instead. I thought we'd put our Illustrator and Photoshop skills to the test and see what we could do to recreate these images at a lower cost. And I am in LOVE with the results! They are a smaller size than the Crate & Barrel originals, but they fit our space perfectly.  And we don't have mats yet, but we may add those later on. Here are the details:
You've inspired me so much when it comes to decorating our new home. Thank you, thank you, thank you! – Amanda from On Being Browns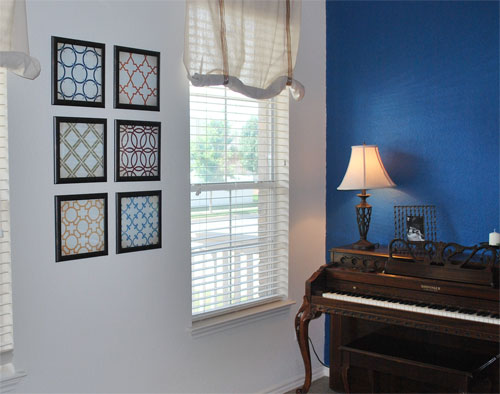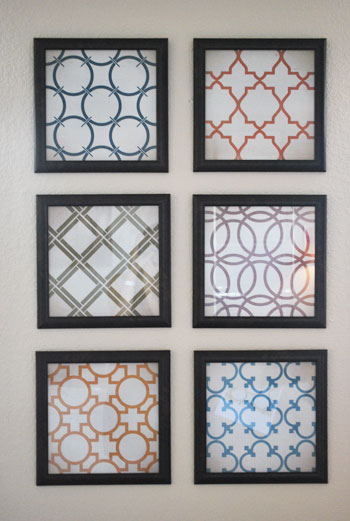 Both projects turned out so well (and so much less expensive than the originals)! We love that one is more fine-art based (involving paint and stencils) while the other is a bit more tech-savvy. So if anyone else has been coveting that C & B artwork – but not the price tag – feel free to break out the paints like Lindsay or your computer skills like Amanda to whip up your own take on them. What do you guys think? Will you be attempting either method to make some of your own inspired by the gorgeous originals (and these gals)? Or will you even try your hand at a third approach?
&nbsp