On Tuesday, Annastazia proved that we're not the only ones around here with great before & after photos of their home. So I know lots of ears will perk up when I tell you that now there's a way for your before & after pics to help a worthy cause (and maybe even earn you a little reward to the tune of a $50 gift card).
One Project Closer – a blog chronicling the home improvement adventures of two Baltimore, MD couples – is hosting a blogging event this summer called Before & After '08. You can read more about it by clicking here, but here's the gist:
Readers submit stories and photos of their before & after projects from the late spring or early summer.
One Project Closer posts one each Sunday and donates $25 to Habitat for Humanity (in your honor, no less).
At the end of the summer, readers vote on the best before & after project and the winner receives a $50 gift card to their favorite home improvement store.
Pretty sweet, no? We think it's awesome that they're hosting such a great event and raising awareness for a fantastic organization. Now we've just gotta figure out what project we're going to submit. We're leaning towards our front walkway makeover (since we did it in the late spring)…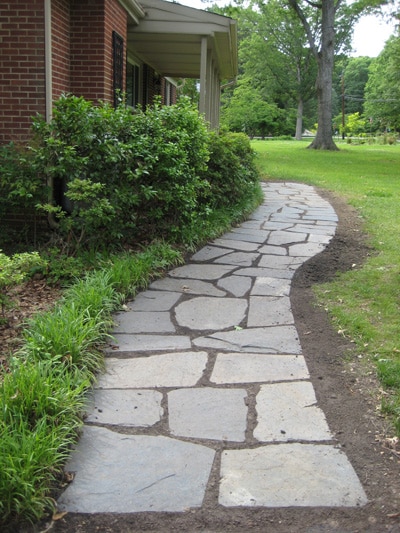 … so cross your fingers that ours gets published so you can see the final afters (with grass springing up between the slate). Oh, and be sure to let us know if you submit anything so we can all check it out and cast our vote at the end of the summer.
&nbsp
We pulled a little art switcheroo in the guest bedroom and wanted to share the play by play. Since it's the room with one of the best views of the house (it overlooks our big green backyard) we wanted to introduce a little more green (to work with the existing green headboard & compliment the view) and some graphic elements (to tie in the super graphic blanket at the foot of the bed).
Here's a shot of the old art work (striped fabric that we framed a few years ago):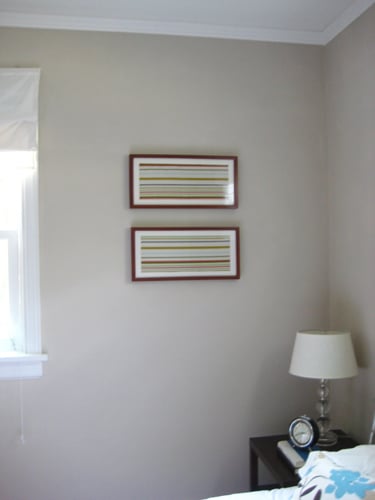 And a close up of the new art that we introduced instead (blown up color copies from a decorating magazine of two graphic green wool rugs which I then snipped into strips so both patterns could appear in both frames):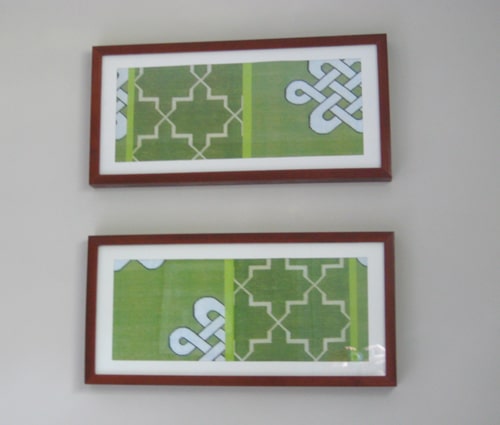 I love the newer, more interesting patterns and textures going on- and they work like a charm with the quilted bright green headboard that we made a while back (as well as the crisp, modern lines of the blanket at the foot of the bed):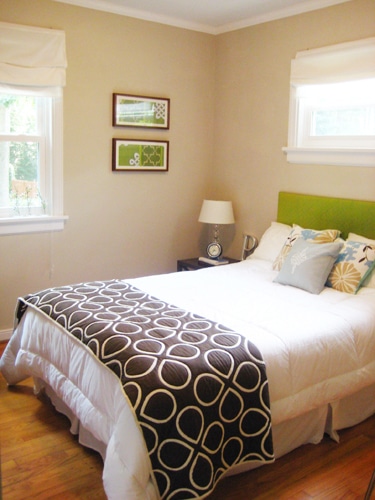 I also removed some old circle art that I made using photoshop about five years ago in NYC when I was in desperate need of some bright, colorful art in my bleak and boring studio apartment.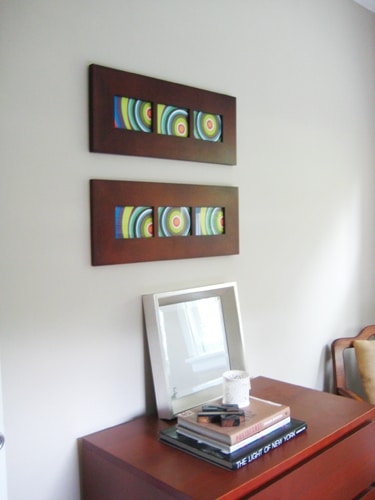 All the bright reds, oranges and turquoise shades seemed a bit much, so I decided to tone things down and introduce some texture that really plays off of the brown and white blanket. And who doesn't love animal prints? This was actually another image of a rug found in a decorating magazine that I blew up and then cut into sixths: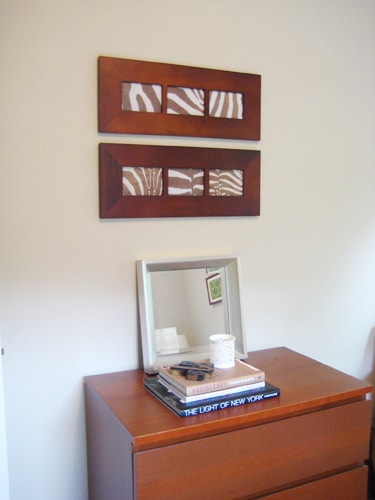 I also added another print in our new green and brown color scheme to tie everything together and keep things looking soothing and fresh for our guests (and ourselves!):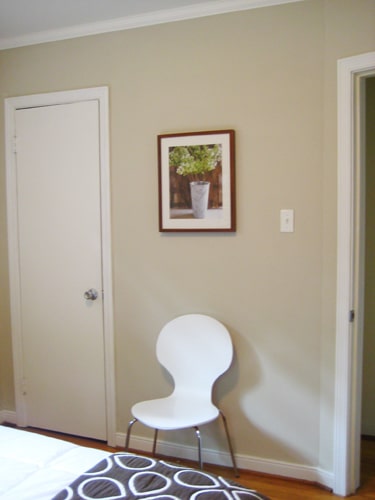 Hope you guys like the switcheroo!
&nbsp
We're back with yet another burning question for you guys. And it has to do with open, common areas vs. separate, private spaces. Do you prefer an office with walls and a door, or a desk in the corner of a family room? What about when it comes to washing and drying? Do you favor a room devoted solely to laundry, or a laundry corner in a den or other informal family room that facilitates relaxing between loads and folding while watching some tube?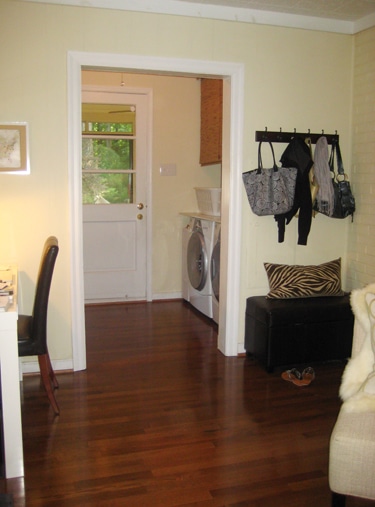 Here's a rarely seen angle of our very own den. You can see that we created a laundry nook a few feet away from our seating area in the foreground and stuck a desk on the left side of the room so one of us can type while the other is tv-ing. I guess it makes us feel like we're spending more time "together" even if John's busy folding and I'm busy formatting a document.
But that's just our approach. And we wanna hear what you think. Is open living so in vogue that even a laundry center and an office out in the open appeal? Or would you rather draw the line at open kitchens and living areas while keeping the desk and the dirty clothes behind closed doors? Spill the beans.
&nbsp