It's been nearly three years in the making, so it's hard to believe that the day is finally here that we can share our longest-stretching side-gig to date. We've been designing a collection of products… and a bunch of them are now being sold exclusively at Target (!!!). Cue the sound effect of a cat sprinting out of a bag.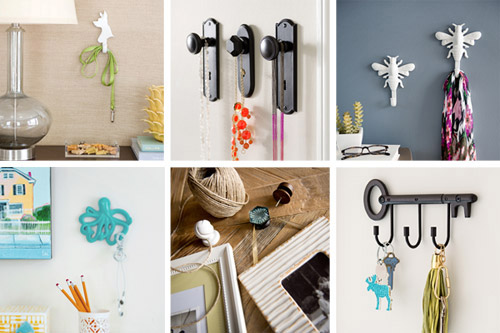 We designed three or four dozen pieces before the final mix was chosen – and those designs, which are an assortment of wall storage and hooks, are available right now at Target.com and will be on endcaps in most US stores starting March 31st.
You'll be able to find them in the Home Improvement section where they'll be hanging out for 14 weeks. Did I mention that we're freaking out like Clara next to a furry mascot that she "just wants to hug and squeeze"?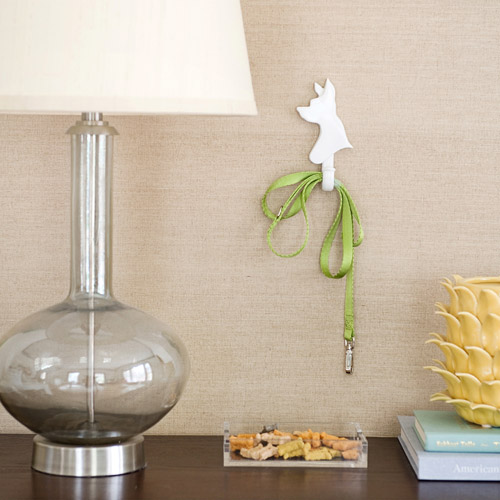 To say we never thought something like this would ever happen to us might be the biggest understatement of our blogging careers. And even when this process started rolling waaaaay back in July of 2011, we never expected that it would end up here.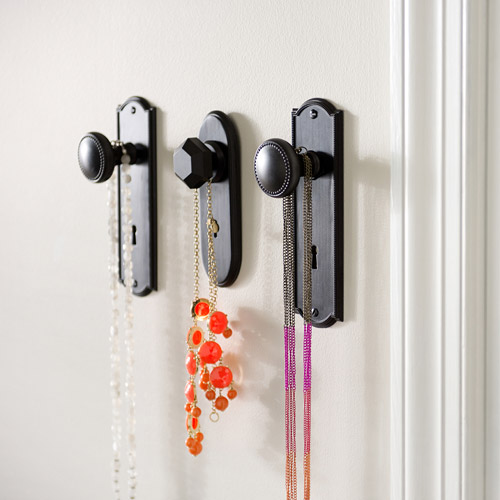 When you look at the collection you'll notice that we've adapted a lot of things that we love – from bees and old skeleton keys to a certain ridiculously handsome chihuahua. And everything's priced at $14.99 or less.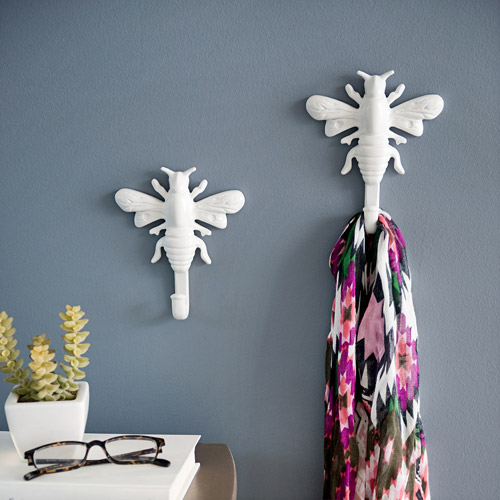 We even included a bit of DIY customization in the mix, thanks to these raw wood hook rails (one with a picture ledge on top, and one without) that you can personalize with paint, stain, wallpaper, decoupage, or whatever else you have on hand. Then you can choose any of the four hardware styles in either oil-rubbed bronze or white and screw them into the predrilled rail holes.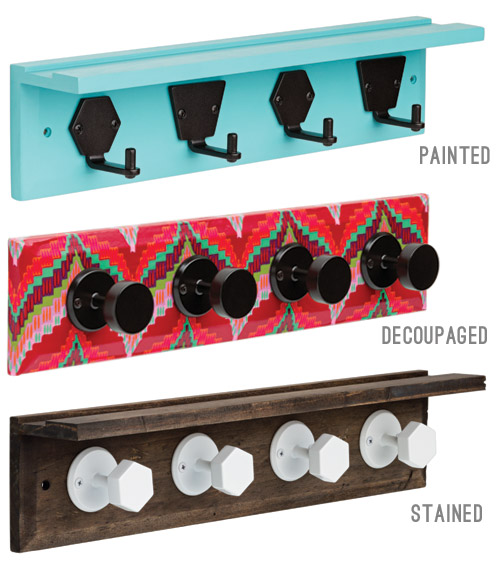 But let's rewind back to July of 2011, when this whole thing started. At that time, a company called Liberty Hardware was a sidebar blog sponsor of ours and they asked to come interview us for some research they were doing about the do-it-yourself trend. A few months later, that research turned into an invitation to explore the possibility of designing some products with them. When we said yes there was no part of us that ever envisioned them ending up in a store like Target.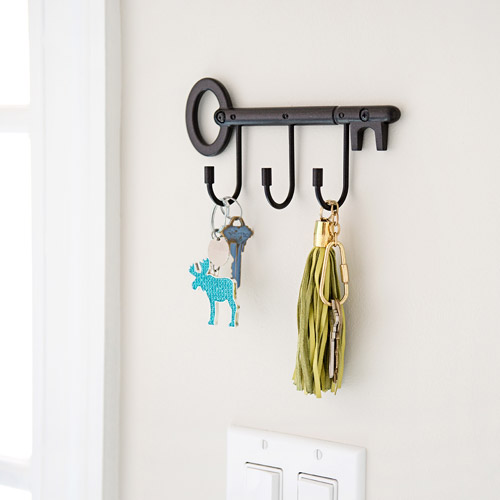 The next two years were an exciting and sometimes intense process of design and development. Never again will we underestimate the work that goes into making those everyday products that we see on store shelves. We were primarily responsible for the creative direction, which involved providing everything from rough sketches to color/finish input along with design tweaks and feedback at every step of the design process. Liberty's team was great to work with, and had things like manufacturing feasibility and sales analysis covered – which was a huge necessity to taking our ideas from paper (and visions in our heads) to real-life objects.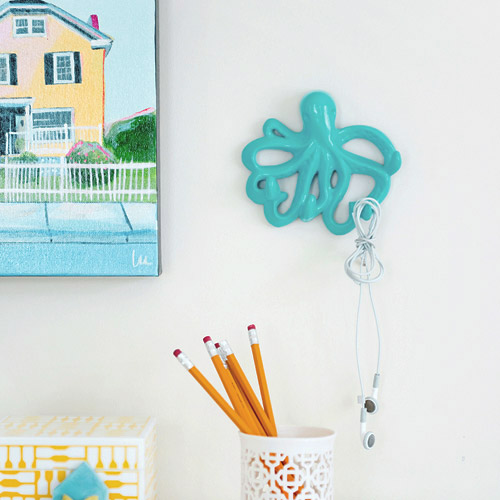 The development process was hugely interesting to us because it was like nothing we had ever seen. From the drawings & images that we provided, the Liberty design team would illustrate some options, the best of which then got modeled either on a computer or in clay by hand (sometimes both). Those then became 3D printed models that could get cast to become real production prototypes and eventually the final product was born. There was feedback, tweaking, and even a few "back to the drawing board" moments at each step in the process. Questions of scale, symmetry, functionality, finish, price, etc. were always being considered – as well as how everything would fit together as a collection. Heck, there was even a focus group held at one point! So all-in-all we probably designed forty or fifty pieces before they got narrowed down to the current mix.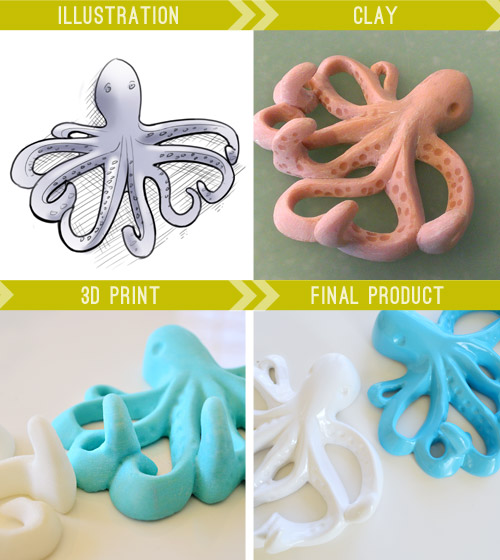 While lots of the design work happened virtually (through email and conference calls), The Liberty team – which is primarily headquartered about 3.5 hours from us in Winston-Salem, NC – traveled to Richmond on several occasions. We also found ourselves traveling to see them in North Carolina, meeting with their design team in Chicago (that's Adam pictured, who has been bringing our ideas to life from day one of the project), and even flying out to the Target headquarters in Minneapolis at one point. Despite that meeting happening in late April of last year, we still happened to catch a major snowstorm. We're not sure how you Minnesotans do it.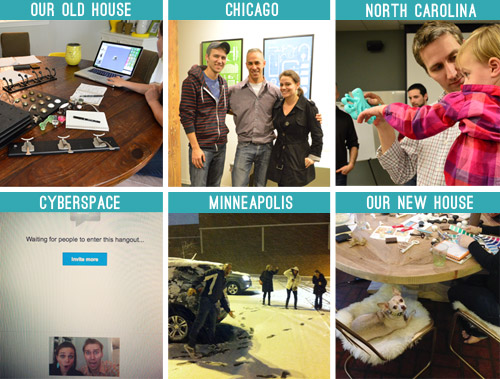 That trip in Minneapolis was especially surreal, since it happened just a few months after we had been there for our book tour. It was weird to be secretly traveling there after so freely Instagramming our previous tour travels. We actually got recognized a couple of times while standing outside of the Target offices, so we were pretty freaked out that our cover was blown (to the folks who said hi to us, we can now apologize for being SO INSANELY AWKWARD). Secrets are no fun.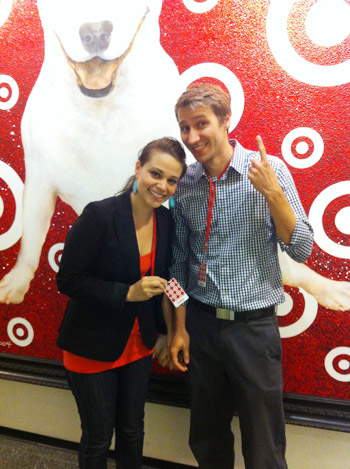 We shot the images you see in this post (and that appear on the packaging) in our house last November. It felt a lot like our book shoots when we were trying to create a diverse mix of backdrops in a house with very few painted walls, so we had to get a little creative. You can see in this photo that we used a remnant piece of grasscloth wallpaper to spice things up behind the Burger hook. And that's our brother-in-law/pro-photographer Todd who did all of the shooting. Nothing like keeping it in the family.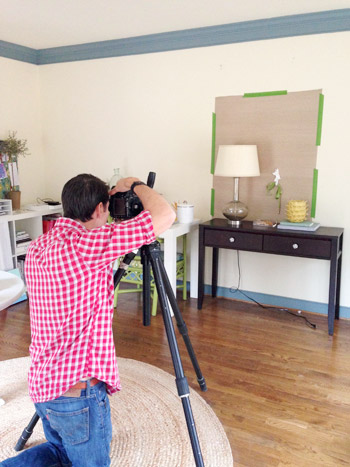 Once it was cropped, you'd never know there was painters tape and blue trim lurking just out of frame.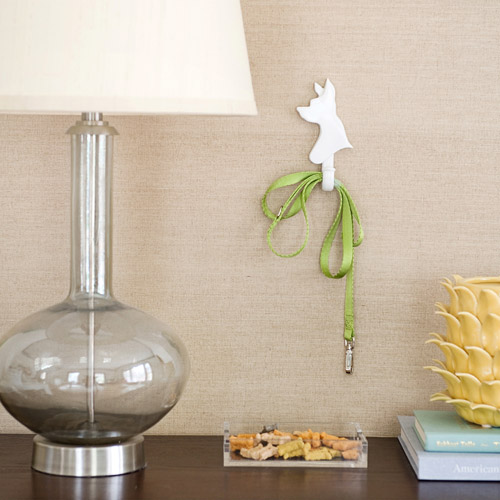 After all those months, all those trips and meetings, all those designs and redesigns, and all of the shooting/writing for the packaging, it still feels completely unreal that this project is out in the world now. And we're even more excited to hopefully roll out more products as the year goes on. Yup, we're actively pitching new designs that go beyond wall hooks and storage (Target prefers the idea of tight collections, so we're working on different home/DIY themes that could be switched out seasonally).
We owe a huge thanks to all of the people who've been a part of this, especially those who have put up with our silly questions or nit-picky changes. So a big virtual hug goes out to everyone who saw something in our ideas, and helped bring them to life.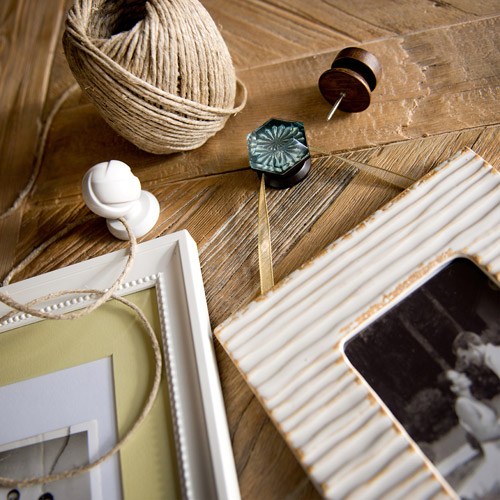 And of course we have an insane amount of love for you guys for sharing this crazy journey with us (and for putting up with our "secret project" for so long – we really wished we could have told you, oh, 32 months ago). Never in our wildest dreams did we think that first post back in 2007 would lead us here. Oops, I think the orchestra is playing me out, but picture me waving my chihuahua hook in the air while Sherry gracefully trips over her gown on the way down the steps. She's the J. Law to my J. Leto (I just have to work on my flowing man-mane).
You can browse and buy everything now over on Target.com, and then it'll be in most stores beginning March 31st. Fingers crossed that the sight doesn't send Sherry into labor!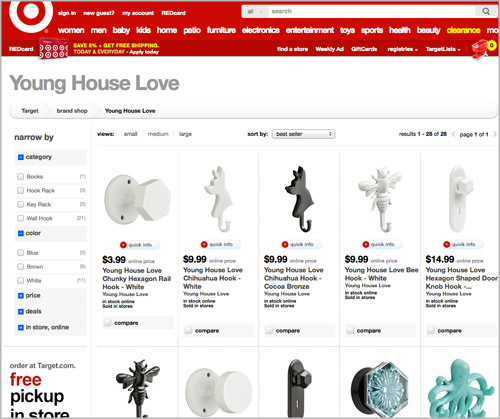 &nbsp
I know it sounds kinda crazy, but after painstakingly removing five different wallpapers from this house… we're considering putting some up. I think I even passively mentioned it in this post about the nursery mobile.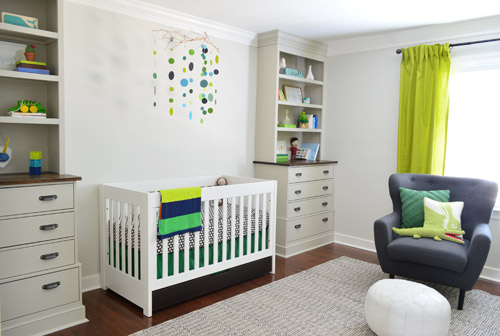 Ever since we imagined the idea of these built-ins, we pictured making the space between the two of them sort sort of accent – either with a color or pattern or treatment of some sort (in our first post we even mentioned a planked wall). Those ideas fizzled a little bit after completing the built-ins and realizing they had a lot of stuff on them (so we didn't want to clutter up that space between them above the crib too). But neither of us could quite shake the idea of still doing an accent of sorts somewhere in the room. And one night while perusing possible wallpaper ideas for the showhouse, this puppy caught John's eye.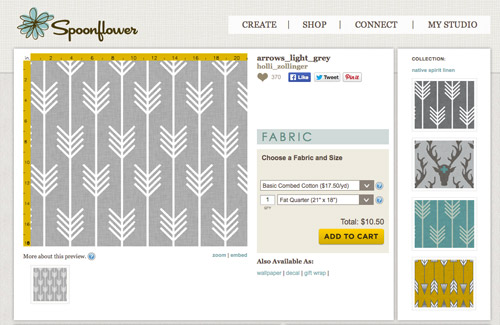 He went rogue and without even consulting yours truly (cue your outraged gasps) and ordered a sample of it and its darker counterpart, for $5 each. With tax and shipping it was $13 total. Thirteen bucks that would either earn him a sour look from me, or make him a hero.
Well, he got the sour look alright – not for the $13, but because I can still vividly remember the claw-hands I had from wallpaper peeling. The good news is that when he explained that Spoonflower wallpaper is removable, all was right with the world again. And I really liked the pattern too (it feels like something that could grow with the bun, and not be too fleeting or "young baby"). The hero part is still TBD though.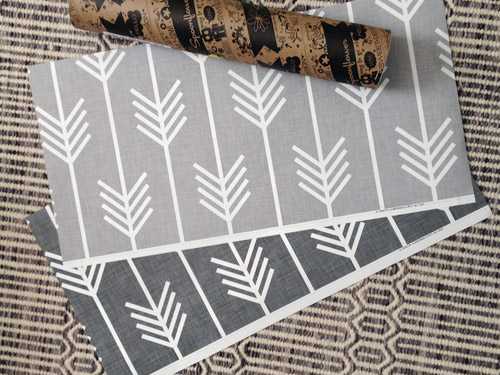 The samples arrived a couple of weeks later. They're nice and big, and they revealed a detail that John hadn't detected online: a subtle linen-like texture in the gray tones that I also thought was a nice touch.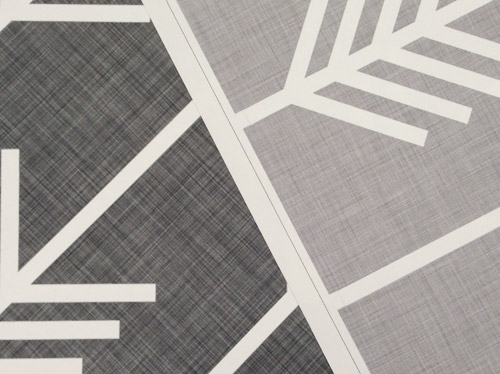 We ran upstairs to tape them up on the walls, just to get a feel for them in the room, and John went rogue again and put them on the wall with the bike prints. He must be getting braver (I think it's the beard, guys). Since we're both less tempted to mess with the look of the built-in wall, he said he thought that wall might be the answer instead. Forgive the terrible phone pic.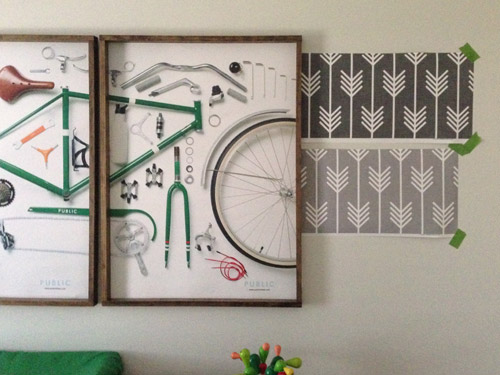 We snapped that with my iPhone so I could mock-up a full-wall version of the space in Photoshop. For those wondering how I did it, I just dragged the photo I shared above into Photoshop and laid it over another picture I took of (almost) the full wall. Then I just adjusted the size of the overlaid detail photo of the wallpaper until the patterns matched up and were the same size (I had the opacity of the top layer down a little so I could see when that happened).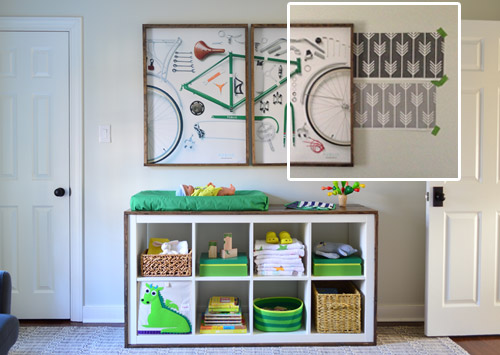 Once I knew the wallpaper pattern was the right scale, I put the opacity back up to 100% and cut out the rest of the iPhone pic so I was just left with a rectangle of wallpaper that I could manually tile until it filled the whole picture. Lastly, I cut out around the objects like the frames, doors, and the changing table (which were still in the image behind the tiled wallpaper) so as I deleted the wallpaper in front of them, it appeared to run behind them.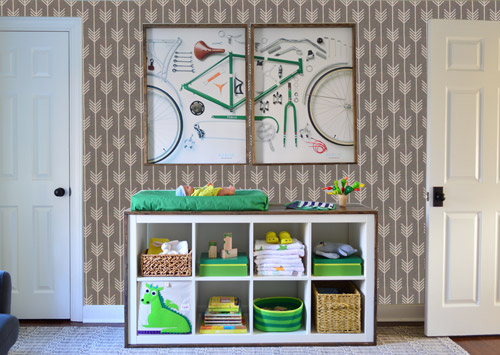 I also tried a version where I adjusted the color to look like the darker sample that John also ordered, but it was pretty clear to both of us that we preferred the lighter one.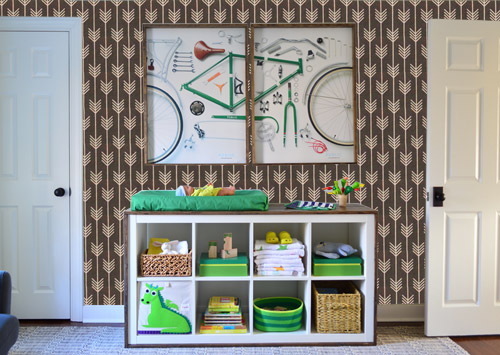 I thought it was a little hard to judge without seeing a plain wall meeting the accent wall to give it context, so I used the same technique to mock things up on this photo that I already had of the room. The colors probably aren't perfect (the curtains look neon here), but it definitely helped us to picture everything – and it confirmed that the light version wouldn't clash with the wall color or anything.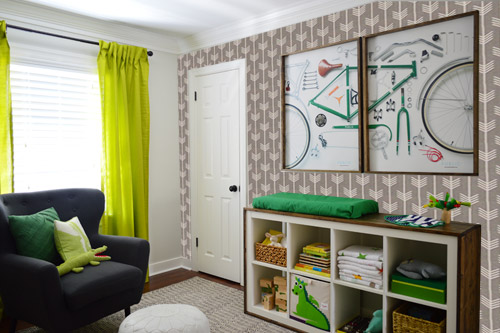 I still wasn't convinced that was the right wall for an accent (I feared it might look too busy with the bike art in real life) so we also mocked it up on the crib wall to see if our original idea was better. We stared at it for a second, but I think we both prefer the bike wall. It just felt too crazy over the crib with all the items on the built-ins, the mobile, the patterned crib skirt, etc.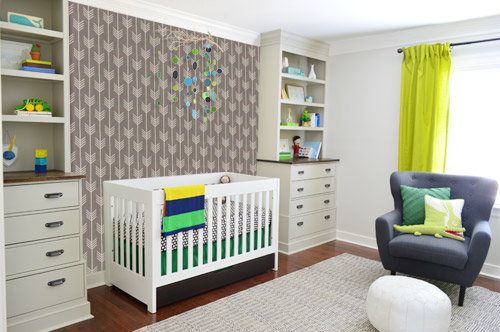 I also tossed some bold green up there just to see if a hit of that above the crib would be fun. It's not great photoshop (looks pretty flat) but we didn't really love it.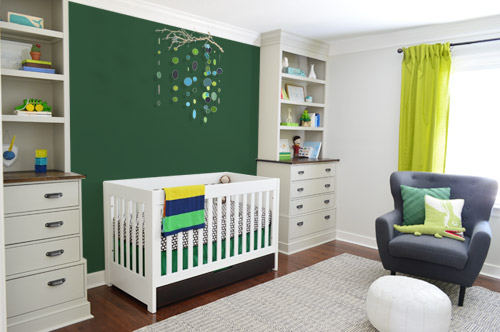 I also tried something sort of charcoal-ish to balance the chair out. This one made both of us do that "eh, not bad" face while staring at the computer. It looks kinda nice with the white crib and the mobile.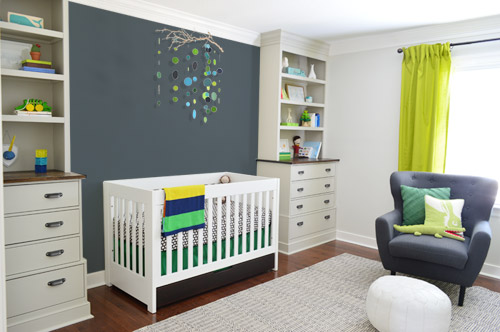 To add yet another possibility to the ring, a sweet reader named Annie had emailed us this quick mock-up she did with some chunky stripes painted behind the crib, which also gave us pause. You know we love a striped wall…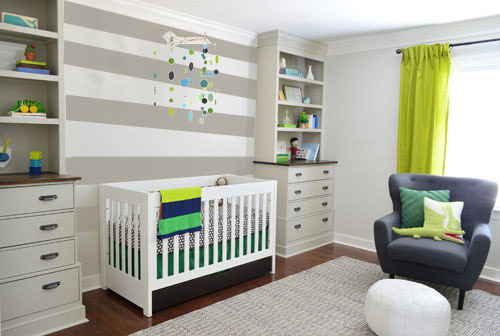 We're still sort of letting things simmer, but we'd love to hear what you guys would do. Would you go for the wallpaper on the bike art wall? We like that it's removable, so it's not too much of a commitment. Do you prefer a solid wall of green or charcoal or even some stripes behind the crib? Or should we just stop being crazy and leave things the heck alone? Part of us is really excited to add one more layer of interest into the room (we've never put up wallpaper so that would be a new adventure – and most of the elements in here are really neutral). Then again, we still want this room to be a mixture of playful and cozy (as opposed to that's-just-straight-up-crazy). What do you think?
**********************************
As a little Friday bonus, here are four fun projects, chats, or questions going on over on the Forums. We also announced this week's giveaway winner, so you can click here (and scroll down to the Rafflecopter box) to see if it's you.
| | | | | | | | |
| --- | --- | --- | --- | --- | --- | --- | --- |
| | | | | | | | |
| by HouseofGold | | by WanderingKate | | by kschrav | | by stclaircatherine | |
&nbsp