I'm not so much a clean freak as an organizational freak. I'm a firm believer that everything should have a designated place or you're destined to end up with unorganized piles of clutter all over the house. So I've always been partial to storage systems with specific functions in mind- take our rolling laundry storage caddy for instance (see our home video for live action coverage of it).
Another equally hardworking organizational system would have to be this fantastic "portable mudroom" that you can put anywhere to instantly create a place to hang coats, backpacks, purses, scarves, dog leashes, and anything else you shed when you come inside. There's even a handy place to sit down to remove your shoes (with hidden storage underneath the seat). What will the folks at Pottery Barn think of next?
But since we don't have $1279 (!) to spare, we decided to see if we could get a similar effect for less. A lot less. So we headed to our favorite neighborhood Target, where we picked up a handsome brown leather ottoman with hidden storage under the seat ($79) and a nice dark wood wall mounting coat rack ($19) with six big double hooks for hanging everything we could possibly be wearing when we come in out of the cold. For under $100 we couldn't be more pleased with the portable mudroom we created.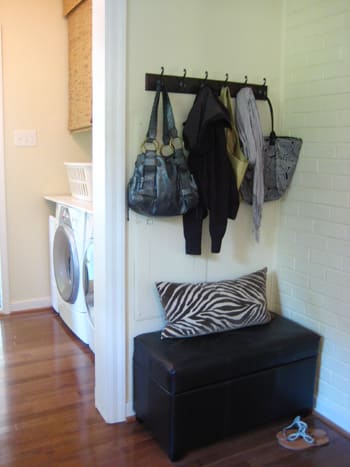 &nbsp
I surprised Sherry on Sunday with a day away from the 50-year history of house for the almost 300-year history of another. We spent the afternoon at Shirley Plantation, established in 1613 on the banks of the James River, just 30 minutes east of Richmond. Not only is it Virginia's first plantation, but it's the oldest family-owned business in North America. It's also a pretty cool place to poke around on a sunny, fall afternoon.
They don't allow photos inside the main mansion (where the 11th generation of the family still lives), so we can't show you the crazy "flying staircase" or ornate moldings and windows. But we did catch plenty of moments around the rest of the grounds. Like Sherry checking out the 18th-century kitchen for design inspiration – but getting none – and me letting loose in a big, grapevine-covered arbor.
The arbor also gave us a few more contenders for new art around the house, like the detail shot below. We've yet to decide if and where it might make an appearance on one of our walls. So stay tuned…
&nbsp