While the majority of America seems to love hoarding and clutter, John and I are lone mice. Or whatever the opposite of a pack rat would be. But there's a fine line between clean, uncluttered spaces and cold, stark rooms. It's not an easy assessment to make on your own. But I was able to make an honest evaluation by photographing each of our rooms and then comparing each room in our house to rooms in decorating magazines and favorite furniture catalogs like Pottery Barn, Crate & Barrel and Ballard Designs.
I quickly realized that while our rooms were clean and simple, they were severely lacking in the design department. So of course I was spurred to action. I feverishly began to move furniture around. And when the dust cleared, I had a good idea of what was working, and what I needed to add to my wish list. The main shift occurred in the den, a room that's always been tricky due to its long narrow layout. Another chair, an end table and a slew of rotated accessories really did make a big difference. Here's the ho-hum before:
And the warmer and more welcoming after:
Seems less bare and boring, right? Plus there's one more place to sit (and rest a drink). Total bonus. The crazy part is that the side table was salvaged from our basement's garage sale pile. So nice to have a little "store" in our basement to raid for extra pieces.
&nbsp
Here's a simple little fan makeover project anyone can do. We decided our boring cheapo white fan in the den would look more high-end with a lamp shade on it instead of one of those generic and dated round glass bulb holders.
All we needed to make a quick switcheroo was a nice looking white lamp shade with a metal interior loop that is held in place by a bulb (don't get a shade that doesn't have the loop to go around a bulb, or there's no way your fan bulb will be able to hold it up).
When selecting a shade, we took size and proportion into account (as well as making sure it had that interior loop for hanging purposes). We didn't want anything too tapered since a shade that's only slightly wider on the bottom looks more modern and less granny than a big sloped triangular shade.
Then all you need to do is remove your fan's old glass bulb cover and unscrew the bulb. Slide the shade's bulb loop through the bulb so that it is held in place when you screw the bulb back into the fan.
Here's a quick before shot to clue you in on what we were working with:
And here's the after: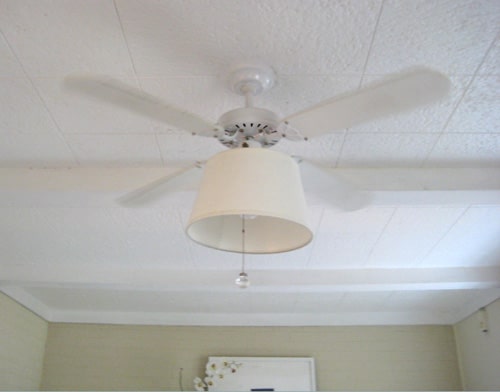 This project literally took all of 5 minutes once we found the right shade. And anyone who knows me knows I'm always a fan of a quick and easy home improvement project. And a terrible fan joke or two. My apologies.
Update: Click the speech bubble in the top right corner of this post to see the comment section with additional instructions and another photograph.
&nbsp