Every good movie has a sequel (Sister Act 2: Back in the Habit, anyone?) so it's about time we debuted the follow-up to last fall's partial-house tour. Sherry's back in her starring role as "tour guide" and I'm directing again, but the set is much improved this time around. Not only do we have a completed kitchen to share, but this time we take you through the bedrooms, the other bathroom, and even let you a peek inside our fridge. As you'll see, a lot can change in five months.
So grab some popcorn, silence your cell phones and enjoy. (Also, please excuse Sherry's blurry face in the very beginning. The censored look wasn't intentional.)
Note: If the video above isn't working for you, click here to see the tour on youtube.
&nbsp
Ok, this is the ultimate teaser post. This weekend John played director man while I put on my tv host hat and we recorded another video house tour for ya. And this time it's the full monty. Every room, and even some closets. Oh yes, it's an all access invitation into our perpetually transforming casa. So stay patient while we upload the winning take (it's actually take one if you can believe it) and check back within 24 hours for the exciting debut. It's guaranteed to be more fun than most home improvement projects, so ya'll come back now, ya hear?
Until then we'll throw you this scrap of entertainment. A gorge mirror that I discovered at T.J Maxx of all places for 12 measly clams.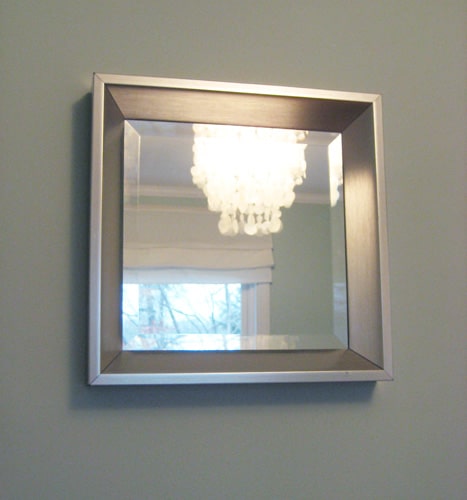 It's the perfect touch of glam for our recently swankified bedroom. And not only does it reflect the light from our capiz chandelier, it's also quite functional (I can keep my bed-head in the bedroom). Just further proof that you don't have to spend a million smackaroos on accessories when there are so many cheap thrills out there just waiting to be discovered.
&nbsp