Showhouse
Happy May and, well, Happy Opening Day of Homearama! Yep, our showhouse is officially open to the public as of today, along with the six others in the show. Deepbreathsdeepbreaths.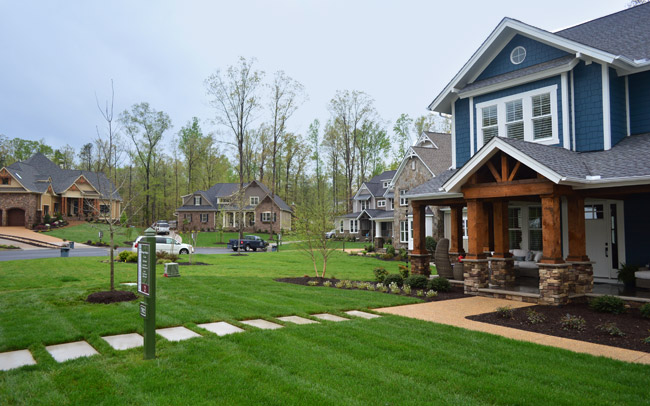 Since we last showed you the office, butler's pantry, and master suite (along with the master bathroom & closet) and then took a pause to have a baby, let's pick back up in the main living spaces of the house: the living room & the kitchen – which you can see from the floor plan below are both pretty big zones on the first floor.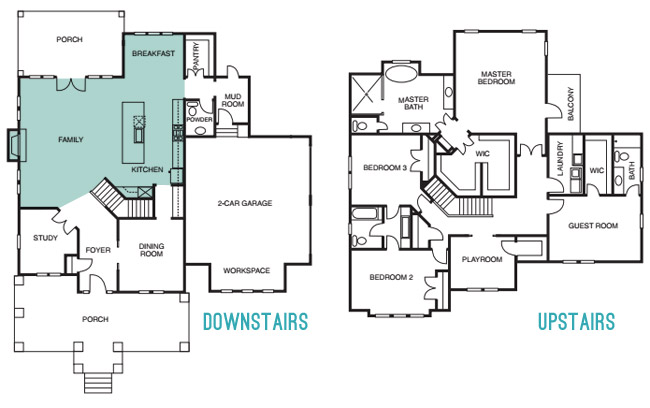 The walls in both the living room and the kitchen are Simply White, and then we layered in some colorful paint/textiles/art/accessories (like a navy fireplace column, a kitchen island in the same color, a breakfast nook full of colorful accessories, some bold art in both spaces, and a colorful rug and pillows, etc).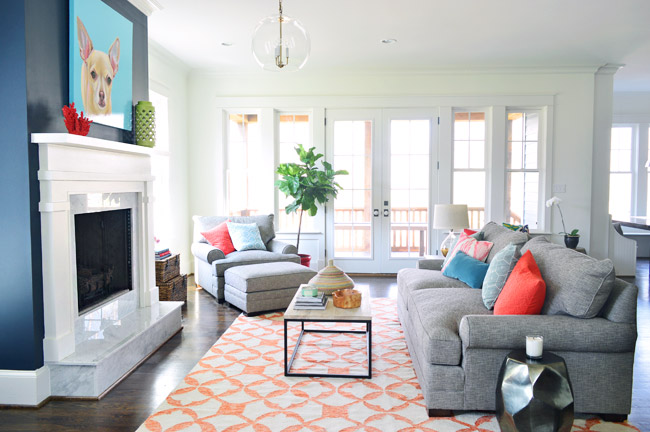 We had always wanted the fireplace to be the focal point of the living room, so we went with Hale Navy by Benjamin Moore to anchor that wall. And our awesome friend Lesli Devito painted a big portrait of Burger to bring a little cheekiness to the space (the TV will most likely hang there when the real family moves in, we just couldn't resist an ode to Burger for fun during the show).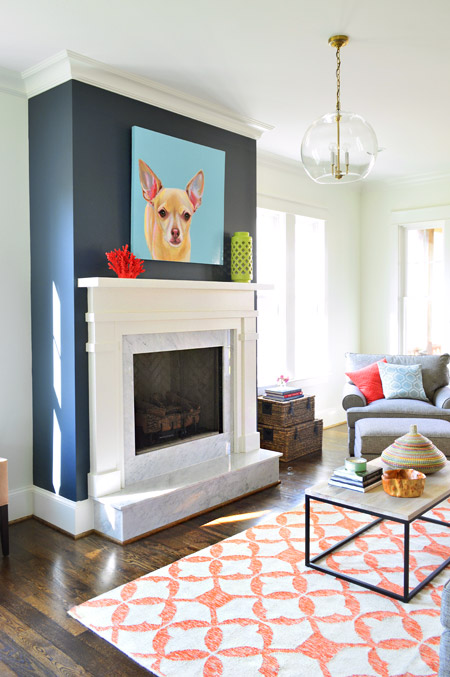 The coffee table and 9 x 12′ rug are both from West Elm, and that colorful basket is a HomeGoods find. The gray sofa, chair, and ottoman are from Green Front Furniture – it's this model in the "smoke" color.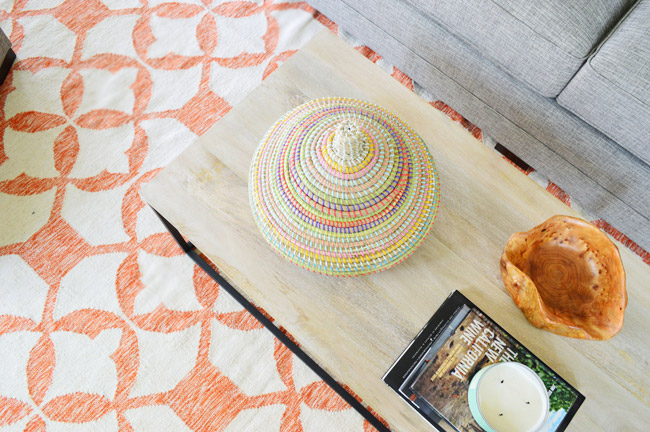 We selected the white wood mantle and marble surround/hearth through a local company and yes, the fact that the gas fireplace turns on with the flick of a switch on the side of the fireplace makes us crazy jealous. Updating our own fireplace may have climbed up our priority list after seeing how nice that is…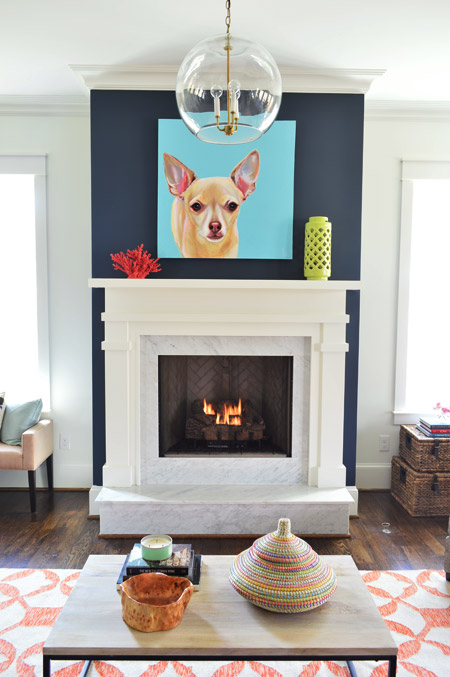 Here's the view looking from the french doors that lead out to the back porch. In retrospect, we wish we placed the fixture box for that glass pendant light so it would be centered over the coffee table, but we chose electrical placements three months before furniture so it ended up a bit closer to the fireplace than we'd like (thankfully that's a pretty simple thing to remedy after the show). This entire exercise has been one giant learning experience for us, and it's amazing how many minute decisions (it feels like there were at least 1,000 of them) add up to one finished home.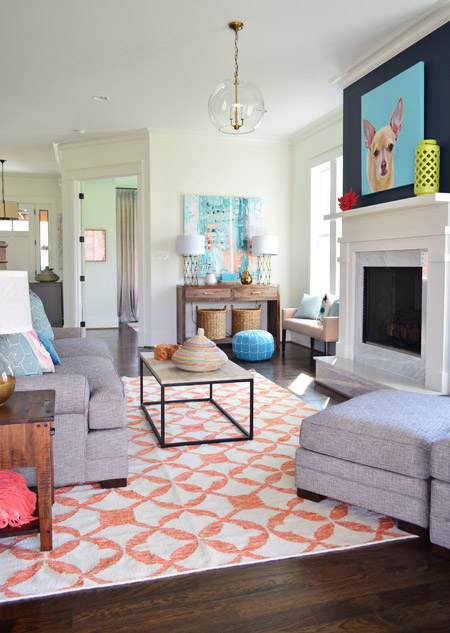 Back in the corner you can see this console, which was a HomeGoods score – as were the lamps – and the baskets on the bottom are from Target. The large scale art is on loan from Lindsay Cowles (it's for sale, btw!), and the bench under the window is also from Green Front. The blue pouf is ours (bought on Joss & Main a while back and stolen from our own house in the name of filling up this one for the show). We took these photos before all of the white plantation shutters got installed throughout the house, which really finish off each room.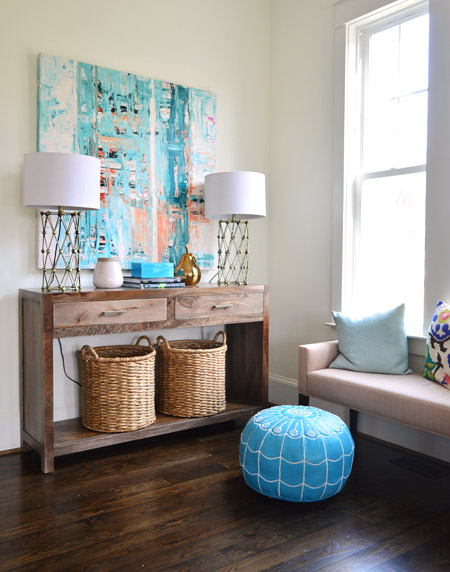 The side table was a last minute buy from World Market and the gold-based lamp was a project from our book (once again stolen from our house in those final make-it-work hours). That red planter for the fiddle leaf fig is from Lowes.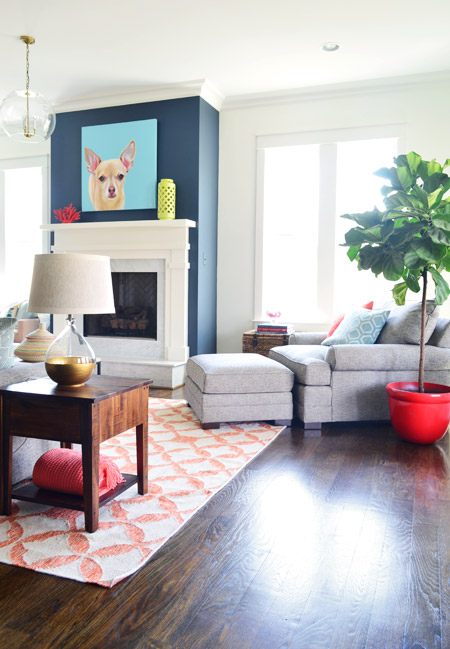 The living room light fixture was one of the last pieces we selected, since we were having trouble finding something that didn't compete with the gold accordion lights in the adjoined kitchen (filling up this house in a matter of weeks made it nerve-wracking whenever we couldn't find something and the clock was ticking down). It wasn't until we saw the Clear Glass Chandelier hung up in the master bathroom that we realized another one would look great down here, but instead of using silver hardware like the one in the bathroom, our friends a the Decorating Outlet were able to modify one to include gold hardware so it tied into the kitchen pendants.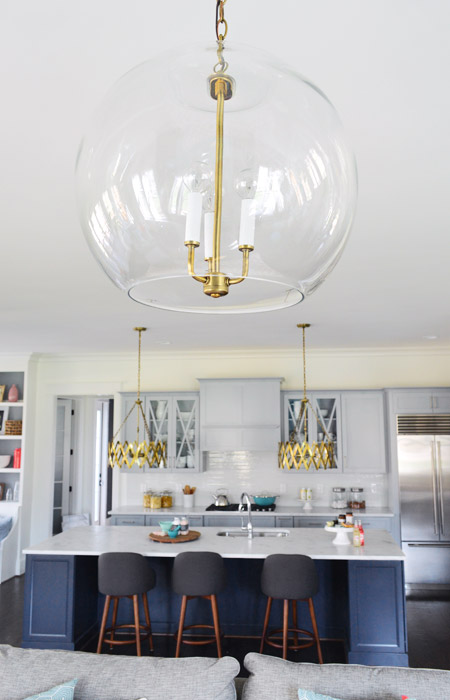 Let's move into the kitchen, some of which you've seen before (in this post) but I'll call things out again, just so the sources are all in one place. The cabinets are from a local shop called Affinity. Most are in a stock gray color they offer (which is similar to Benjamin Moore's Gray Timber Wolf) and the island is painted Hale Navy like the fireplace column on the other side of the room.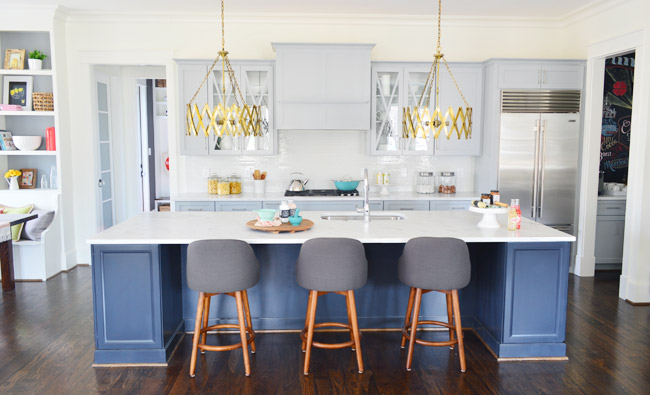 Two questions that came up a few times when we last shared the kitchen were:
1. Why is the quarter round around the island wood toned instead of painted? That's just a standard thing the builder does with oak floors since it tends to hide dust and scuffs more (we think it's regional since all of our houses in Richmond have also had wood quarter round) but he's happy to paint it if a buyer prefers that look.
2. Why don't the cabinets go to the ceiling? Some other homes in the show with 9′ kitchens have ceiling-height cabinets, but our first floor has 10′ ceilings, and cabinets that go all the way up to that height are pretty unusual (the builder said most of his buyers don't want to pay the upcharge to gain such tall cabinetry – although his carpentry team is happy to build some sweet upper storage to bridge the gap if a certain buyer is interested in that upgrade).
One other funny thing we heard a few times when we met people at a little pre-show party at the house to honor the builder was "oh my gosh on your blog this kitchen looked about half the size – it's huge!" – so while I had our tripod set up I threw my body atop the counter as a reference point (you know, as any normal person would). The island is over 11ft long, so my six foot frame has plenty of room to sprawl out. Just in case you and a few friends want to take a nap up there.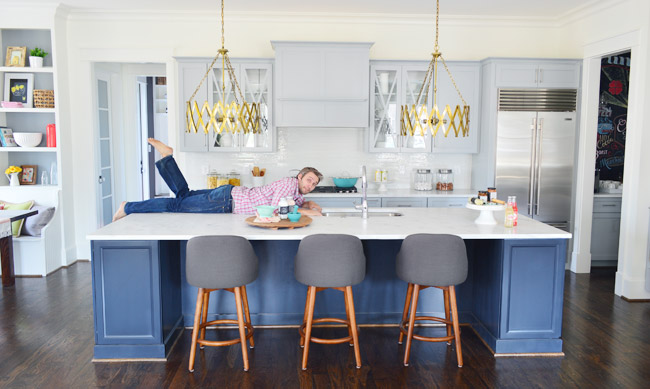 The stools are from West Elm, the gold accordion lights are from Shades of Light, the Wolf/Sub-Zero appliances are through a local company called Cline, and the cabinet pulls are from Liberty Hardware.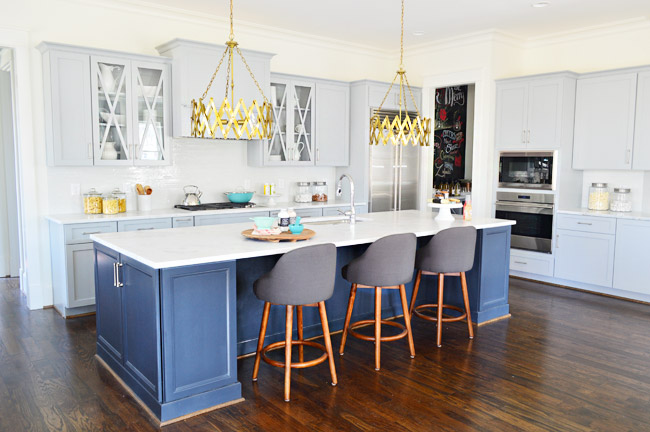 The counters are a White Moura marble that's leathered (so it's not a glossy, smooth finish) that we got through a local place called Eternal Stoneworks. To keep the glass cabinets from looking too busy, we just filled them with some white dishware from Target and HomeGoods.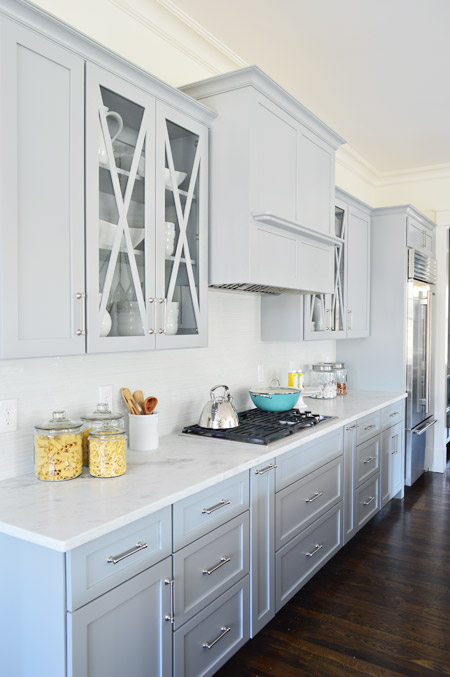 One thing we never really got into with you guys was how we worked with Affinity to design the cabinet layout. We knew deep drawer-bases seem to be more coveted than cabinets with deep shelves since they pull out for easier access, and the experts at Affinity also suggested ways to take advantage of narrow spaces – like a roll-out spice rack and a vertical cookie-sheet organizer.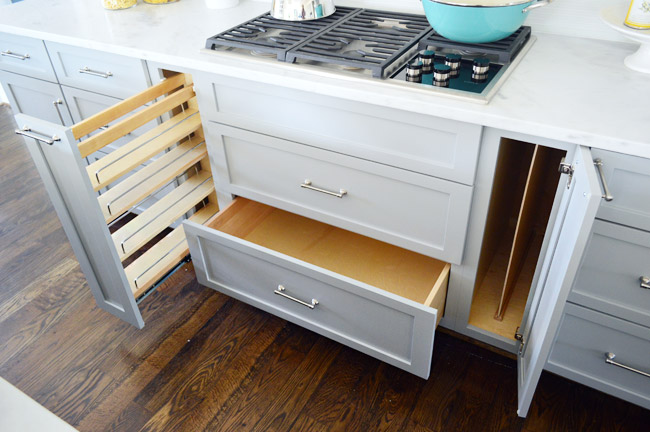 But perhaps my favorite storage areas in this whole kitchen are the big 30″ x 18″ cabinets on either end of the island. We used them a lot for stashing things out of the cleaning crew's way and they were awesome. The island also houses the dishwasher, a roll-out double trash can cabinet, and tons of other storage spaces.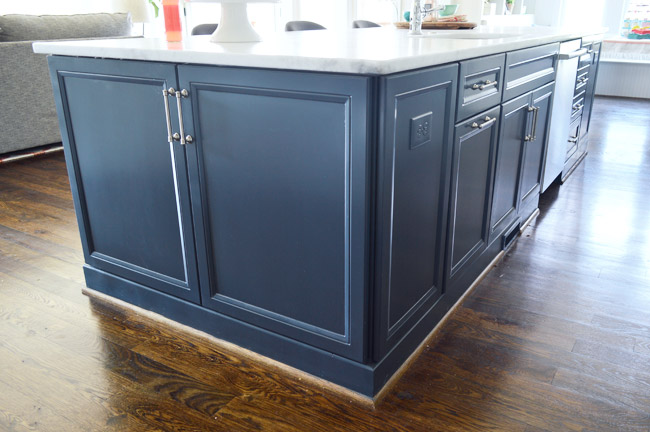 For the sink and faucet, we wanted something clean and functional. We went with this classic looking faucet and the deepest single sink the stone company offered. It's 30″ wide and 10″ deep, which means it's deep enough to hide a few canisters of donuts… you know, like if that's the only thing handy you have on hand to show the scale.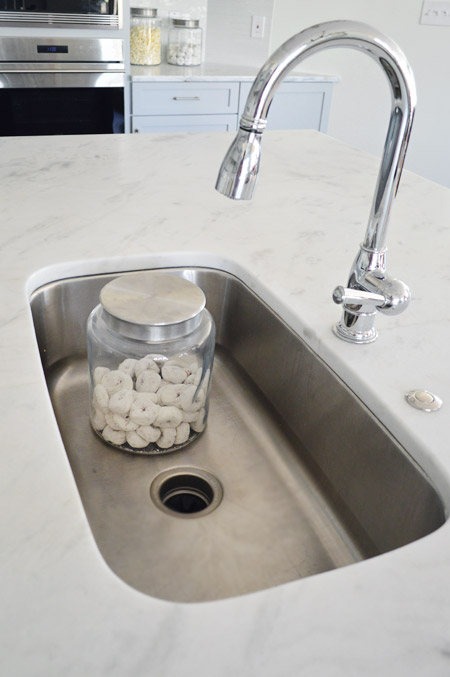 The backsplash brings some nice polish to the space, it's called white blend waterfall glass tile from a local company called Mosaic. The aqua pan was from World Market and the oil cans and cake stand were from HomeGoods.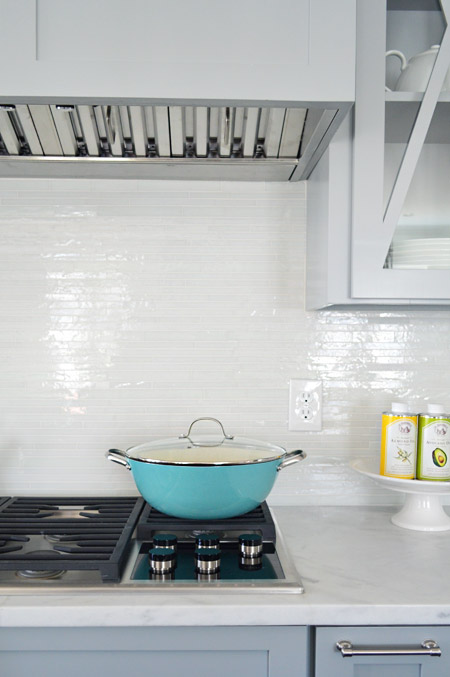 Looking to the left of the kitchen is the breakfast nook, which we turned into a built-in banquette. You can also see the frosted double-doors that house the walk-in pantry, which we'll get to in a minute.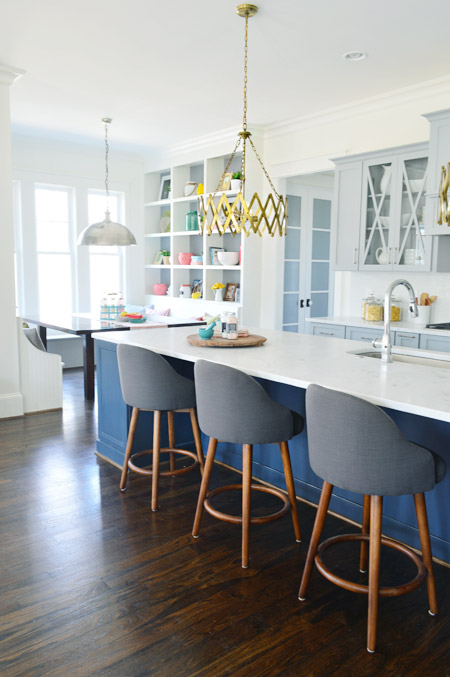 We wanted to do something a bit bolder than your average table-and-chairs for the breakfast nook, so we worked with the builder's carpenter (also named John) to construct floor-to-ceiling bookcases on either side and include a wraparound bench. The nice thing about the shelves is that when you stand on the banquette you can easily access everything (even that top shelf) so unlike ceiling-height kitchen cabinets (which would necessitate some sort of ladder), these are pretty easy to clean/reach by comparison.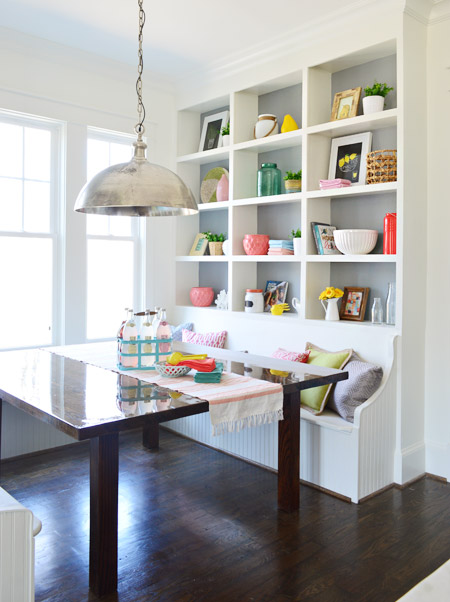 In addition to being a cozy space for family to gather, we pictured it almost being a casual spin on a china cabinet in a way. Instead of housing all of your fine china behind glass, you could display your everyday kitchenware, cookbooks, and framed art/photos in a less fussy setting.
The backs are painted Timber Wolf Gray to mimic the gray on the nearby cabinets. A big thanks to my sister (who works at Random House) and our publisher at Artisan who were able to provide some pretty cookbooks for us to use. Oh, and after we took these photos we had the show's resident seamstress make some cushions for the bench. They're deep gray like the backs of the stools at the island, so they tie in nicely.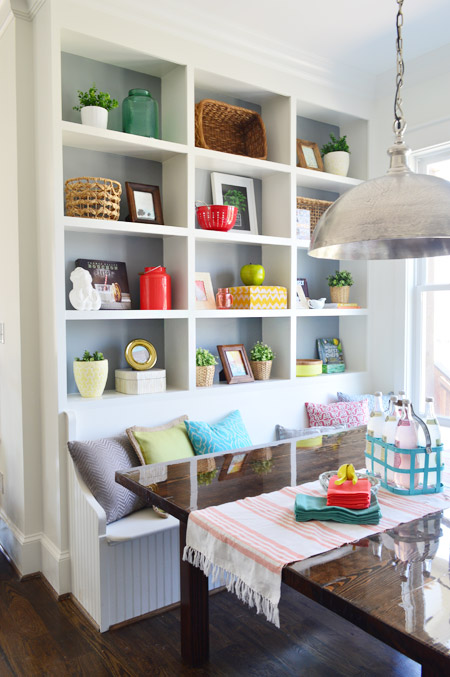 The light fixture is the Large Simple Dome from Shades of Light, and we thought it referenced all the stainless steel and silver finishes in the kitchen (like the appliances, cabinet hardware, faucet, sink, etc) without going too crazy with gold everywhere. Our take on mixing metals is that as long as each finish occurs a few times throughout the space, it looks intentional and layered – so one fixture or finish isn't the odd man out.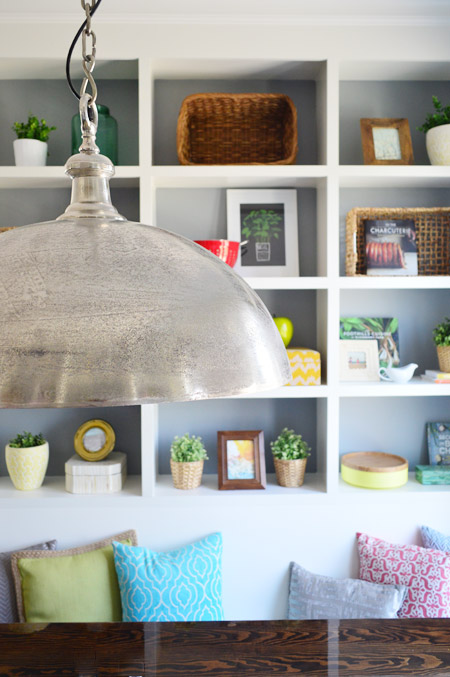 We considered setting the table more formally to emphasize how many people can fit around it, but opted instead for a more casual spread. The beverage container is from HomeGoods, the ceramic basket is from Target, and the napkins are from World Market along with the lemon squeezer.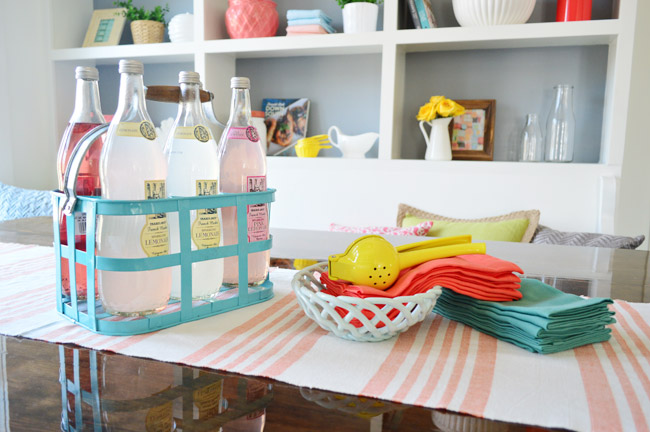 The table itself was a custom build by John the Carpenter. It's 5′ deep by 6′ wide, so it's definitely not a size you can find in stock in most places – but we needed it to fit the nook exactly. We were initially going to get one built by a local timber company, but after two trips out there and a flurry of emails it turned out to be out of our budget. But we love how this one turned out, especially the stain color (we used the same tone as the hardwood floors – Jacobean) and the glossy bar coat on the top.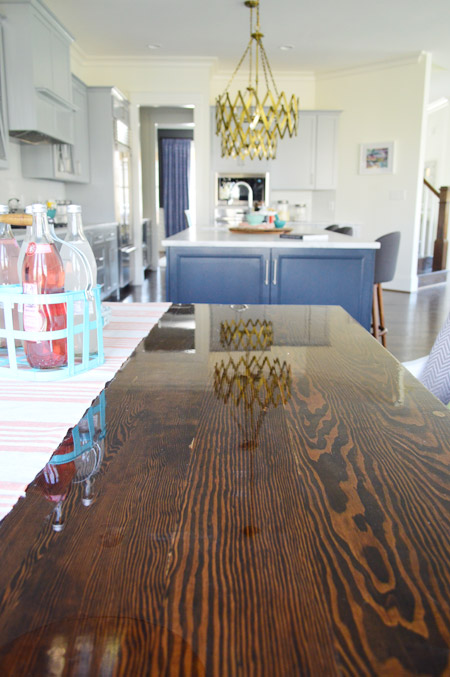 And here's the pantry. The shelving was built by John the Builder's carpentry team and they made sure the frosted french doors we selected didn't interfere with any of the storage or block the hallway flow (by choosing short double doors instead of one large door, and having them open into a recessed area before the pantry shelving begins, they don't block anything that could be stored in the pantry or block the hallway flow from the mudroom). The glass prism flushmount light is from Shades of Light, and it's also in the nearby hallway and mudroom.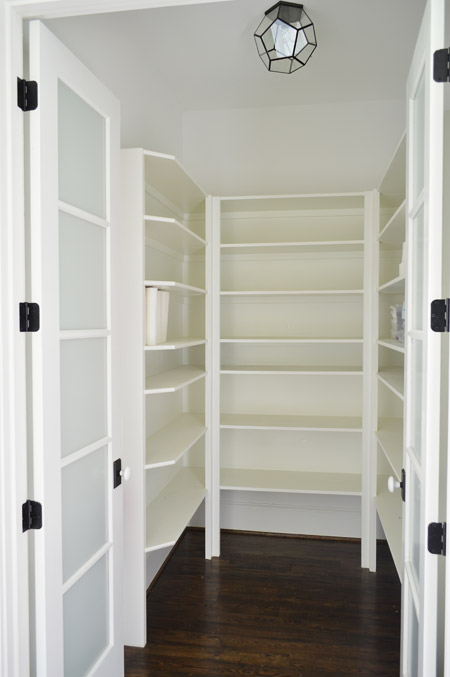 We realized that it was hard to tell scale from the photo above, so we snapped another picture with me for reference. It's definitely on the generously sized side of things.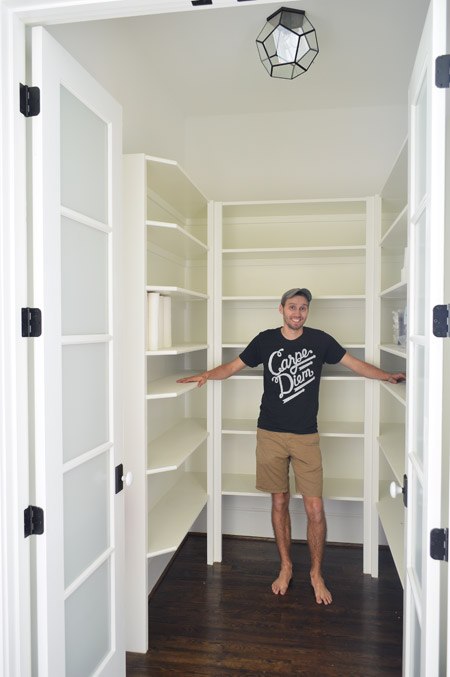 We chose not to "style" the pantry and took your suggestions to turn the room into a collection space for donated canned goods. So if you're coming to Homearama, feel free to bring a canned good or two to benefit FeedMore (it's our region's hunger-relief charity organization). And if you don't want to lug cans in your purse through the homes, you can also drop your donations off at the show's front entrance / ticket counter.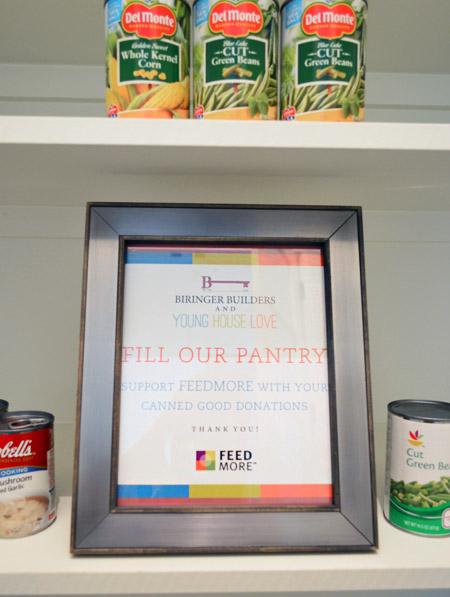 We're trying not to overload you guys with too much showhouse stuff all in a row, so we think we'll just do one weekly update among other home/family stuff that's going on in our house for the next few weeks. We also got to tour all six of the other showhouses yesterday, so we're excited to share those with you guys in the form of a House Crashing post. Hopefully next week if we can get it together.
Psst- Homearama is now open! All seven showhomes are available to tour every Thursday – Sunday for the next three weekends. Tickets & more info is available here. And for more background on our involvement and how it benefits Habitat for Humanity, click here and here.
&nbsp&nbsp&nbsp
Continuing our showhouse-heavy week of reveals, we're bringing you a bunch of after photos from three more spaces – the master bathroom, the atrium, and the master closet. We showed you the master bedroom on Tuesday (along with the office and the butler's pantry) so it only felt natural to continue our virtual tour where we left off.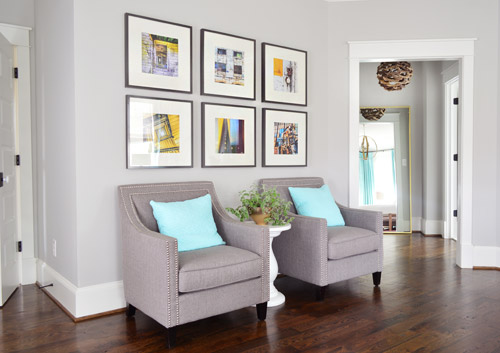 The master bath and closet sit off a corner of the bedroom and are separated by a space that we've been lovingly calling the "atrium" (it's really more of a vestibule) which you can see above on the right side.
Here's the floor plan for a clearer map of how that area is situated: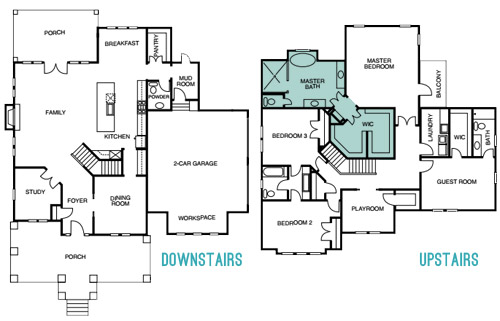 The atrium features a brass floor mirror donated by West Elm, a driftwood light from Shades of Light, and walls that are painted Stonington Gray by Benjamin Moore just like the bedroom. At one point we wanted to do a "living wall" back there with a bunch of built-in planter boxes filled with greenery, but due to the architecture of the roofline, we couldn't put a skylight there. So because it felt unwise to cram a sunlight-less area with live plants, we scrapped the idea. It's still a nice spot between the bathroom and the closet for a floor length mirror, and the driftwood light is one of our favorites in the house.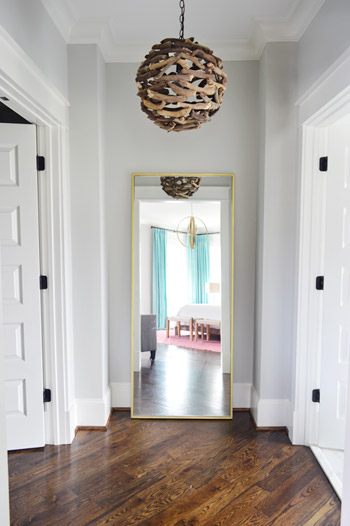 When  you turn to your right, through the double doors you'll see the space that we most want to pick up, stuff in a suitcase, and put in our own house.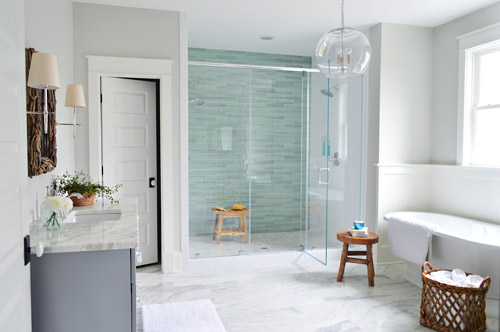 It felt fitting to aim for that spa-like effect in such an airy space (the house's floor plan meant we knew that this room would be spacious with a big window over the tub). So pretty early on we decided we wanted a light color scheme with a wash of color on the back wall of the shower. We actually considered a more intense cobalt blue tile at one point, but it was out of stock. We love the calming aqua glass tile that we ended up with, (it's the 3 x 12″ New Haven tile from The Tile Shop) so it was just one of those "happy accidents" throughout the room's evolution.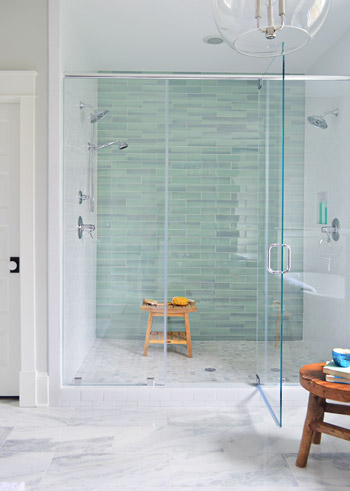 The sides of the shower are basic 3 x 6″ white subway tiles, also donated by The Tile Shop, which we picked because  they were the same height as the bolder back-wall tiles (so the rows would line up), as well as feeling nice and simple – to keep the attention on that green glass tile. It's considered a double shower since it has Baliza showerheads on both side walls, which were donated by Brizo. At the suggestion of our local Ferguson rep, whom we worked through to select plumbing fixtures, we included a handshower on one side (we learned that new builds frequently include them, just to give people options like spraying off their feet or a pet).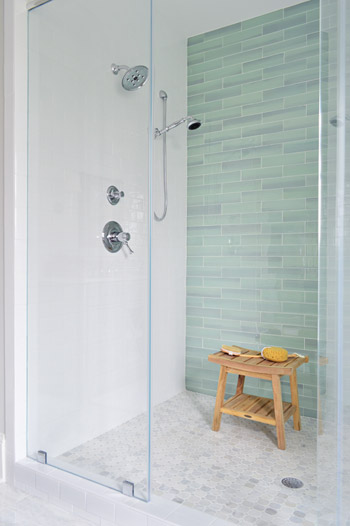 The floor tile in the shower pan is the Tile Shop's Evanston series in Frost Snow, which featured some small aqua glass accents between the marble squares which help tie the big accent wall together with the marble floor (that's 12 x 24″ Tempesta Neve marble) throughout the rest of the room. You can check out a detailed photo of our tile pics (and more clearly see those little green glass squares in the floor) here. We also really like how the tile installer wrapped the white subway around the shower threshold.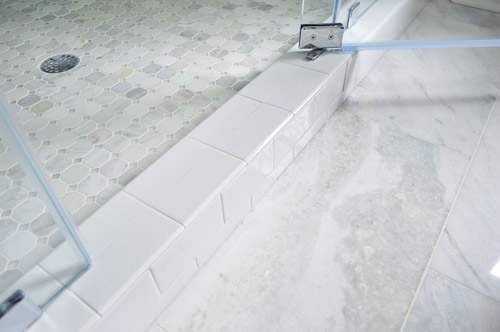 I'll be honest that as the glass tile was being installed I was certain we had made a big mistake (three different tile choices for the shower walls and floor felt like they didn't really "mesh" yet) but as soon as it was all grouted with the same white grout throughout, it tied everything together. And now it's my favorite thing.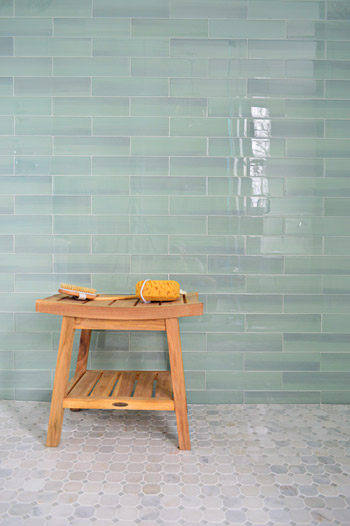 But let's step out of the shower for a second and talk about the vanities (you don't get to say that everyday), which came from the same local cabinet company (Affinity) that did the kitchen. They're also painted in their stock gray color, which we've discovered is close to Benjamin Moore's Timberwolf Gray. The walls are Moonshine.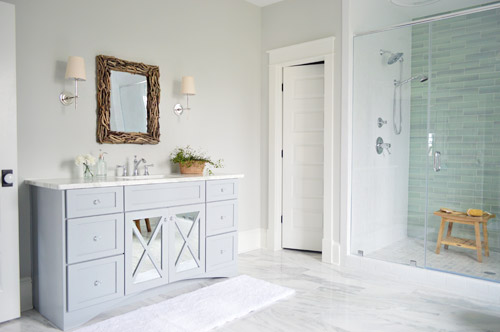 The driftwood mirrors and Soho sconces were donated by Shades of Light, the faucet is Brizo Baliza just like the shower fixtures, and the subtly green-veined counters are Lady Onyx which were purchased through a local company called Eternal Stoneworks.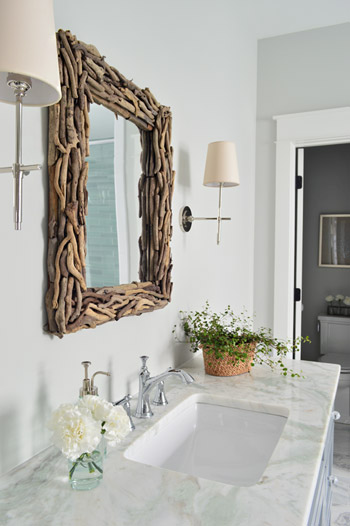 The onyx counters have a hint of the same seaglass color that's in the shower tile, so we thought they'd be a nice counterpart to the more traditional marble on the floor. The little woven baskets are from HomeGoods.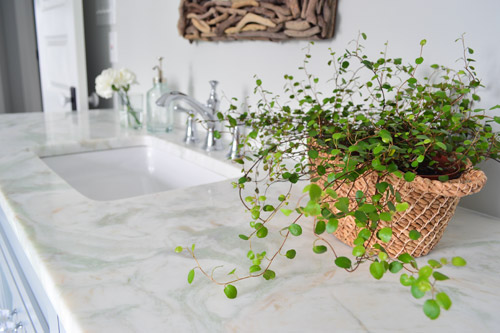 We added a little more interest to the vanities by selecting mirrors with a soft patina effect that we placed behind the x-frame doors (similar to the clear glass ones that we chose for the kitchen). We also went with arched trim along the base of each vanity to give the built-in cabinet a bit more of a furniture feel (you can see that better two shots up). The giant bathmats are from Target.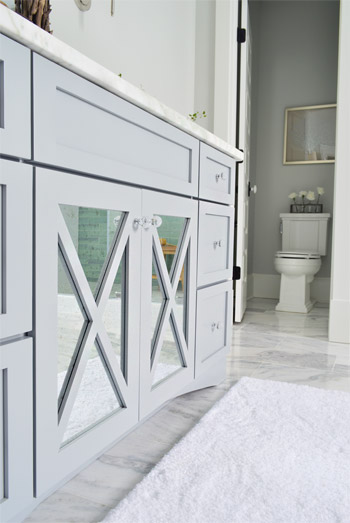 And now, let's get weird for a second. I have to take a moment to talk about this toilet. I've never given toilets much thought, but when our builder urged us to pick something more stylish than a basic model we both fell in love with this one (the Tresham, donated by Kohler). And now I have this crazy case of toilet envy. So I guess that's a thing. The little vases on the top are from World Market and the framed seafan art is from HomeGoods.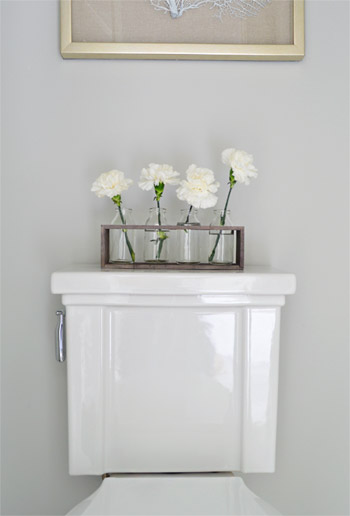 Speaking of envy, Sherry (in all her pregnant glory) has had a few moments of longing in front of this tub. Ever since one of our book tour hotels had a big soaker tub, she has been jonesing for one. It's the York from Victoria + Albert, and the cool thing is that lots of people paint the outside an accent color. We considered it, but decided that we wanted to leave the shower as the main accent in the room – but we thought we'd toss that tip out because it could be a fun idea for your space.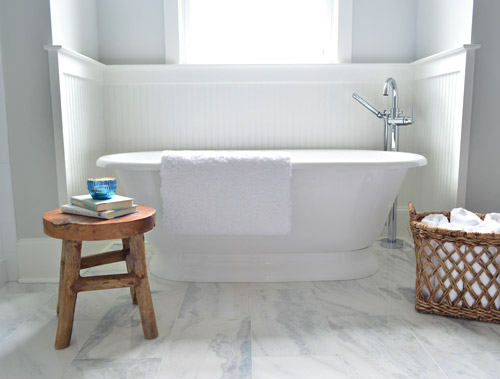 The stool and basket are both from HomeGoods, and the floor mount tub filler is the Trinsic, donated by Delta. You can see that we also had the carpenter add some beadboard wainscoting around the tub area as an accent, and to provide some extra protection from splashing, bubbles, and whatever else your particular tub fantasy entails. Mine includes nachos. Just sayin'.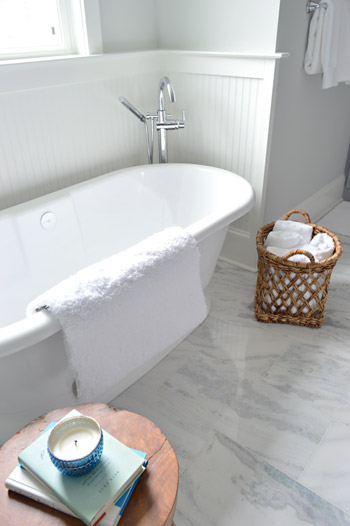 This is the view looking back on the room from the shower. Yes, I was literally in the shower when I snapped this. And yes, I did consider taking it for a test drive.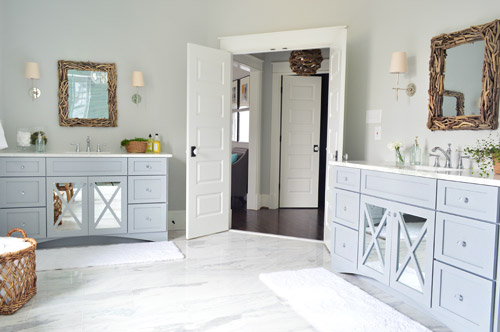 The mirrors were actually an 11th hour decision (as in, we were hanging them a few days ago) because the original chrome-y mirrors that we picked were blending too much with the other gleaming/polished items in the room and felt a little too invisible. So we decided that we needed something with more contrast and texture, and it hit us that rough driftwood frames would be an awesome reference to our lighting choice in the nearby atrium.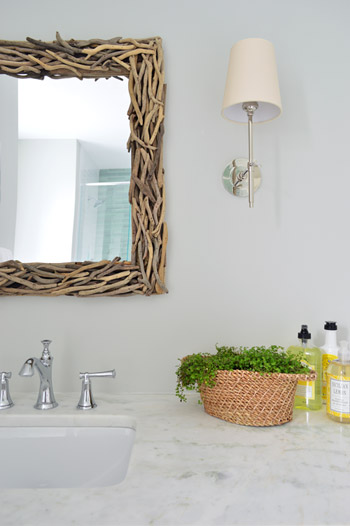 As soon as we hung the new mirrors we got more excited than we should have. Maybe we were just delusional at that point, but they're one of our favorite last minute changes.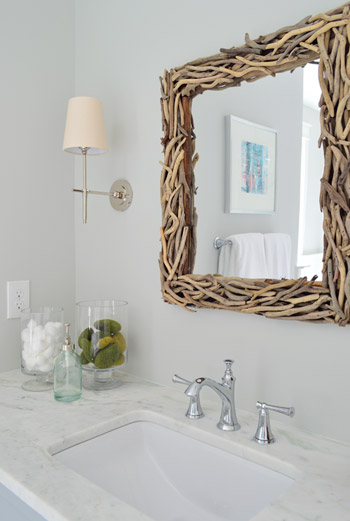 The main light fixture in here is the Clear Glass Chandelier from Shades of Light. It doesn't pop in pictures very much, but in person it's pretty amazing. So much so that we bought another one for the living room, but had them wire it in a gold finish to tie into some other fixtures down there.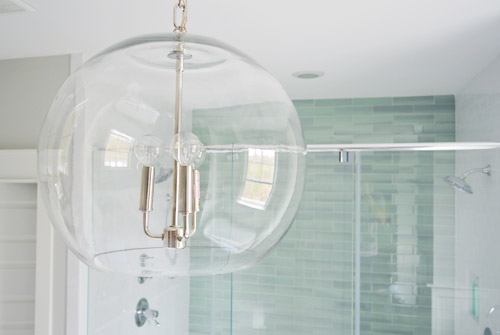 The master bedroom closet is equally envy-inducing in size and sports two sections (which make it convenient for a couple) thanks to a little partition in the middle to carve out two sides. We can't claim much credit for how this turned out, since we mostly just nodded along as the builder and his carpenter told us their plans, but we're happy to show off their handiwork and our meager styling of it (closets typically get a few outfits, bags, and shoes for these shows, so you get the idea but don't have to see them stuffed with an entire wardrobe).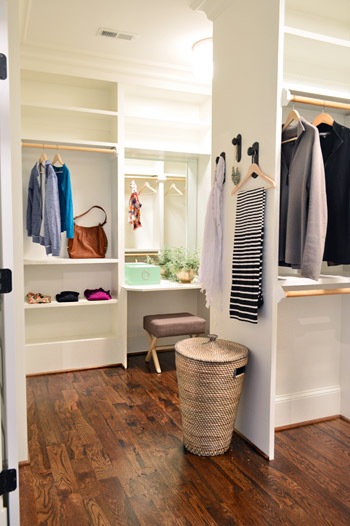 As we mentioned yesterday, we did hang a trio of our new doorknob hooks (two large ones and one small one) to create a little display space on the partition that separates the two sides of the closet. That flat wall was originally going to have a full length mirror on it, but it started to feel excessive after putting the floor mirror in the atrium – especially because we added a table-height mirror in that vanity area right behind it.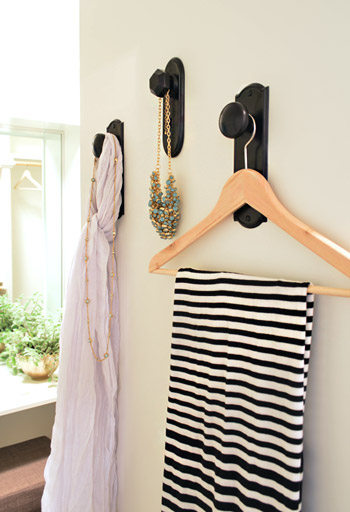 Speaking of that little vanity space, the stool is from Target, the green lacquered box is from HomeGoods, and the gold bowl with the plant in it is from World Market. The bags and clothes are mostly ours, along with some thrift store items and few scarves from Target.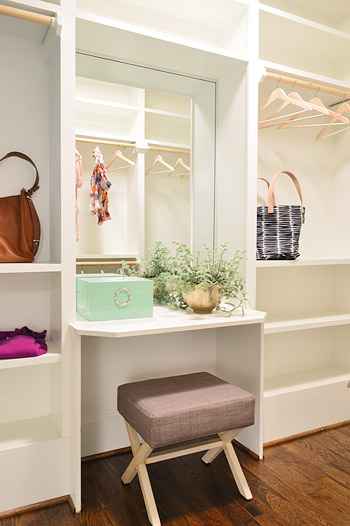 The vanity sits in the back half of the closet, which in addition to bars and cubbies, also sports this wall of angled shelves for shoes. I tell ya, Carpenter John (yes, yet another John who worked on this project) knows whats up.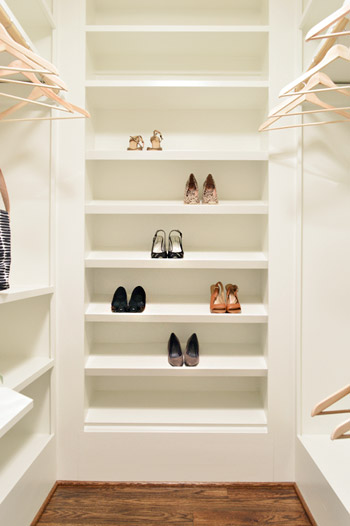 The front side is mostly bars and shelves, as you can see in this shot of that area…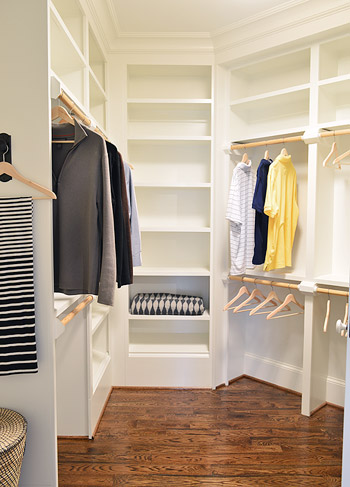 …but it does feature a built-in tie rack and a couple of shoe shelves. We bought some thrift store ties to fill it, only to get them into better lighting in this closet to discover they were all stained. Luckily some other folks working on the house had some (cleaner) spares to loan us, and my dad donated a few to the cause as well.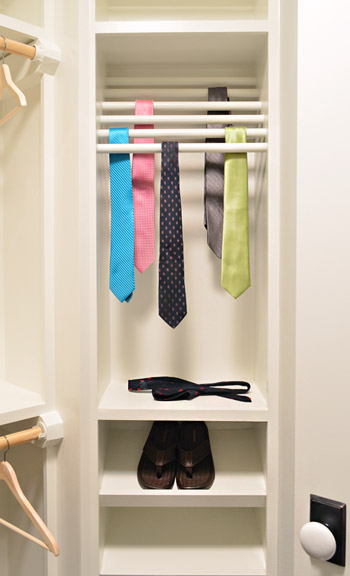 So now you've officially seen all of the master bedroom area of the house, bathroom and closet included. There's still lots more house to show – and we're madly trying to photograph it all before the baby comes (along with recording a video tour) but since we've probably overloaded you enough with photos for the week, we're going to spend Friday at our house in a final-hour attempt to paint the office (ceiling and walls). So we won't be posting tomorrow, but we'll hopefully be back on Monday with a freshly painted office, which means we'll finally be able to clear more chaos off of other surfaces – like the kitchen & dining room tables – before this baby arrives.
PS: For those asking about Homearama tickets, they're usually $10 (children 18 & under are free) but you can get them for 20% off (and show some love to Habitat if you're so inclined) here. The show is open Thurs-Sun, the first three weekends of May.
&nbsp&nbsp&nbsp