Shopping & Thrifting
Our office has made perhaps its most significant functional improvement since we started talking about it back in March. We have six spacious shelves and six extra long drawers thanks to two tall systems that flank the desk. They're balanced looking and full of function (our previously bare wall was sorely lacking). In short: we love them. And the soft close drawers are the icing on the office cake.
It's not finished (still want window treatments, a rug, art, a ceiling fixture, etc), but it's inching a lot closer than it was a week ago. As weird as it sounds, I think it was having Teddy that snapped us out of our furniture placement rut and gave us a clear idea of how to move forward. Isn't it weird how some rooms are pretty simple when it comes to the plan (even our sunroom plan with the raised and planked ceiling came to us pretty quickly) and others make you change your mind and second guess yourself a hundred times (that would be this room).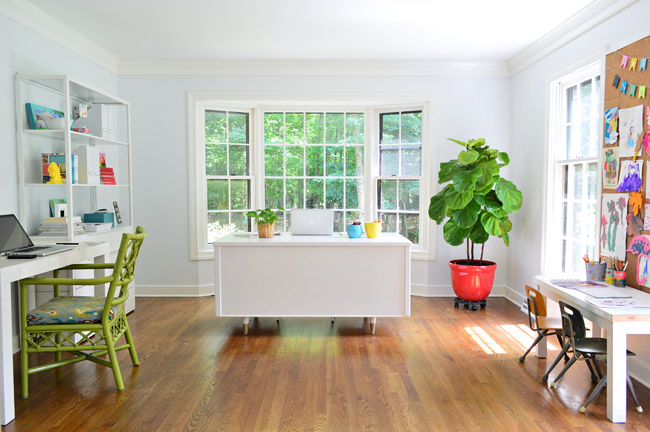 Last time we shared this with you guys, our plan was to adapt our free curbside secretary's desk into a double-sided floating desk for both of us. At the time it felt like the best solution to cram as much function into that space and create the hyper-efficient home office that we thought we wanted.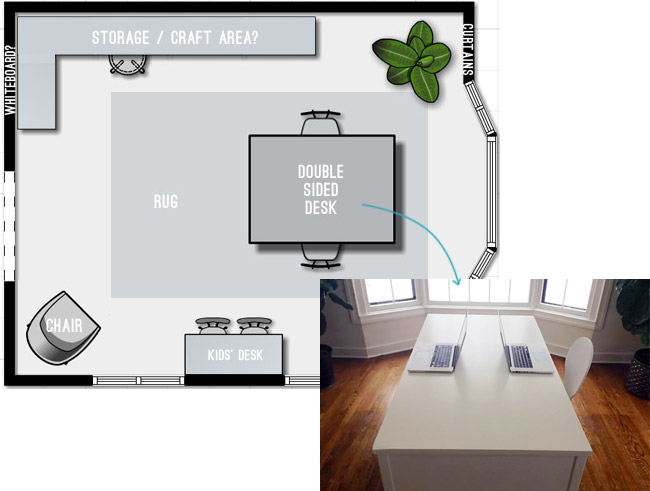 But then a couple of things changed. Namely our minds. Over and over again. Much like our kitchen banquette concept in our last house, our hesitation to move forward with the above layout was a big hint that we hadn't landed on the right idea yet. So we decided not to do anything until we were more sure about where we wanted to go in here. And there's where Teddy comes in. As we mentioned in this post, our business goals have become a lot more clear to us, so the idea of a multi-tasking craft/photography studio + two full-time desks suddenly seemed a bit overblown. What we truly wanted from this room was a dedicated desk space for each of us to spread out and call our own, and a bunch of storage to finally make us feel organized again (since moving in, our work gear and files have been spread out across various places including the kitchen cabinets, the dining room buffet, and even the upstairs storage room).
With those revised goals, we decided to loosen up and go with the flow of the room a bit more. No more trying to cram four or five zones in here. We started by rotating the big desk 90 degrees to sit centered in the bay window.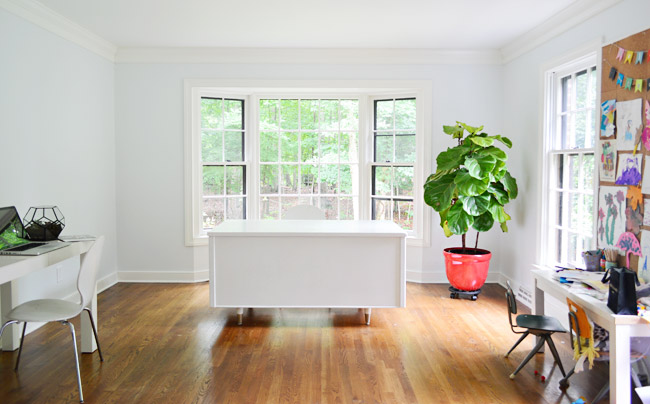 We weren't surprised when that small change "clicked." It was our instinct for it all along, but we had resisted it because we thought placing it long-wise was the best way to make it work for two people, and we worried it might infringe on things along that long wall since there was pressure to make that area triple-task before.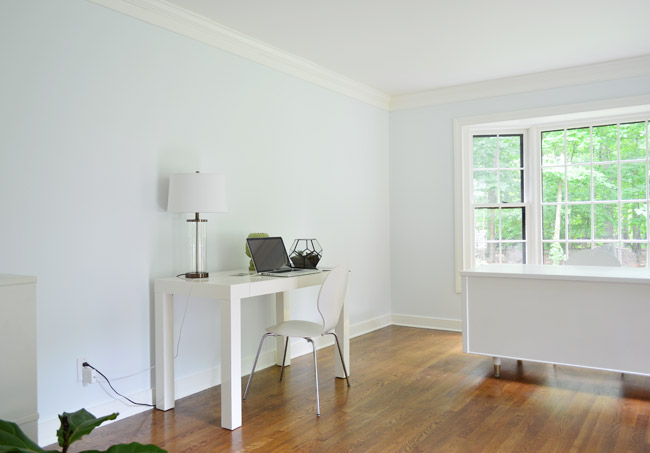 Now when we stared at that side wall, instead of wondering how we could get a handful of uses from it (craft station plus photography zone plus storage plus extra workspace), with our new simplified goals for the room, all we wanted to gain was a desk area and some good storage. At this point I've been working at that West Elm desk for over a year in that spot, and I've grown to like it. As much as I've heard some of you saying "I wouldn't want to face that wall when there are windows and things to look out of" I actually prefer that spot. So much that I called dibs on that desk and insisted that we try keeping it right where it was, and just flanking it with two storage systems, which was one of our first instincts for the space. Sherry was psyched that she didn't have to fight me for the big desk in the window, and we both immediately felt at peace with the new direction. Finally. We were ready to move forward in here.
After some hunting around we settled on two Ikea Fjälkinges with drawers for the storage units on either side of my desk. They're nice and solid (made of metal, and each shelf can hold 110 lbs) as well as being extremely functional because you can add as many soft-close drawers as you'd like (yes, the soft close feature makes me feel fancy). They were also wider than most bookcase/storage units, which worked well for our space, so it was a pretty easy decision.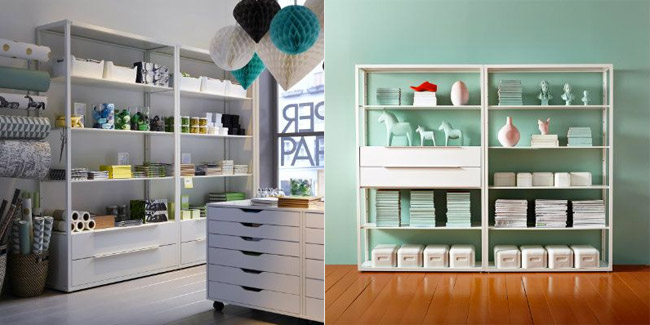 Off to Ikea we went. It was a momentous first trip for Teddy – and as a special treat, it wasn't even the usual Ikea we normally go to. Nope, they were out of stock so we drove an extra 90 minutes to one in Maryland. My forced smiled below is poorly concealing my concerns about braving the beltway traffic, but we tried to time our trip to minimize it, and it wasn't too bad in the end.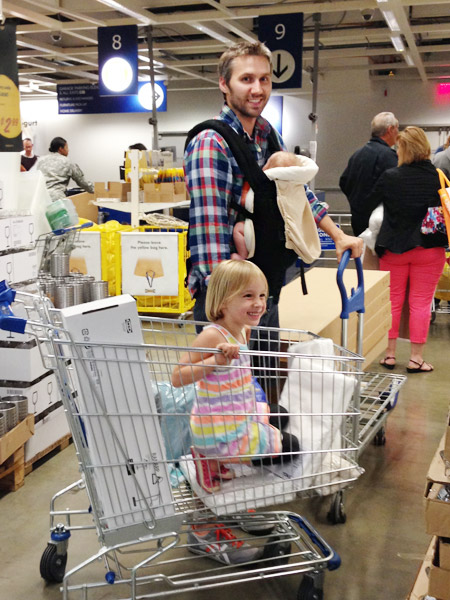 Here's our haul back at home (minus some other miscellaneous items). The boxes in the back plus the long packs are the shelves, while the four up front are the pairs of drawers.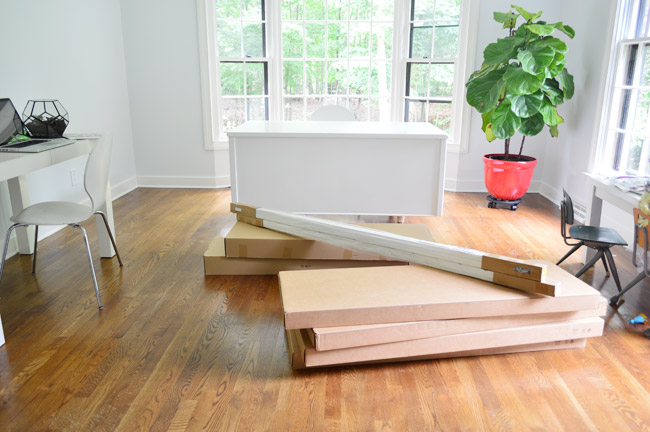 The shelves themselves were pretty easy to put together, although it did require an extra set of hands to hold the posts in place while the base and top were screwed on. What my extra set of hands lacks in endurance, she makes up for in cuteness.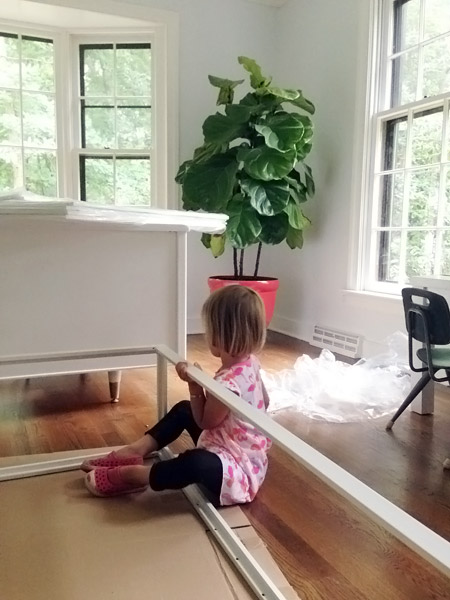 Here's what the two frames looked like when we first got them up, along with a couple of the bottom shelves. We considered putting a bit more "air" between the desk and the shelves, but I liked how cozy it felt with them all abutted. Plus, it makes the shelves more accessible from my desk. Told you my spot is better than Sherry's floating desk. #officerivalry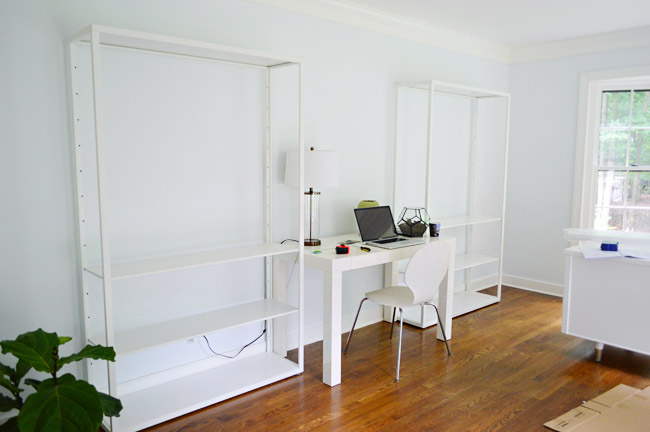 Before adding more shelves or assembling the drawers, we took a moment to get these puppies leveled (there are adjustable feet on the bottom) and anchored them both to the wall. They're made entirely of metal (which makes them both extremely solid, and extremely heavy) so we definitely didn't want to risk them toppling over.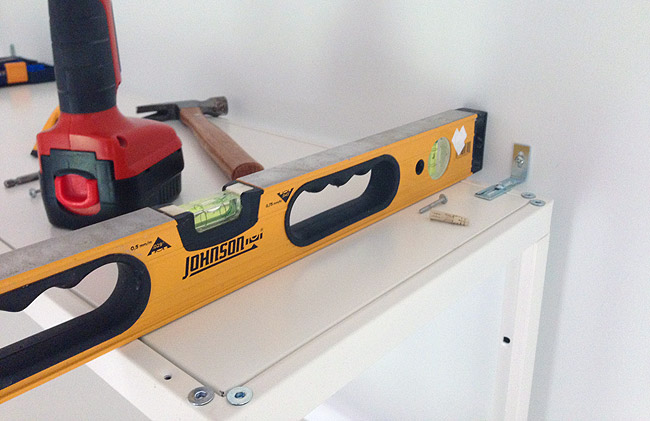 They come with six shelves each (including the top and bottom) and you can buy extras, but we liked the evenly spaced arrangement shown in the Ikea catalog/website pics.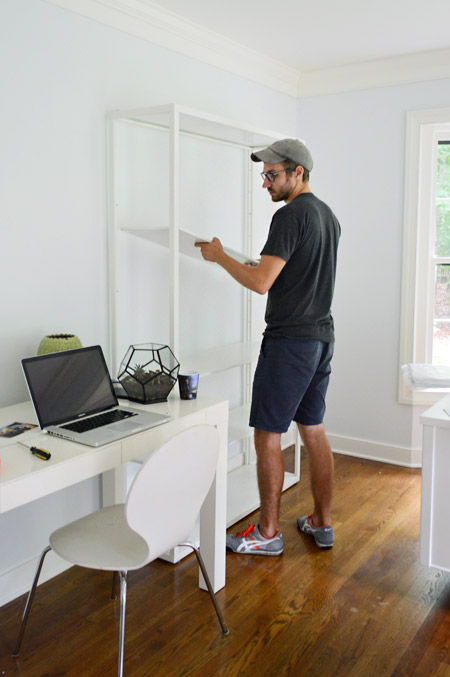 So here they are pre-drawers, which can be built into any of the middle or bottom shelves for concealed storage – which we knew we'd definitely need in this room. My accounting files and piles of receipts aren't what you'd call "pretty."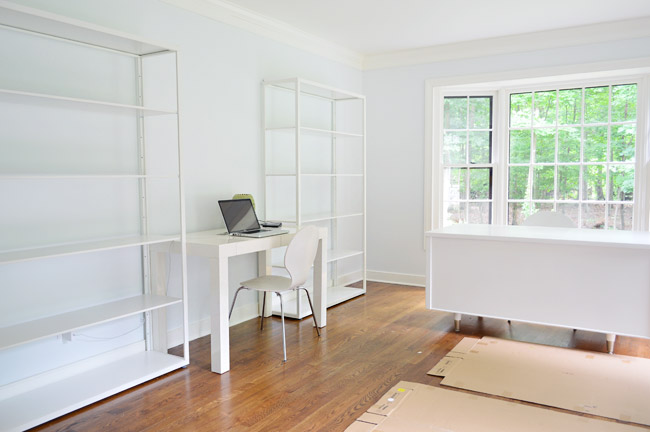 By this point in the construction Clara had long lost interest, but at least she stayed nearby to keep me company. The drawers were actually the most complicated (read: screw-heavy) part of the process.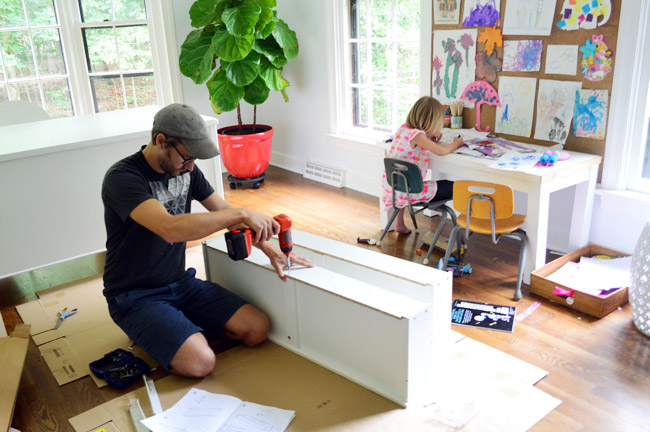 After getting through the first two, I decided it'd be faster to do the remaining six all at once for efficiency. I'm certain it was the faster way to do it, but I won't say I wasn't intimidated by all of the materials once everything was unboxed.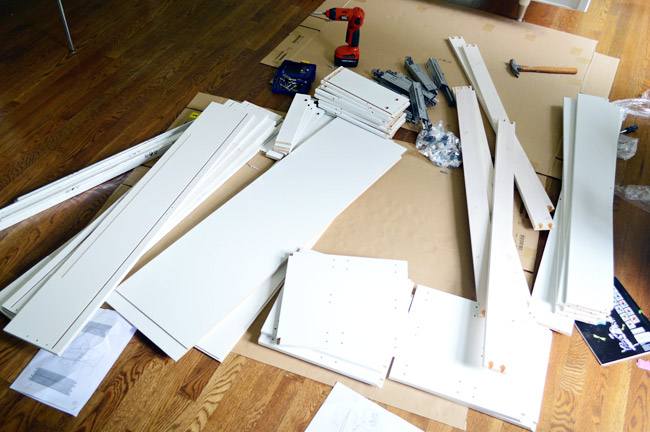 So here's everything put back together and cleaned up. We were both immediately psyched about the result. It felt right. We were finally on our way to an office that will work for the way we now see ourselves working.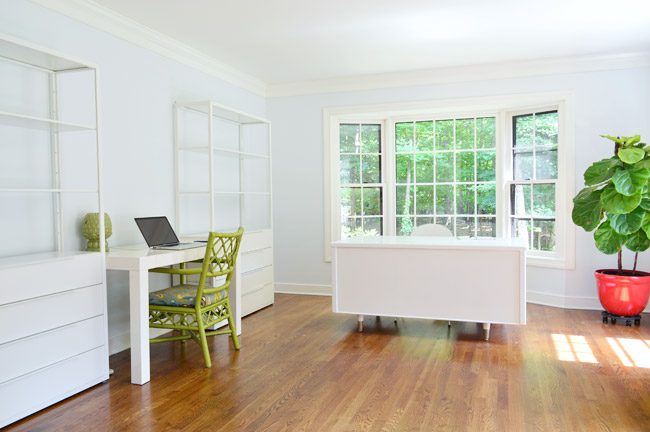 Once we let go of the idea that we had to share a desk or leave a spot for photos/crafts (both of which we can easily do at the kitchen table, the dining room table, or our desks if we move our laptops) it gave us permission to create some symmetry on both the window wall and the big blank wall to the left. The two tall bookcases even casually mimic the two tall windows on the other side of the room. And they're packed with both open and concealed storage.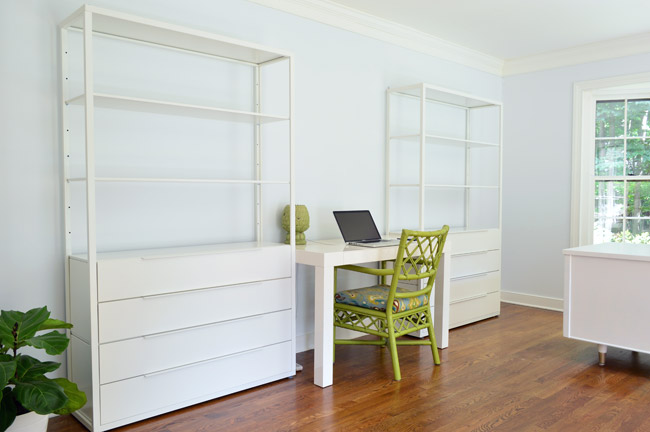 In some ways this is a lighter version of the wall-to-wall built-ins that we chatted about earlier on. We like that this version feels breezier and, if our business needs or goals change in the future, it's more flexible. And heck, our wall of magnet boards even still makes sense.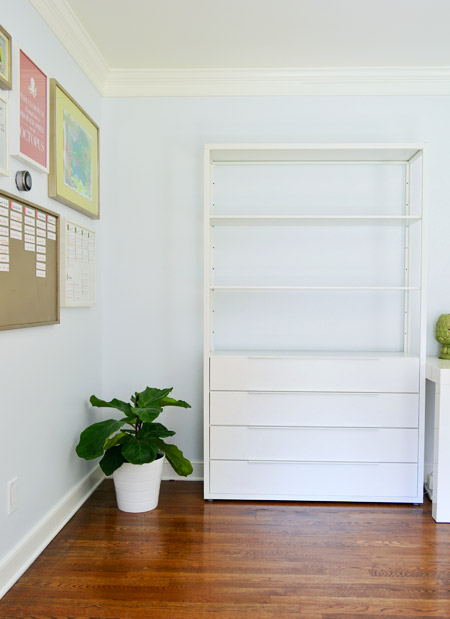 We did need to move our file / printer cabinet over to the other side of the main doorway so it didn't crowd the bookcases, which is actually where it lived when we first moved in. It could use some art above it, but for now I'm just happy that I didn't lose my file storage and we still have a spot for our wireless printer.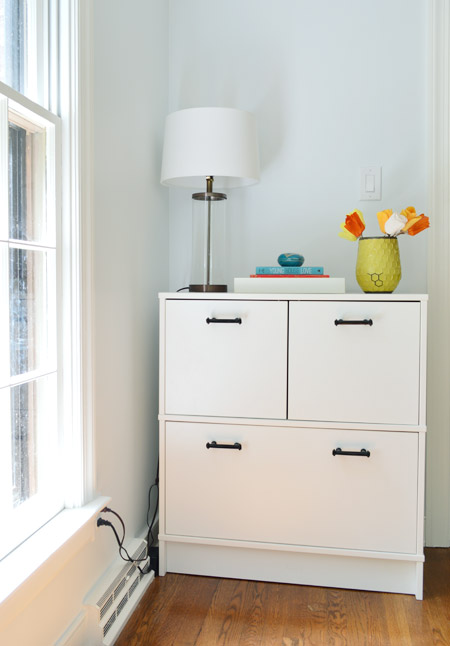 The only thing that felt "off" to me was how white everything was. We're definitely going for one of those light/bright offices, but without anything on those big white shelves it was feeling a little stark… until Sherry got her hands on them. Accessorizing wife to the rescue. Now we just have to add a rug, some window treatments, a few pieces of wall art, a ceiling fixture, and a floor outlet for the desk and I think we'll be there. Which is pretty amazing, considering a week ago I would have guessed that it might take us another year to figure out this whole office situation.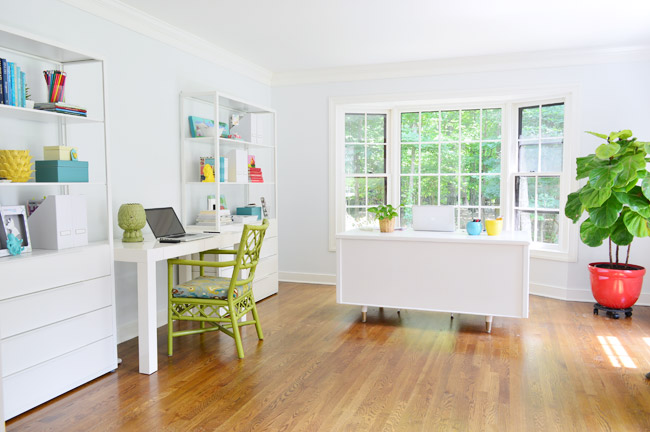 We've got more to share about how we organized the room, so we're planning to spill those details later in the week. We both kinda went organizing-crazy since we finally have 6 shelves and 12 glorious drawers (eight in the bookcases and four in the desk) along with a filing/printer cabinet to work with. There's even talk of a few animated gifs of the process, so if that doesn't get you excited on this sunny Monday morning, I'm not sure what will. Donuts? Yeah, donuts usually do the trick.
&nbsp&nbsp&nbsp
The combination of all this nice weather and hosting Clara's party outside have us back on The Outdoor Update Train. Chugga chugga, baby. Just picture me wearing spit-up-stained overalls with a striped hat to shade my mom-to-an-adorable-baby-who-wakes-up-all-night eyes. It's particularly exciting because we worked for a few months last year to renovate the sunroom by ripping up the old carpet, removing the old broken doors, lofting the ceiling, getting some electrical work done, installing a plank ceiling, hanging two fans, and tiling the floor. There's currently a daybed out there (an indoor daybed from West Elm, which has no long-term business being outside) along with an ancient Ikea coffee table. And two of our dining room chairs haven't made it back inside since the birthday party.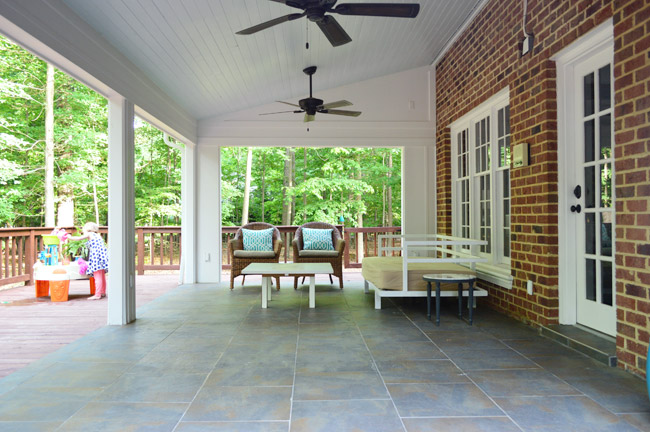 We stole those two chairs, plus four of their brethren from the dining room for extra party seating (they're outdoor chairs from Target) – and seeing the space filled up with all that temporary/borrowed/mismatched furniture really got us craving some more permanent pieces out there. And so the hunt for an outdoor sofa began.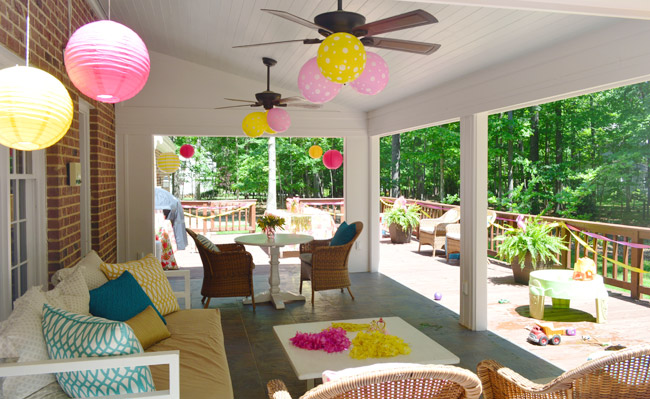 We figured that buying the biggest piece first would help us determine what other items we'll need to fill things out. And since we already have a dining table with an umbrella on the deck, we thought a cushy lounge area in the shade of the sunroom-turned-veranda was in order. We knew we wanted that woven wicker look over something wooden or metal (we both fell hard for the Arhaus furniture at the showhouse, but it was more than we wanted to spend). We also wanted Sunbrella fabric, which we hear is super durable and long-lasting, so here are a few of the things we checked out: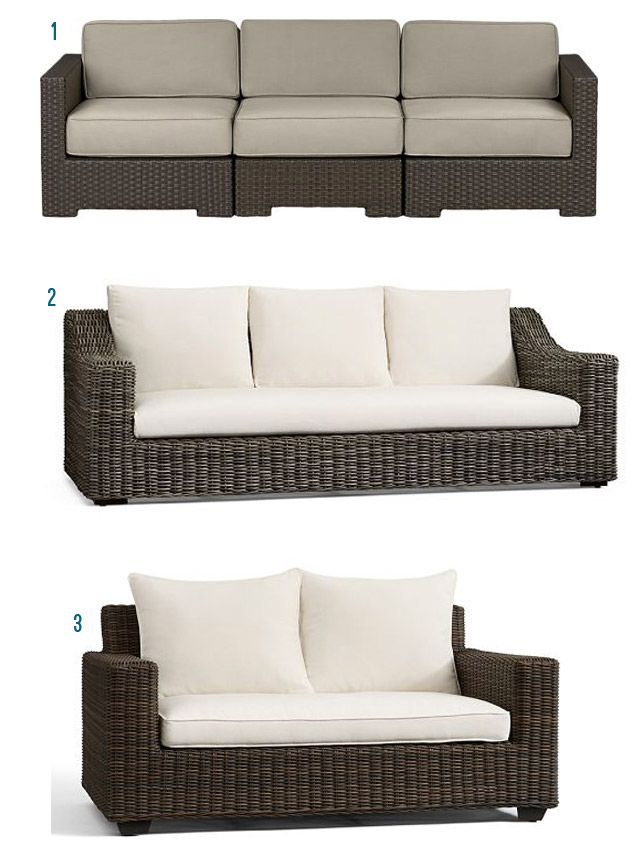 1.  We liked the look of this sofa from Crate & Barrel, but we heard from a few friends with similar sofas that two-piece or three-piece bases can drift apart, so we'd rather have a sofa that's all one piece. We did like that it came with Sunbrella fabric, and we appreciated that it was on sale, although it was still $2,222.
2. This Pottery Barn couch looked amazing to us. So luxe and cushy. When we first saw it, it was selling for around $2,000 I think – but it was $399 more to upgrade to Sunbrella fabric – and now it's no longer available. Womp.
3. This is another Pottery Barn option that's still available, but the $1,400 version (pictured above) is more of a loveseat. Our space would need the larger $1,800 option, but neither of them came with Sunbrella fabric, which was an additional upcharge of $300+.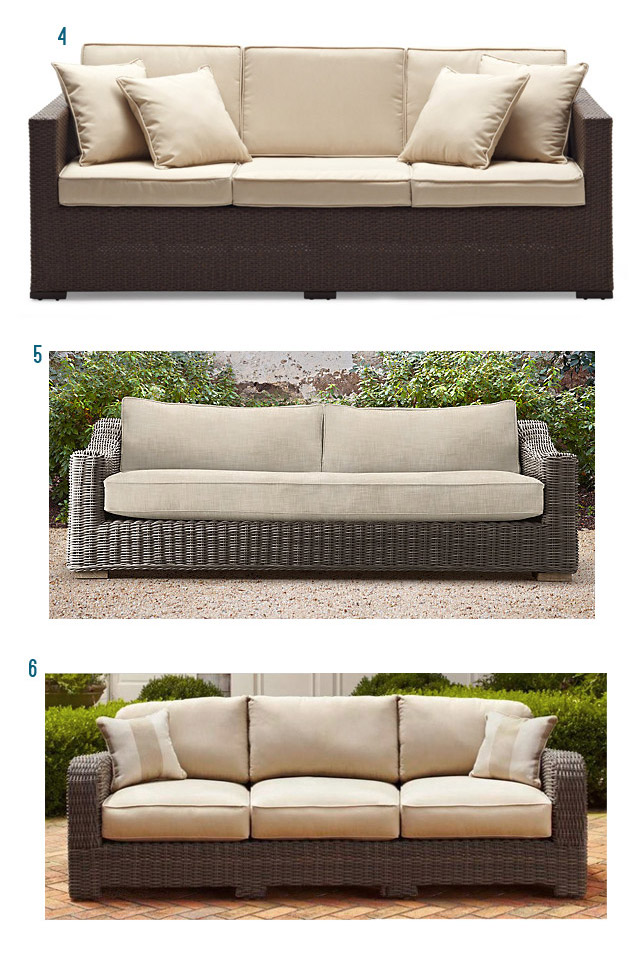 4. We saw this one on Amazon for $489 (so much cheaper than the others!) with a really promising 4.5 star rating. I excitedly read about how much people loved it… but then I discovered the one star reviews from people who had theirs for more than one season. Apparently the wicker fell apart after one summer of use for a number of people. Another womp.
5. We've seen this baby from Restoration Hardware in the showroom and it's gorgeous! But the fact that it's sold without any cushions (it's $1500 for the wicker part and an additional $555 for the Sunbrella cushions) was kind of a bummer.
6. We had also been eying this one from Home Depot since hearing awesome things about the brand (Brown Jordan) having a really well made product. It comes with a 15 year frame warranty, a 5 year fabric warranty, and free white-glove shipping (they carry it wherever you want it and unwrap it/place it for you). We also appreciated the $1,399 price tag and the fact that it comes standard with Sunbrella fabric.
While on our little sofa hunt, we also checked places like Craigslist, Joss & Main, Overstock, Hayneedle, and Wayfair but didn't see anything we liked as much. We really appreciated being able to see as many of our options in person as we could – just to make sure they were comfortable, not too low to the ground, and the fabric wasn't scratchy. In fact, when we stumbled upon a floor model of the Home Depot/Brown Jordan option (technically it was the chair from that set) it pushed us over the edge. It was comfortable and it looked great in person. Boom, this guy was on his way to our house: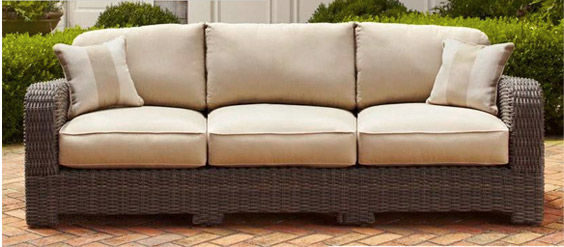 Although the price is nothing to sneeze at, we hope that it'll be a nice long-lasting choice for us, which is the goal with the sunroom (there's no Phase 2 out there). Its arrival should be the kick-start to some other updates that we've meaning to get going on back there, like making a coffee table, installing some sconces for lighting/ambiance, adding an outdoor-friendly table to fill out the other side of the space, and introducing some finishing touches (potted plants, side tables, etc).
Until then, you can find me standing in the driveway holding an adorable baby and waiting for the delivery truck. Really, I need to calm down.
&nbsp&nbsp&nbsp