Shopping & Thrifting
We've mentioned having a backsplash + open shelving + range hood idea a few times without much elaboration, so here's the full monty explanation: we basically want to create a counter to ceiling accent wall of backsplash tile with open shelves and a range hood going on. This Sarah Richardson kitchen is especially appealing to us when it comes to the tile choice (we love white subway tile, but we're thinking we might do something a little less white since our cabinets will be going white and we don't want to completely whitewash the whole room).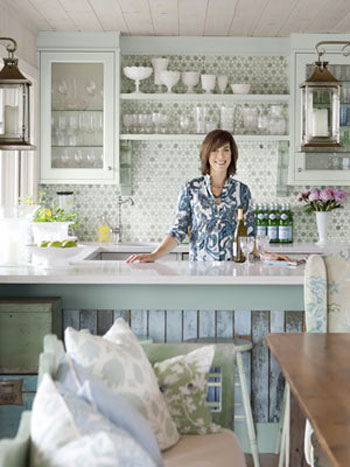 Now I will read your mind in a move I like to call "David Blaine-ing" you. You are thinking the following things:
What type of tile are you going to use?
What type of range hood?
What color will your shelves be?
Will they be floating or have brackets?
Won't open shelves get dusty and full of grease?
Allow me to address those questions below:
Not sure yet
Not sure yet
Not sure yet, but most likely white like the cabinets
Not sure yet, but for the moment we're leaning towards floating
We've asked friends who have them and their short answer is no, but it's just one of those to-each-his-own things. Allow me to elaborate:
We're not going to have open shelving everywhere and zero cabinetry with doors. We'll have plenty of base cabinets and some closed uppers to stash not-so-pretty stuff out of sight. As for the one eight foot wall that we're excited to smack with a range hood, some open-shelving, and counter to ceiling tile, we did a little "research" before committing. We know two different couples who both have one wall of open shelves above their stove with a range hood… and they both love it. When we asked them if they got greasy or covered with steam they both looked at us weirdly and said "we have a range hood." Apparently up-to-date range hoods have better suction than over-the-stove microwaves (which we should know since we had one in the last house but never actually stopped to think about it). So if you use them when you cook they should suck up the steam and grease and all that stuff without any issues of it somehow migrating up and to the left or right around the hood and mysteriously landing on the cabinets.
We also asked about dust. Again they had similarly no-biggie answers. One couple said they use their shelves to store items they use so frequently that they don't have time to sit around getting dusty (ex: plates are used and washed and then stashed back up there and used again in rapid succession – so they don't sit for weeks on end without getting touched thereby becoming furry). The other couple said they just like the look more than they hate dusting, so they don't mind wiping things down with a duster every few weeks for the trade off of a light open look and easy-access to items that aren't tucked away behind closed doors.
Then we headed over to Layla's blog since she has open cabinets and read what she had to say about them. Here's a big post all about it, but this quote at the end pretty much summed up her take: "Think you can't have open cabinets because it's too dusty where you live? It's dusty in Alabama too! (cough, cough) We use the dishes in our open cabinets every day though, so they usually don't have time to grow sweaters. If something does happen to collect a little dust, we just give it a quick rinse before we use it."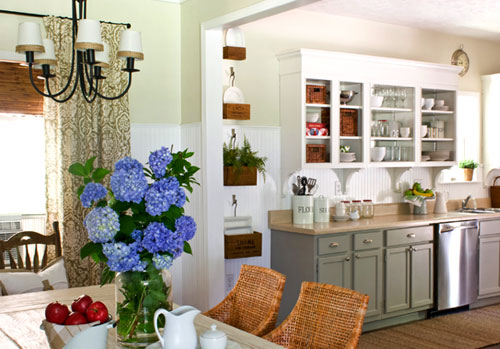 And because we're complete weirdos who don't know when to stop, we also heard from readers who have open shelving in their kitchens and this is what they had to say:
"We installed open shelving last September and I don't regret it one bit. I only get up there and dust about once a month and I just crank up the music and make the most of it. In fact, we're working on building a third row of shelves because I have so much pretty stuff to put out!" – Betsie
"We have three cats and some open shelving. Hasn't been a problem." – Caroline
"I have open shelving by default, but I've come to like it. It shows off how your dishes match your kitchen, and keeps you accountable to only having what you NEED." – Carrie
"I only have open shelving in the kitchen and love it. It doesn't get as dusty/greasy as you might imagine. I love being able to display all the nice kitchen things I have. I have a separate space for the not so nice stuff. "- Debe
"I have open shelving with regularly used items and closed cabinets with rarely used items and the rarely used items in the cabinets are the ones that get the most dusty and need a rinse before use. So it's not like cabinets keep things that sit around from getting dusty!"
All of a sudden this post is sounding like an infomercial, huh? Before you know it I'll be trying to show you just how much water my Super Shammy can hold (picture my head on that dude's body trying to sell you an amazing liquid holding cloth).
But really the point of sharing our "research" on the subject of open shelving isn't to convert anyone (we just babble about the choices that we make along the way, DIY-diary-style). So if it's not your thing, it's not your thing. I'm sure there are folks out there who hate their open shelving, we just happened to hear from a ton of people who had nothing but great things to say. In the end, when it came down to figuring out what we wanted to do with our kitchen, we just had to… do what we wanted! Haha. So some open shelving and some closed upper cabinets fit the bill. But we hereby solemnly vow to keep it real with you guys. If after a month of use (or a day or a year) we start to hate the choice of open shelving (or anything else for that matter) of course we'll tell you! And we'll share whatever we decide to do to change things. Oh and when we make any final decisions about the backsplash tile and the range hood we'll definitely spill those beans.
Pssssst- This morning I'm over on BabyCenter keeping you posted (as promised) when it comes to how our house is changing thanks to Clara. Let's just say we're adding storage galore for all those toys and blocks and books and balls…
&nbsp&nbsp&nbsp
Last weekend my cousin got married in Brevard, North Carolina. Translation: weekend road trip!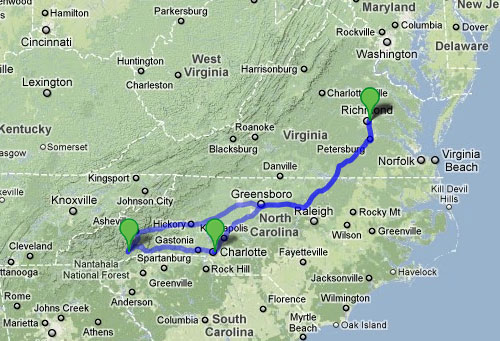 Okay, so it wasn't on the scale of our road trip to Texas for my cousin's wedding two years ago (different cousin, btw – I've got lots of 'em) but it was still a good time. Brevard is in southwestern NC somewhere between Asheville and the South Carolina border (so close actually, the rehearsal dinner was in SC). It's about a seven hour drive from Richmond, though we broke up our ride with a stop in Charlotte to see our pals Matt and Kristin. The wedding was obviously the highlight of the trip (you can see some pics over on Young House Life), but Brevard did offer some other fun "adventures" too.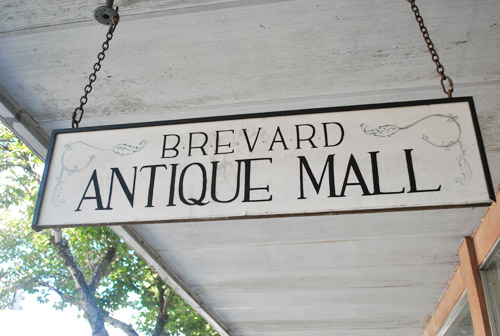 The Antique Mall downtown was one of the coolest (and cleanest!) antique stores we've been to in a long time. It also had a really great architectural salvage place next door. So of course we had to share some of the fun stuff we spotted, like this awesome collection of wooden printing press letters. At two bucks each, I can't believe we didn't come home with a full alphabet – but somehow we managed to appreciate them without buying any (check out the ones we already have here).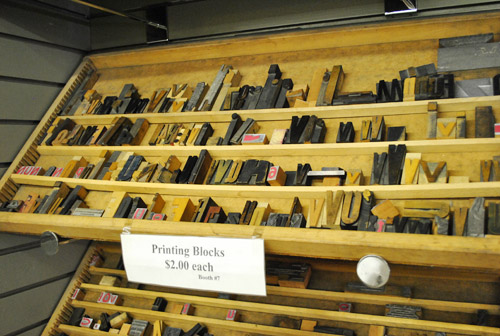 Similarly tempting was this rack of old skeleton keys for $3 each. Again, it's a shock we didn't buy anything. Sherry did mention something about buying a ton of them and making an amazing chandelier- like a giant one for over the dining room. How fun would that be? Maybe next time.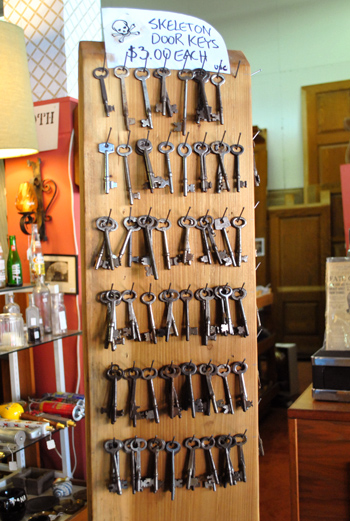 Actually, the thing we contemplated purchasing most were some charming paintings by local artists – like this quaint little covered bridge. It was an original watercolor, but the $49 price tag was a bit more than we planned on spending that day (Why are we so cheap? Now we look back and wish we grabbed it).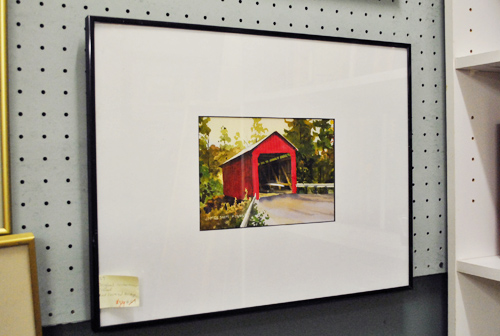 And definitely out of our vacation budget ($200+) was this weirdly cool painting of a ram-type creature. Sherry was into it, but for some reason I was even more head over heels in love. Or should I say head over hooves. Miss you, man ram.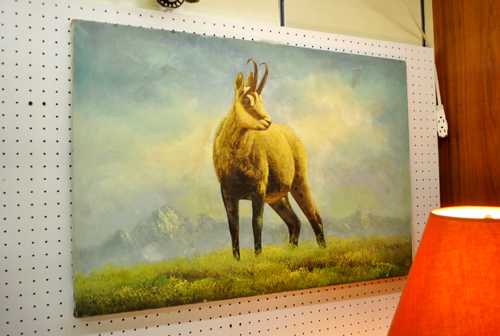 Raise your hand if these guys remind you of Jonathan Adler pottery (picture me and the wife raising ours).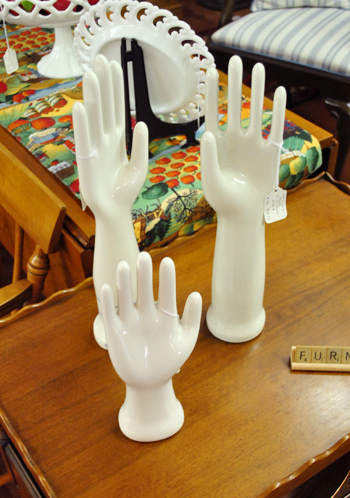 Like always, there was plenty of stuff that erred on the side of quirky. Who wouldn't pay $40 for an inexplicably naked KISS action figure? Or $45 for a light-up stained glass chicken Beyoncé?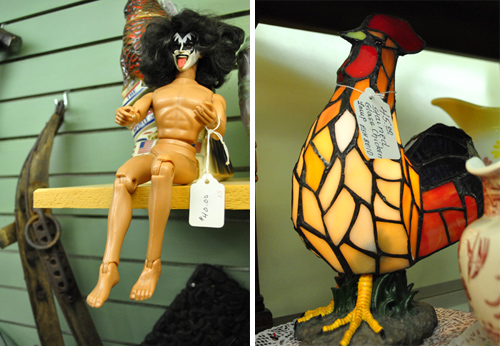 I've got a soft spot for the look and texture of potato sacks, but I just wasn't quite sure if this one was for potatoes. If only it had been labelled better… (please tell me the sarcasm isn't lost). Sherry thought it could make a fun pillow or ottoman (heck people even cover chairs with potato sack fabric these days).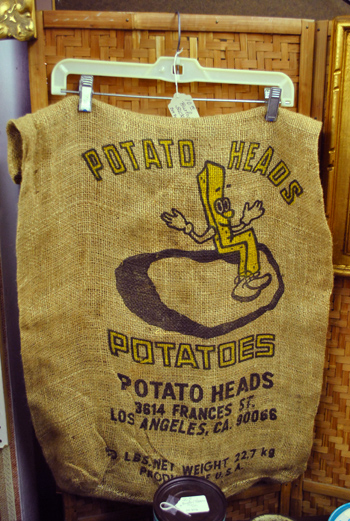 Across the street from the Antique Mall was a thrift store run by the local Humane Society (Brevard is in Transylvania County, no joke). I didn't get to see much of this store because Clara was obsessed with looking at the kittens so Sherry poked around the back while Clara and I hung out with her new furry friends. Everyone in the store probably got sick of hearing "Hi kittycat. Hi kittycatkittycatkittycat! Buh-bye kittycat! Hi kittycat!"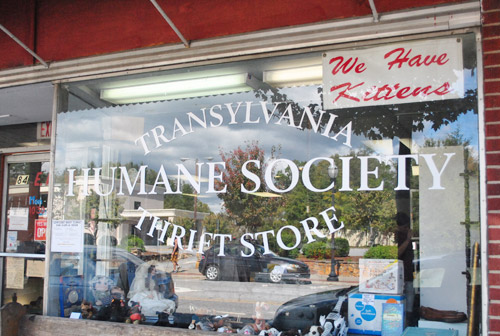 But Sherry was able to locate a few entertaining items, coincidentally both chihuahua themed. Too bad Burger wasn't with us to enjoy them (he was back at the pet-friendly rental cottage that we stayed in for the weekend with the rest of our family).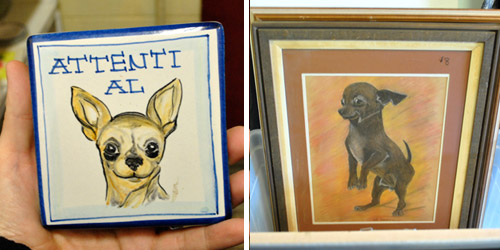 Of all the shops we strolled through, the only place that we bought anything was the local Habitat For Humanity ReStore. This isn't the store, obviously, it's just their delivery truck.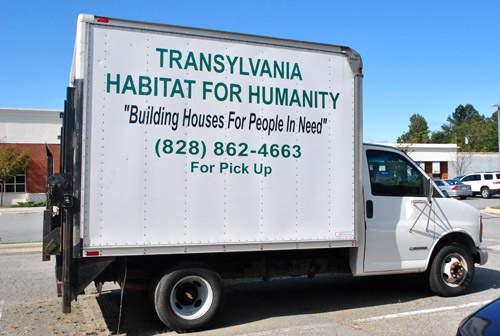 Though Sherry thought it would've looked better like this (she wants me to note that Edward is on the other side). Women and their vampires… this husband will never understand.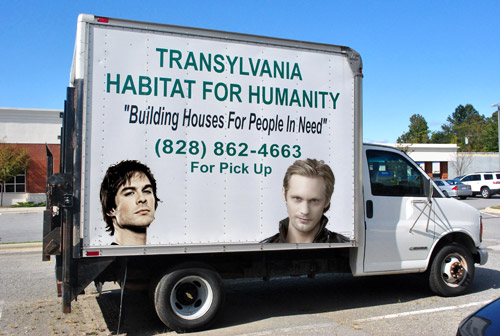 Anyways, back to our purchase. For $5 we picked up the frame on the right, with an intricate paper cut design inside. We didn't know quite where we'd hang it but figured we'd find a place. Once we got back home we found the perfect spot for it – in a frame in our hallway gallery in lieu of a generic picture of apples (which used to live in our first kitchen).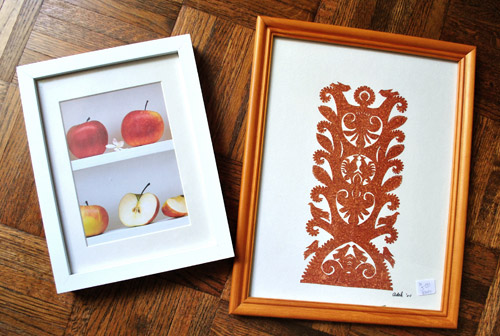 We had to trim the paper cutting a bit to fit top-to-bottom, but it looks great. We love that it livened up that corner of the wall with some stronger color and an interesting pattern. Plus we got an extra frame out of the deal, which I'm sure will get painted and hung somewhere else.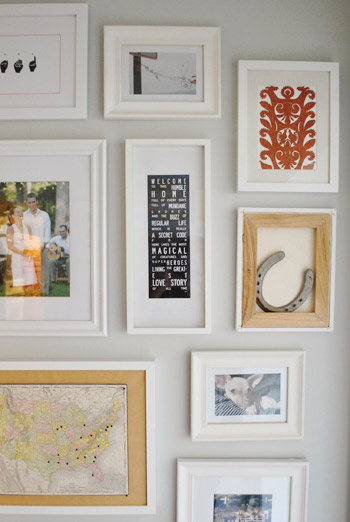 We feel mildly accomplished for not coming home totally empty handed (you know we love snagging stuff for our house when we're on the road to keep the memory of our trip alive). But since we barely got a taste of Brevard while there (and even less of a taste of Asheville – we just drove through on the highway) we're hoping we can make it back there for a longer visit sometime. Maybe when another cousin gets married…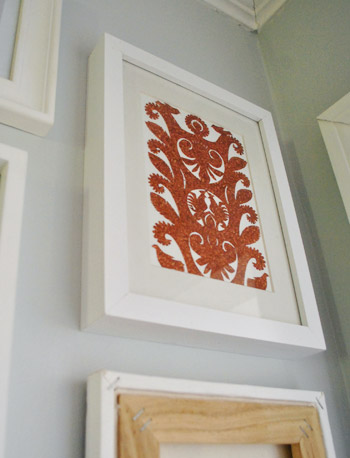 Has anyone else hit the road for a trip lately? Or gone to any beautiful fall weddings? Oh, and if anyone has any Asheville area suggestions for us (or anyone else) we'd love to hear them since it looked like such a cool place.
Psst- Check out some of the cute and creative touches from the wedding (along with some family pics) here on Young House Life.
&nbsp&nbsp&nbsp