Saving Money
Just as planned, we held our very first yard sale this weekend. It was lots of work, but it was also a total success. We got rid of everything and made exactly $425 in the process. Cha-ching. (This is the part where I don't think about how much we probably paid for everything in the first place- although in our defense, a good amount of stuff was handed down or gifted).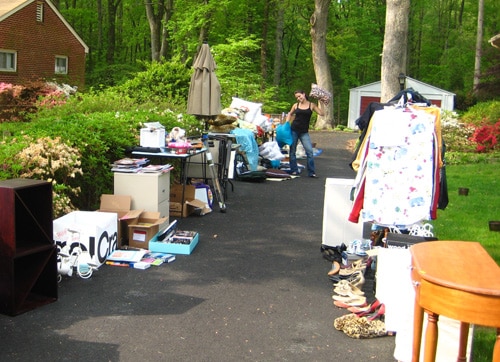 We couldn't have done it without the great tips we received from you guys. Here's a quick breakdown of some of your advice that we put into action (and a few things that we learned along the way):
Start Early: We began prepping 2 hours ahead of the 8am start time so that we were ready for the inevitable 7:45 early birds (and boy did they flock to our house).
Advertise Smart: We thrice posted the sale on Craigslist leading up to Saturday. And that morning, we hung a bunch of strategically placed hot pink signs to lure people to our home. We even got compliments on our signage, saying that the consistent look, bright color, and "multi-family" claim (my sister participated too) made them especially enticing.
Look Big: We spread things out to fill our entire driveway – as you can see in the "before" above. Larger items went closest to the road, while the trinkets were displayed in the back.
Categorize: We grouped similar items – furniture together, clothes together, books & dvds together, etc. It helped shoppers browse and helped us sell more "sets" of things.
Set a Goal: We agreed ahead of time that our primary goal was to get rid of stuff, not make money. That way we didn't hesitate to sell stuff on the cheap because it meant that we were meeting our purging goal.
Prepare to Negotiate: A bird in the hand is worth two in the bush. The few times that we didn't come down low enough for buyers and they walked forced us to realize that we should have just met their proposed price. Staring at items that we could have sold (and wondering if they'd ever go) was torture.
Expect The Unexpected: People buy the strangest things. Some items that we almost didn't put out (fishing line, tarnished mismatched silverware, pilled towels) sold faster than some of the items we thought would go the second we opened.
Stay Late: We advertised an 8-12 sale, but we were still selling steadily until around 1 so we stuck around.
Don't Take It Back: To completely achieve our empty-basement goal, we immediately loaded the leftovers into the car and drove them straight to Goodwill. We didn't want anything coming back inside.
And you know we love a good "after" so here's ours… well, before we packed the car for the Goodwill trip (and before a neighbor came back for her previously purchased patio set). All that remained were some books, clothing, and shoes (nobody could fit into Sherry's size 5). All perfect items to donate.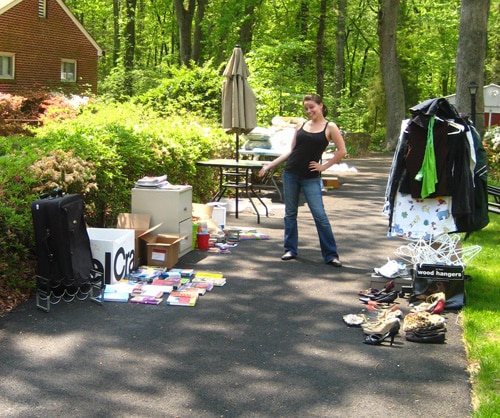 In addition to some moolah and an emptier basement, the day also gave us a couple of good stories.
First, we had the pleasure of selling our old screen door (the yellow one you used to see in our header above) to a couple of guys who were just starting to build a "green" home. The door met their goal to build using only recycled materials and they even talked about designing the house around its cheerful yellow color. We were thrilled that it would get to live on in such a noble, environmentally-friendly way.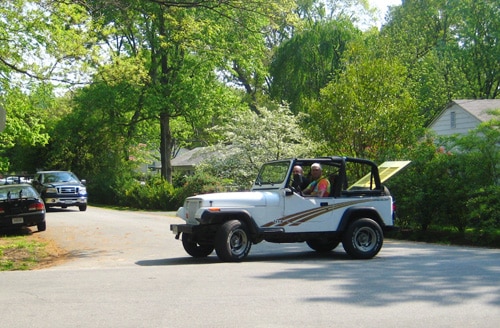 Then we were visited by Buddy, a big friendly dog that got loose from his owner and wandered over to "terrorize" our shoppers. After some running and rolling, Sherry was able to wrangle him into our backyard while I set off to find his family. I returned (with an alarmingly carefree neighbor in tow) to find Buddy cooling off in our sunken-bathtub pond (which was covered, by the way, until Buddy jumped in for a dip).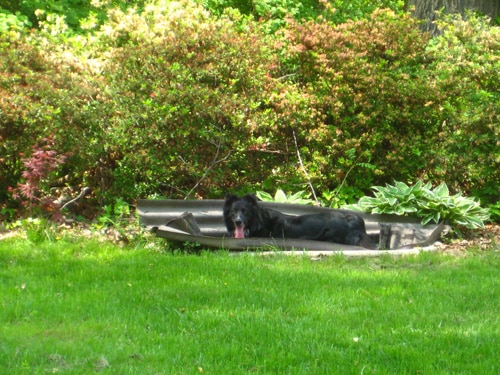 A semi-wet Buddy eventually made it home safely, and the rest of the sale went off without a hitch. And the whole thing was actually kinda fun… but we're in no rush to accumulate that much junk again.
&nbsp&nbsp&nbsp
After our big kitchen reveal yesterday, it seems like the million dollar question still lingers: how much did it cost? (Hint: It wasn't millions… and it was WAY below the national average spent on a major kitchen remodel, which is $44,000 according to realtor.org)
After crunching some numbers last night we figured out exactly how much our wallets really bled during this project and (thankfully) how much we managed to save in the process. And we're talking start to finish- wider doors, new floors, electrical, lighting, appliances, etc, etc. This wasn't just your average cabinet and countertop update.
Here's the breakdown:
Demo & Construction: $1,400 (negotiated down from $2,400) A local contractor and mason removed old counters and cabinets, widened 2 doorways, and closed off 1 existing doorway.
Electrical: $900 (negotiated down from $2,100) A local electrician wired the microwave, dishwasher, disposal, and added 5 recessed lights and 1 pendant fixture over the sink.
Wood Flooring: $1,200 (on sale from $3,000) Oak floors from Lumber Liquidators were installed by a local contractor.
Appliances & Fixtures: $800 (originally priced at $1,500) We purchased a pendant light, cabinet hardware, a stainless steel hood and microwave, a garbage disposal, a wholesale sink and a faucet (and we got a free dishwasher along with a laundry appliance purchase). We reused our existing fridge and stove.
Kitchen Design: $0 We used Home Depot's free, in-house Certified Kitchen Designer (thanks Nancy!)
Cabinets: $9,500 (after $500 cash back promotion) We ordered KraftMaid Bel Air cabinets through Home Depot with reinforced drawer slides, Thermafoil protection, one glass-front cabinet door and a wooden two-tiered lazy susan base cabinet. This price includes installation.
Countertops: $3,700 (after $300 off promotion) We ordered Stonemark granite counters through Home Depot. This price includes installation.
***GRAND TOTAL: $17,500***
So thanks to purchasing a wholesale sink and faucet on eBay, buying drawer pulls in bulk, picking up deeply discounted wood flooring, taking advantage of a free kitchen designer, timing our purchases to score promotions, and negotiating with local contractors (and getting second- and third- estimates) we saved $5,500!
Savings aside, this was still a pretty hefty expense for us. But when we look at it as an investment in our home – both in its livability for us and its resale value – it's definitely money we can already tell was well spent.
&nbsp&nbsp&nbsp