Road Trips & Travel
Happy Friday! Quick updates first:
If you're trying to order our book (to read, for Christmas gifts, to use to kill bugs, etc), and you're getting a "sold out" or a "1-2 month wait" message through Amazon, B&N, or anywhere else online, there are thousands of books making their way to warehouses in trucks right now, so in a few days they'll be entered into the system and should all be available for immediate shipping then (so check back in a few days and they should definitely arrive before Christmas!). #godspeedlittlebooksintrucks
Tomorrow we'll be in DC doing some Living Social events at 918 F Street. These are pre-ticketed events, so if you've snagged a spot we can't wait to see you there! Then on Sunday we'll be back in Richmond for a free signing at Mongrel in Carytown at 1pm (more info here).
Dude, you guys are hilarious. See the 800+ comments here as evidence.
It's been two weeks, so we owe you another #warningitslong tour update. We've finally caught our breath after the busiest portion of our tour so far. It was both awesome and exhausting and we're very thankful to be back at home sleeping in our own beds again. During the 11 days between hitting up Boston on Nov 7th and Dallas on Nov 18th, we've clocked 6 cities, 2 countries, 10 flights, and 6 nights away from Clara & Burger (we knew they'd be more comfortable at home with my mom and dad than on those 10 flights). And I won't even dare tally the number of cookies we consumed (thanks to the locally baked creations at each of our six West Elm hosted events).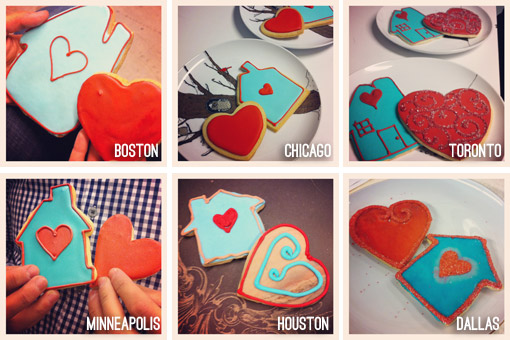 Our last tour recap two weeks ago left off in Toronto, which we flew out of on Tuesday and headed back to the states. The state of Minnesota to be exact. We've always heard great things about Minneapolis, so we were bummed when our schedule didn't leave much time for exploring (even though our event wasn't 'til Wednesday night, we had tons of blog stuff to catch up on between phone interviews scheduled by our publisher, etc). But despite missing out on the good sights that MPLS had to offer, we did get to take in plenty of the good people of the Twin Cities at our event. Cue the crazy faces.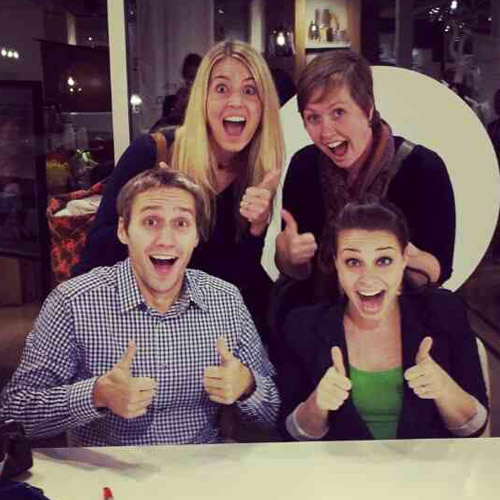 Like previous West Elm events, the staff was awesome ("Elmers" as we hear they're called) and those of you who came to meet us were exceptionally kind, patient, and fun! We even met some familiar faces, including Jen from IHeartOrganizing and Jackie from Teal & Lime (we've featured Jen's office and Jackie's dining room so meeting them meant that we got to put a room to a face, which is always fun). And apparently we need to work on varying our photo poses a bit. #Ipromisewe'renotstatues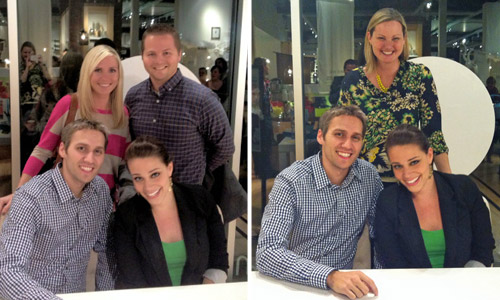 We also had the pleasure of meeting hilarious Sarah, who we previously referred to as "frame wall girl" thanks to the photo she tweeted to us after receiving her copy of the book (which we included in the photo collage in this post). She was even kind enough to share a follow-up photo with her now-signed book…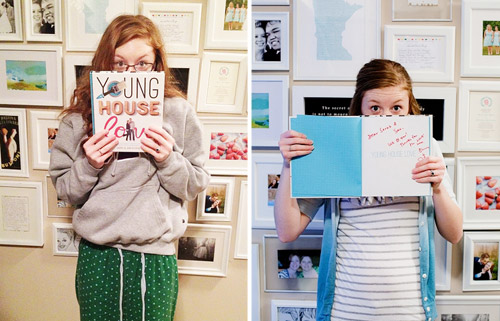 We always get a bunch of good stories out of these tour stops, and we wish we could share them all with you guys, but here are a few highlights. Like this one that comes complete with a video (thanks Laura!). It was Amy's birthday the day before mine, so she and her friend Ashley brought four cupcakes – one for each of us – and made Sherry keep her word that she'd sing happy birthday to her. Sherry just learned her lesson to double-check someone's name before breaking into song. Thanks Amy for being a good sport! The funny thing is that we later learned that Amy's friend Ashley was also a birthday girl, so stammering out both names actually kind of worked.
And while there have been plenty of fun inscriptions we've written, this one may take the cake as the weirdest. Yup, I wrote "I'm watching you poo" in someone's book. You'll have to read Daci's post about it to get the full story. I promise it wasn't totally gross and out of context. I was just following orders.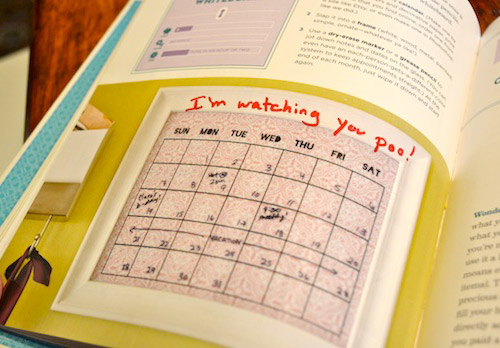 One of the most amazing moments was when West Elm asked us to sign the leg of this parson's table for them. They auctioned it off that night at the event and were able to make $170 to benefit St. Jude Children's Research Hospital! We're so grateful to have been part of that act of kindness that the Minneapolis Elmers thought up.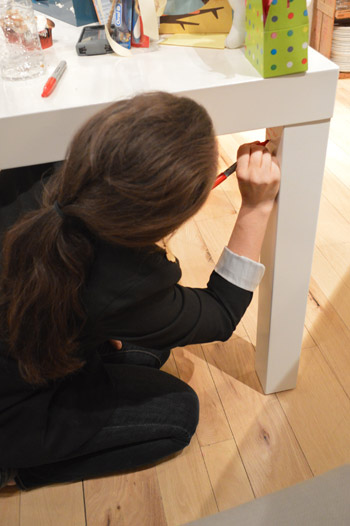 That pretty much wrapped up our night in Minneapolis. If you want to read more about our time there (from a not-us perspective) you can check out these posts from Malisa, Jen & Chrissy, Kirsten and Carolyn… because after about 5 hours of sleep, we woke up early the next morning (Thursday) and headed back into the air on our way to Houston, Texas. Thank goodness for in-flight wi-fi so that we could keep our regular blogging schedule.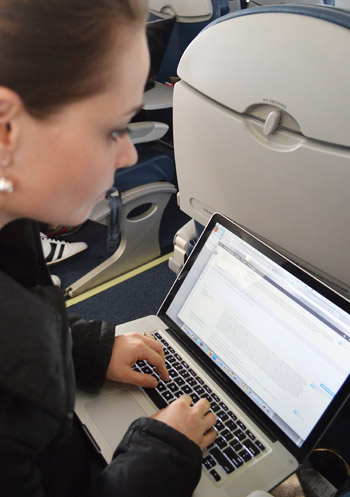 By the time we landed in Houston and were finally able to check into our hotel after a few hours of waiting in the lobby (long story, we'll spare you) we once again had lost pretty much any time to explore the city. But we did get to chow down on some Tex-Mex, shower, get dressed, and head to that night's event. A little birdy (Sherry) had clued them into the fact that Thursday was my 31st birthday, so my jaw dropped when I saw this waiting for me. I know you already saw it in last week's post but I still can't get over it. And the fact that someone went through all of this trouble for me… I'm a modest guy when it comes to birthday celebrations, so this is like 100 times above and beyond.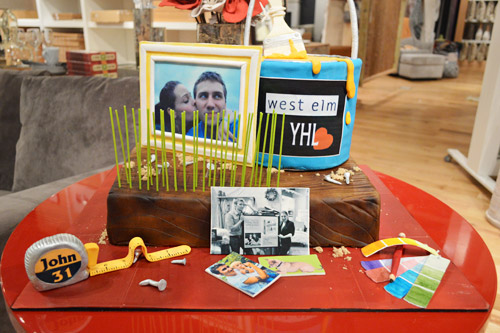 Oh, and Emily (who was conveniently waiting in the line nearby) sent us this video of me attempting to blow out my candles. I was soooo determined to get all 31 candles out, so you'll see my disappointment when I realized it wasn't gonna happen. #trickcandles
But enough about me. Let's talk about the people we met. And the weird faces we made (are you sensing a theme?).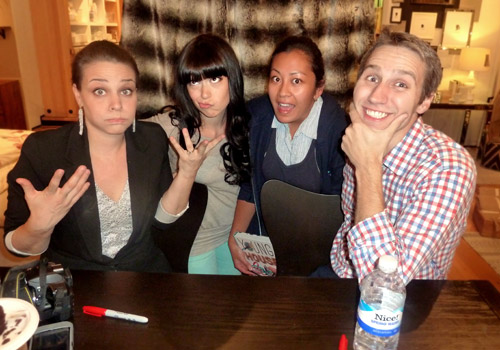 This next picture still cracks me up. It was this lovely woman's well-intentioned husband's attempt at Idea #141 in our book (Sketch Each Other). We even wrote on that page that "this could go terribly wrong" but they still might "become lovably entertaining." Consider me entertained. If there wasn't such a thing as Beavis-ification yet, I believe this man discovered it.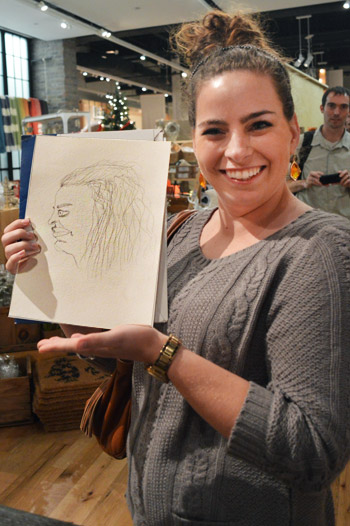 Lori Ann's request for a funny photo started off like many others. But it ended with Sherry's marker-stache falling off and somehow making a huge red dot on the middle of her neck. Like a single-fanged vampire got her good.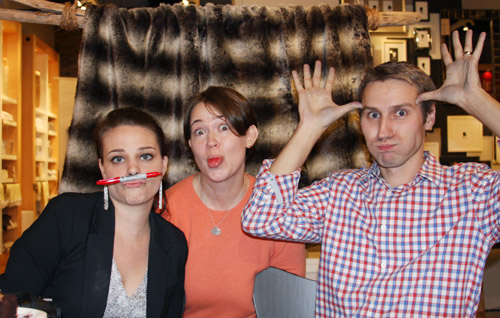 In addition to funny stories and weird faces, people continued to be so thoughtful and generous. Kiki (who came with her friend Roxy) painted two small canvases with matching cows on them. This picture doesn't do them justice, but hopefully the expression on Sherry's face proves how impressed we were with the gift. We already hung them in Clara's room and she's in love, so we owe you a picture.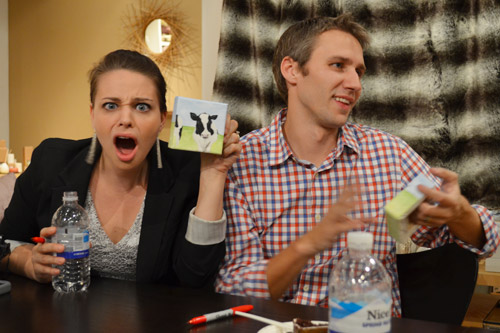 Since our schedule in Houston didn't really leave much time for taking on Texas, we were grateful to have more time at our next (and final) stop in Dallas. We left Houston first thing Friday morning and were in Dallas in no time. Our hotel there was da bomb – and I don't break out past-its-prime slang for just anything. It was the new Omni in downtown Dallas and it was so cool we're gonna "crash" it in another post. I mean, just look. There was a TV screen built into the bathroom mirror (if I were less refined I would slip in another watching you poo referenced here… but I've already done that once in this post).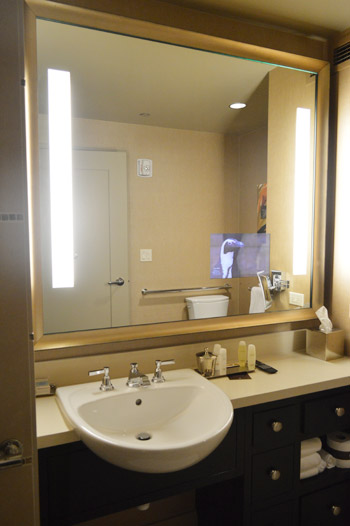 But as captivated as we were by that screen, we had a date with another screen: a Skype call with Clara. It was harder to squeeze these in during this trip than we expected. It seemed whenever we were settled into a hotel she was at school or napping or out on some adventure with my parents (who graciously watched her at our house so she and Burger didn't feel displaced). Here she is below presenting me with my birthday balloon: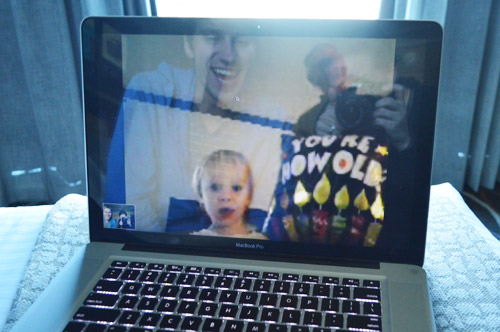 Once we dried our eyes after chatting with our baby, we were ready to take in some of the big D. Yes, this was the view from our hotel room. And we took full nerd advantage of the floor-to-ceiling windows by taking some random silhouette photos.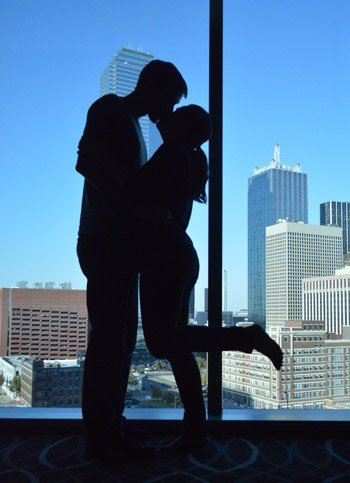 Then this happened. I'd worry that you'll question our maturity, but if you've read this far you're probably not one bit surprised. I actually thought Sherry was pretty creative considering that wasn't a pole (it was actually the frame between two large window panes). #funwithshadows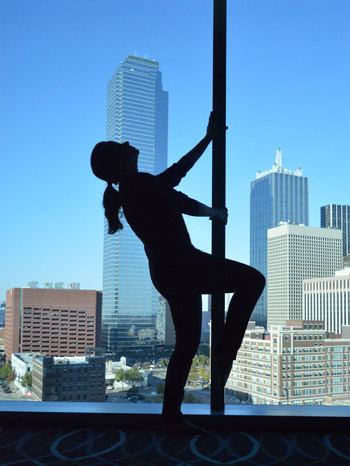 With our eating and sleeping schedules firmly off any semblance of normal, we walked down to the West End where had a 3:30pm dinner of Tex-Mex (we couldn't resist it again) and then moseyed into a cowboy boot store. We didn't buy any, but we did splurge two quarters to test ourselves on this "Guide To Romance." Neither of us ranked very high, but at least we scored the exact same thing. Basically this machine thinks we're soul mates. The funny thing was that Sherry asked the guy working there if it was based on hand temperature or pressure on the handle and he said it's totally random and that he never saw people get the same one since it just seems to bounce around each time. #whataretheodds?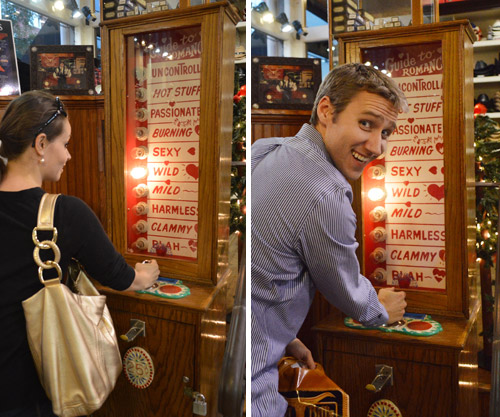 After exploring a bit more between the West End and our hotel (the history nerd in me was glad we stumbled across the JFK Memorial Plaza), we decided to make the most of the night (it was only 1 of 2 nights that entire week that we didn't have an event). So yeah, we went in the hot tub. It was awesome. We highly recommend a stay there (the Omni, not the hot tub) if you're ever in Dallas. We snuck a peek at the bill for our room and it was only like $150. It certainly felt fancier than that to us!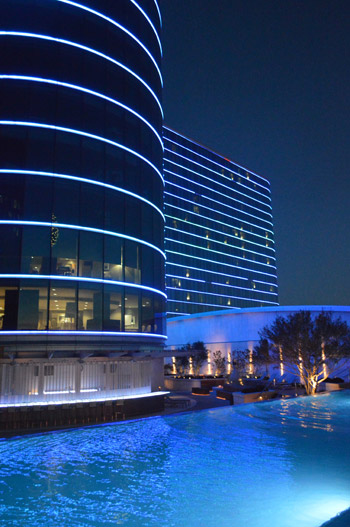 The next morning we packed up our stuff, contemplated ditching our signing for another soak in the hot tub (okay, not really) and taxied our way to West Elm. There we ended up hanging with more kind and hilarious people (someone in the press referred to the event as watching "hundreds of people politely mob the store" which cracked us up). And yes, more goofy faces were made.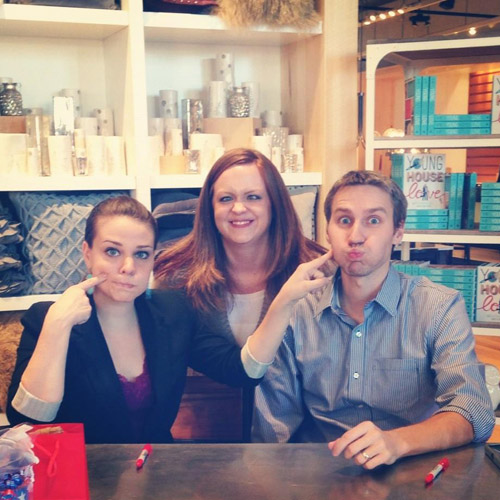 One of the first people in line brought this along with her. It's a relic from back when we once sold YHL t-shirts. I thought my dad was the only who still had one.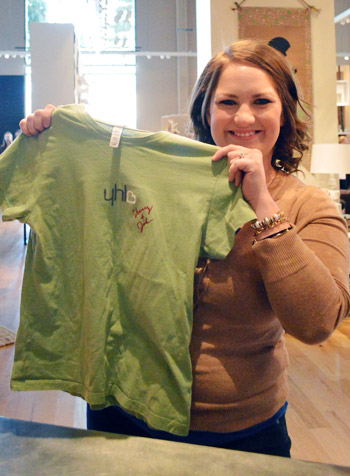 More t-shirts that we were excited to see where these colorful ones that Jill & Laura were sporting. They literally came straight from their 5k race (much like this one that I ran a few months ago) to the West Elm event. Had I known it was going on that morning I probably would've tried to run it myself!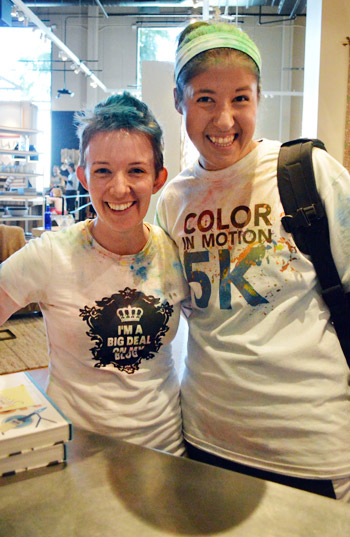 On the other hand, I was less than thrilled to see what Susan brought with her. That's gear for the Virginia Tech Hokies, my alma mater's rival. I agreed to take a photo with the stuff, but I wasn't going to be happy about it!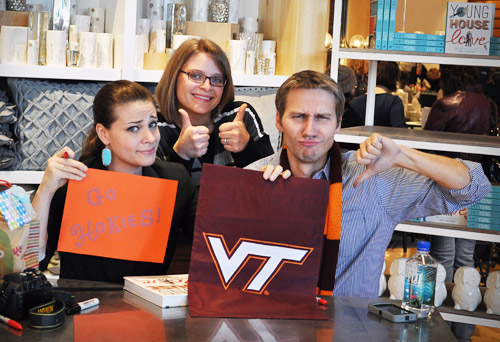 Stefanie was also sporting some Virginia pride, since she's originally from Richmond. We loved this little sign she whipped up, but were even more enamored with the Lowe's and Home Depot aprons that her kids Nolan & Leah were sporting. Gotta get one of those for Clara.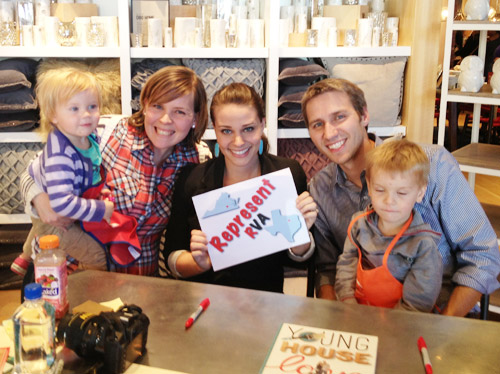 In Dallas we also saw Jess, who had come to the Houston event two days before. She's gonna try to make it to our Austin stop in January too, completing a hat trick of Texan signing events. See you in a few weeks Jess!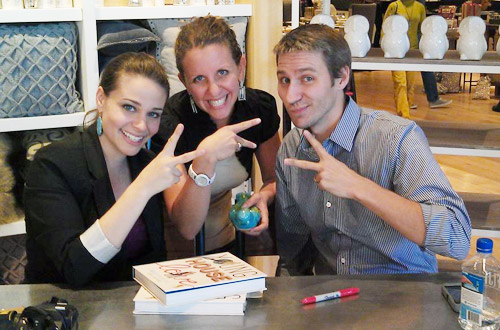 Dallas might win for "most unusual items that we signed." We certainly put our names on plenty of ceramic animals throughout the stops, but I think this was the first time I signed someone else's book. This friendly young man accompanied his mom in line and then realized he didn't want to leave without getting a book signed. Presumably he had little interest in a DIY book, but he did bring his Harry Potter book along… so he asked me to sign it. I felt a bit like I was stepping on J.K.'s toes, but how could I say no to such a mannerly young gent? So Ms. Rowling, if you're reading this (ha! yeah right), feel free to sign one of our books in return…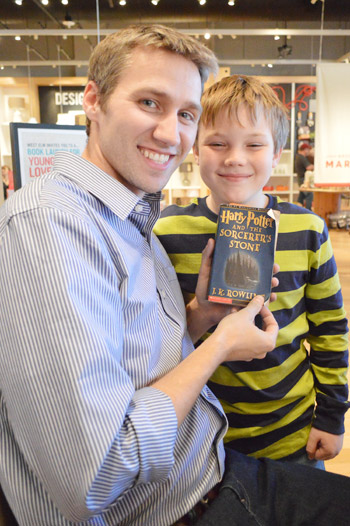 And then there was Ellen, who invited Sherry to sign her baby. She posted a video of it on her blog. Let's just say baby Marc was a good sport about having a strange lady take a pen to his onesie (which Sherry pulled out to avoid sharpie-ing his belly directly… moms!).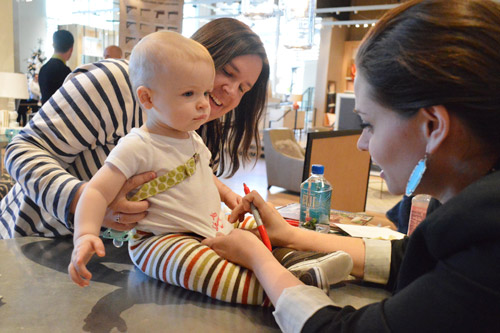 This Saturday event was one of our longest (I think it was over four hours) but we thankfully got out in time to make our flight that evening. News spread around West Elm that we had a 3pm flight, which made the folks coming up to us after 2pm very apologetic, but our flight wasn't until 6 (we just heard we should leave by 3:30 to make sure we made the flight since the airport was a ways away, so we think that's how the 3pm rumor started). So don't worry, no flights were missed and by about 11:30pm we were home in Richmond, staring creepily at our sweet sleeping bean (and getting cozy with The Burgs who was very much awake). Of course since then we've had our recent DC signing and have another two this weekend so we'll have to update you on those in two more weeks. #betitsgonnabelong
Oh and one last thing. We just heard that in the first month of our book being out, we've raised over $1200 for charity (both for St. Jude Children's Research Hospital through West Elm events and a local charity for kids thanks to auctioning off book projects here in Richmond). We couldn't have done it without you guys, so thanks for making such an amazing difference!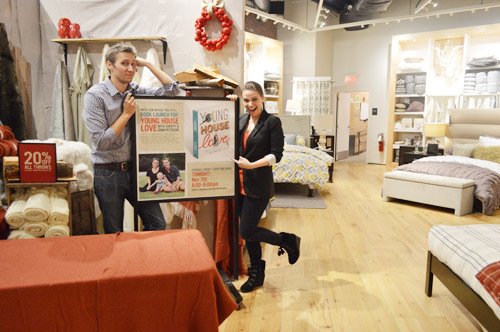 Now we'll end this long wrap-up with a big big thanks to everyone who's made our tour stops such a pleasure – from the awesome event hosts and the many many taxi drivers who have helped us get around, to you guys who have taken the time to come see us – many of you with thoughtful cards and sweet/tasty treats. We're so incredibly grateful to live through an experience like this. It has been crazy. And it has been a bit tiring. But ultimately it has been such an amazing feeling to get to see all of these places and meet so many hilarious and kind people. And now, in case you're wondering for a future event- we will sign your baby, your Harry Potter book, or write poo in your book. #gladthat'ssettled
&nbsp&nbsp&nbsp
Quick note: Tomorrow (Saturday) we'll be in Dallas at 11am at the West Elm on 5307 East Mockingbird Lane for cookies, cocoa and a book signing (more info here). We'd love to see ya there!
We're back with a little book/life/tour update (#warning it's long). Admittedly, it's sooner than we had originally planned (our last one was a week ago), but lots has happened and we're just brimming with news and pictures so we've basically overflowed. Somebody get a mop. Or maybe a tissue. Because we've gotta start with some crazy awesome / amazingly humbling news. We just learned that our book has become an instant New York Times bestseller. I can't believe I just typed those words. It'll actually be printed in the paper on 11/25, but this is a sneak peek image that we got. And yes, we totally called our parents and Sherry had a good cry (and I got something in my eye, but no sir I wasn't crying). Then we laughed for at least three minutes about book #10's title. #catpoetryforthewin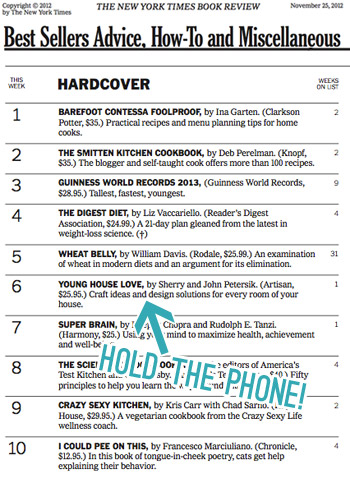 Sherry and I are still new enough to this publishing world that we don't fully comprehend how these lists are crafted and what exactly it means. Though we're certain it means one thing: we have the best readers ever. Because this was all thanks to you guys. Whether you've purchased a copy, shown up for a signing, or even just left an encouraging comment back when we were starting this whole adventure – we owe you a giant fist bump for showing so much love and support. We couldn't have done it without you. Seriously. And if we're being honest, we still think this might be a long and elaborate dream sequence…
Speaking of signings, we figured we should catch up up on some of our latest stops (or are we just dreaming about them?) since happenings from yesterday are already starting to get blurry in our cookie-and-cocoa-riddled minds. So let's pick up where we left off here. We flew back from Boston to Richmond last Thursday, caught our breath, and before we knew it found ourselves at our first hometown event in Richmond called "R for the Holidays." R.Home is a local shelter mag and we were completely surprised when they asked us to be on the cover of their Nov/Dec issue (and even more taken aback to see it blown up so big at the event)… let's just say we both made faces like this: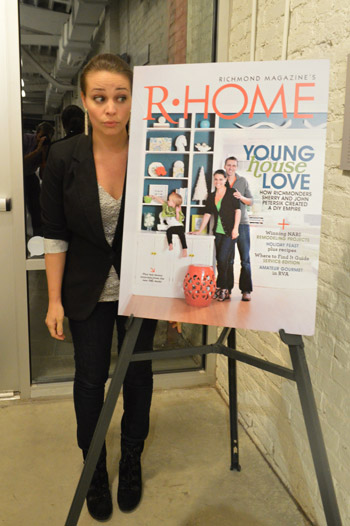 Back in the day we wrote a DIY column for them and we've actually attended every R.Home for the Holidays event since its inception just as guests, so it was completely surreal to be speakers for the night. Oh, and how cute is beansie on that cover picture? We couldn't wrangle both Burger and Clara simultaneously, so Burger ended up being represented by the sparkly chihuahua ornament in the green bowl that Clara's actually reaching for in the photo. You can read a snippet of the article and watch a quick behind-the-scenes video here (and see a bigger picture of the cover, to get a glance of Faux Burger here).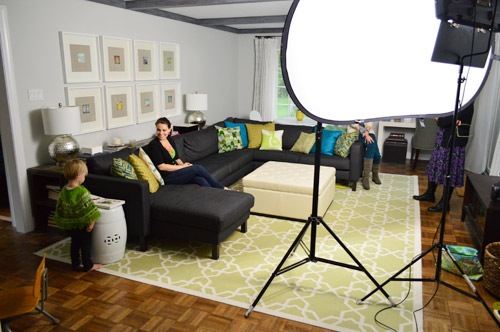 Oh and Sherry wants me to tell you that when we shot the "Clara reaching photo" back in late October (here's another Clara reaching pic, just because it seems to be her theme) she had waaay too much fun decorating those built-ins behind us for Christmas (they called to request that we do that since it was for the Nov/Dec cover). So they still mostly look like that and when we get back from this tour she'll probably just "add even more Christmas." #imarriedachristmaself
Anyways, back to the event. You may have heard that this is where we auctioned off some of the projects in the book. It was a great way for us to put some of those DIYed furniture and accessories to good use while also supporting a local cause (The School of Richmond's Ballet which gives dance lessons to children who otherwise couldn't afford them). We put a bunch of items up for auction (among them were two desks, two chairs, a bookshelf, a mirror, and a rug) and as we mentioned here, we later found out that our little auction raised $500 for local kids. Woot! Here's Sherry making sure there aren't any bugs hiding in the drawers before the auction. #keepingitreal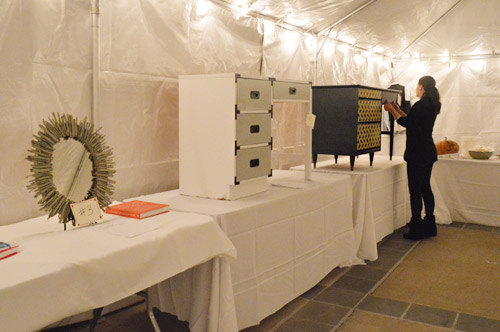 The evening started with a talk by Adam Roberts who turned his blog, The Amateur Gourmet, into a seriously beautiful cookbook called Secrets of the Best Chefs. In short: he was brilliant, inspiring, and hilarious. Then we went on and chatted with everyone about seven DIY lessons we've learned (many of them, the hard way). We definitely hope to link to a video of our chat when it's up on R Home's website, so we'll keep you posted. In the meantime, here's the synopsis: we were nerdlings, we over-shared, and the crowd was awesomely smiley. #bestmustacheever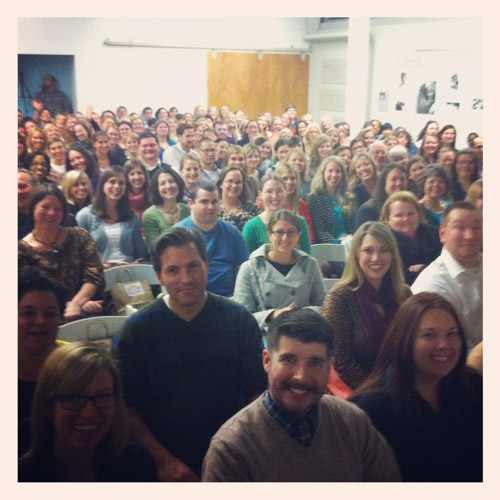 With both talks wrapped up, we turned to the signing portion of the night – which is quickly becoming our favorite part of these things. We get to talk to people, take funny photos, and have conversations like: "Did Katie Bower have her baby yet!" "Nope, not yet – we just talked to her an hour ago!"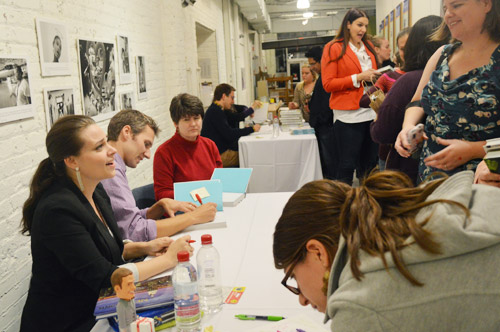 Amidst many familiar Richmond faces, we got to meet tons of new friends – like Hallie, who won our "trip to Richmond" giveaway last month. If any part of you wants to spew bile in her direction for winning, know this: she was sweet and bubbly and genuine and a thousand other nice words. She invited her mom along for a whirlwind weekend in RVA (Hallie was flown in from St. Louis and her mom was flown from Jacksonville). Sadly our hang out time clocked all of five minutes, but we later heard that they had a blast doing all sorts of RVA activities around town.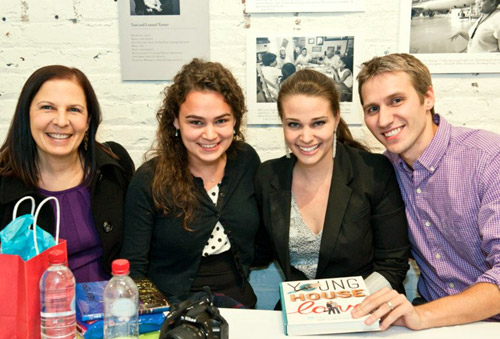 This woman gracefully accepted Sherry's blurting compliment of "You look just like Meryl Streep!" She said she gets it a lot and even has a Meryl reference on her license plate. So Sherry insisted that we get a photo so we can pretend that we really met the star of classics like 1994's The River Wild (arguably her best rafting-themed movie to date).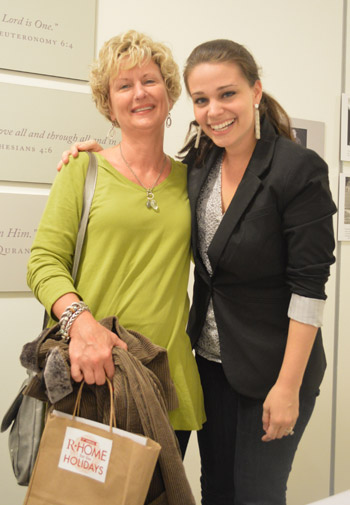 Along with a smattering of ceramic animal signing requests, we got funny invitations like this one, which was: "please sign a onesie for my baby." Sherry opted to put a baby-sized hammer near the hand hole. Naturally.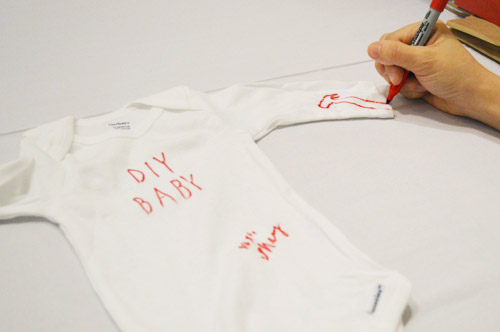 And once again we enjoyed the kindness / craftiness / general awesomeness of our readers, who brought fun things like this Justin Timberlake bobblehead (there's something in the box, if you know what I'm saying). It's an inside joke at their office, apparently – and they wanted to pass him along to us because, well, he's small and ceramic. And check out the awesome sugar cookies that arrived sporting Burger's likeness.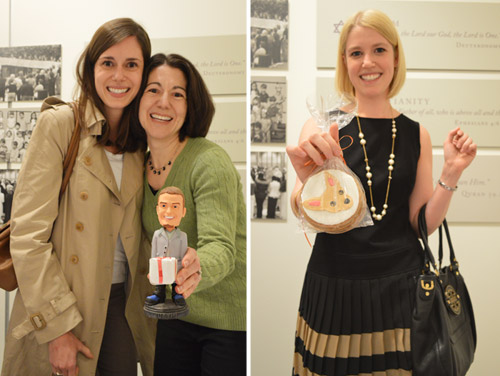 When Richmond wrapped up, we hit the hay and about 12 hours later on Friday afternoon we found ourselves flying over the fair city of Chicago!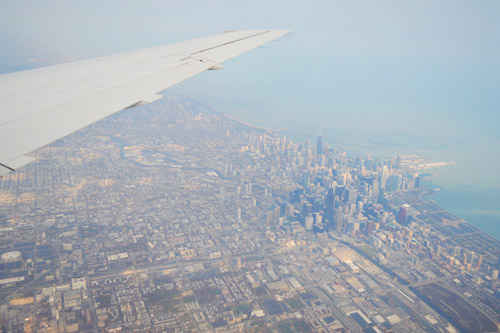 In Chicago we crammed in a little blog activity before our West Elm event the following day. We actually crashed a familiar home that you may know from a certain blog named Making It Lovely. There's a full House Crashing post to come, but let's just say that it was incredibly cool to finally meet Nicole and her family, but incredibly nerve-wracking to photograph the same spaces that Nicole captures so beautifully herself. But we hope you guys enjoy seeing some different angles of a house that so many of you already know and love.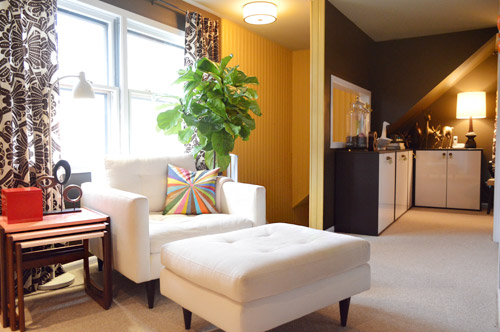 Before our event the next afternoon at West Elm, we darted out to take a tourist-tastic photo in front of Chicago's famous shiny bean. Sherry loves shiny things and we both have a fondness for a good bean, so it felt like a no-brainer.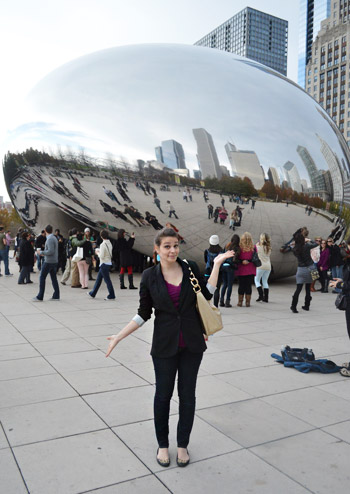 Little did we know, while we were out squeezing in a sight or two, the line was already forming over in Lincoln Park. Christina takes the cake for most prepared. She drove overnight from St. Louis and camped out starting at 5:30am (for a 1pm start time). She retells her travels much more hilariously than we ever could on her blog. We were just happy to know that after all that waiting she wasn't disappointed when she learned that we weren't an iPhone or Harry Potter movie. Thanks again Christina!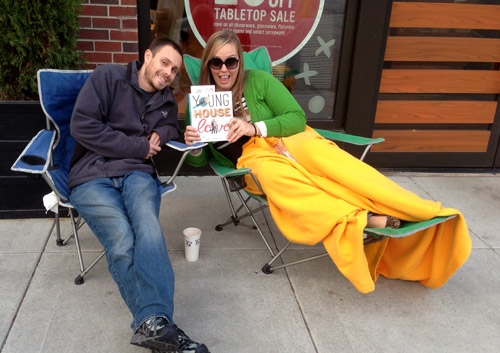 The Chicago folks rocked our socks – both the West Elmers (or "Elmers" as we're learning they're called) and the readers. Even with a freak thunderstorm (a theme of our tour = weather events) thankfully most folks stayed dry and enjoyed toasty warm cocoa and cookies. There are too many good stories from the stop to cram in here, but we'll share a few highlights. There was this bride who sent a virtual greeting from her hairdresser as she got ready for her wedding that day…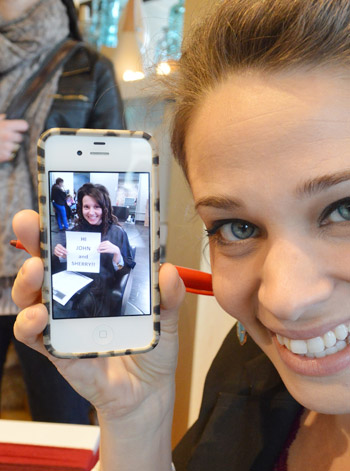 … and these sweet DIYed items, like a sparkly Burger portrait and a homemade horse puzzle (it was made by the fella in orange who's a high school shop teacher). Clara and I have already had some good times putting that horse together, btw.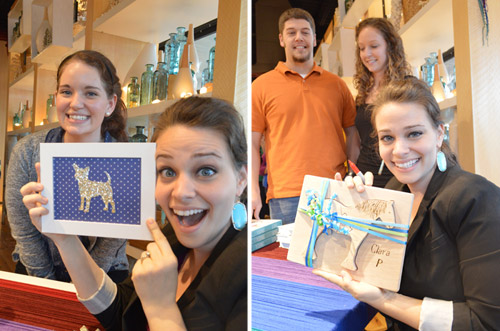 And sadly this picture doesn't do this gift justice. It's a beautiful handbound book featuring all of Clara's photo project – from Week 1 all the way up to Month 29! So thoughtful. #yessherrycried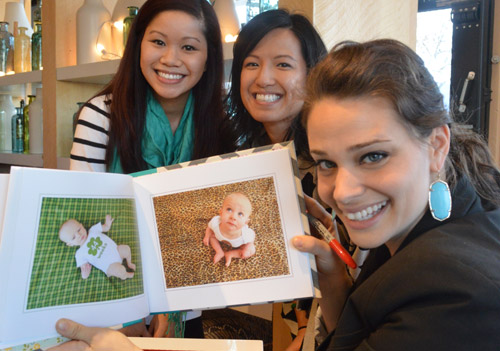 And how's this for a cute story? Before coming to the event this gentleman surprised his girlfriend with our book at the shiny bean and inside the front he wrote – wait for it – a proposal! Yep, these lovebirds got engaged that day and our little book got to be part of it! Then they came to our signing and told us their story. Amazing.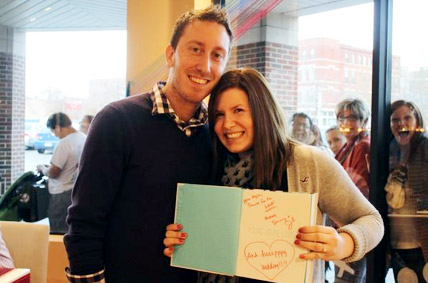 Amongst many fun photos, there were ceramic animal milestones like reuniting with dearly departed Ramsey's twin.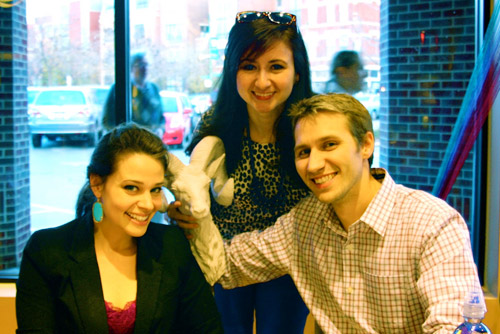 And this group that requested a crazy picture. I think we achieved it, right?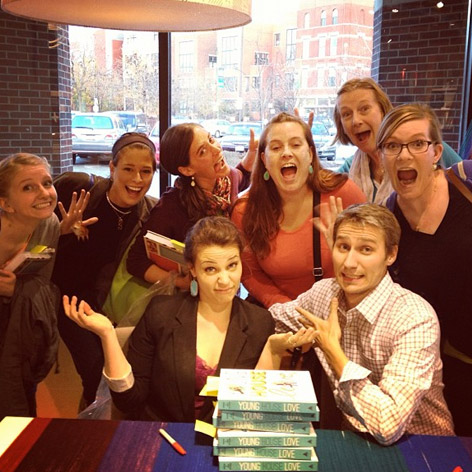 And it's starting to become a tradition of sorts to get an "End of the Line" group picture, to celebrate the people who were über patient. We love you guys!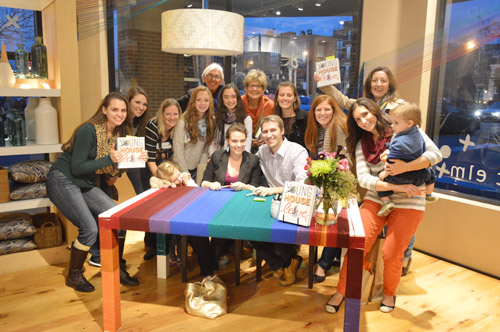 The event wrapped up just in time for us to race to O'Hare and catch a flight that would get us back to Richmond late on Saturday night. While we waited at the gate, I took care of a little business  – writing Granny a postcard from each of our stops. To date we've sent her eight from each of our out of state events (she receives one every other day or so).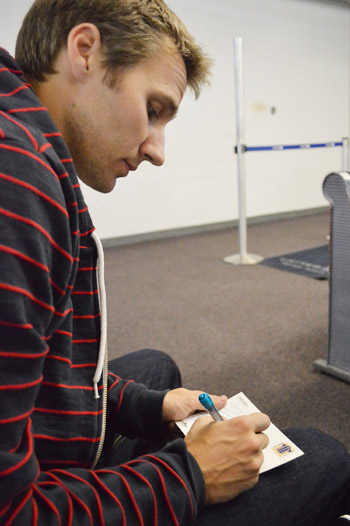 Sunday was a "rest day" that we begged our publisher to put into our schedule (didn't want to be away from Clara & Burger for too long) but it turned into more of a catch up on laundry, cleaning, and grocery shopping day. But since Richmond was nice enough to be 70 degrees, we were sure to sneak in some quality Clara and Burger time since they've been holding down the fort (with the help of my parents) while we were away. So there was some fun at the park and we went on a nice walk and even unpacked our suitcases just in time to pack them again for the next day. Yup, Monday morning brought another early morning departure through Richmond International Airport. And this time we were putting the "International" part to use and heading to our stop in Toronto, Canada. Hello CN Tower! My, what a tall antenna you have.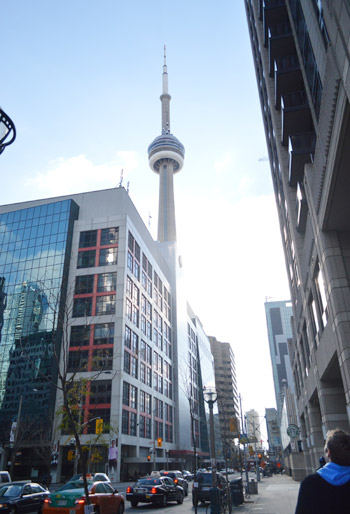 We didn't actually make it up the tower (Sherry had been before and we're both somewhat heights-averse enough to agree on admiring it from below) but we did have fun with some moose friends (or enemies) in the gift shop. The mountie moose was much less aggressive, fyi. #lookatthatsmile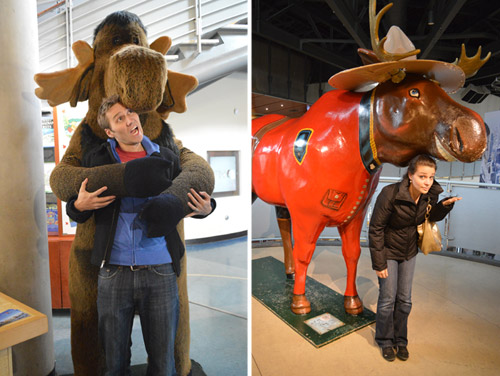 We also enjoyed some simple pleasures like this. Yup, I'm still ten at heart, posing under a sign with my name.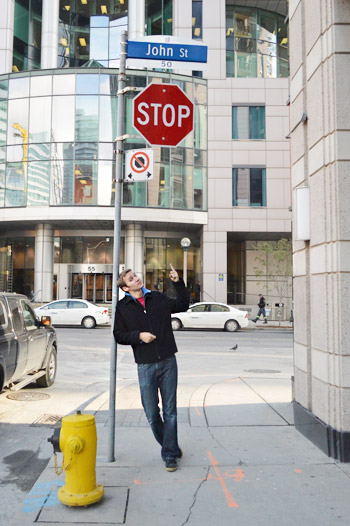 Our Toronto hotel was pretty awesome (maybe they're all amazing and non-chain-y up there?). In fact it was so awesome that between it and a cool restaurant that we stumbled upon, we're actually going to crash them in a future post for you guys (Hotel Crashing? Restaurant Crashing?). But since we know you love a preview, here's the double-sided glass shower in the middle of the room. It actually had blinds that you could close for more modest showering if you wanted to… #didweordidntwe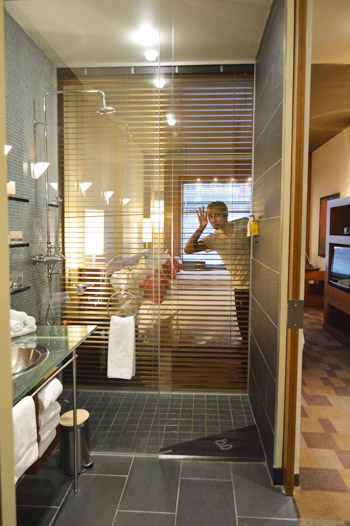 By evening it was raining (which didn't surprise us at this point) and we hit up the Toronto West Elm for that night's signing. The Canadians that we met (along with some Americans that drove up from NY) proved that friendliness and generosity don't just live on this side of the border. Folks brought wonderful stuff like maple donuts (my FAVORITE) and this beautiful worm watercolor for Clara. Can't wait to see the look on her face when we give it to her this Sunday.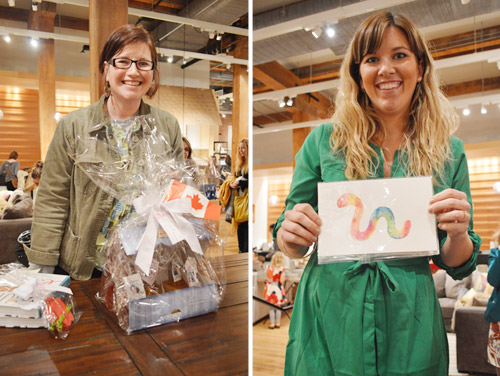 We even had our very first FaceTime "guest" in Toronto (it's a fun surprise when a face on a phone starts smiling and talking to you out of nowhere). We took a picture holding the phone and had fun posting "together." Good times.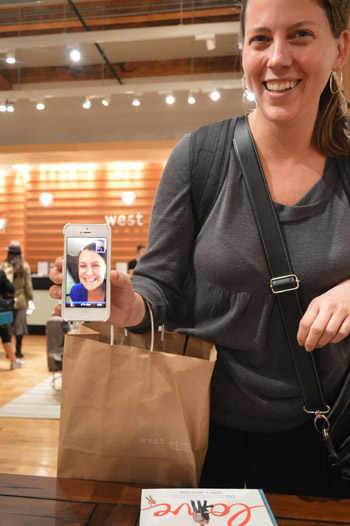 Oh and Sherry met her Canadian twin. Maybe not so much in the hair / height department, but in the blazer / striped shirt / skinny jeans area they're practically born from the same egg.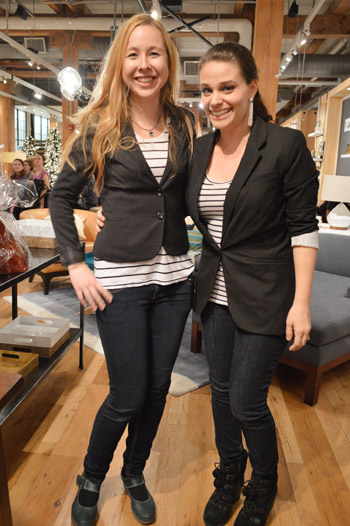 Speaking of born… this was perhaps our favorite photo of the night. This mom-to-be supplied the signs so that Sherry could help squash any pregnancy rumors for good (and so she could announce her own exciting news).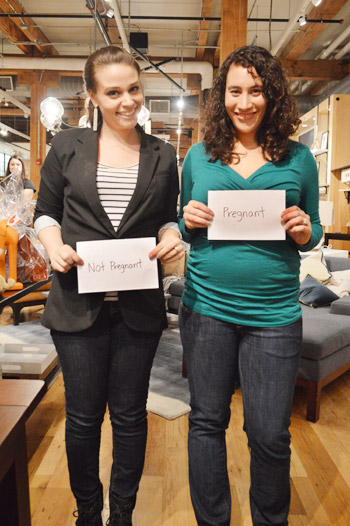 And speaking of sherry's blazer, she has been meaning to tell you guys that yes, it's the same one for every signing (and yes, it's from Target). Her philosophy is that it's like when someone wears the same jersey for every game. Her blazer gets to travel the country and she changes her earrings, shoes, and the shirt underneath. So there you have it. #mywifeisweirdbutiloveheranyway
A funny thing happened in Toronto where folks in line somehow received the instruction to outline their own message in the book in addition to the post-it that spells their name for us (the usual drill is that folks spell their name for us, but we write the dedication ourselves). This accidental self-imposed "tell us what you want us to say to you" method created a few awkward moments, but more often than not people had fun with it. Like Kaylee and Mike who suggested a Mad Lib style entry for Sherry to fill in. I believe someone also tricked us into inviting them for Christmas dinner and another couple had us proclaim them to be our BFFs for life.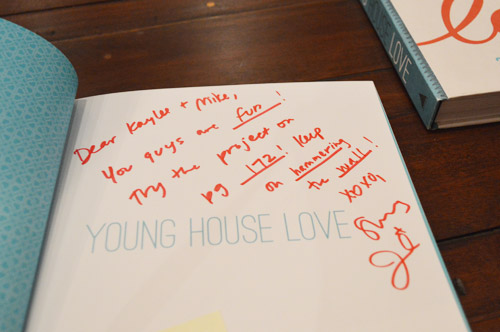 When the event finally wound down (and the rain stopped!) we were sufficiently pooped for the day and couldn't muster the energy to go sit in a restaurant for dinner. Fortunately we had saved up our daily food allowance and our hotel had room service that included the $9 Canadian staple poutine (french fries + gravy + cheese). It was awesome. And I ate entirely too much of it. It was actually only our second time ever getting room service, so it was a pretty memorable night – even if it was just nine bucks worth of fries covered in cheesy gravy.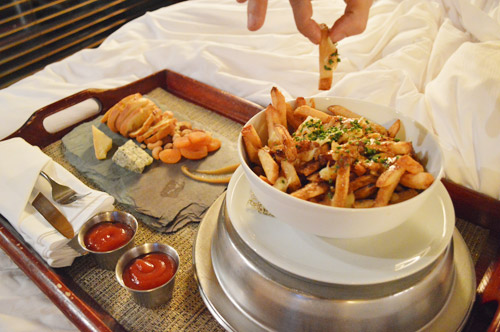 The West Elem signing wasn't our last stop in Toronto though. We'd been invited to do a short segment on Global TV's The Morning Show with about 20 hours notice. I'll admit I hadn't heard of it being from the states, but it felt roughly the equivalent of Good Morning America or The Today Show. Let's just say, equivalent enough that I required make-up and we both got skittish and clammy (kinda like how Burger gets around cats).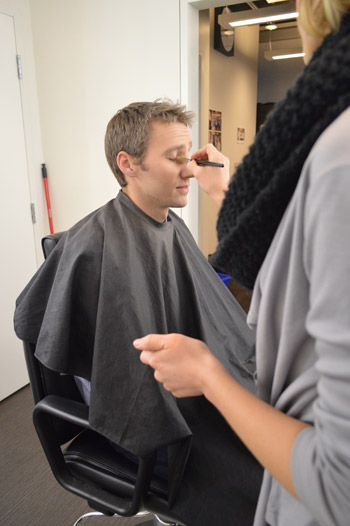 We've never done a big show like that LIVE so we were admittedly quite nervous that we'd screw it up and immediately be asked to leave their country. Add to that equation that the props we had shipped didn't arrive as planned so we had to improvise with about 10 hours notice. The hurricanes that you see below were borrowed from West Elm the night before at the very end of our signing and we scrambled to cobble together some filler with things from the grocery store (lemons, limes, pistachios, apples, etc). It was all assembled backstage moments before we went on…
So now that we've concluded our whirlwind week, we'll leave you to enjoy your weekend. But wait. We still want to pucker up and say "thanks! we love you!" one more time. Without you guys there would be no book. There would be no signings. And our names certainly wouldn't be on that crazy list at the start of this post. So yeah. Rock on you lovely people. Words can't express our gratitude (or how surreal this entire ride really has been).
Anyway, we're wrapping up our biggest week of tour stops tomorrow in Dallas, TX which means we'll have another update for you about our stops there as well as in Minneapolis and Houston in another week or two. We're having such a blast meeting you guys and have definitely done our darndest to keep the blog up and running while we're gone, so thanks again to everyone for bearing with us and saying such kind things and otherwise being a huge part of making this all happen. #seriouslyarewedreaming #ifwearedontwakeusup
Psst- Some people have asked how they can get signed copies of our book if they don't live near a signing stop, and now an awesome local book store here in Richmond called Fountain Books is shipping them to anyone who'd like one, so here's that link for ya.
&nbsp&nbsp&nbsp